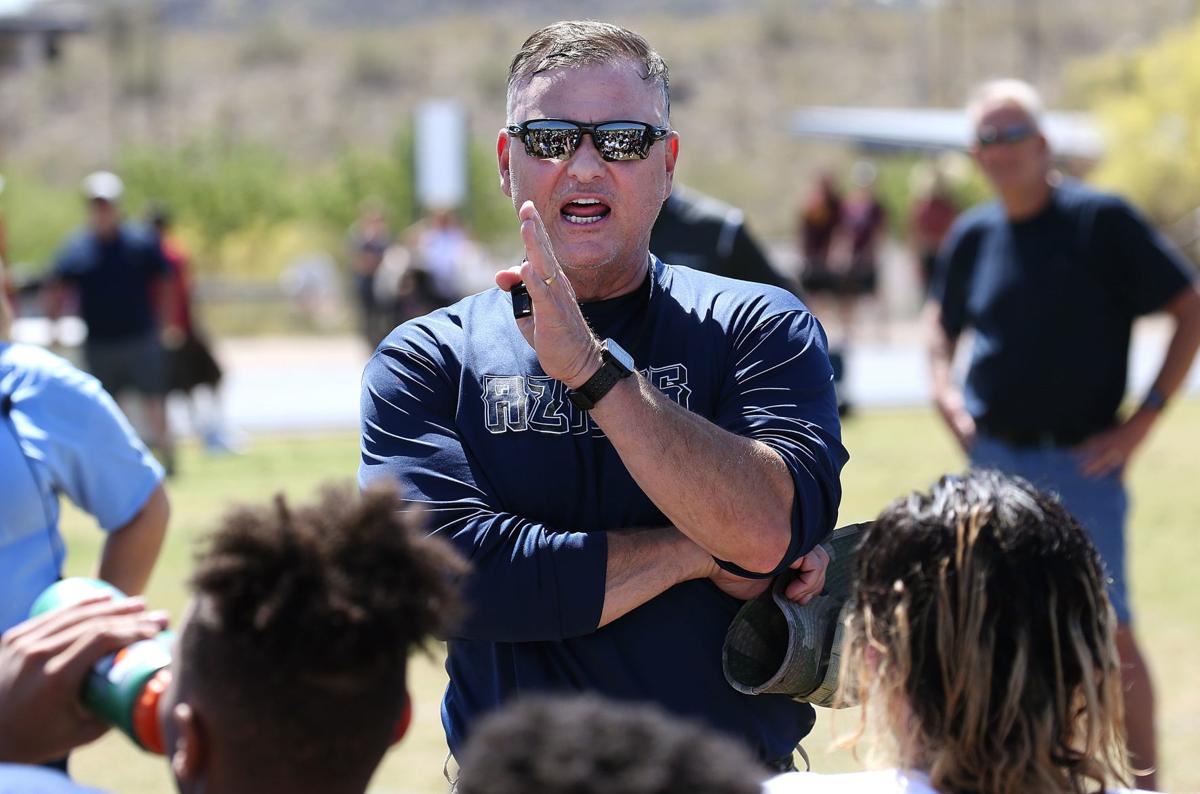 Deflated after losing the Region I men's soccer championship in what was a 1-0 penalty-kicks heartbreaker to Arizona Western, Pima College's bid to defend its 2018 NJCAA championship was over.
But Aztecs coach Dave Cosgrove and PCC athletic director Jim Monaco knew what almost no one else did on that unhappy Nov. 2 night at Kino North Stadium: Starting this year, the NJCAA began inviting four at-large teams to the men's national soccer championships.
"I thought it was a long shot," Monaco said, "but Dave and I began working on a proposal asking why Pima shouldn't get one of those four at-large berths."
The more Monaco and Cosgrove began their take-a-look-at-us proposal, the more they realized Pima should be a lock to get into the 12-team national championship bracket. PCC is 97-17-8 the last five years. It has become the No. 1 program in the ACCAC, surely the nation's premier junior college soccer league.
"Our ace in the hole," said Monaco, "was that we are the defending national champions. Our record speaks for itself."
So the Aztecs scheduled a watch party early Monday morning, having breakfast in the school cafeteria while watching a streaming, online version of "Selection Monday." The Aztecs were the first at-large team selected, seeded No. 9 overall in the national finals that begin Monday in Tyler, Texas.
"It has been a great week," said Monaco.
Two days later, PCC became one of the few schools in junior college sports to sign an all-sports apparel deal with Adidas, or any of the nation's elite sports apparel companies. One of Monaco's first moves was to order Adidas gear to be shipped to the soccer team's hotel in Texas.
"Essentially, Adidas will outfit all of our teams and supply branding, signage and banners, things like that," said Monaco. "Combined with our ($210,000) agreement with Chapman Automotive, we can now hang banners from the ceiling in our gym, sort of like Boston Garden. 
"We'll be able to properly honor our men's and women's basketball teams, both of whom finished No. 2 in the nation in recent years."
Pima College's athletic program, which has a budget of about $1.7 million a year, still is in the counting-every-dollar stage. After eliminating football a few months ago, Chancellor Lee Lambert spoke about eliminating track, golf, tennis, volleyball and cross country, and basically turning the Aztecs' athletic department into a shadow of its 50-year-old self.
Perhaps Monaco's success in fundraising and the school's impressive success in NJCAA sports will lead the PCC administration to celebrate its accomplishments rather than continue to give up on its athletic programs.
---
Sun Devils sign a Tucson legacy recruit
When UA softball coach Mike Candrea spent 30 minutes detailing what Extra Innings Softball declared the nation's No.1 recruiting class last week, there was one missing element: Amphitheater High School infielder Kristiana Watson, one of the top prospects in the country.
Candrea said he didn't know what school Watson would attend. "We couldn't get her to a camp or on our campus," he said.
The Watson's link to UA sports is deep. Watson's mother, Laura Espinoza, is the UA's and NCAA's single-season home run champion. Laura's husband, David Watson, was a starting lineman on Arizona's football team in 1995. Their son, David, is a redshirt freshman lineman on the Wildcat football team.
A day later, Arizona State's softball program announced via Twitter than Kristiana Watson had signed with the Sun Devils.
Candrea was able to cover for Watson's decision to play at ASU by signing Tucson High first baseman Carlie Scupin, who, he said "definitely has the highest bad speed I've ever seen; her power and strength right now is just about unparalleled at the stage she's at. Her ceiling is very high."
ASU coach Trisha Ford could probably say many of the same things about Watson, who chose not to play high school softball last year, instead playing on her mother's travel-ball summer team.
It's not uncommon for the sons and daughters of top UA athletes to play at other schools. Steve Kerr's daughter, Maddy, played volleyball at Cal. UA softball legend Jenny Dalton's daughter, Brooke, plays softball at BYU. UA Olympic gold medalist Tracie Ruiz's son, Michael Conforto, led Oregon State to the NCAA baseball title and now plays for the New York Mets.
But Kristiana Watson becomes one of the five most prominent sons/daughters of UA standouts to elect to play for ASU. Here's the list:
Bobby Thompson, a point guard from 1983-87 who scored 929 points for the Sun Devils, is the son of the late Bobby "The General" Thompson, Arizona's electrifying tailback on the UA's historic 8-1-1 team of 1961.
Jeff Krohn, a starting quarterback at ASU in 2000 and 2001, who threw for 3,693 yards, is the son of Jim Krohn, Arizona's starting quarterback in 1978-79 and star QB of Amphi's 1975 state championship team.
Chris Hopkins, who led Salpointe Catholic to the 1991 state championship football game and gained 1,584 rushing yards at ASU, is the son of the late Gayle Hopkins, an Olympic long-jumper at Arizona and long-time UA athletic department official.
Sybil Dosty, possibly the most highly-recruited girls basketball player in Tucson history, was a two-year starter at ASU, selected the Pac-10's female scholar-athlete of the year in 2009. Her father, Robbie Dosty, averaged 10 points per game for UA basketball from 1978-81 before a knee injury ended his career.
---
PGA of America honors local golf teacher Meyers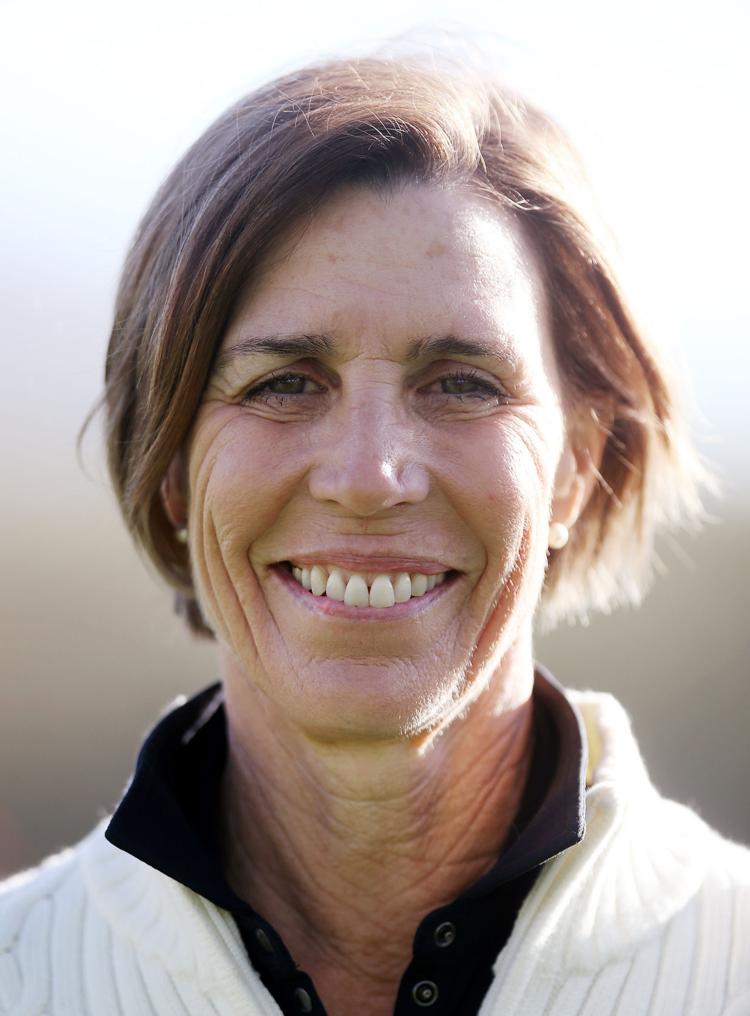 Three years after being selected as one of America's Top 100 golf instructors by Golf Magazine, ex-Arizona golfer Susie Meyers was chosen golf teacher of the year in the PGA Southwest Section by the PGA of America.
That capped what has turned out to be a remarkable month for Meyers, who works out of the Ventana Canyon Golf and Racquet Club.
She learned last week that one of her top golf pupils, Catalina Foothills High School state champion Maya Benita, signed a scholarship to play for third-ranked Arizona.
And then Meyers learned that her son, former CDO state champion Christopher Meyers, will be honored at the White House on Friday as part of Stanford's 2019 NCAA men's championship golf team.
Christopher Meyers, who earned a Stanford degree last spring, has been working in Kenya for six months.
He will fly to Washington D.C., to meet his ex-Stanford teammates. He will then fly to Northern California, where he'll be honored at halftime of the Cal-Stanford "Big Game" next Saturday.
---
Catalano, local golf mainstay, dies at 82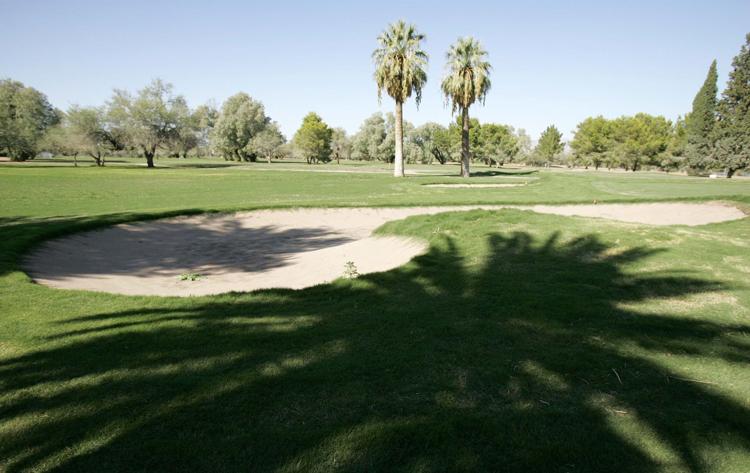 Sad news: One of the top names in Tucson golf, my long-time friend Gene Catalano, died last week. He was 82. Catalano, a Tucson High grad, was the caddy master for dozens of Tucson Open and LPGA events at the Randolph Golf Complex and elsewhere over the years. He was a smiling face, one of the best golf partners you could get.
He was a welcome presence at the city golf courses, Mr. Personality, doing whatever was necessary to make your day better. In 1987, Catalano helped to save the life of Tucson TV repairman Alvin Rice, who collapsed and had a stroke at El Rio Golf Course. Gene's presence in Tucson golf was like the sitcom "Cheers." Everybody knew his name. A service for Catalano will be held Thursday at 10:30 a.m., at Santa Cruz Catholic Church.
---
Dick Tomey to be recognized with award by AFCA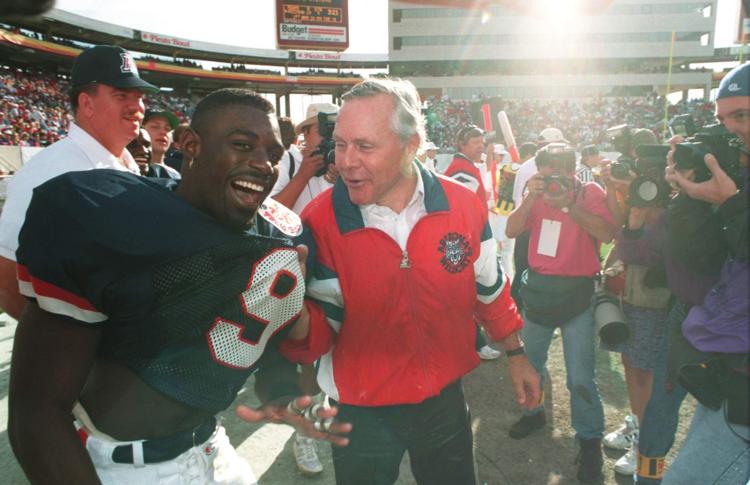 In early January, Dick Tomey will be honored as the 2020 recipient of the Amos Alonzo Stagg Award, the top recognition by the American Football Coaches Association each year. Since 1939, only a handful of former Pac-12 coaches have been so honored: Bill Walsh and Jack Curtice at Stanford, Len Casanova at Oregon, Pappy Waldorf at Cal and ASU's John Cooper. It is essentially an award for being a good man as much as being a good coach.
---
Arizona Dynamics gymnastics signs impressive recruiting class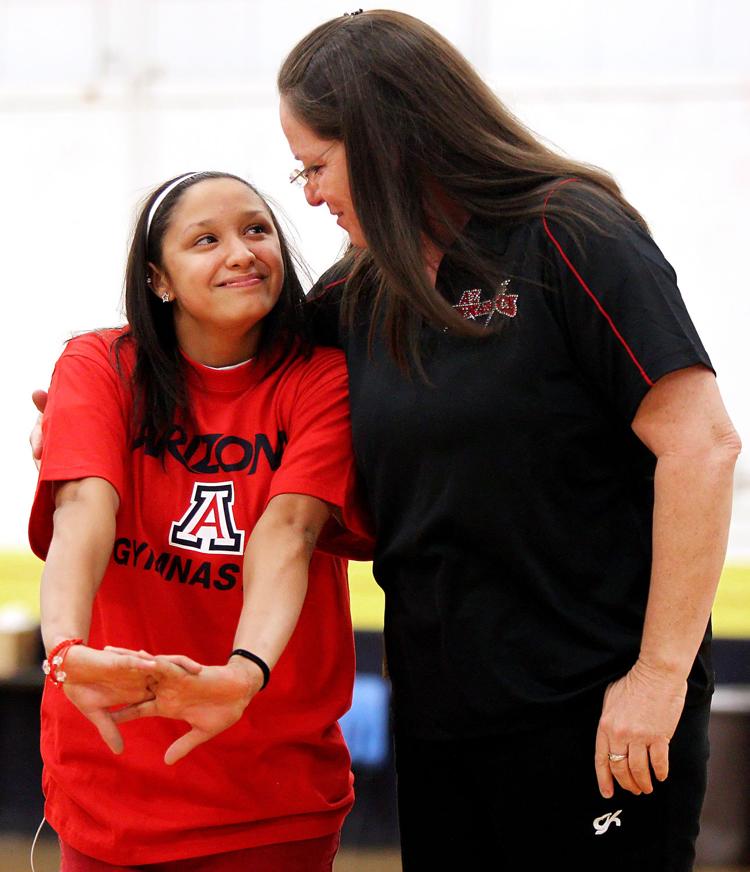 On the NCAA's fall letter-of-intent day last week, Arizona Dynamics gymnastics coach Regina Mueller-Martin had yet another strong recruiting class. One student, Madison Courney of Mountain View High School, signed with Arizona and another, Kiersten Belkoff, signed with Penn. Belkoff will attend the Wharton business school. The Belkoff sisters have become a prominent Tucson gymnastics family. Kiersten will join older sister Corinne at Penn, where she is a first-year law student. Corinne left Arizona Dynamics to compete for Arizona State for four seasons before enrolling at Penn. Another sister, Alexis Belkoff, is a senior on the Sacramento State gymnastics team. Two years ago, Mueller-Martin's standout gymnast Maddie Mariani signed with Michigan, where she was part of the Big Ten championship team last year.
---
 Oregon gives top assistant massive contract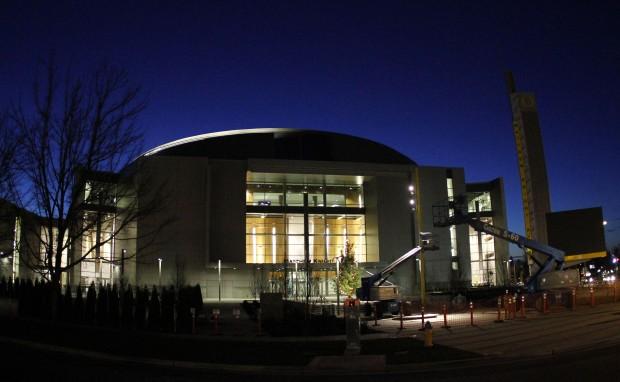 The Oregon Ducks last week gave basketball assistant coach Tony Stubblefield a $500,000 contract through 2022 that includes a retention bonus of $300,000 if he stays through the 2021-22 season. That ties Stubblefield with Utah's Tommy Connor as the highest-paid assistants in Pac-12 basketball. Arizona pays associate head coach Jack Murphy $335,000 per year. The market for assistant coaches has changed so much the last 20 years; it makes you wonder how much a latter-day Jim Rosborough would earn — $1 million a year? — if he came along now. Rosborough was the one-big-family connection that served Lute Olson so well from 1990-2007.
---
My two cents: Lancers, star QB face not-so-neutral test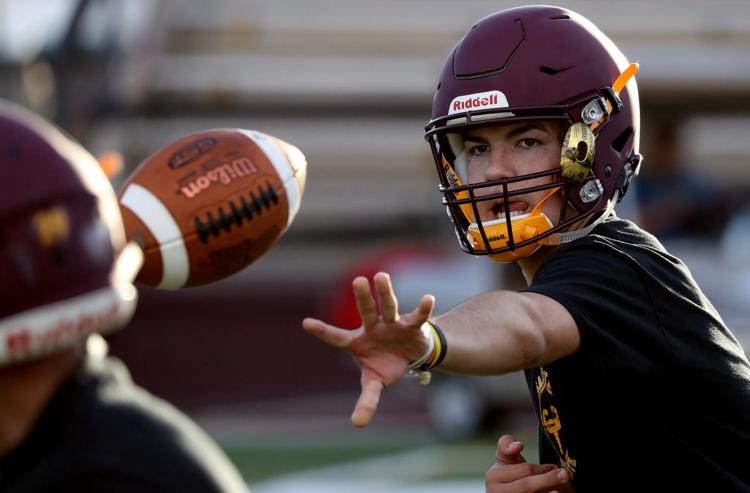 Before Salpointe Catholic whipped Phoenix Pinnacle 48-10 in the inaugural AIA Open Division football playoffs Friday, Lancers athletic director Phil Gruensfelder hired a crew from the city of Tucson to transport and install extra bleachers at Ed Doherty Stadium.
"We expected a very large crowd," said Gruensfelder. "We knew Pinnacle was bringing its band and a lot of fans."
There is no official turnstile count at Salpointe Catholic, but Friday's crowd was probably in the 5,000 range. Those who attended probably witnessed the most powerful high school football team in Tucson over the last 50 years, dating to the 1970 undefeated Tucson High champions.
In this week's semifinals, the Lancers must play the AIA's version of the New England Patriots, Chandler High School, which won the Class 6A state title in 2016, 2017 and 2018 and has gone 84-11 dating to 2013.
The game will be played at Hamilton High School, which is 4 miles from Chandler's campus. So much for a neutral field.
To their credit, Gruensfelder and Salpointe coach Dennis Bene have been good soldiers, uncomplaining about moving from Class 4A to the Open Division, which is more like Class 7A in this state.
The field of eight open division teams was compiled by a power points system — comparing opponents — that has a lot of flaws.
"We're playing CDO and Sahuaro and other 4A schools whereas (Chandler) plays other 6A schools with much greater enrollments than ours," said Gruensfelder. "But we've accepted the challenge. We've done well."
One thing Bene has "done well" is to gently break in sophomore quarterback Treyson Bourguet to his offense. A transfer from Marana High School, Bourguet was not eligible to play the first five games. When Bourguet was cleared to play, Bene used him sparingly; Bourguet only attempted nine passes in his first three games, sharing the job, as Salpointe went 9-0.
It wasn't until Friday's win over Pinnacle that Bourguet was allowed to let loose; he threw for 241 yards and four touchdowns. He left little doubt that he's the top college QB prospect in Tucson since Sahuaro's Rodney Peete almost 40 years ago. Arizona has already offered Bourguet a scholarship.
"Treyson wears these big black-framed glasses at school, but when he plays football it's like he takes off his glasses, steps in a phone booth and comes out as Superman," said Bene. "He's got the mechanics, the size, the arm strength and the football IQ that college coaches look for. I'm fortunate I've got the opportunity to coach him for one season."
Bourguet is a 6A quarterback, that's certain. And the Lancers are of 6A football team. The challenge now will be to beat Arizona's most dominant 6A football program of the generation a mile or two from its home turf.
Contact sports columnist Greg Hansen at 520-573-4362 or ghansen@tucson.com. On Twitter: @ghansen711