This is the 40th anniversary of the last time a Tucson prep football team won the state championship at the highest classification. Coach Vern Friedli's 1979 Amphitheater Panthers went 13-0, routing Mesa High 27-0 in the state title game.
How could the second largest city in Arizona, with more than 20 high school football teams, not break through even once to win The Big One?
But it's true. Years later, Friedli's 1997 Panthers went 13-1 and lost at the wire to Mesa Mountain View, and Jeff Scurran's Sabino Sabercats were also 13-1, losing the '99 big schools title to the state's power of the '90s, Mesa Mountain View.
This could be Tucson's last best chance to win the state's highest football championship. Salpointe Catholic is so good that it's not just a far-fetched dream.
The Lancers won't lose again in the regular season. No chance. They have so dominated Southern Arizona opponents that they are on an 11-0 streak, outscoring the out-manned local teams 722-142 over the last 3½ seasons.
Their only loss in three years was to Pat Nugent's 2017 Cienega Bobcats, a special team that went 12-0 and advanced to the state semifinals before losing. That was a special team, with current UA receiver Jamarye Joiner at quarterback and Terrell Hayward, now at NAU, playing both ways.
Salpointe is playing for a top seed in the new Open Division, an AIA-created state tournament for the superpowers in the era of transfers from open enrollment. It once seemed remote that a Tucson team could seriously challenge Hamilton, Pinnacle, Centennial, Chandler and Saguaro, but no longer.
Dennis Bene's 2019 Lancers are potentially a Team for the Ages in Tucson prep football, to forever be compared to the 1970 and 1971 Tucson High state champions.
Friday's 58-13 victory over Sahuaro should be noted. Sahuaro is likely to finish this season as the second-best prep football team in Southern Arizona. Yet it trailed Salpointe 51-7 at halftime on Friday.
Bene is retiring from Salpointe at season's end, and four recruits bound for Power 5 conference college football teams — Lathan Ransom, Bruno Fina, Jonah Miller and Bijan Robinson — are all seniors. The urgency to win 'em all is a big thing.
Tucson has produced many notable state champions over the last 40 years. Richard Sanchez's 2001 Sunnyside Blue Devils, 13-1, won the Class 4A state title. Wayne Jones' Mountain View Mountain Lions, 14-0, won the 1993 title at a similar level. And Dusty Peace's 2009 CDO Dorados, behind Ka'Deem Carey, won the 4A Division I championship at 14-0, not to mention the 14-0 Salpointe team of 2013 and Matt Johnson's 13-1 Ironwood Ridge club of 2012.
But this is different. Given the departure of a team builder like Bene and the once-in-a-lifetime roster of talent, the time is now for Salpointe. Stay tuned.
---
'Pochito' Alday's Friday night fight is one of the week's must-see sporting events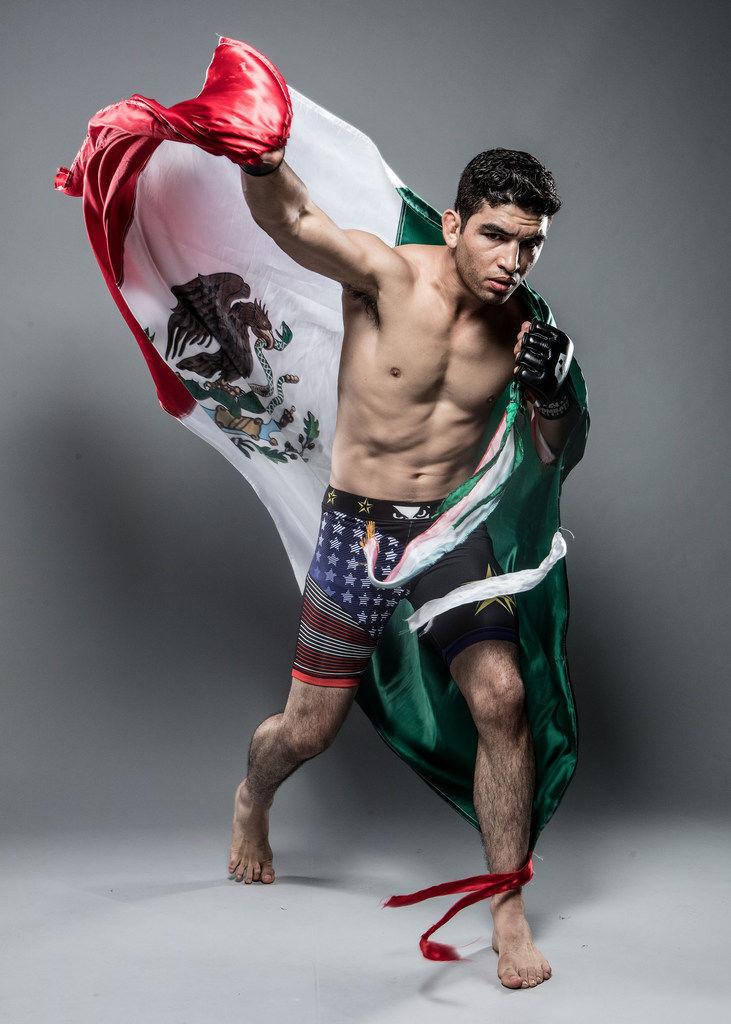 If you're looking for a must-see sporting event this week, consider Friday's mixed-martial arts event at Casino Del Sol's AVA Amphitheater. Ironwood Ridge High School grad Jose "Pochito" Alday will be in the Bantamweight main event, against Joby Sanchez. Alday, who fights at 135 pounds, was the first world champion in Combate Americas history, and was a winner in a raucous June 11 event at Casino Del Sol. Alday is 13-4-1 in his MMA career.
---
Tucson native Stefen Romero finishes productive season in Japanese league
Sunnyside High School and Pima College grad Stefen Romero completed his third year with the Orix Buffaloes of the Japanese pro baseball league last week. He hit 20 home runs and batted .310 with 69 RBIs in the limited Japanese season, which is just 108 games. Romero, who turns 31 this month, spent parts of three seasons as a Seattle Mariners outfielder before signing with the Buffaloes.
---
Anderson's recruiting has Arizona men's golf on the rise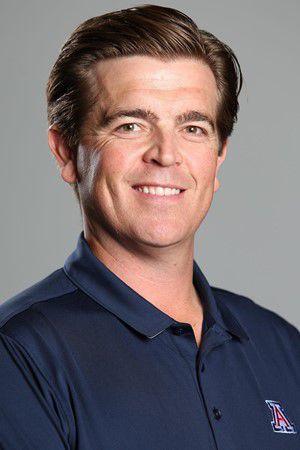 Arizona men's golf coach Jim Anderson is recruiting at a higher level now that he has established himself in the Pac-12. In last week's PURE Insurance Championship at Pebble Beach, a PGA Champions Tour event, Anderson's top recruiting commit for the Class of 2020, Sam Sommerhauser, won the amateur championship while playing with former Tucson Open champion Kirk Triplett. It's the same event that Canyon del Oro High School grad Chris Meyers won five years ago as members of the First Tee of America teenagers are coupled with a PGA Tour Champions player. Anderson's top recruit in the Class of 2019, Aidric Chan, last week flew to Shanghai to compete in the Asia-Pacific Amateur; he finished 44th overall in what is probably the second toughest men's amateur event in the world, behind the U.S. Amateur. Arizona has climbed to No. 9 in the current Golfweek rankings, and why not? It finished second at the Maui Jim Invitational in Scottsdale and No. 3 in the Tucker Invitational in September.
---
Another rushing record for Robinson
Salpointe Catholic High School running back Bijan Robinson became the state's all-time leading rusher for big schools, Classes 4A through 6A, with 5,927 yards. He surpassed the 5,818 record set from 2000-02 by Tolleson's Marcus Thomas. Whatever happened to Thomas? He was a Parade All-American who signed with Arizona over offers from Oregon and UCLA. It was a coup by ex-UA coach John Mackovic. But Thomas never suited up for Arizona; he didn't qualify academically and wound up at UTEP, where he rushed for 1,166 yards in 2008. Thomas was drafted by the San Diego Chargers in the spring of 2008 but did not touch the ball in the NFL, except to return four kickoffs, before being released.
---
UA soccer team makes waves with big win over No. 16 UCLA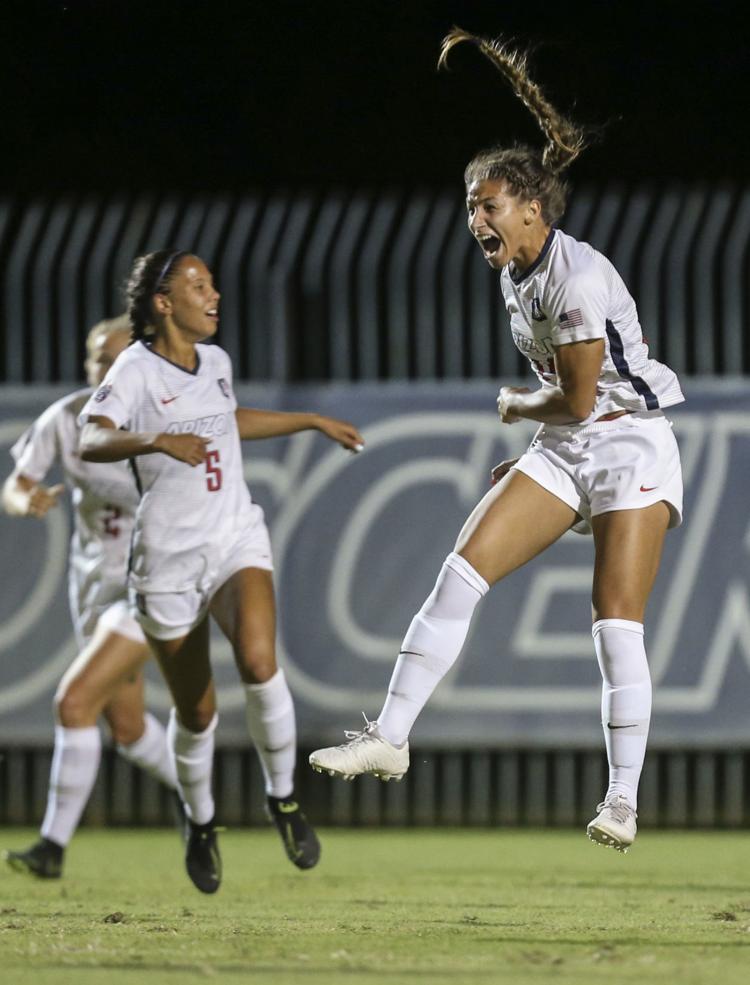 Tucson's team of the week: In spite of its 6-2-1 record and affiliation with the powerful Pac-12, a women's soccer juggernaut, Arizona was unranked when it chopped down No. 16 UCLA 3-0 Thursday night before a capacity crowd at Mulcahy Stadium.
Not many expected an upset; the Wildcats had gone 1-23-1 against UCLA in its history. Time to celebrate? What's that? Arizona plays No. 5 USC Sunday at noon at Mulcahy, and then travels to No. 14 Washington State on Thursday.
Coach Tony Amato knows how it goes in the Pac-12. Entering the week, six conference teams were in the Top 25. To make it more difficult, the league does not play home-and-home series. Instead it plays 11 conference games and this year is Arizona's turn to get the dreaded six-road and five-home game schedule.
---
Foothills grad Hannah Orbach-Mandel a finalist for NCAA Woman of the Year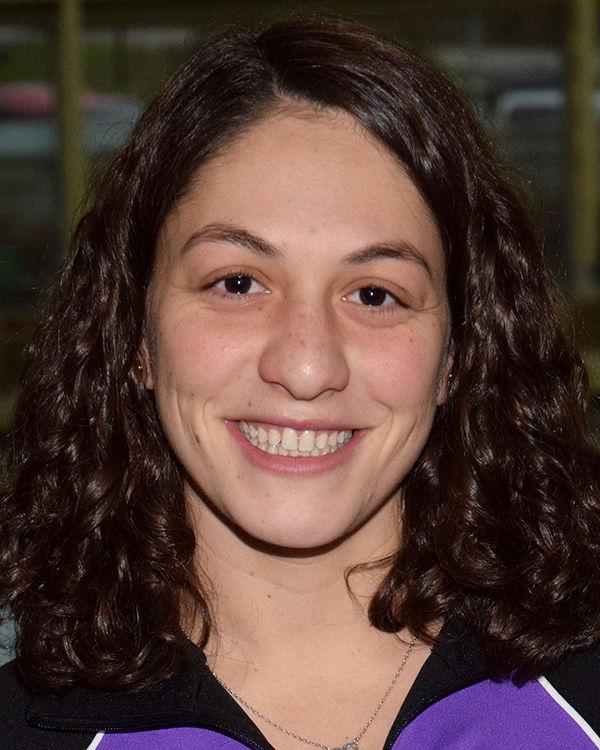 The NCAA last week informed Catalina Foothills High School grad Hannah Orbach-Mandel that she is one of nine finalists for NCAA Woman of the Year, the highest honor in women's college athletics. A month ago she made the list of 31 finalists, a group that encompasses Division I, II and III women's sports. The three-time NCAA Division II swimming champion will attend the Woman of the Year banquet Oct. 20 in Indianapolis. Her coach at Kenyon College, Jess Book, didn't limit his praise of Orbach-Mandel. "Hannah is as amazing as anyone I've worked with," said Book, whose team at Kenyon finished No. 2 in the NCAA finals last spring. She is passionate, compassionate, driven and dedicated. Where she distinguishes herself is her joy for sport. Hannah treated swimming like a close friend; someone to laugh with, someone to cry with, someone to celebrate and someone worth her love." In 2008, Arizona swimmer Lacey Nymeyer John of Mountain View High School was honored as the NCAA Woman of the Year.
---
Salpointe Catholic star, future Harvard guard uniquely connected to Lute Olson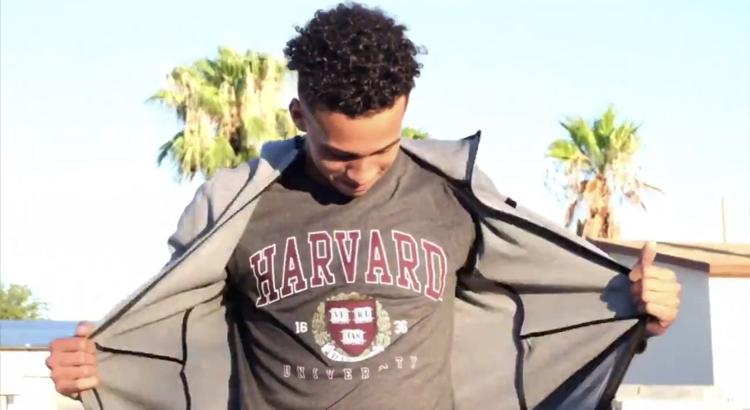 Salpointe Catholic point guard Evan Nelson last week committed to play basketball at Harvard; it was something of an old home week for Harvard coach Tommy Amaker, who played for Lute Olson's 1986 World Championship team and spent about a month training in Tucson before that journey through France and Spain. Nelson has strong athletic genes; his father, Jimmie Nelson Jr., was a football and basketball standout at Tucson High School in the mid 1990s, and later a football player at Scottsdale Community College. Jimmie Nelson knows a thing or two about recruiting; one of his closest friends at Tucson High was lineman Ralph Zarate, who was ranked in the Top 50 of most recruiting rankings in those years. Jimmie Nelson coached Palo Verde High School's boys basketball team to the state semifinals in 2014-15 and also was head coach of the Powerhouse 16U summer league team in which his son established himself as a top college prospect. Imagine what a proud papa he must be.
---
CDO tennis star captures championship
CDO sophomore tennis standout Aaron Eliscu, who is ranked No. 1 in the UTSA Southwest tennis rankings, won the Agassi No Quit 16-U championship in Las Vegas late last month. Eliscu won the UTSA sectional championship in June and stacks up as possibly the top prep tennis player in Tucson for the 2020 season.
---
Former Wildcats set for another EuroLeague season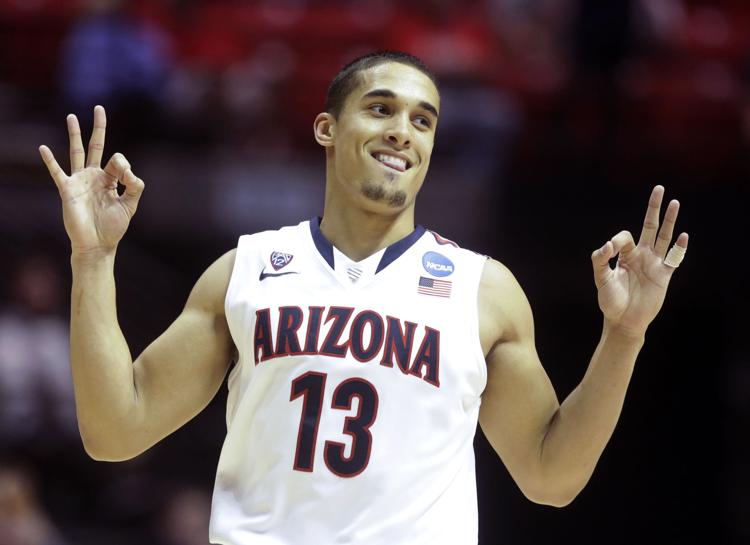 Arizona's 2011 and 2014 Pac-12 basketball players of the year, Derrick Williams and Nick Johnson, are both playing in Turkey's EuroLeague this season. Johnson, who has spent part of four seasons in the G League and another playing in Germany, is playing for Turk Telecom. Williams, who has played recently in Germany and China after a five-year NBA career, is playing for Fenerbahce Turkey.
---
Barcello finds comfort at new home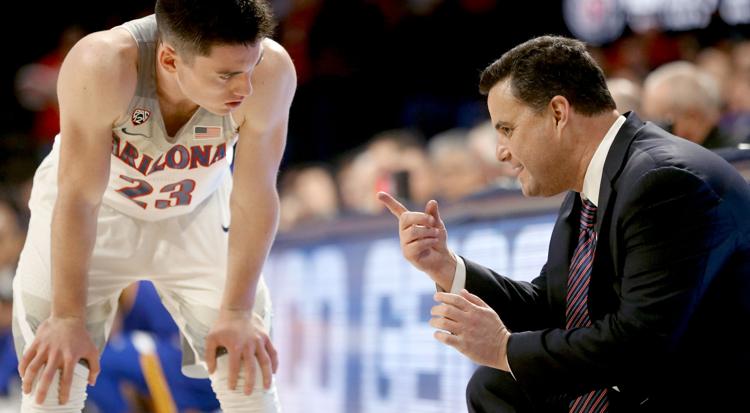 Former Arizona reserve guard Alex Barcello, sitting out this season as a redshirt at BYU, told BYU's radio network last week how pleased he is to play for new Cougars coach Mark Pope. "He knows what every guy needs," said Barcello, the Arizona 2017 high school player of the year. "He knows how to handle everybody. He's the best, on and off the court. He brings out the best in every player and every coach on the staff." Pope and Sean Miller are polar opposites in their approach to coaching; Pope is a father-figure; Miller is an old-school disciplinarian. Barcello told the radio station he hopes to play in the NBA. If he does, I'll be the first to say I'm stunned.
---
My two cents: Greatest challenge in organization's history awaits NCAA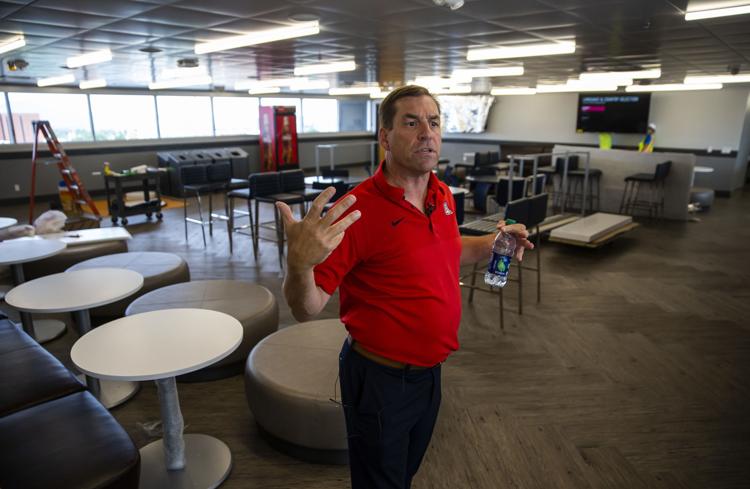 I will forever love the student-athlete, college model created by the NCAA in the early 1950s — or, as Arizona athletic director Dave Heeke says, "the spirit of the college model."
It seemed so honest and pure. But now a school like Arizona has six full-time employees in its compliance department with a payroll of close to $500,000 annually.
It's not 1983 or 1998 anymore. In football and basketball, college athletics have become more about asset control than academics. Lute Olson was paid $60,000 in his first season as Arizona's basketball coach. Now the three assistant coaches on the UA staff are paid a combined $845,000 a year.
The NCAA has no chance to rescue the old spirit of the college model.
When Cedric Dempsey left his post as Arizona's athletic director in 1994, becoming executive director of the NCAA, one of his administrative pillars was "cost containment."
Well, that all blew up. Now college football teams spend between $50,000 to $100,000 a year just to spend the night at a 5-star hotel on the night before home football games. Arizona does it. ASU does it. Why shouldn't an athlete get a piece of the action?
The financial realities of a new century demand that the NCAA fully change the model and make it possible for athletes to be paid for endorsements. As quickly as possible, in months, not years, the NCAA's challenge — surely the greatest challenge in the history of the organization — will be to create a model that permits athletes to earn money outside of school while maintaining the integrity of college sports.
Will the NCAA create a cap for players' income? Will it demand the college get a piece of the action? Will it try to keep all sports except football and basketball in the old model?
At the 1988 Final Four, Odiemae Elliott, the mother of Arizona All-American Sean Elliott, had to take out a loan to travel to postseason games. That was life of college athletics in 1988. Now it seems fully unfair.