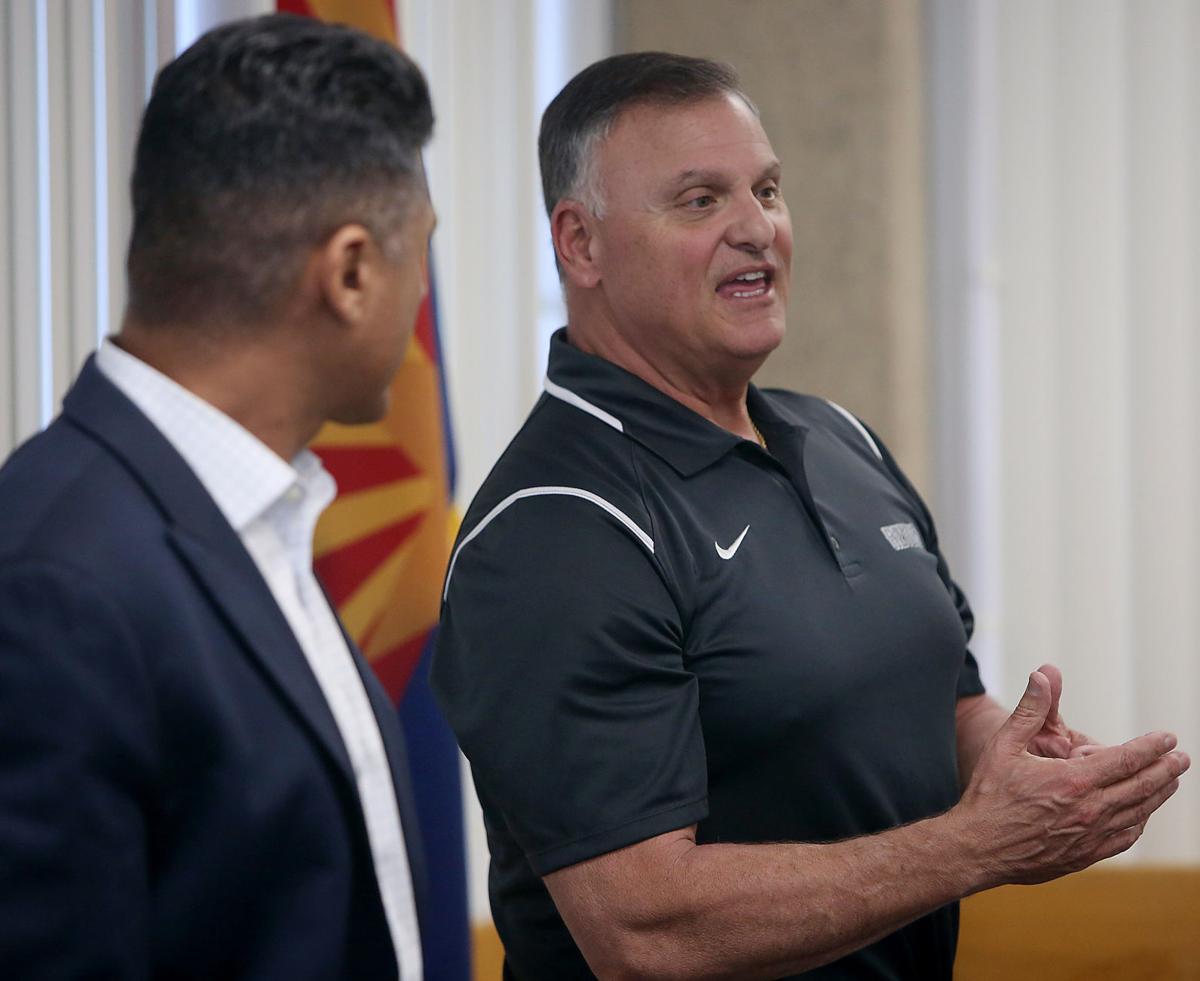 The Star columnist reveals how the Pima Aztecs will navigate its sports seasons through the pandemic, Hank Aaron's experiences in Tucson, Jedd Fisch's strategy for Arizona's staff and the top moments in UA-ASU basketball history. 
---
On this day a year ago, Pima College had already played 124 soccer, basketball and volleyball games. This season? None.
But the Aztecs' slow and careful preparation to resume athletic competition begins Tuesday. PCC's men's and women's basketball teams play Cochise College in Pima's west campus gymnasium.
"It has been hard, almost insanely hard," said Pima athletic director Jim Monaco. "I kid you not — we've been through 10 or 20 different schedules the last few months. It's a bit of a logistics nightmare."
The return to junior-college sports in Arizona has been made more difficult because neither the NJCAA nor the ACCAC issued COVID-19 protocol policies. Each school is on its own.
PCC's seven conference opponents from the greater Phoenix area canceled basketball and volleyball, which means the Aztecs will play two home-and-home basketball series each against the remaining ACCAC teams: Cochise, Arizona Western, Eastern Arizona and Central Arizona.
Pima's baseball and softball seasons are scheduled to begin Feb. 6. Volleyball begins Feb. 17. Soccer has been pushed to an April 3 start.
"We're fortunate in that our administration and coaching staffs have come together to create our own protocols," said Monaco. "It's tiring, but I believe we've followed the safest path."
For example, when PCC's men's and women's basketball teams travel to Coolidge to play the Central Arizona teams Thursday, the Aztecs will take two buses, one for women, one for men. For years, the PCC basketball teams took a single bus to road games. The Aztecs will also take a van in the event a player shows symptoms of being sick, making it possible to isolate that person from teammates and coaches.
"It's a little more expensive, and it's not easy reserving all of those buses," said Monaco. "But no one ever threw up their hands and said, 'Let's forget it.'"
The Aztecs aren't treating this as a throwaway year. Todd Holthaus' women's basketball team is ranked No. 7 nationally and Dan Bithell's volleyball team opens at No. 17. If the Aztecs qualify for NJCAA postseason tournaments, a decision on whether to allow them to travel out of state will be made at that time.
Game days will be a different experience, too. Players must arrive at the gymnasium already in uniform. Locker rooms will not be open for PCC or the visiting teams. No fans or relatives will be permitted to attend Pima's home games.
The entire athletic department was tested for the coronavirus earlier this month. Monaco said about 5% of the tests were positive. Before Pima athletes are allowed on a bus for trips to Yuma, Douglas, Thatcher and Coolidge they will have their temperatures checked and fill out a health-related questionnaire.
Monaco believes that there's far more to the return to sports than wins and losses.
"The mental toll this shutdown has taken on our student-athletes has been horrible," he said. "Many of our kids come from wonderful families, but we also have some whose family is their basketball or volleyball team. Their coaches have become their shoulders to lean on."
For almost six months, PCC's athletes completed classes, tutoring and team meetings on Zoom calls. Team practices began early this month. On Tuesday the school takes a cautious return to competition.
"It's a delight to see how everyone has responded," said Monaco. "But we know this is a day-to-day thing and we've done all we can to prepare for any possible scenario."
UA football program takes positive steps forward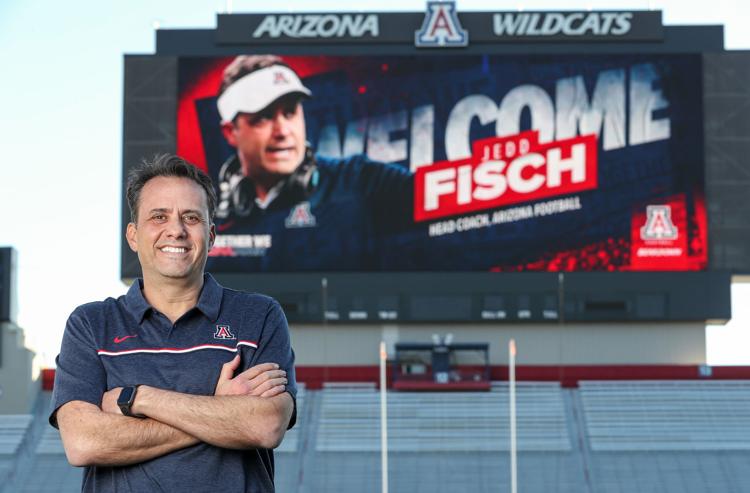 The three most impressive moves made by new Arizona football coach Jedd Fisch in the last week:
Casa Grande High School football coach Jake Barro received separate introductory phone calls from Fisch and assistant coaches Ricky Hunley, Chuck Cecil and Jordan Paopao. They inquired about Casa Grande quarterback Angel Flores, who is a rising prospect. Barro tweeted: "This new UA staff has got to be out-working everyone in the country." Flores might not turn out to be a Pac-12-level prospect, but it's difficult to imagine the Kevin Sumlin staff or the Rich Rodriguez staff ever putting in that type of effort to establish a recruiting foundation.
Fisch hired former Rincon High School three-sport athlete Beyah Rasool to be an analyst/defensive assistant. Talk about a home run. Rasool, whose father Tariq Rasool is the assistant principal at Cholla High School, has coached or played for Tucson impact coaches Dennis Bene, Jeff Scurran, Nemer Hassey and Matt Johnson, and was also part of Pima College's coaching staff. After playing at Eastern Arizona College, Rasool kept working toward a career in coaching, tapping into a connection with former Arizona secondary coach Ryan Walters. Walters hired Rasool last season to help the Missouri defense as an analyst. Fisch did his homework and added to his unofficial "Tucson first" campaign by finding Rasool in the SEC and bringing him home.
Sumlin's chief of staff, Dennis Polian, has been hired by Baylor. Polian was among those responsible for building a wall around the UA football program, disconnecting it from fans and even former players. Fisch quickly hired Matthew Hayes as his chief of staff. Hayes is an engaging, people-first man, a motivator whose last job was as director of operations for the Seattle Dragons of the XFL, working for GM Jim Zorn, a former Seahawks quarterback and NFL head coach. Hayes is from Seattle, where he worked with state champion Bellevue High School's football program, and then was hired as an intern on Philadelphia Eagles coach Doug Pederson's staff. Hayes has connections to new UA assistants Brennan Carroll and Jordan Paopao and should help Fisch refresh Arizona's football program on a daily basis.
UA's walk-off win in Tempe part of 30-year pattern
As Arizona freshman Azuolas Tubelis celebrated with teammates after a last-shot victory at ASU Thursday, it brought to mind 14 other last-possession or overtime UA-ASU games in Tempe since 1992. Here's my list of the top five:
ASU 53, Arizona 52, 1995. Damon Stoudamire swished what appeared to be a game-winning 3-pointer for No. 9 Arizona with six seconds remaining. But a split-second before Stoudamire released the ball, UA forward Ray Owes saw Lute Olson calling for a timeout. Owes waved his arms. The officials called timeout. Stoudamire's shot didn't count. On a second attempt, UA guard Reggie Geary lost the ball in heavy traffic.
ASU 69, Arizona 66, 2014. The No. 2 Wildcats lost when ASU's Jermaine Marshall overturned a 66-65 Arizona lead, scoring on a layup with 14 seconds to go in double overtime. Arizona guard T.J. McConnell's layup attempt to win the game was blocked by Jordan Bachynski. ASU's Jahii Carson picked up the ball and raced downcourt for a dunk. He was carried off the court as ASU fans rushed the floor.
Arizona 70, ASU 68, 2005. No. 8 Arizona guard Salim Stoudamire swished a 12-footer with 0.6 seconds left, having dribbled the clock down from 20 seconds. It gave Lute Olson Pac-10 victory No. 305, surpassing John Wooden's record 304.
Arizona 83, ASU 82, 1998. No. 3 Arizona gave ASU the last shot when Miles Simon turned the ball over twice in the last 40 seconds. But Sun Devil Ahlon Lewis missed a short jumper at the buzzer.
Arizona 74, ASU 73, 1999. No. 7 Arizona won when center A.J. Bramlett banked in a 10-footer with 9 seconds remaining. The Sun Devils gave the ball to their career scoring leader, Eddie House, for a final possession. His shot was altered by Jason Terry's in-your-face defense and missed.
Hank Aaron drew crowds during his two appearances in Tucson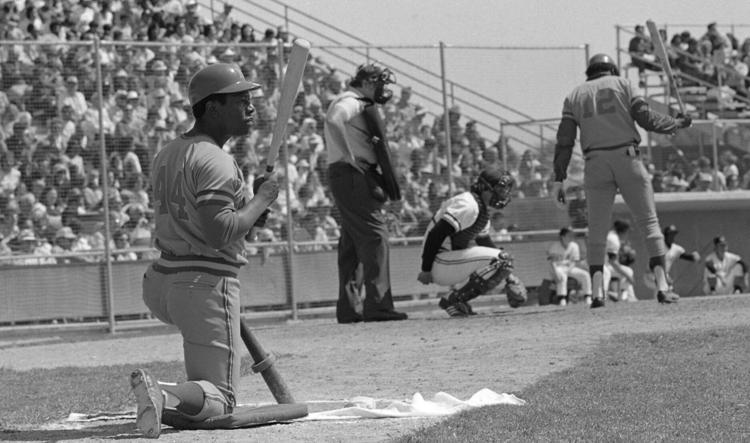 Eleven months after he became baseball's career home run leader in 1974, Hank Aaron made his first appearance at Tucson's Hi Corbett Field. It was March 23, 1975 and an all-time Tucson spring training record crowd of 6,249 showed up for "Hank Aaron Poster Day." In his first at-bat for his new team, the Milwaukee Brewers, Aaron doubled to left-center field. Aaron also played at Hi Corbett on March 30 that spring, getting two hits for the Brewers before a crowd of 2,864. It was his last game in Tucson.
Elite Eight opponents team up in Europe
The most painful loss in the Sean Miller years of Arizona basketball was a 64-63 overtime setback to Wisconsin in the 2014 Elite Eight. That UA team finished 33-5. It was the game that UA All-American Nick Johnson was unable to score on the game's final possession.
One of those who played a strong role in eliminating Arizona in both the 2014 and 2015 Elite Eights was deadeye Wisconsin distance shooter Sam Dekker. Time heals all wounds, right? Now Johnson and Dekker are teammates on the EuroLeague's Turk Telecom team. Dekker leads the team with 16 points per game; Johnson averages 12. On Saturday, Johnson scored 20 points and had 14 rebounds in a victory over Bahcesehir. Dekker scored 17, after which he tweeted that Johnson is a "stat-gawd."
Sierra Vista's Robles 'mourning' MLS career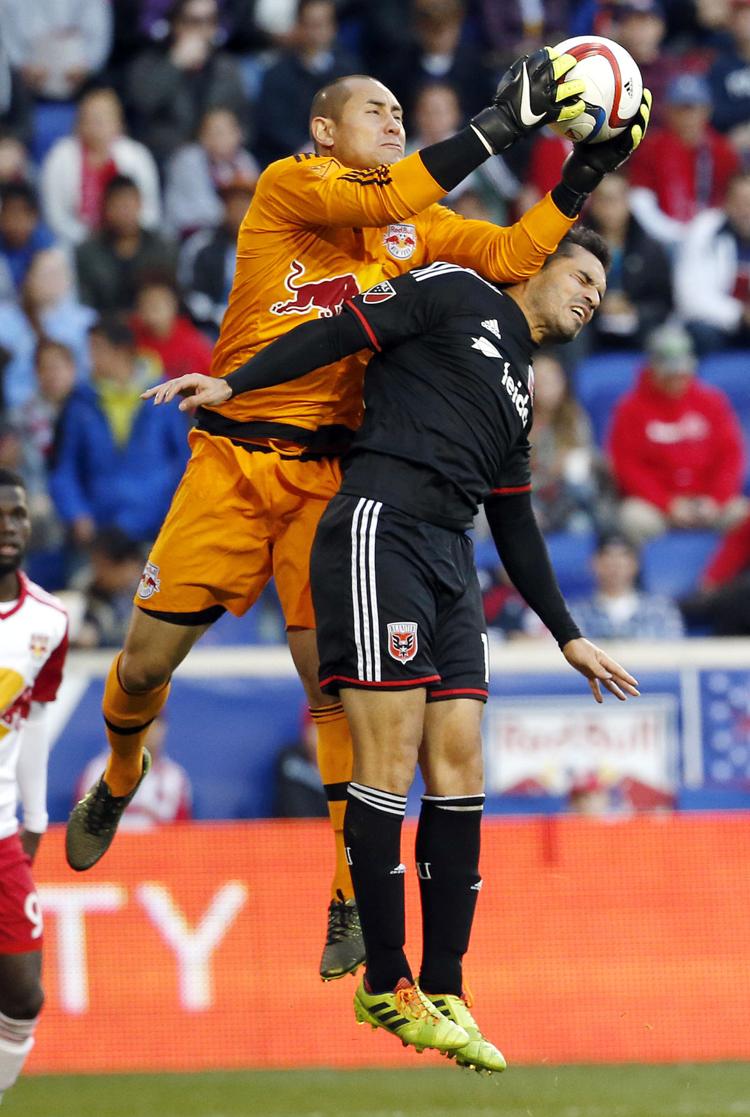 Possibly the top soccer player over three decades to perform for the esteemed Tucson Soccer Academy was goalie Luis Robles, who grew up in Sierra Vista before connecting with TSA and Salpointe Catholic High School coach Wolfgang Weber. Robles last week announced his retirement from Major League Soccer; he played 13 years for the New York Red Bulls and was the MLS' 2015 Goalie of the Year, and a three-time member of team USA. Robles, 36, released a statement in which he said he will be "mourning" the end of his career but is ready for "what is next in my life."
'Gronk' remains HOFer despite pedestrian season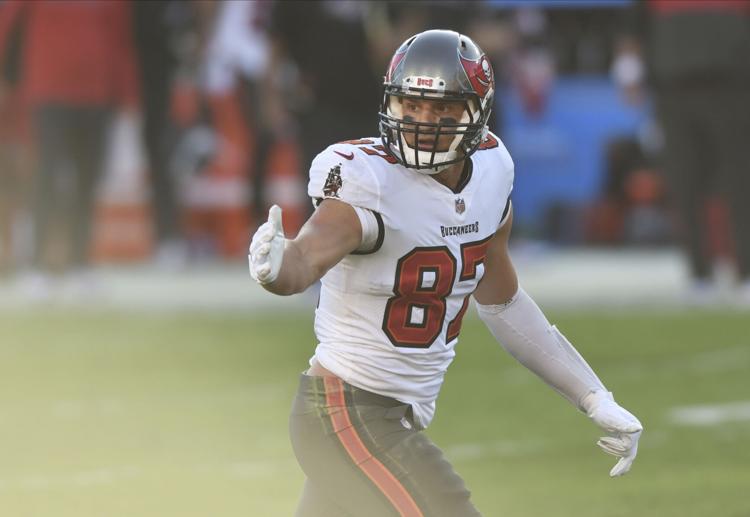 Tampa Bay Bucs tight end Rob Gronkowski, who played at Arizona from 2008-10, plays in the NFC championship game Sunday, but it's not the same Gronk who was so important in five Super Bowl appearances for the New England Patriots. Gronk has been targeted for passes 77 times this year; in his pre-injury prime, he was targeted 124 times and 130 times in 2011 and 2014, respectively. He has caught 45 passes for 623 yards this season. His career best: 90 for 1,327 yards in 2011. Injuries and age have taken a toll, but Gronk is a gamer and, beyond that, a first-ballot Hall of Famer.
Who is replacing Larry Scott?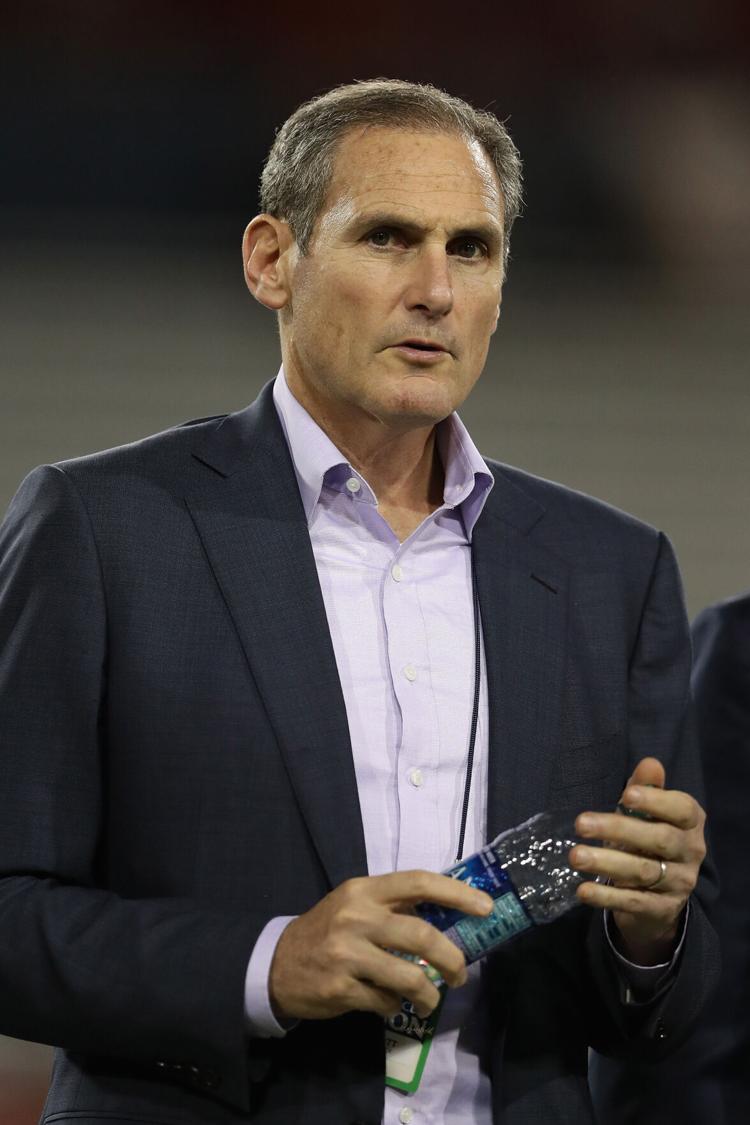 A day after the Pac-12 announced commissioner Larry Scott would leave his post June 30, one of the three members of the league's CEO board, Washington president Kirk Schulz, told a Seattle radio station that Scott's $5.3 million salary became a problem. "We are well aware of the PR surrounding Larry's compensation," Schulz told the radio station. "My goal going into this is that it should not be the No. 1 thing people are talking about when it comes to the Pac-12. I want to make sure we tone that down a little bit."
Unfortunately, the genie is out of the bottle in Power 5 conference sports. Texas athletic director Chris Del Conte, who would be perfect as Scott's replacement, is paid $2.3 million by the Longhorns. It's unlikely he'd consider taking on a project as monumental as restoring public faith (and a lot of money) to the Pac-12 for anything less than $3.5 million a year.
My two cents: TUSD's sports rules create new set of problems for players, parents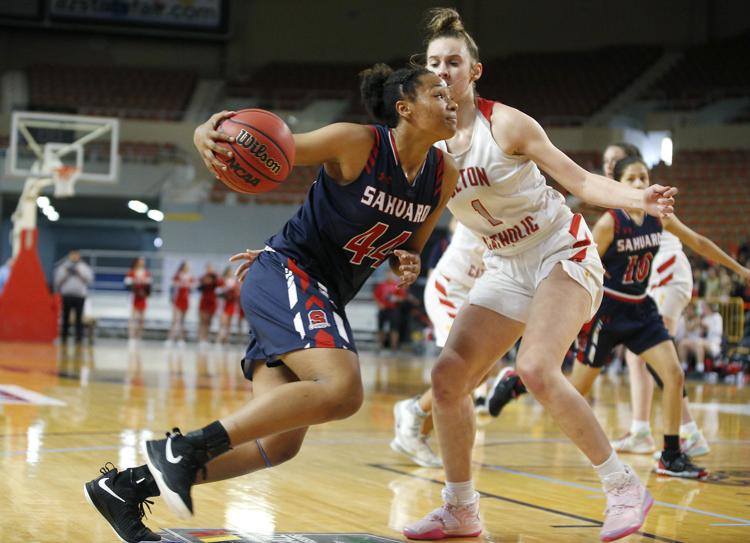 Many Tucson high schools are scheduled to begin basketball games this week, and if not this week, next.
Tucson Unified School District is not allowing fans or parents into gymnasiums. It has also specified that each player must be driven to the game by a parent/guardian. There will be no buses. No carpools.
That creates another logistical problem. Let's say Thursday's Sahuaro at Cholla girls basketball game is played as scheduled. The parent of a Sahuaro player must drive their daughter alone across town to the Cholla gym. That takes 30 or 40 minutes. If the game starts at 7 p.m., the player will probably be expected to arrive at Cholla an hour before tipoff.
But what about the parent in the car? Does he/she drive all the way back home by Sahuaro and wait three hours before making another round trip to Cholla? Or does he/she sit in the car, or get dinner at a drive-thru?
Another potential issue: TUSD and other high school districts can't afford Pac-12-type antigen tests or perform sophisticated contract tracing, so if a player or coach becomes infected with COVID-19, it would likely shut down the basketball program for two weeks. The 2020-21 high school basketball seasons in Tucson are limited to a six-week window, with about 14 regular-season games, ending the first week of March.
No one said this would be easy. 
Contact sports columnist Greg Hansen at 520-573-4362 or ghansen@tucson.com. On Twitter: @ghansen711