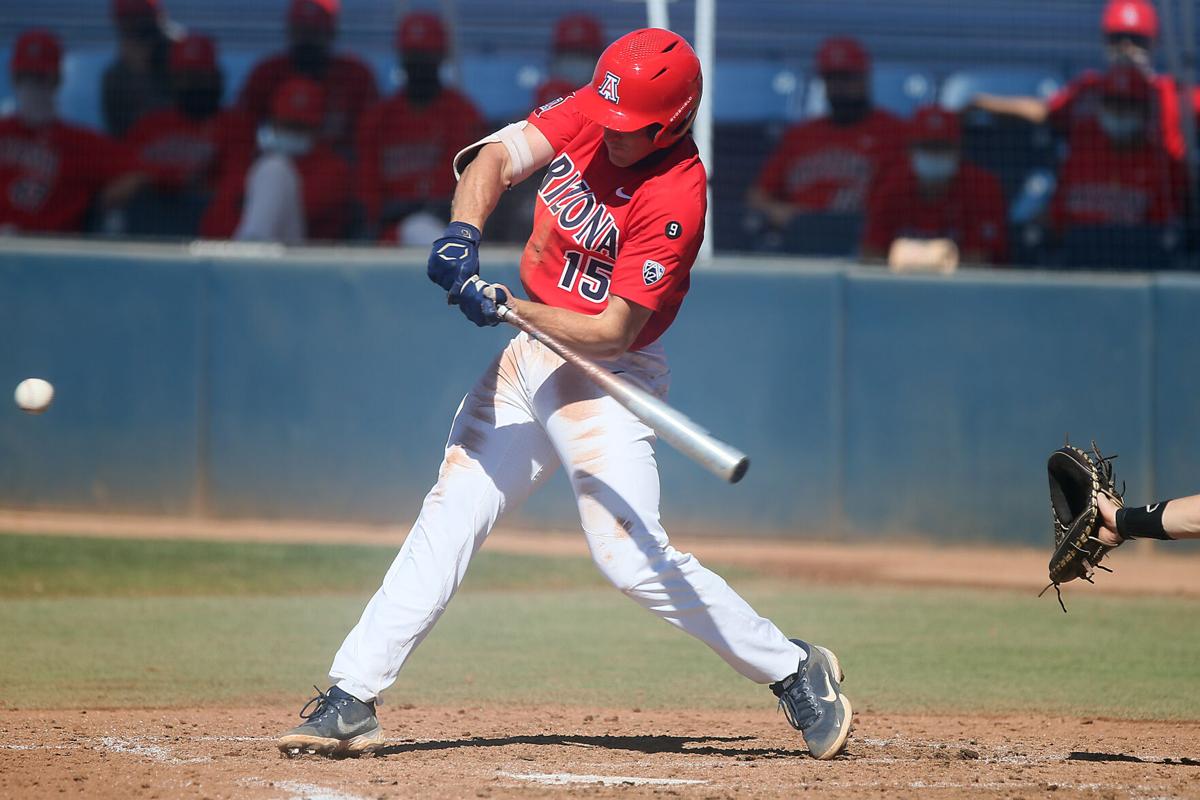 The Star columnist checks in with why 2021 is the year of the freshman at the UA, Tommy Lloyd's battles against Arizona greats and how the NFL draft historically shows what Jedd Fisch needs to work on. 
---
No matter how far back you trace the success of freshman athletes at Arizona, the Class of 2021 has a Fab Five that ranks with any.
• Freshman Johnnie Blockburger of Tucson High broke the school record in the 400 meters with a time of 44.71 seconds, and is already fourth in UA history at 100 meters in 10.28.
• Freshman outfielder Janelle Meoño is hitting .453, by far the top figure in Pac-12 softball.
• Freshman tennis player Gustaf Strom of Sweden went 17-2 in the regular season, and is a vital piece to what has been the most successful men's tennis season at Arizona in 50 years.
• Freshman volleyball standout Sofia Maldonado-Diaz became the school's first Pac-12 Freshman of the Year since 2002.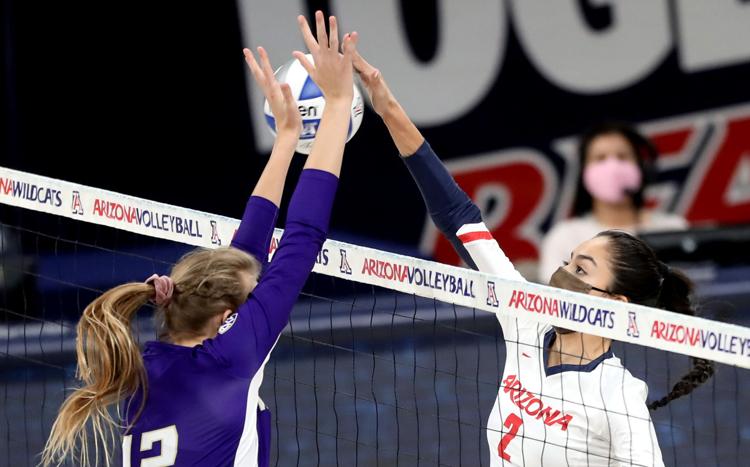 And then there is baseball's Jacob Berry, the UA's cleanup hitter, who leads the Pac-12 in all Triple Crown categories through Friday with a .408 batting average, 11 home runs and 46 RBIs. He also leads the league (by far) in slugging percentage, at .769.
If the season ended today, Berry would clearly be the Pac-12 Player of the Year. A freshman has never won that award.
Not only that, only three Pac-12 baseball players have ever won the outright Triple Crown: ASU's Mike Sodders in 1981 (.424 average, 22 homers, 100 RBIs) Stanford's Rick Lundblade in 1985 (.408 average, 25 homers, 92 RBIs) and ASU's Brett Wallace in 2007 (.410 average, 16 homers and 98 RBIs).
Arizona coach Jay Johnson last week described Berry and freshman catcher Daniel Susac as "not very pitchable" and "very tough to get out" and added Berry and Susac are "as talented as you can get in college baseball."
In a national sense, Berry wasn't an elite prospect after his senior year at Queen Creek High School, in part because he played just four games as a senior when COVID-19 shut down the season. He was, however, the No. 3 prospect in Arizona.
I asked him last week if he hit a lot of home runs at Queen Creek. Double figures, perhaps?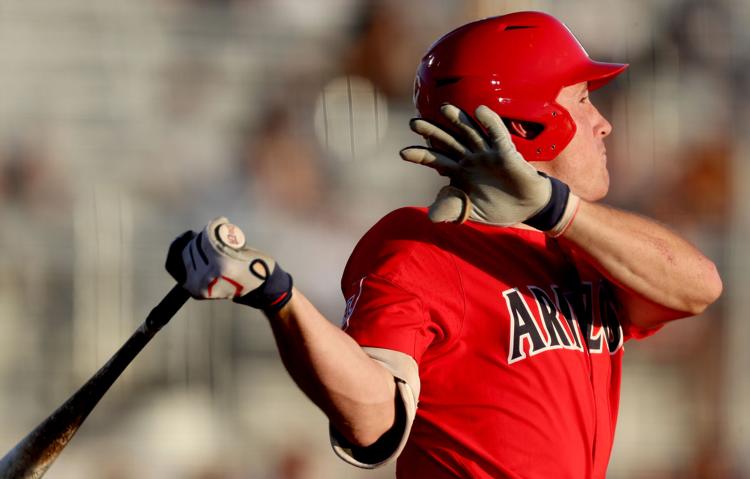 Berry hit nine home runs in high school, but Johnson and his coaching staff watched closely enough to see it wasn't all about home runs. Berry hit .441 as a junior and was a gamer, a natural, the son of the superintendent of the Queen Creek School District, Perry Berry, who has a baseball background that he passed on to Jacob.
Perry Berry spent four years in the Houston Astros system after growing up in remote Cortez, Colorado, a second baseman with pop whose professional career stalled because he had trouble hitting breaking pitches.
When the Berrys moved to Page — Perry became the principal of Page High School — he defused the breaking ball issue by teaching Jacob how to be a switch-hitter. He also became dedicated to driving his son to Phoenix to play youth league baseball against better competition before the family moved to Queen Creek in 2011.
Berry has thrived in Johnson's system, in which harmony is a priority.
"I've always heard stories of upperclassmen not getting along with underclassmen,'' Berry said. "But this is just the opposite.''
As for the chance to hit .400 in his freshman season, Berry said "I have a very simple swing; it makes it difficult for them to get me out.''
In the Pac-12 era, Arizona has produced seven .400 hitters, from Terry Francona's .401 in 1980 to Dillon Baird's .433 in 2009. Perry has a long way to go, including three-game Pac-12 showdowns against top-25 powers Stanford and Oregon State, followed by the NCAA playoffs.
But on May 2, 2021, you wouldn't get much argument if you said Jacob Berry is having the best freshman baseball season in school history.
Barnes to Baylor? Things have changed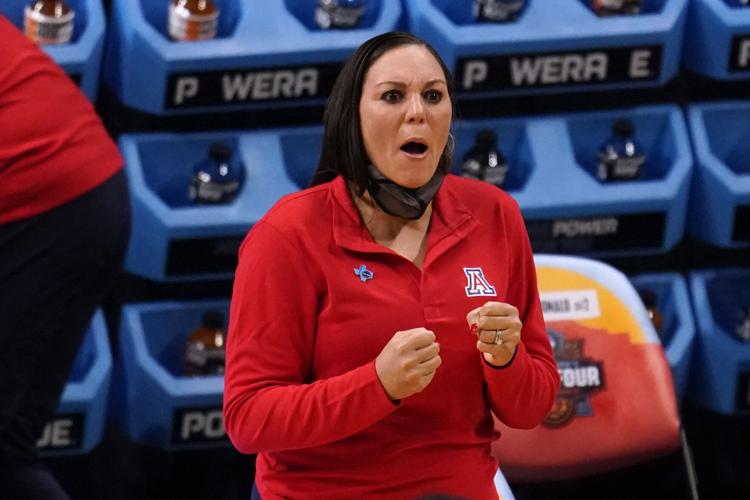 My prediction for May: UA athletic director Dave Heeke will soon announce that he and Adia Barnes have reached a financial agreement that will keep her at Arizona.
More specifically, it will prevent Baylor athletic director Mack Rhoades, a UA and Rincon/University High School grad, from poaching Arizona's most popular coach by offering her a significant raise and a chance to replace three-time NCAA champion Kim Mulkey, who left Baylor to coach at LSU last week. Baylor paid Mulkey a reported $2.3 million per season.
Keeping Barnes at Arizona won't be cheap, but it's the cost of the rising popularity of women's basketball both in Tucson and nationally. The salary market for Power 5 women's basketball coaches has evolved significantly in the last few years.
Washington, for instance, hired Rice coach Tina Langley last month and gave her a six-year, $4 million package that starts at $650,000 per year. That's more than Barnes ($570,000) is scheduled to make in 2021-22 under terms of a five-year extension announced last month.
Oregon State's Scott Rueck is working on a five-year, $4.1 million deal, and Oregon's Kelly Graves is signed through 2029, with a top base salary of $1.3 million.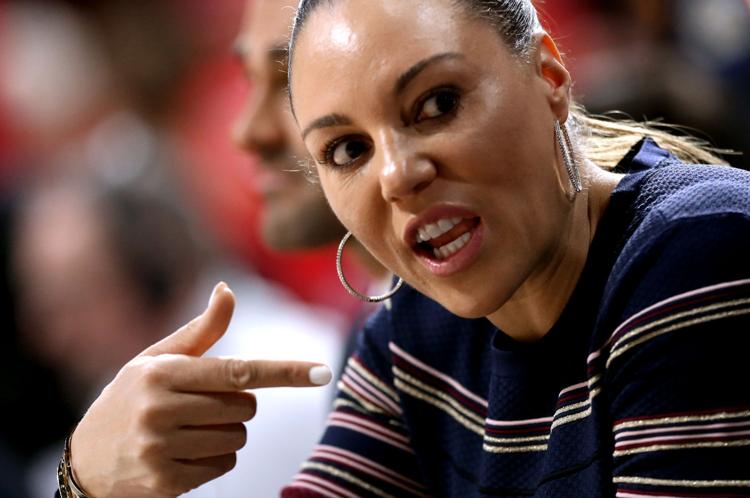 Adjusting Barnes' compensation is the right thing to do and Heeke probably didn't hesitate last week once it became clear Baylor had a strong interest in Barnes.
No one said the money game in college sports is defensible or easily explained. The UA last season paid retread defensive coordinator Paul Rhoads $850,000 and struggling offensive coordinator Noel Mazzone $600,000.
In that context, Barnes is a steal at whatever it's going to take to keep her.
Precedent in the coaching/poaching business was set at Arizona in 1985 when Kentucky tried to lure Lute Olson away from the UA. Ultimately, Olson chose not to coach at Kentucky, for among other reasons, he didn't want his family to live the fishbowl existence of a Kentucky basketball coach.
But 10 influential donors also agreed to pay $10,000 each for Olson to make a special TV appearance on Channel 13. That $100,000 paid to Olson in 1985 is roughly $250,000 in today's dollars.
It was more than worth it, as is reworking the figures in Barnes' contract.
Lloyd played against ex-Cats greats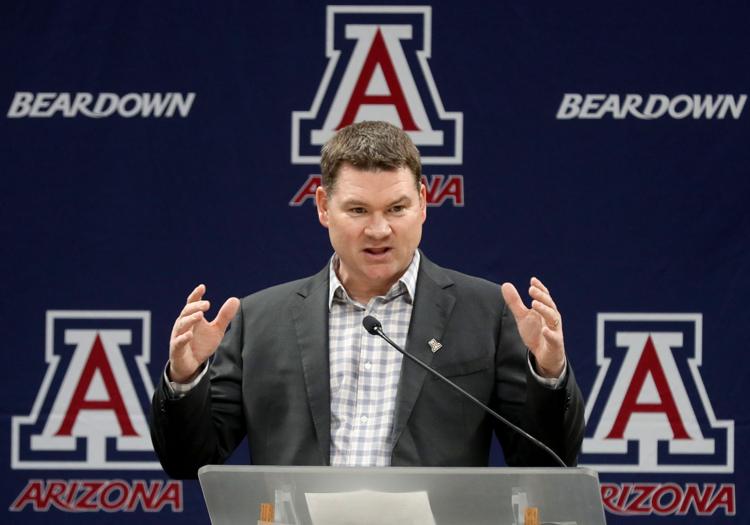 New UA basketball coach Tommy Lloyd became painfully familiar with the reach of Arizona's basketball program in the mid-1990s when he was an all-conference player at Washington's Kelso High School. In Lloyd's senior year — Kelso's first year in the state tournament in 33 seasons — Lloyd's team was eliminated by Federal Way High School in a game in which future Wildcat all-Pac-10 forward Michael Dickerson scored 29 points and had 17 rebounds.
A year later, Lloyd participated in a summer Pro-Am league at Oregon's Concordia College and was matched against the 1996 NBA Rookie of the Year and 1995 Arizona All-American point guard Damon Stoudamire in a game in which Stoudamire scored 42 points. Last week, former Wildcats Channing Frye and Richard Jefferson spoke frankly in a podcast, insisting that UA president Robert C. Robbins lacked "institutional memory" in the coaching search to replace Sean Miller. There is much truth to that; Robbins probably wouldn't know Jud Buechler from A.J. Bramlett. My guess is that Lloyd will put his robust positive personality to work to soothe the feelings of ex-Wildcats like Jefferson and Frye, who say the coaching search was far less than desirable.
Pac-12 Networks' coverage of men's golf championship displays lack of professionalism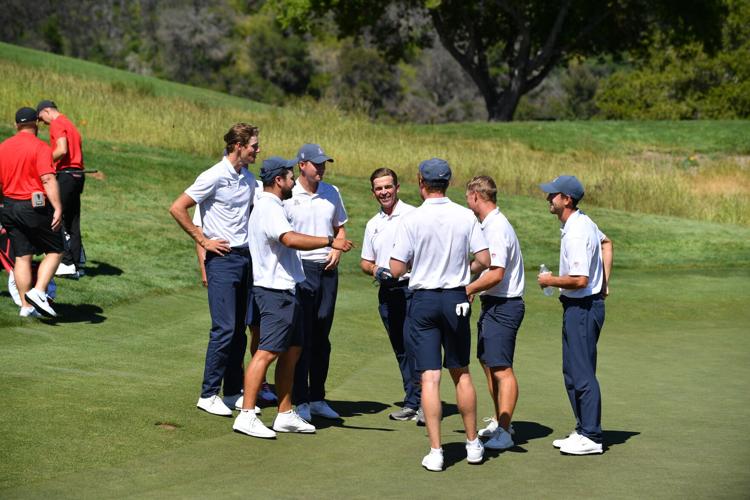 When Arizona won the Pac-12 men's golf championship last week for the first time since 2004, the Pac-12 Networks was, shall we say, not operating at high standards. Outgoing commissioner Larry Scott built the Pac-12 Networks in part to showcase non-revenue sports. As Jim Anderson's team held off powerful ASU and Stanford to win the title Wednesday afternoon, the Pac-12 Networks aired a 2019 Oregon-Bowling Green football game. Unreal.
The golf tournament was held a mere 60 miles from Pac-12 headquarters. Finally, on Thursday, the Pac-12 aired a low-level 30-minute highlight package of the men's golf finals, but there was no analyst, no commentary, no perspective. It focused on the three leading golfers, including champion Brad Reeves of Arizona, but its camera work was amateurish and it failed to talk about the developing tight finish in which the Wildcats held on to win. The new Pac-12 commissioner has got a lot of work to do in making the Pac-12 Networks relevant and operating at a professional level.
Rondae back in the league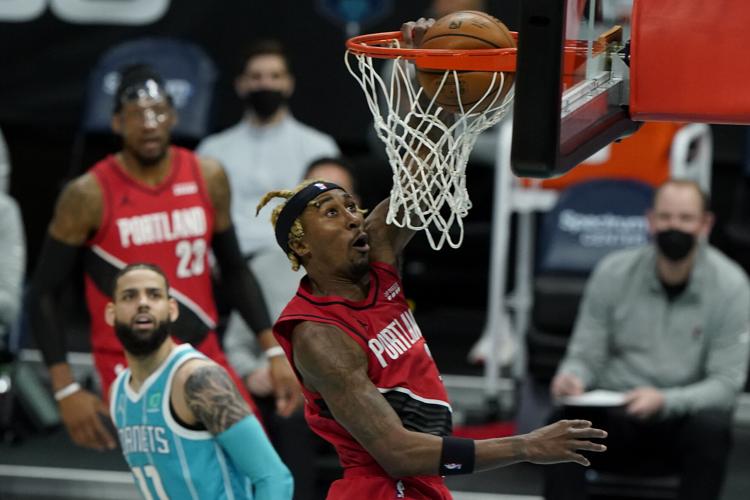 Arizona's 2015 All-Pac-12 defensive whiz Rondae Hollis-Jefferson has been signed for the remainder of the season by the Portland Trail Blazers for $245,000. He had been out of basketball until April. Only 26, Hollis-Jefferson has struggled in the NBA because he's not a shooter in a game of shooters. His career 3-point percentage is 21%, and in April he did not appear in seven of Portland's 13 games. He has averaged 9.1 points in a 5½-year NBA career but is a bit undersized, at 6-6.
Pima pitching greats team up to coach Angels' Single-A squad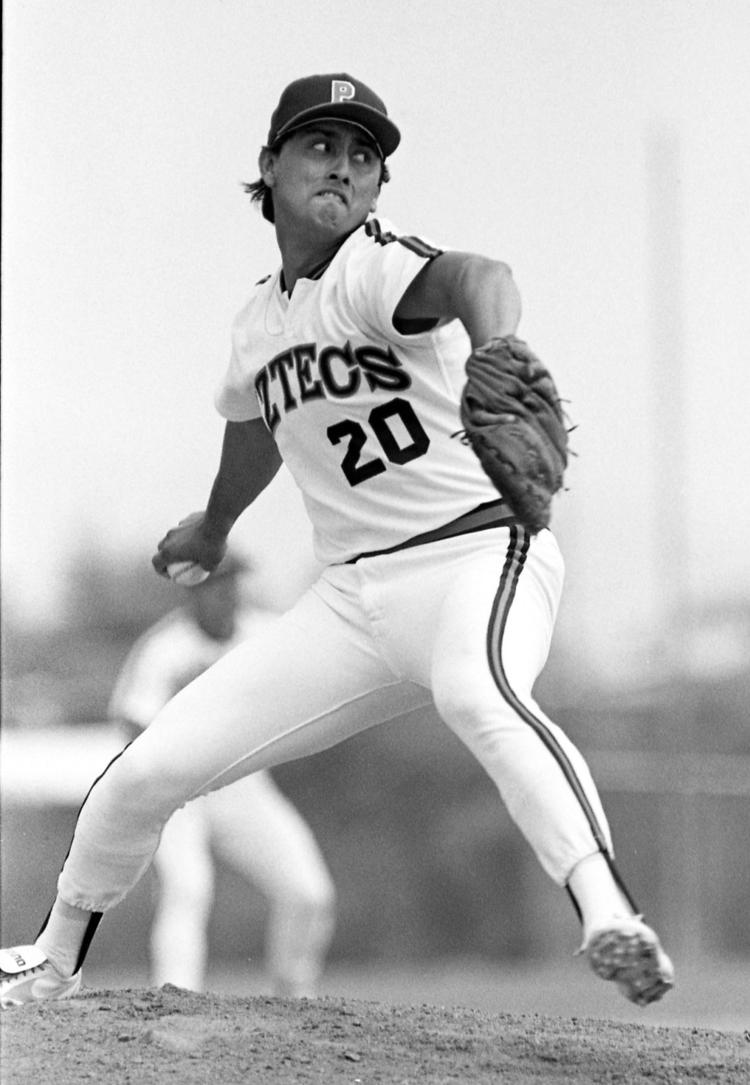 When Palo Verde High School and Pima College grad Jack Howell, a third baseman, departed Arizona's baseball program for the pros in 1983, Nogales pitcher Gilbert Heredia stepped in, pitching Pima to the 1985 NJCAA championship game before taking Arizona to the 1986 College World Series title. Their pro careers were highly successful: Howell played 11 MLB seasons, Heredia 10. Now they are working together. Howell is the new manager of the Inland Empire 66ers, the Los Angeles Angels' Single-A affiliate. Heredia is the team's pitching coach. Both have been involved in minor-league coaching for the last 15 years.
'Spears and Ali' return to ESPN Tucson airwaves for rebranded afternoon show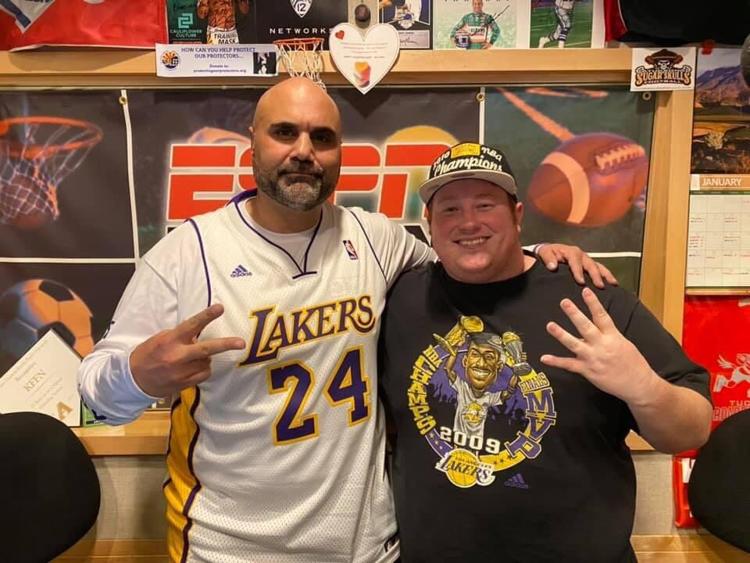 Tucson's once-thin lineup of sports-talk radio programming will become more competitive than at any time in our city's history Monday when the "Spears and Ali'' program debuts on KFFN 1490-AM from 3-6 p.m. Monday through Friday. The Star's Justin Spears and Tucson attorney Ali Farhang become a full-time partnership. Farhang, co-founder of the Arizona Bowl, worked periodically with Spears before KFFN shut down its local sports-talk program about a year ago. Farhang is outstanding. He comes across as one of those New York City-type sports-talk personalities, full of history, perspective and opinion.
They'll challenge the relatively new twosome of Steve Rivera and Jay Gonzales on Fox Sports 1450-AM (3-5 p.m. Monday-Friday) in setting a new standard of entertaining and informative sports-talk in Tucson.
My two cents: Draft highlights Cats' QB struggles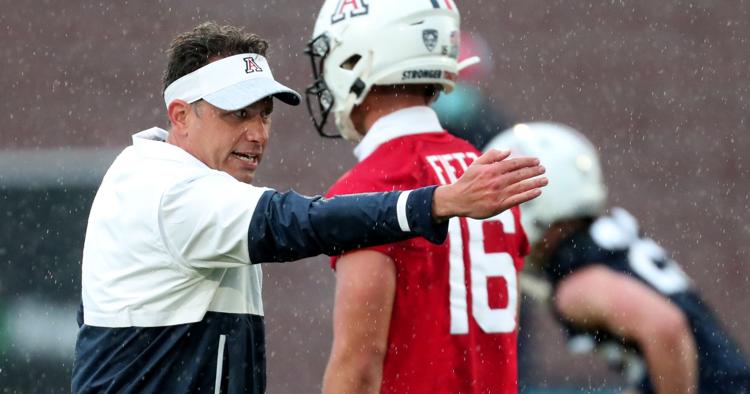 In the last 40 years of the NFL Draft, Pac-12 schools had 82 quarterbacks selected. Stanford's Davis Mills became No. 82 on Saturday.
Arizona? Three.
There is no more immediate and defining factor why Arizona has not played in a Rose Bowl or won an outright Pac-12 championship in those 40 years.
USC has had 13 quarterbacks drafted in that period. Oregon and Washington 10. Even Cal had seven QBs drafted in that span; Washington State had six.
History is not kind to Arizona QBs. In 1985, Arizona quarterback John Conner was drafted in the 10th round by Seattle, but did not make the Seahawks' roster. That should've been a tip to the UA's quarterbacking jinx/curse. Conner only started one games at Arizona before getting injured and losing his job to Alfred Jenkins in the 1984 opener.
Jenkins was drafted in the ninth round in 1987 by Washington, but the Redskins selected him as a tight end. Jenkins did not play a down in the NFL.
Only Nick Foles, selected in the third round by Philadelphia in 2012, became an NFL player, winning a Super Bowl and starting 55 games.
Other than Foles, the only ex-Wildcat to take a snap as an NFL quarterback the last 50 years was Bill Demory, an undrafted free agent who appeared in seven games for the New York Jets in 1973-74.
How does Arizona go about fixing its QB issues? On Saturday, UA coach Jedd Fisch was a guest speaker at the Arizona Football Coaches Association's annual clinic and conference in Scottsdale. Most of the state's leading high school football coaches were in attendance.
Fisch is a master salesman. He's not afraid to ask for help. He's not shy about letting people know the Wildcats want to be in the quarterbacking business.
If not now, when?
Contact sports columnist Greg Hansen at 520-573-4362 or ghansen@tucson.com. On Twitter: @ghansen711