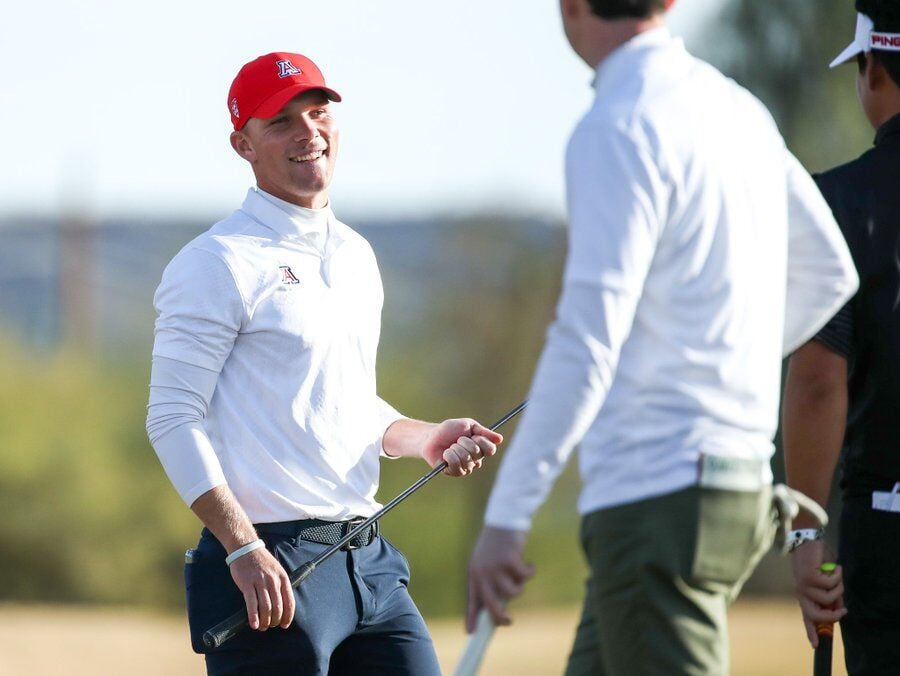 The Star columnist shares how the Arizona men's golf team is a national title contender, why Phil Mickelson and Jim Furyk will be must-watch golf and a top-10 list of UA graduates in the coaching field. 
---
As it became clear the NCAA would shutter its sports competitions 11 months ago, Arizona men's golf coach Jim Anderson hustled to arrange a Senior Day dinner, a bittersweet celebration of what promised to be the UA's best season in 15 years.
Seniors Brad Reeves, David Laskin and Briggs Duce met their coach and teammates at El Corral for a goodbye dinner. All brought their letterman's jackets, posed for pictures and listened as Anderson gave an emotional speech.
"I love you guys," he said. "We might not be together again."
Now the Wildcats are ranked No. 2 in the latest Golfweek poll and No. 4 in the Golfstat metrics. They won the co-championship of the 24-team Prestige Invitational last week at PGA West near Palm Springs, one of the nation's most loaded events, with six teams ranked in the top 15. Arizona even beat ASU by six strokes; the Sun Devils are considered a leading national title contender.
Reeves, Laskin and Duce are back — "super seniors," as some refer to those whose 2020 eligibility has been restored — and the Wildcats have won back-to-back tournaments for the first time since 2004.
"Being ranked No. 2 is something these guys read and hear about," said Anderson, "but I know one thing: to this group, it means there is still room to climb. We've been on the wrong side of the rankings and what's more important than being ranked No. 2 is to get everything in place so that May can be a special finish for us."
Reeves, Laskin, Duce and senior Trevor Werbylo, a Salpointe Catholic High School grad, have been the core of one of the most challenging and difficult rebuilding jobs in UA sports history. Golf in the Pac-12 is ridiculously good, belonging with swimming, tennis, softball, volleyball, gymnastics and track as probably the nation's No. 1 conference for those sports.
Every time you hear ESPN's Bill Walton's chronic "Conference of Champions" reference, it is built on golf as much as anything else. Pac-12 teams have won the NCAA men's/women's golf titles 35 times. It is the conference of Tiger and Phil (and Annika Sorenstam).
From 1987-2005, Hall of Fame coach Rick LaRose built Arizona men's golf into a juggernaut. The Wildcats were either first or second in the Pac-10 nine times, never giving an inch against the ASU, Stanford and UCLA powerhouses.
But when Anderson was hired off the Texas A&M staff in 2012, Arizona had stalled. The Wildcats had finished ninth or 10th in the Pac-10 in 2008, 2010 and 2012. There were no more Jim Furyks, Rory Sabbatinis, Ricky Barneses and Robert Gamezes walking to the first tee.
Anderson's Wildcats didn't finish in the top seven of the Pac-12 for his first seven years.
But last week at PGA West, Werbylo tied for the championship; darkness prevented a team and individual playoff against North Carolina. Reeves won the title at the Arizona Intercollegiate two weeks earlier and was ninth at the Prestige. Sophomore Chase Sienkiewicz has emerged as a force, finishing 17th and 21st in the two events.
"Once we got the green light to play again, the guys were ready," said Anderson. "I don't mean to undermine the younger guys on the team, but Reeves, Laskin and Werbylo helped to establish this winning culture. They're guys you want in your lineup all the time. I'm just so glad they got another chance to show what they can do. Pretty cool."
Arizona's remaining schedule is imposing. It plays the Cabo Invitational next month at the TPC San Antonio. It has been invited to be part of an elite field at the Augusta Invitational in early April, and, among others, plays at the stacked ASU Invitational as a lead-up to the Pac-12 championships.
By then, it could be like the '90s again when ASU and Arizona ruled men's college golf.
Pima College sports stalled again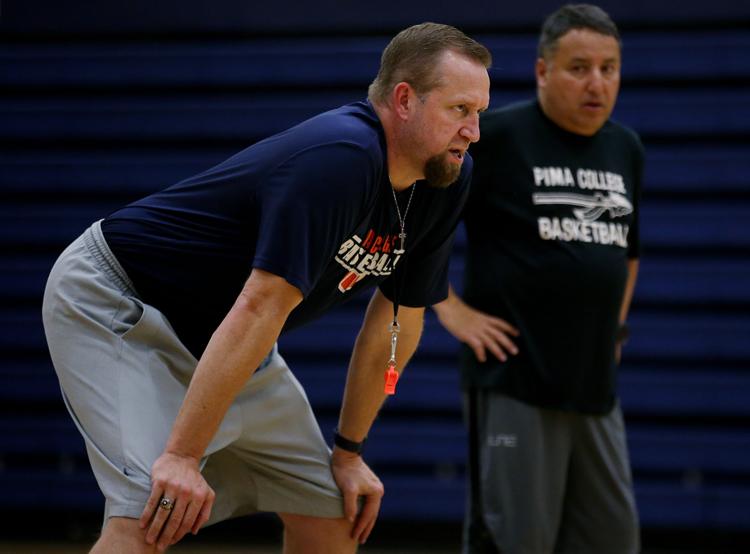 The nationally prominent men's and women's basketball teams from Pima College have yet to open the season. Originally scheduled to start on Jan. 26, both Aztec teams have canceled six games due to COVID-19 protocols. That total will grow to eight this week.
Over that same period, boys and girls high school basketball teams from the Tucson metro area have combined to play 152 games. Sahuaro's boys team is already 9-2. Flowing Wells' girls team is 7-2.
In canceling this week's games, PCC last week announced "out of abundance of caution due to COVID-19 cases in Pima County and Arizona," the Aztecs are pushing back the tentative start of the basketball season to March 2.
The Aztecs men's and women's teams continue to practice and scrimmage, complete with referees. Neither team has been shut down by COVID-19 infections. In the meantime, the four ACCAC teams who chose to go ahead with basketball — Arizona Western, Cochise College, Eastern Arizona and Central Arizona — have combined to play 42 games.
Understandably, this does not go over well with the Aztecs players, many of whom are from out of town, paying rent for their apartment leases and unable to do much more than work out against their teammates and otherwise stay home and study remotely.
Pima College chancellor Lee Lambert made the difficult decision to pause his school's basketball and volleyball operations.
"Our decision to delay indoor sports is based on guidelines developed by the Arizona Interscholastic Association and the Pima County Health Department and considerations from the CDC," he said Friday.
"These guidelines include meeting benchmarks for community spread of COVID-19, hospitalizations, public health tracking and other factors. While cases in Pima County and Arizona are declining rapidly, we have not yet reached 'moderate community spread,' when we would consider a return to indoor sports."
Lambert allowed the PCC baseball team to play four games last week; coach Ken Jacome's team has four games scheduled this week. The Aztecs' softball team is set to open March 6.
"The risk of transmission indoors is nearly 19 times more than outdoors," said Lambert. "We are encouraged that COVID-19-like illnesses are now trending (down)."
The most important thing Lambert said is this: "To date, Pima Community College has had no reported on-campus transmission of the virus, thanks to strict adherence to safe practices."
Given increasing vaccination numbers in Southern Arizona, it seems possible that as COVID-19 numbers improve, Brian Peabody's men's basketball team and Todd Holthaus' women's basketball team can play about eight games in March and qualify for the NJCAA Division II playoffs in April.
That's a long-sought light at the end of the tunnel.
"These are difficult decisions to make and we understand that our student-athletes are both frustrated and disappointed," said Lambert. "But Pima Community College will not waiver from our commitment to the health and safety of everyone on our campuses."
Frese wins 500th game at Maryland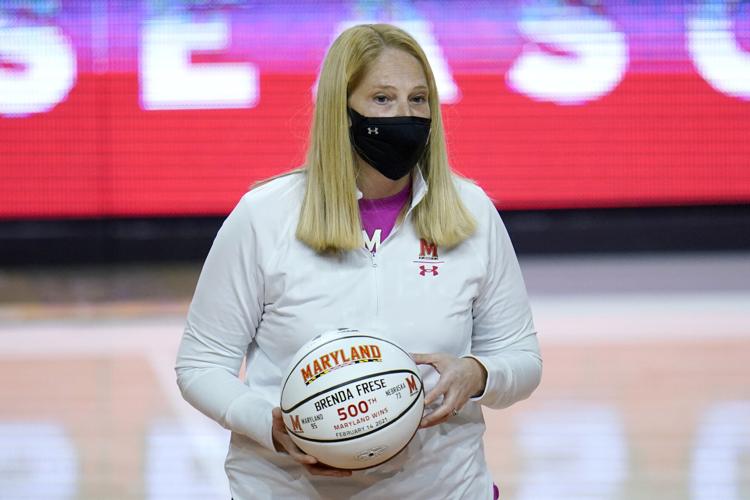 Brenda Frese, who played basketball at Arizona from 1989-92 and began her coaching career at Pima College, won her 500th game as Maryland's coach last week. She has 547 career victories, including those pre-Maryland games as head coach at Ball State and Minnesota.
It puts Frese close to No. 1 as the most successful coach who graduated from Arizona. Here's my list:
1.Terry Francona. He has won 1,702 games and two World Series championships as manager of the Cleveland Indians, Boston Red Sox and Philadelphia Phillies.
2. Frank Sancet. The former UA baseball player/coach, led the Wildcats to an 831-275 record and put the Wildcats on the national map, leading them to the College World Series nine times from 1954-71, including three berths in the national championship game.
3. Steve Kerr. Through last week, Kerr had coached the Golden State Warriors to a 353-152 record and three NBA championships.
4. Dave Murray. Arizona's head cross country coach and track coach was eight times the Pac-10 coach of the year, twice finishing No. 2 in the NCAA, coaching a hard-to-believe 163 All-Americans in a coaching career at his alma mater that spanned 1968-2000.
5. Frese. In her UA playing days, Frese was part of Wildcat teams that went 15-57 in the Pac-10.
6. Laura Ianello. Arizona's golf coach, a part of the school's 2000 NCAA championship team, has been the Pac-12 coach of the year three times, won the 2018 NCAA title, and eight times in 10 years coached her team to finishes of ninth or better at the NCAA finals.
7. Phil Alberts. A backup quarterback at Arizona in 1965 and 1966, he became a Hall of Fame coach at Towson State University, winning 117 games from 1971-92.
8. Rollin Gridley. After graduating from the UA, Gridley coached Tucson High School to five state football championships — four in succession, 1942-45 — and also coached the Badgers to the 1935 state basketball championship.
9. Luke Walton. Head coach of the Los Angeles Lakers and now the Sacramento Kings, Walton is 129-189 as an NBA head coach.
10. Ed Nymeyer. The UA's No. 2 career basketball scorer when he graduated in 1958, Nymeyer went on to coach Flowing Wells High School to two state boys basketball championships and another in girls volleyball, winning more than 300 games in both sports.
Washington joins local legends by breaking NCAA record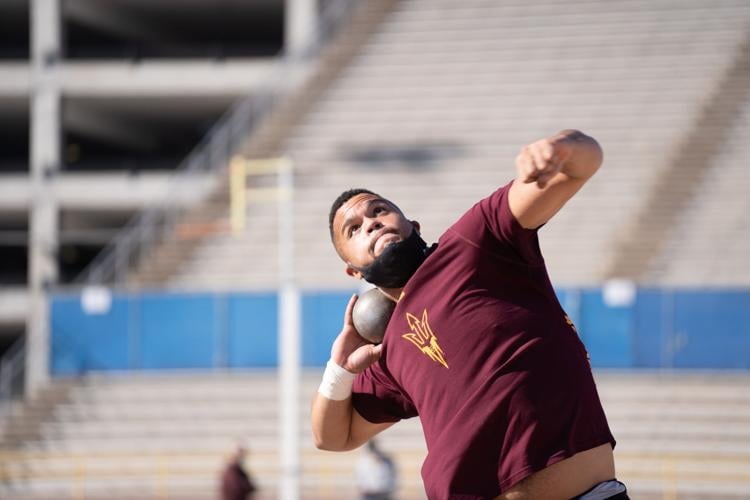 Canyon del Oro High School grad Turner Washington, an ASU sophomore who set the NCAA record in the indoor shot put last weekend in Texas, became the fourth athlete from Tucson or the UA to set an NCAA track record.
In 1981, Arizona All-American Meg Ritchie threw the discus 221 feet, 5 inches. No Wildcat since has come within 23 feet of Ritchie's record. In 2012, Lawi Lalang won the Millrose Games 5,000 meter run in a still-standing NCAA indoor record of 13:08.28. And in 2013, UA high jumper Brigetta Barrett cleared 6-6-1/4, which remains the NCAA's outdoor record, although Barrett later cleared 6-8 to win the silver medal at the 2012 London Olympics. 
Steve Kerr honors Lute Olson in speech at awards ceremony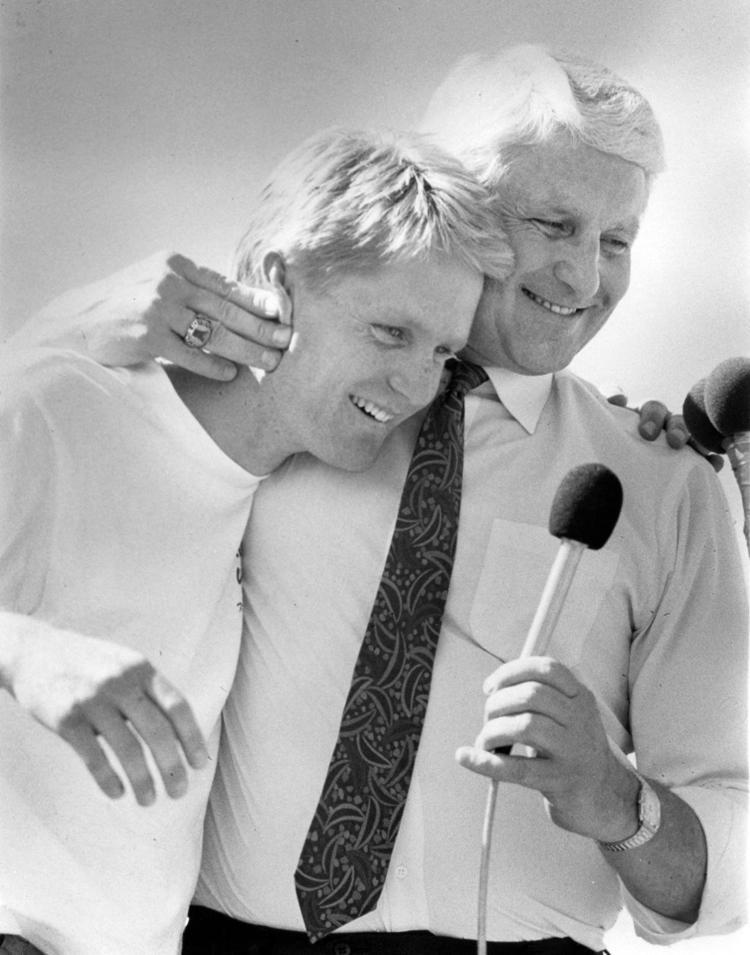 Steve Kerr was the featured speaker last week at the Game Changer Awards ceremony in San Francisco. As part of the Coaching Corps organization, Kerr was asked to speak about the coach that most influenced his career. He chose to speak about Lute Olson. Kerr also contributed $5,000 to the Coaching Corps organization before his speech.
"None of this happens unless Coach Olson had recruited me to Arizona," said Kerr. "He taught me how to build a team, a program and myself. I've got a photo of Lute in my office; if not for him, I wouldn't be the coach of the Warriors."
One thing Kerr stressed was creating a culture of joy and happiness in his organization. "You can win at the highest level and behave like a Little League team going out for ice cream after the game."
Former UA quarterback continues to find success as videographer and producer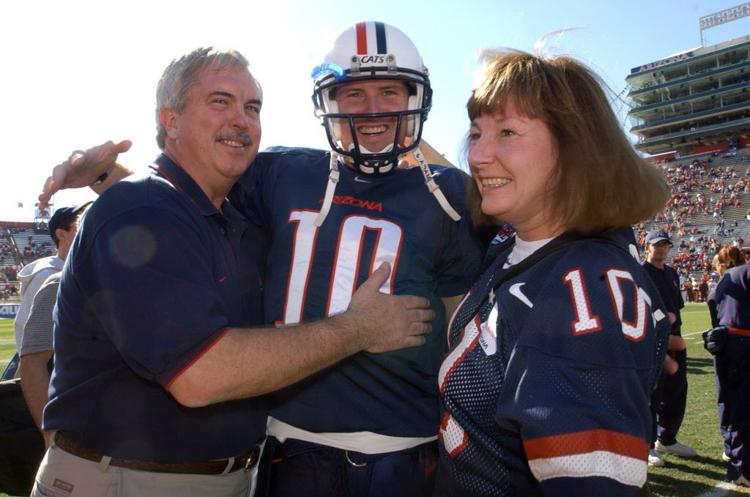 Jason Johnson, Arizona's starting quarterback in the 2001 and 2002 seasons under John Mackovic, continues his career excellence as a videographer and producer. Johnson was the director of photography and a production editor of last week's National Geographic Network special "The March on Washington: Keepers of the Dream." Johnson has collaborated with ESPN for more than a dozen documentaries the last few years. He was an Emmy Award winner for his work in 2018.
My two cents: Expect Phil, Furyk who shine at star-stunned Cologuard Classic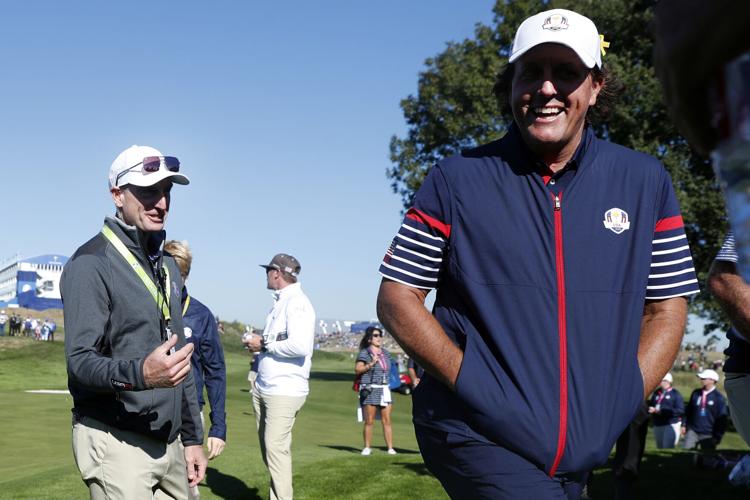 With the addition of Phil Mickelson and Jim Furyk into this week's PGA Tour Champions Cologuard Classic, the field is probably as good as or superior to any of the Champions Tour "majors."
Aside from Mickelson and Furyk, the top five names in Champions Tour golf are entered: Steve Stricker, Ernie Els, Fred Couples, Bernhard Langer and Vijay Singh.
Getting a spot in the field limited to 80 golfers is so difficult it's crazy. About 100 golfers played in a pre-qualifier last week at Randolph North; five of them advanced to Monday's qualifying round at Oro Valley Country Club. That final qualifying field, of about 75 golfers, includes former Tucson Open champions Frank Lickliter and Jim Carter, as well as three of the biggest names in Tucson golf history: Sabino High School grad Willie Wood and two members of Arizona's 1992 NCAA championship team, Harry Rudolph and David Berganio.
And although the general public will not be allowed on site at Tucson National this week, the final rounds Saturday and Sunday will be televised live on Golf Channel beginning at 2:30 p.m.
It'll be a surprise if either Mickelson or Furyk isn't wearing the Conquistadores helmet by sundown on Sunday.
Contact sports columnist Greg Hansen at 520-573-4362 or ghansen@tucson.com. On Twitter: @ghansen711