Star columnist Greg Hansen checks in this week with a fresh notebook, highlighting the Pima County Sports Hall of Fame's 2020 class, future of football in Arizona, UA football recruiting, and what one former Arizona AD said about the COVID-19 pandemic. 
---
In an eight-year period from 1994 to 2002, Tucson youth sports programs produced three of the most singular female athletes o our city's history: Desert View High School softball player Lety Pineda, Canyon del Oro High School volleyball player Bre Ladd and Salpointe Catholic High School soccer player Mallory Miller.
Pineda became a three-time first-team All-American at Arizona, helping the Wildcats to two NCAA championships. Ladd became the national Gatorade Player of the Year in 2002. Miller went on to set 12 Arizona soccer records and the school's only Pac-10 Player of the Year.
On Saturday, Pat Darcy, president of the Pima County Sports Hall of Fame, announced that Pineda, Ladd and Miller have been elected to the Class of 2020, one of the deepest and most diverse in the 31 year-history of the PCSHF. They are tentatively scheduled to be honored in a banquet at the DoubleTree Hotel on Nov. 1, although given uncertainties of the COVID-19 pandemic, there's a possibility the Class of 2020 will be rolled over to the Class of 2021.
The UA Sports Hall of Fame, which planned to induct seven members to its Class of 2020 on Aug. 28, is also uncertain about its banquet plans.
Here's the PCSHF Class of 2020:
Pineda was not only a three-time first-team All-American, but did so at three positions: catcher, first base and third base. She later coached NCAA Division III softball teams to 352 victories before retiring.
Ladd, who had offers to attend national powers Stanford and Long Beach State, became a three-year starter for Dave Rubio's Arizona Wildcats and played for the USA Junior National Team.
Miller, the principal of Pioneer Elementary School in Gilbert, was a three-time All-Pac-10 player who helped Salpointe Catholic to the 2001 state championship.
Sam Merriman, a key part of Amphitheater High School's 1979 undefeated state championship team, became an All-Big Sky linebacker at Idaho and played five years for the Seattle Seahawks, appearing in 71 games.
Joan Liess, selected as a contributor to Tucson sports, was the communications and media relations director for 25 years at both the Tucson Open golf tournament and La Fiesta de los Vaqueros.
John Butcher, a Sahuaro High School grad, was a first-round selection of the San Francisco Giants in 1977 who pitched seven years in MLB, winning 50 games.
Jay John, the state's Thom McAn Award winner as a football player at Salpointe went on to become the head basketball coach at Oregon State from 2002-08. John was an assistant coach on Arizona's 2001 Final Four team as well as an assistant coach at Cal, Oregon, Butler and USF.
Brian Anderson was a first-round draft pick of the Chicago White Sox in 2003 after becoming an All-Pac-10 pitcher and outfielder at Arizona. He helped Canyon del Oro High School to the 1999 state baseball title and played in 335 MLB games.
Scott Hairston, a CDO state championship baseball player, was a key part of the Tucson Sidewinders' 2006 Pacific Coast League championship team, hitting .323 with 26 home runs. Hairston went on to play in 923 big-league games, hitting 106 home runs.
Caitlin Leverenz, who swam at Sahuaro High School, won a bronze medal in the 200 individual medley at the 2012 London Olympics as well as helping Cal win two NCAA swimming championships.
Banni Redhair, one of the leading female tennis players in Tucson history, a CDO state champion, was a three-year starter for UA tennis teams that reached the NCAA Tournament.
Tom Ansberry, an multiple-time All-American distance runner at Arizona in the mid-1980s, was also a state champion at Santa Rita High School.
May Mickelson Warren, the first female to earn a varsity letter at Arizona, was a 1962 national champion in rifle competition and in 1972 won the national indoor rifle event.
Sonny Campbell, a two-time state championship running back at Marana High School and later an All-Big Sky player at NAU, went on to play for the Atlanta Falcons from 1971-72.
The Marana High School 1982 girls basketball team, coached by Mike Dyer, which went 25-1 and won the first of four Tigers girls basketball titles under Dyer.
The Tucson High School 1970 football team, coached by Ollie Mayfield, which went 12-0 and produced nine NCAA Div. I football players.
---
Jeff Roth finally hits the big time in pro golf
Jeff Roth was recruited from Harbor Springs, Michigan, to play golf under UA coach John Gibson in 1975. He was part of a "golden age" of golf in Tucson that included Dan Meyers, Armen Dirtadian, Larry Pagel, Cory Crowell, Dennis Palmer, Mike Hultquist, Jeff Kern, Dan Pohl and Tom Tatum, among others.
Although Roth never qualified for the PGA Tour, he did play two years on the PGA Tour Champions circuit and, back on his home turf in Michigan, won 17 sectional PGA "majors." Roth has become a noted instructor both in Michigan and Farmington, New Mexico.
Last week, Roth qualified for the ongoing PGA Championship via the Michigan PGA Section and shot rounds of 74-75, missing the cut, but putting a crown on his long golf career. At 61, Roth was the oldest player in the PGA Championship, but acquitted himself well.
---
Kate Mason inherited her mom's athletic genes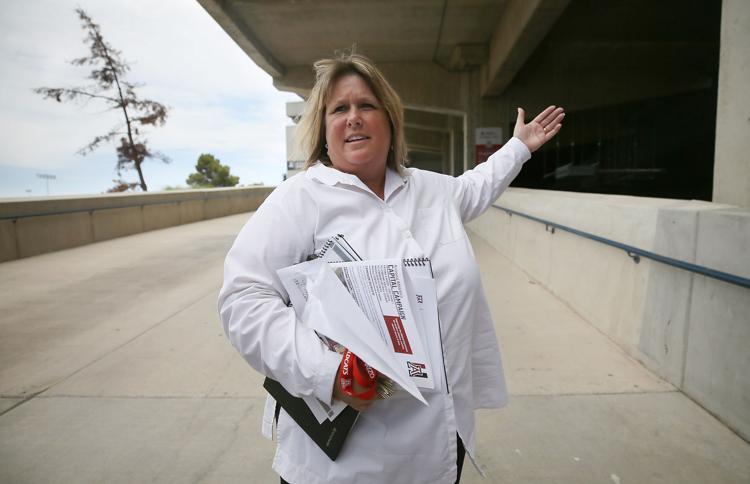 After hitting .393 in her Catalina Foothills High School softball career, Kate Mason accepted a scholarship to play softball at Creighton last week.
You could almost see it coming. Kate is the daughter of Suzy Mason, a former Cornell University basketball player. Suzy is the senior associate athletic director for event management/facilities at the UA. A year or so ago, Mason told me she had become a "softball mom." It paid off.
The Masons are part of a small but select group of UA athletic administrators/coaches whose children have gone on to play Division I sports. Here's the list in modern UA history:
Monte Clausen, son of UA director of athletics Dick Clausen, became a starting basketball player for the Wildcats in the early 1960s.
Stevie Williams, son of longtime UA track coach Willie Williams, became a basketball standout at NAU from 1988-92.
Marc Wing, son of esteemed UA pitching coach Jim Wing, became a starting first baseman for Arizona in the early 1980s.
Chris Hopkins, a Salpointe Catholic High School tailback, son of former UA associate AD Gayle Hopkins, an All-American and Olympic long-jumper, became ASU's leading rusher in the mid-1990s.
Rich Tomey, son of Arizona football coach Dick Tomey, became a key part of Arizona's pitching staff in the early 1990s.
Michelle and Laura Bartsch, daughters of former UA assistant athletic director Dick Bartsch, both were volleyball standouts at Arizona in the '90s.
Skip Peete, son of UA football assistant coach Willie Peete, became a UA receiver in the early 1980s.
Did I omit someone? Please let me know.
---
Wildcats have the numbers for 2021, but is there talent?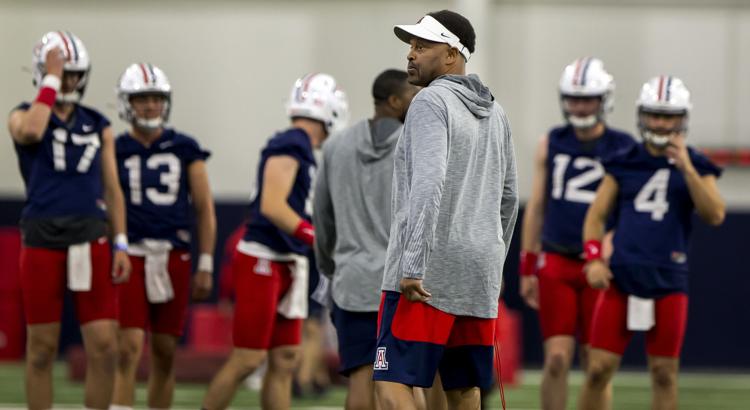 Not to diminish the recruiting efforts of UA coach Kevin Sumlin and his football staff — the Wildcats have commitments from 15 three-star recruits and four two-star prospects for the Class of 2021 — but Snow College offensive lineman Cade Parrish committed to Arizona last week. He had offers from Weber State, Western Illinois, Liberty, Hawaii and San Jose State. My brother, Mike, was the athletic director when Parrish played for Logan High School a few years ago. I asked Mike if Parrish is a solid prospect. "I don't recognize that name," he said, initially. Mike later said he did remember Parrish at LHS, but could not recall his football career. 
---
Is ASU's backcourt the most lethal in decades?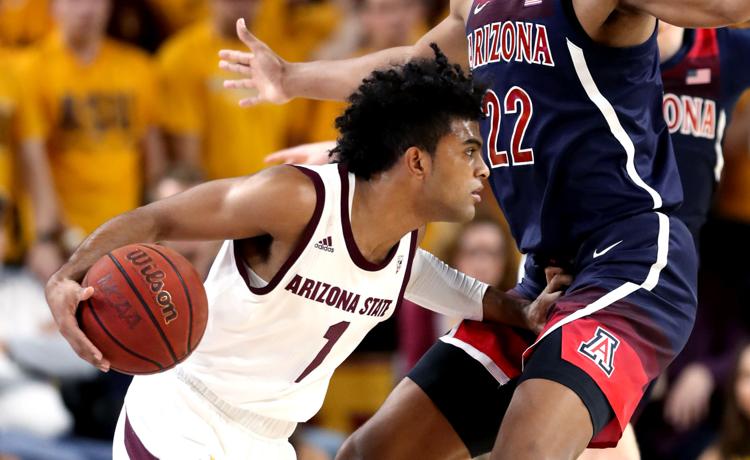 Arizona State basketball coach Bobby Hurley's returning backcourt of Remy Martin and Alonzo Verge — both withdrew from the NBA draft recently — seems certain to be the Sun Devils' most feared guard line since future NBA All-Stars Fat Lever and Byron Scott led ASU to a 16-2 Pac-10 record in 1981. Some might include the James Harden-Derek Glasser backcourt of 2009, but then-ASU coach Herb Sendek didn't get the maximum out of Harden, putting him in a share-the-ball system that resulted in ASU finishing just 11-7 in the Pac-10 and winning just one NCAA Tournament game in two years. This season's ASU team projects as a Pac-12 co-favorite with UCLA, although the top of the league figures to be a battle between Oregon, Stanford, ASU and UCLA.
---
MAC's decision to cancel fall sports spells trouble for football in Tucson
In the past few days, UConn shut down its football program for the rest of 2020 and the Mid-American Conference did the same Saturday. The dominoes fall. If the MAC and its 12 presidents don't feel it's safe to play football this fall, how can Tucson's high school football teams — with nowhere near the resources to track an athlete's health and safety — reasonably move toward two-a-day practices in a few weeks? Chances of a prep football season in Tucson this fall?
I put it at 0.003%. But there's always a chance: Real Salt Lake, part of Major League Soccer, announced Saturday it will allow 5,000 people in the stands at Rio Tinto Stadium for games that begin Aug. 26. That's quite a contrast to college football's growing momentum to cancel the 2020 fall season; the Power 5 Conference schools could soon follow the MAC. The MAC's football shutdown immediately affects the Arizona Bowl at Arizona Stadium, scheduled for the last week December.
The MAC was to play the Mountain West Conference's No. 2 team this year, part of the Tucson bowl game's new contract. By this time next week, it wouldn't be a shock if the MWC was shut down as well.
---
Maybe 'whistleblower' hotline should be implemented in college sports? 
The NFL and NBA have implemented so-called "whistleblower" hotlines in attempt to get players and staff members to anonymously report those who violate health and safety procedures and don't adhere to strict day-to-day, off-field protocols. The tip lines would've helped Louisville's men's soccer team and Colorado State's football team avoid national headlines last week. Louisville dismissed three soccer players from the team; CSU's football program is now on pause during an investigation. The sooner Arizona and the Pac-12 create tip lines, the sooner they might avoid similar missteps.
---
My two cents: College sports could sure use Ced Dempsey now
Last week I asked former Arizona athletic director and NCAA executive director Cedric Dempsey if his 50 years in college sports administration ever produced a crisis to compare to the COVID-19 shutdown.
"Nothing could come close," he said. But it's not like Dempsey, now retired and living near San Diego, couldn't write a very long book about crisis management.
After leaving Tucson early in 1994, Dempsey's first major issue as leader of the NCAA was a showdown with prominent Black basketball coaches John Thompson of Georgetown, John Chaney of Temple, George Raveling of USC and Nolan Richardson of Arkansas. It was during a sensitive period in which Thompson walked off the court before a Georgetown-Boston College game protesting the NCAA's newly-created Prop. 48 rule about academic eligibility. The coaches claimed that the rule discriminated against Black athletes.
"It was very serious, as you might imagine," Dempsey remembers. "We had a mediator in the room. One of the women on our executive staff left the room in tears."
Even civil rights leader Jesse Jackson visited the NCAA headquarters to demand more integration in college athletics.
Ultimately, Dempsey and Thompson reached an accord and developed a healthy relationship. Dempsey worked to change the dynamics of the NCAA staff, improving minority employee numbers from 8%to 24%.
This would be a good time for a man like Dempsey to be calling the shots in the Pac-12, or at a Power 5 conference.
After the Pac-12's #WeAreUnited unity group meet in a Zoom conference with Pac-12 commissioner Larry Scott last week — the group of football players asking for improvements in health, safety, racial equality and economics — ESPN reported that Scott was dismissive. It reported that a unity group football player said "we are deeply concerned that (Scott) isn't taking this matter seriously."
This appears doomed for an attorneys vs. attorneys battle, and not a give and take on both sides as Ced Dempsey and John Thompson proved was a better way to solve a problem 25 years ago.
Contact sports columnist Greg Hansen at 520-573-4362 or ghansen@tucson.com. On Twitter: @ghansen711
Be the first to know
Get local news delivered to your inbox!