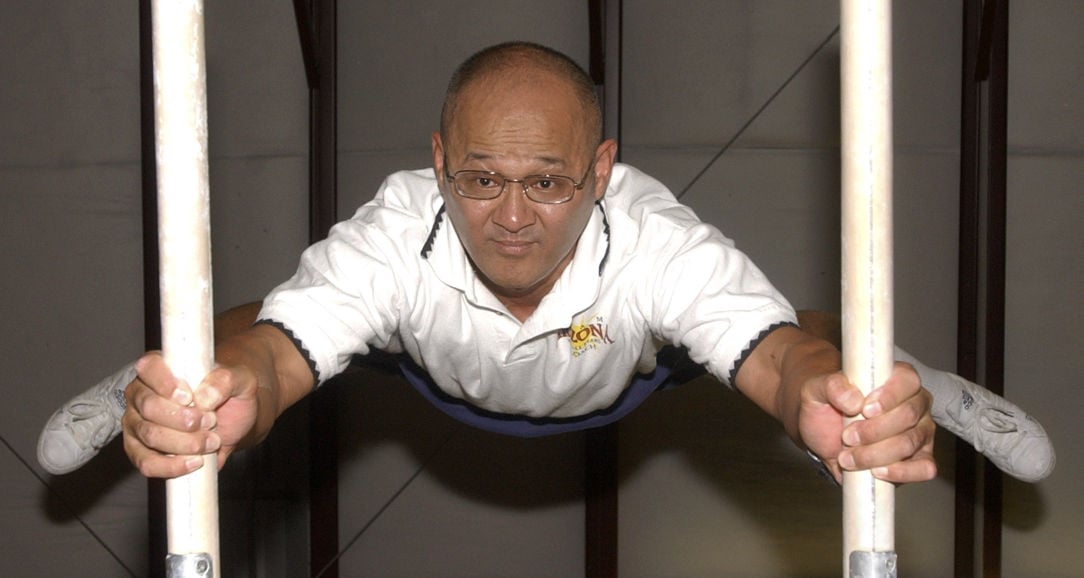 The Star's longtime sports columnist highlights a Tucson sports icon's induction into the USA Gymnastics Hall of Fame, a "Duel in the Desert" marathon, and the latest in Southern Arizona football. 
---
For three months, Yoichi Tomita's Gymnastics World academy in Tucson shut down. "We had zero income," he said. "I was thinking I could go off into the sunset with no problem."
But at 64, the three-time USA Olympic gymnastics coach/advisor and a 1975 NCAA champion didn't want to give up on being part of the rescheduled Tokyo Olympics in his home country of Japan.
A member of the USA Gymnastics leadership for the last 15 years, including being chairman of the men's program committee, Tomita planned to spend the 2020 Olympics staying with his son, former USA National Team standout Yewki Tomita. A graduate of the UA's Eller College of Management, Yewki lives in downtown Tokyo in his role as president of Robert Half/Protiviti, a global business recruiting firm.
And then Yoichi got a call from USA Gymnastics. He had been elected as one of five members of the USA Gymnastics Hall of Fame, Class of 2020.
It's the same Hall of Fame that includes Tucson's Kerri Strug and other Olympic gold medalists like Mary Lou Retton and Bart Conner.
"I was speechless," Tomita says. "Words can't express how fortunate I've been to spend five decades in gymnastics."
The Tomitas were to leave Tucson July 6 for the 2020 Olympics, which, of course, have been canceled. Now the plan is for the Class of 2020 to be inducted into the USA Gymnastics Hall of Fame next June at the finals of the U.S. Olympic Trials in Indianapolis. Tomita will then fly to Tokyo for the 2021 Olympics.
"I was about to retire from coaching," said Tomita, who has coached 1984 USA Olympian Dan Hayden as well as being part of Strug's training in the mid-1990s and the 1988 and 2000 USA Olympic staffs. "But just as I started making plans a very special young man, Adriel Perales-Valencia, came to our gym and everything changed. He's an unbelievable talent.
"Along with Yewki, Hayden and (Ohio State gymnast) Angel Leon, he's the most incredible athlete I've had the privilege to coach.
"Plus, once I saw the happy faces on our young boys and girls training with us — once we were able to reopen the gym to a limited capacity — I knew I didn't want to retire. Even in such a difficult time, I've come to realize that I'm so blessed."
---
Sahuaro's Jonah Miller will bypass senior football season, enroll at Oregon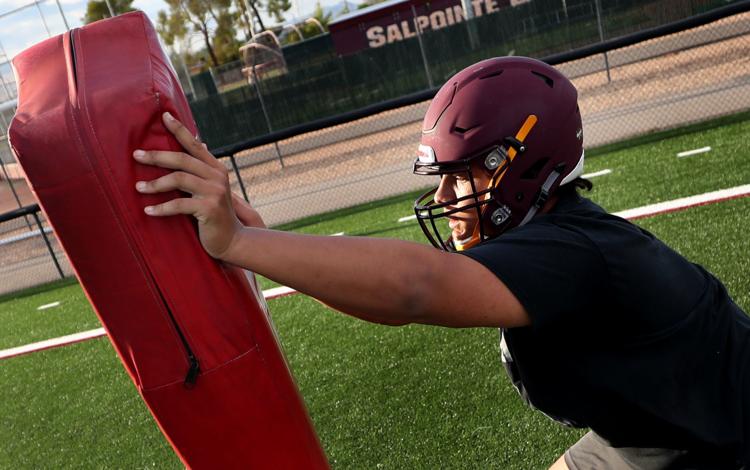 After his junior football season at Salpointe Catholic High School, offensive lineman Jonah Miller became a 5-star level recruit, ultimately committing to play for the Oregon Ducks. Miller then transferred to Sahuaro, where he planned to play the 2020 season.
But after Jonah and his father, former Sahuaro football standout Matt Miller, consulted with a physician, coaches at Oregon and some Tucson coaches who have been key in Jonah's formative football years — Dennis Bene, Al Alexander and Ali Farhang — they have decided it is best not to play high school football if it is indeed played. Jonah Miller will graduate from Sahuaro in December and enroll at Oregon in January.
"The hard part was for Jonah to see this the way his parents saw the situation — all risk, very little reward," Matt Miller told me. "I had to put my pride aside as well. Jonah had a fantastic season last year, and as a dad, I was excited to see him dominate at a level that would have put him up there with any offensive lineman ever in Tucson. Jonah has worked very hard to put himself in a position to play at an incredibly high level.
"I told Jonah the other day that football had taught me everything I needed in life except how to quit. This isn't quitting. This is making the smart decision for him based on the information that is available."
Matt Miller knows some will say it is easier for Jonah to opt out of the high school season because he already has a scholarship. And that's correct. But missing one's senior year in high school sports can be overwhelming for any prep athlete.
"I worry about that which we do not know," Matt Miller said. "I worry about the long-term effects that cannot be determined now. I worry for these kids. I also completely understand if a parent decides to let their kid play. No judgment here. I can only make decisions for my family."
In the next week or two, Jonah Miller's decision not to play his senior season may become a moot issue anyway. I don't see any way Tucson high school football teams can realistically practice and play football safely. I can't imagine seven separate school districts agreeing on a joint way forward.
At least Miller has an option to continue his football career in college. About 99% of Tucson's prep football players — not to mention the band members and cheerleaders — are likely to miss some of the most precious memories of their high school days.
---
Former UA punter Mitch Hoopes dies
When Mitch Hoopes was a senior at Benson High School in 1970-71, he was the prototypical three-sport athlete of the era. He scored 18 points as Benson won the Class B state basketball championship game, was a 1,000-yard rusher for Benson's football team and a standout baseball player.
After two years at Eastern Arizona College, Hoopes signed with Arizona and ultimately won the starting punter's job. How good was he? In 1974, on Jim Young's 9-2 football team, Hoopes averaged 41.9 yards per kick — he set a school record of 43.9 a year earlier — and was drafted by the Dallas Cowboys. A year later, he was Dallas' starting punter in Super Bowl X.
Hoopes, who had won Arizona's Punt, Pass and Kick competitions in Phoenix as an 11-, 12- and 13-year-old, was out of the NFL by 1978, and went on to a career as a mortgage banker in both Oregon and Southern California.
I met Hoopes at the 1994 Arizona-Oregon game at Autzen Stadium in Eugene, a crushing 10-9 loss that essentially cost the Wildcats a spot in the Rose Bowl.
I remember him saying that his best football coach wasn't Tom Landry or Mike Ditka, but Jim Young and his Benson coach, Jack Wilson.
Sadly, Hoopes died last week in Vista, California. He was 67. He will long be remembered as one of the four or five greatest punters in UA history, with Josh Miller, Frank Garcia, Ruben Rodriguez and Drew Riggleman.
---
Wildcats' jumps coach departs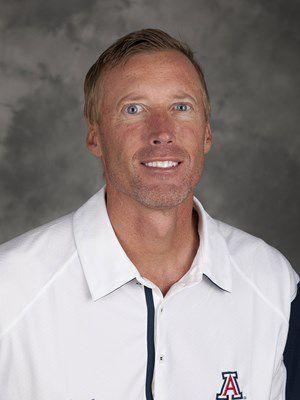 In the sports decade from 2010-19, I strongly consider UA track and field jumps coach Sheldon Blockburger one of two leading assistant coaches at Arizona, in a category with former women's golf assistant Derek Radley. Radley is now the head coach at Oregon. Blockburger has now left Arizona, too. On Friday, UA track coach Fred Harvey said that he and Blockburger amicably agreed to part ways recently. Central Michigan's Tatijana Jacobson was announced Tuesday at the team's new jumps coach.
At Arizona, Blockburger coached two-time NCAA decathlon champion Jake Arnold. Then he coached four 7-foot men's high-jumpers — Nick Ross, Luis Rivera-Morales, Justice Summerset and Edgar Rivera-Morales — and two NCAA women's high-jump champions, 2012 Summer Olympics silver medalist Brigetta Barrett and Liz Patterson, and Pac-12 champion Karla Teran. Blockburger's son, Johnnie Blockburger of Tucson High, the defending state champ in the 200 and 400 meters, is scheduled to be part of Arizona's track team this season.
---
Treyson Bourguet has chance to be Tucson's best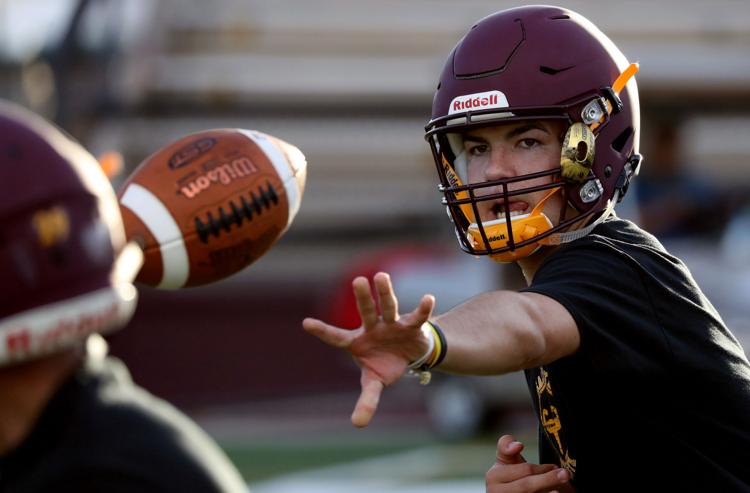 Salpointe Catholic High School junior quarterback Treyson Bourguet last week verbally committed to Arizona's Class of 2022. Bourguet is a phenom from the summer 7-on-7 passing leagues with limited high school experience — 109 passes attempted in parts of two seasons at Salpointe and Marana. His upside is intriguing, given his height — he's 6 feet, 2 inches — and arm strength that turns the head of Power 5 recruiters.
The top five high school QBs in Tucson history are probably Tucson's Fred W. Enke, Sahuaro's Rodney Peete, Amphi's Jim Krohn, Santa Rita's Anthony Sanders and Sahuaro's Reggie Robertson. Bourguet clearly has the look of a young QB who can move into that class before his high school eligibility expires.
---
Ex-Wildcat Jason Gardner returns to coaching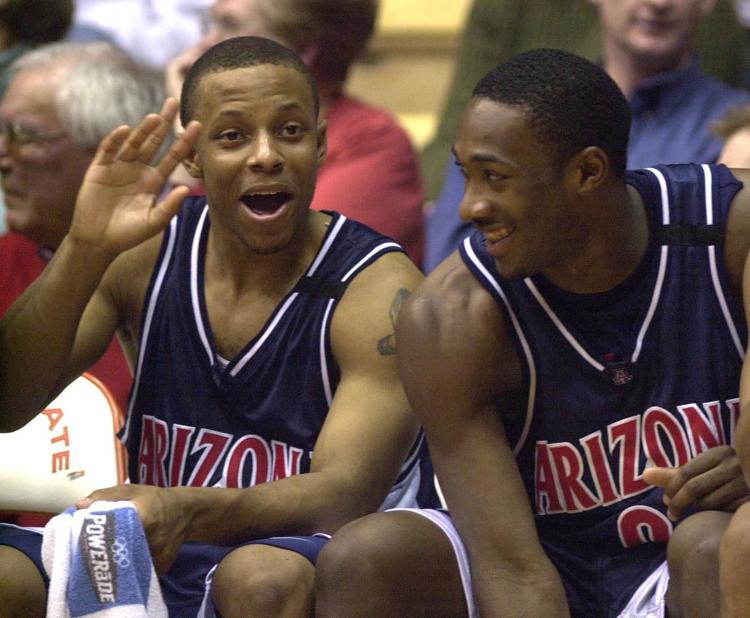 Good news: Arizona's 2001 Final Four point guard Jason Gardner has returned to coaching, hired last week to be the head coach at his alma mater, North Central High School in Indianapolis. At this time last year, Gardner resigned as head coach at IUPUI after being arrested for a DUI incident. He earlier spent time on Josh Pastner's coaching staff at Memphis. Gardner is only 39 and has plenty of time to make good on this second chance. In his four standout years at Arizona — three times a first-team All-Pac-10 point guard — I never heard a negative word about Gardner's character.
---
Top UA swimming prospect makes his way to Tucson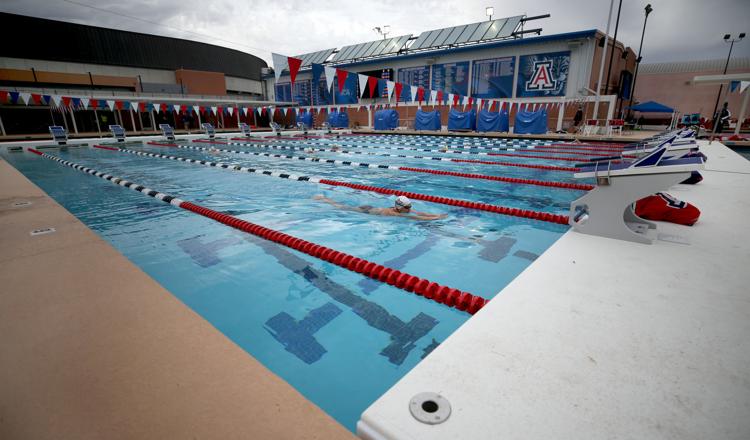 Ryan Perham, perhaps Arizona's top incoming men's swimming prospect in coach Augie Busch's Class of 2020 and son of 1992 Barcelona Olympics gold medalist Crissy Ahmann Perham, has moved to Tucson from Texas, anticipating a swimming season in the spring. Perham and those in the UA swimming program attend classes, eat, study and train in pods, limiting the numbers for safety. The Hillenbrand Aquatic Center is not yet available for UA swimmers, but those now on campus can train at places like Tucson Country Club and the UA Campus Rec center.
---
Face of Pac-12 Network says goodbye
Sad to see the Pac-12 terminate the face of the struggling Pac-12 Network, Mike Yam. He was low-key and low-profile, a friendly face in an organization known for big egos, big money and a corporate bearing. Other than former football analyst Rick Neuheisel, Yam had the strongest presence since the Pac-12 Network began in 2012. It would've been encouraging if commissioner Larry Scott had parted with some of his yearly salary of $5.3 million or excess spending to keep Yam employed until sports programming resumes, perhaps by January.
---
'Duel in the Desert' marathon, anyone?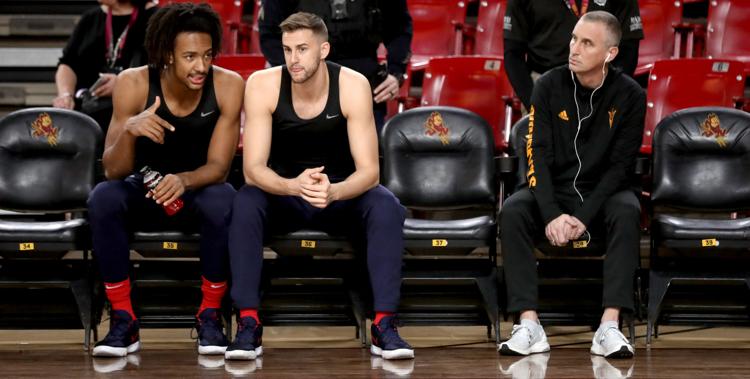 In a historically bad week for Pac-12 sports, the best proposal I heard was that the league should allow for a celebration of its rivalries when sports resume. To kick off spring sports, how about a Territorial Cup at 11 a.m. at Arizona Stadium in early April, followed by a 3 p.m. UA-ASU women's basketball game, then Wildcats-Sun Devils baseball/softball games, and cap it at night with a Bobby Hurley-vs.-Sean Miller basketball rivalry at McKale Center. Sign me up.
---
My two cents: Arizona's decision to veer away from no-brainer hire led to hall of fame career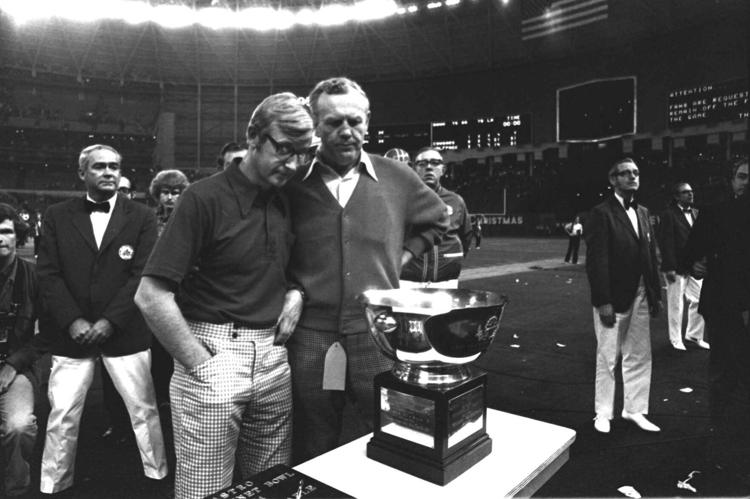 In the early winter of 1960, Michigan State assistant football coach Bill Yeoman was set to become the new head coach at Arizona, replacing Ed Doherty.
Yeoman, a graduate of Glendale High School and famed part of three Army football teams that went 22-2-4 in the late 1940s, was a no-brainer pick to return to his home state and take on ASU's Frank Kush. UA president Richard Harvill and athletic director Dick Clausen had considered Cal assistant Dee Andros, the future Oregon State coach; NAU's Max Spilsbury; Colorado's Dallas Ward and SMU assistant Jim LaRue.
But Yeoman was the guy. In an interview I had with Clausen at his home about 20 years ago, he said Harvill approved the hire.
One of the UA's most notable UA boosters of that era was Yeoman's older brother, Dr. Elmer Yeoman, a heart surgeon at Tucson Medical Center. Elmer Yeoman was that era's George Kalil/Jim Click, a highly visible and influential UA sports fan.
But Dr. Yeoman leaked the news of his brother's hiring to media in Tucson and Phoenix, and Harvill didn't like it. He rescinded the offer and hired LaRue instead.
Two years later, Houston hired Yeoman. He went on to go 160-108-8 for the Cougars, play in four Cotton Bowls — then one of the Big Four games in college football — and earn selection to the College Football Hall of Fame in 2001.
Yeoman died last week. He was 92. The man who invented the veer offense never did get to return home to coach in Arizona, but it all worked out.
Contact sports columnist Greg Hansen at 520-573-4362 or ghansen@tucson.com. On Twitter: @ghansen711
Be the first to know
Get local news delivered to your inbox!