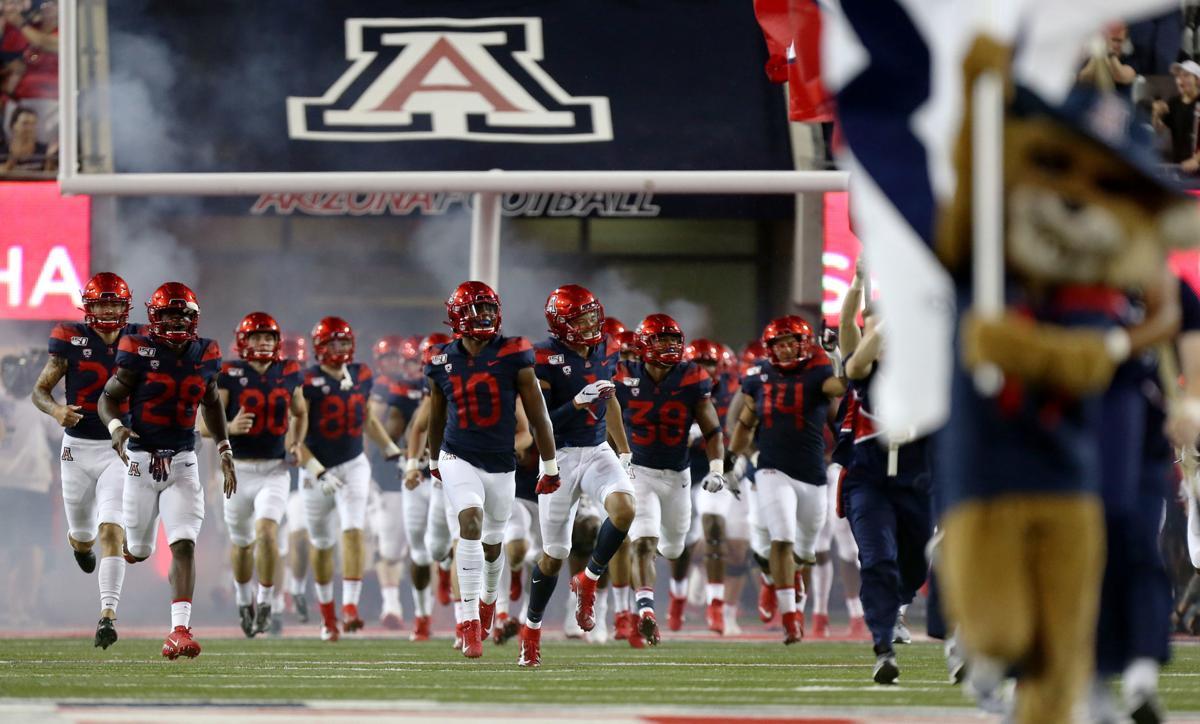 The Star's longtime columnist raises eight questions that could determine if UA fans make their way to Arizona Stadium during football season. Plus, was Sean Miller wrong about the 2019-20 season? 
---
Mike Tully is a Tucson attorney and former Justice of the Peace who began attending UA home football games in 1960 as part of his parents' season-ticket package.
A fifth-generation Tucsonan, Tully has sustained his parents' interest in Wildcat football; this will be the 61st consecutive year as a football season ticket holder.
Tully told me that before he commits to a 61st season — the renewal deadline is May 31 — he would need the UA to answer the following eight questions at Arizona Stadium:
1. What will the stadium capacity be after social distancing is factored in?
2. How will seating locations for current season-ticket holders be changed to provide for social distancing?
3. How will UA prevent people from queuing up at the entrance before games?
4. How long will it take to fill the stadium when lines are stretched by social distancing?
5. Similarly, how will UA prevent people from queuing up to leave, and how long will it take to empty the stadium when people must maintain a 6-foot distance from each other?
6. How often will UA wipe down drinking fountains and handrails to make sure they are virus-free?
7. For those who use the elevator, how many people can use the elevator at a time?
8. Assuming restrooms are open, how often during a game will UA disinfect them?
Tully's questions magnify the unprecedented issues facing Arizona athletic director Dave Heeke and every Pac-12 program.
Heeke has been proactive. He has created a Re-Entry Planning Team — seven sub-groups of up to 11 people from the athletic department — in an attempt to solve safety concerns and legal risks for, among other things, events and facilities management.
In a Zoom meeting with reporters last week, Heeke said the UA would like to "bring as many people, including our students, into the games" but also said it might not be possible this fall.
"All of us understand that it's not going to be business as usual," he said. "People talk about 50% or 25% (capacity). That's hard for all of us when we know how important those revenues are. But it needs to be a safe environment. We can't go into this haphazardly."
Arizona is scheduled to open the season with three consecutive home games — Aug. 29 against Hawaii, Sept. 5 against Portland State and Sept. 12 against Stanford.
Portland State athletic director Valerie Cleary recently said that PSU will receive about $1 million combined in non-conference games against Arizona and Oregon State, a sum vital to the school's $14 million yearly athletic budget.
It is about 100 days until Arizona's football opener and I can't fathom Portland State (or Hawaii) putting 75 players and about 35 staff members on a plane to fly to Tucson in what could be an empty stadium.
Ultimately, the possibility of playing a home-and-home series with Arizona State, or maybe replacing Portland State with, say, New Mexico State, are likely to be explored. At this stage, there are so many moving pieces that anything is possible — good and bad — in college football, 2020.
---
NCAA champion shot putter transfers to Arizona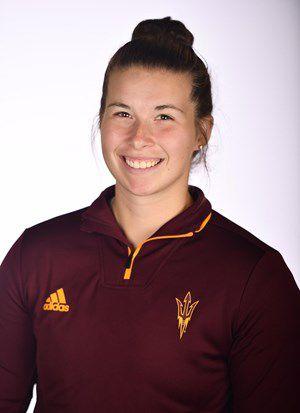 A year ago, Arizona freshman discus thrower Turner Washington, the nation's top throws recruit in the Class of 2017, transferred from Arizona to rival ASU.
It was a significant blow to Arizona because Washington broke the state discus record while at Canyon del Oro High School, and because he had strong ties to Arizona, including those to his late uncle, former Desert Swarm All-Pac-10 lineman Warner Smith of San Manuel.
Now it has been reversed. ASU sophomore Samantha Noennig, the 2019 NCAA champion in the women's shot put, has signed a financial aid agreement to transfer to Arizona.
Noennig, who grew up in Wisconsin, won the NCAA championship in both the indoor and outdoor shot put in 2019, as well as winning the Pac-12 title in the shot. Her best throw, 59 feet, 6¼ inches, puts her in esteemed company with former Arizona NCAA women's shot put champions Carla Garrett, Meg Ritchie and Julie Labonte.
Noennig is expected to enroll in August. Combined with Arizona's All-America men's discus thrower, Jordan Geist, it would probably give the Wildcats the top 1-2 throws punch in the country.
---
College economics sure to affect referees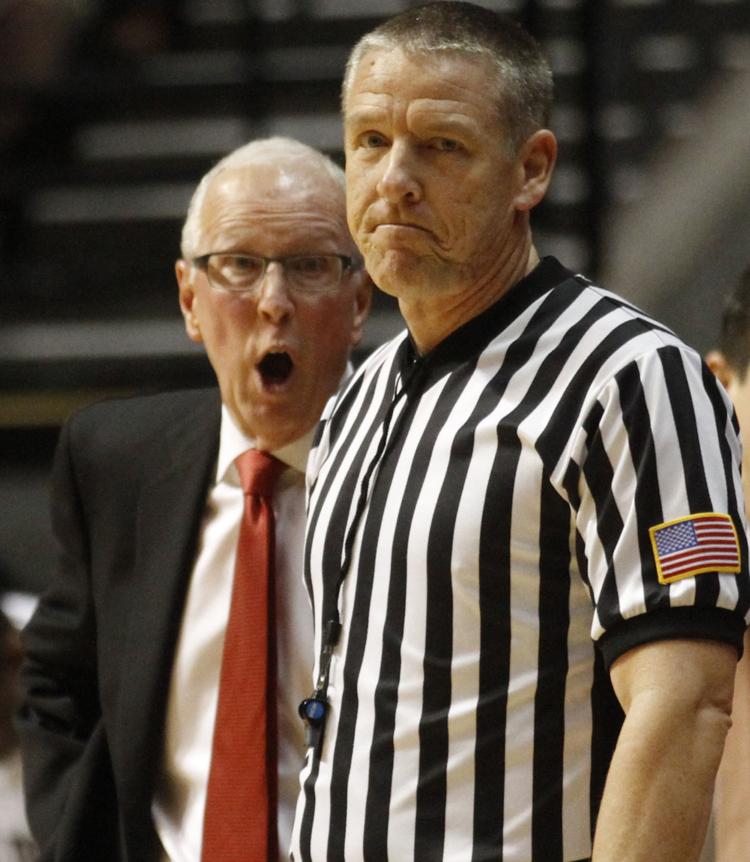 The leading referees in Pac-12 basketball — John Higgins, David Hall, Tucson's Chris Rastatter, Verne Harris, Randy McCall — usually work about 90 games a season. The senior and most skilled refs are paid about $3,500 per game, sometimes more, although they must pay their travel expenses from that sum.
So when Arizona plays a game at McKale Center, it costs about $11,000 for the officials. The Wildcats usually have about 17 home games, which means the school spends about $190,000 per season for officiating.
It won't take long for the financial ramifications of the coronavirus pandemic to trickle down to the referees. They are independent contractors. I suspect two things will happen: (1) their pay will be reduced to about $2,000 per game; and (2) it wouldn't be a shock if the NCAA eliminated one official from each game, going back to the use of two-person crews, especially at mid-major schools.
This relates more to smaller schools than to Arizona. Imagine Washington State, which barely averages 3,000 fans per game at Beasley Coliseum, still paying close to $200,000 per year for officials. Probably not.
Higgins, who in my opinion is the top referee in the Pac-12 rotation, is based in Kansas. He worked 91 games before the pandemic shut down college basketball this season. Higgins worked 28 Pac-12 games, including six Arizona games. He also worked 22 Big 12 games, 21 in the Mountain West Conference and eight in the WCC, among others.
Given potential legal liability risks — suppose a referee is infected with COVID-19 on a flight from San Francisco to Tucson — it seems inevitable that referees will be scheduled to regional games more than ever before. Perhaps someone like Rastatter would henceforth be assigned games within driving distance only: UNLV, New Mexico, Arizona. ASU, Grand Canyon and UTEP.
In the next year, COVID-19 is sure to touch every aspect of college sports finances.
---
Hard to agree with Sean Miller's comments on 2019-20 season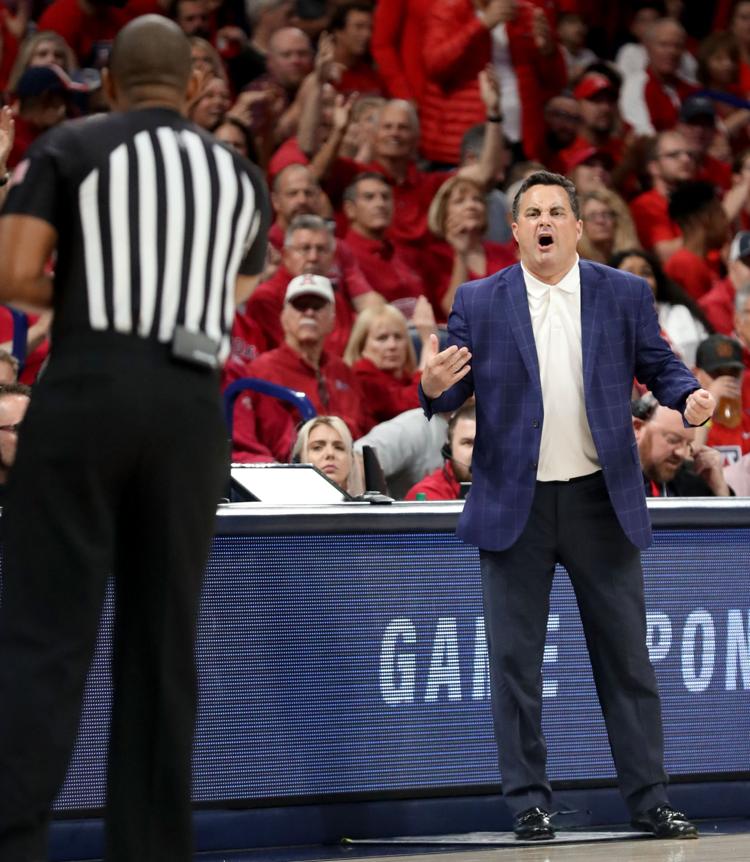 I watched a UA-produced video interview with Sean Miller and couldn't keep from wondering if we watched the same 2019-20 season. Miller praised shooting guard Max Hazzard, whose game Miller practically suffocated after Hazzard took an ill-advised shot at Arizona State.
"I mean, he could catch fire in a way you don't oftentimes see," said Miller. "I was disappointed we weren't able to see him in March."
Hazzard only made nine 3-pointers in Arizona's final 13 games, although he did not play in four of them for what the UA said were personal reasons.
And then there was this from Miller: "The one thing I hope everybody can take a deep breath and realize — please don't ever put us in a category to judge this past season as a failure or incomplete. … the best could have been right around the corner for us."
Right. And please stock up on firewood for the snowstorm predicted to hit Tucson this week.
---
Former Rincon Ranger joins GCU's basketball staff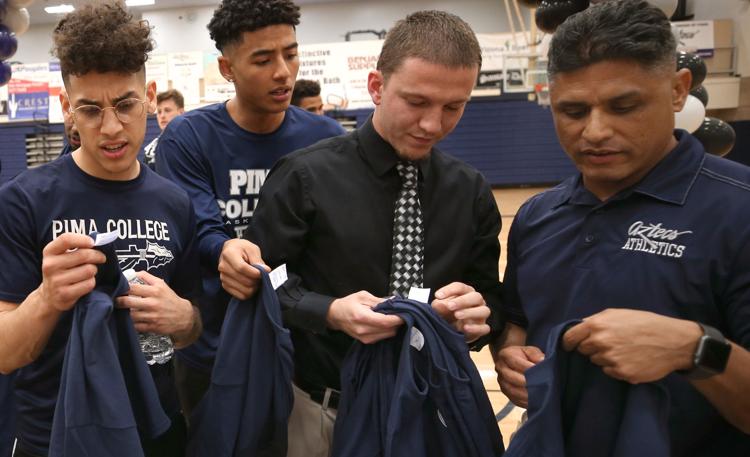 Dylan Hidalgo, a Rincon High School grad who was a top assistant coach when Pima College finished second in the NJCAA men's basketball finals in 2018, has landed on his feet after Grand Canyon University's new basketball coach, Bryce Drew, hired his brother-in-law to replace Hidalgo as GCU's basketball operations director. Hidalgo has been hired by the University of Texas at Tyler as the No. 1 assistant coach to Louis Wilson, who had been on Dan Majerle's staff at GCU. Wilson was the head coach of former PCC all-conference guard Shakir Smith at Adams State.
---
The big 5-0 for Jim Furyk could mean two tours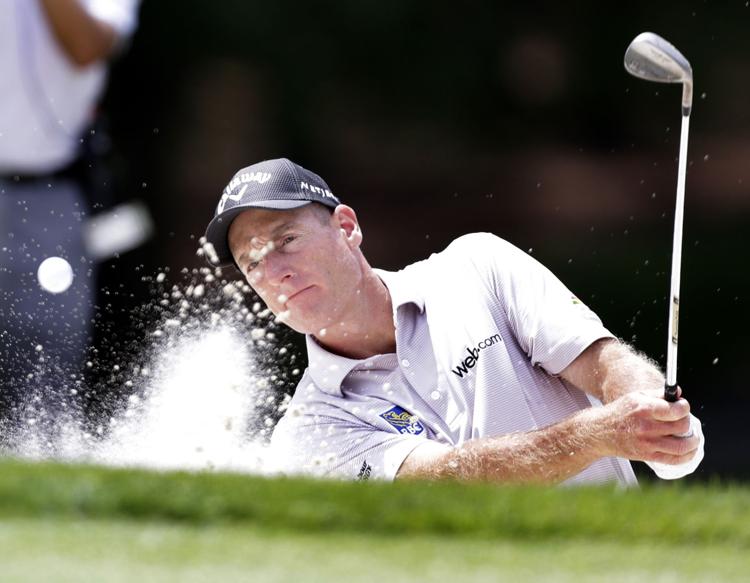 Jim Furyk, part of Arizona's 1992 NCAA men's golf championship team, turned 50 last week. That makes him eligible to compete in the 2021 Cologuard Classic at Tucson National. Furyk told reporters last week that he plans to play both the PGA Tour and PGA Tour Champions when golf resumes.
"There aren't many guys who have enjoyed trying to play both tours," Furyk said. "Steve Stricker is one who does. But most guys I've talked to said they made a mistake trying to play both, and they just had to choose one or the other. Maybe come back and play a couple of events I just dearly love on the PGA Tour. But playing 22 events and playing 10 on PGA Tour is probably not in the cards."
---
Lute Olson's longtime assistant fights for life in San Antonio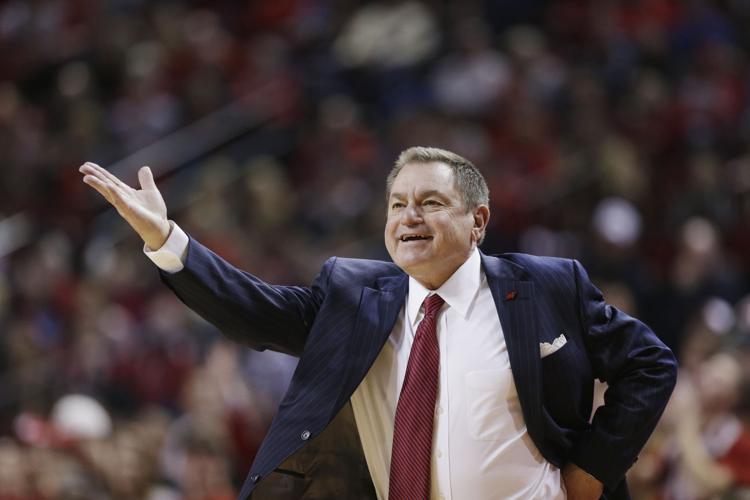 Really sad to learn that Ken Burmeister, part of Lute Olson's original coaching staff at Arizona in 1983-84, is battling cancer and has been moved to hospice in San Antonio. Burmeister helped to build the foundation for Olson's 1980 Final Four team in Iowa and the 1988 Final Four team at Arizona. He was one of the leading recruiters in college basketball for more than a decade before he left Arizona to become the head coach at UTSA in 1986. Burmeister won 330 games in his head coaching career, which included terms at UTSA, Incarnate Word, Trinity University and Loyola-Chicago. He is 72.
---
Adia Barnes says Wildcats are 'no longer hunting' for Pac-12 supremacy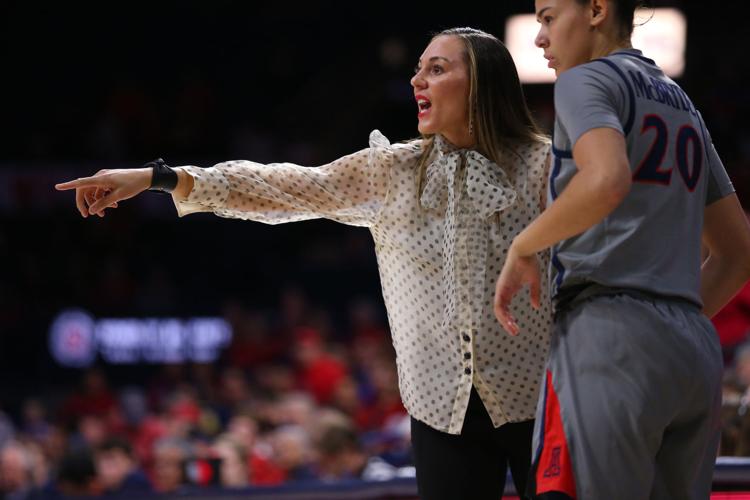 In a video interview with UA play-by-play announcer Brian Jeffries, Arizona women's basketball coach Adia Barnes said that she believes the UA will pass Oregon and lead the Pac-12 in women's basketball attendance in the 2020-21 season.
"I think we'll beat them," she said.
Oregon averaged a league-record 10,852 fans per home game last year; Arizona averaged 5,944 at McKale Center. Barnes said she is recruiting more than ever before, with about five Zoom recruiting calls per day.
"It hasn't slowed down," she said. "Now you have time to make all those phone calls." The Wildcats are likely to open the season ranked in the top 10 nationally. "We're no longer hunting," she said. "We're the hunted."
---
My two cents: It's hard to even play No. 1, much less beat 'em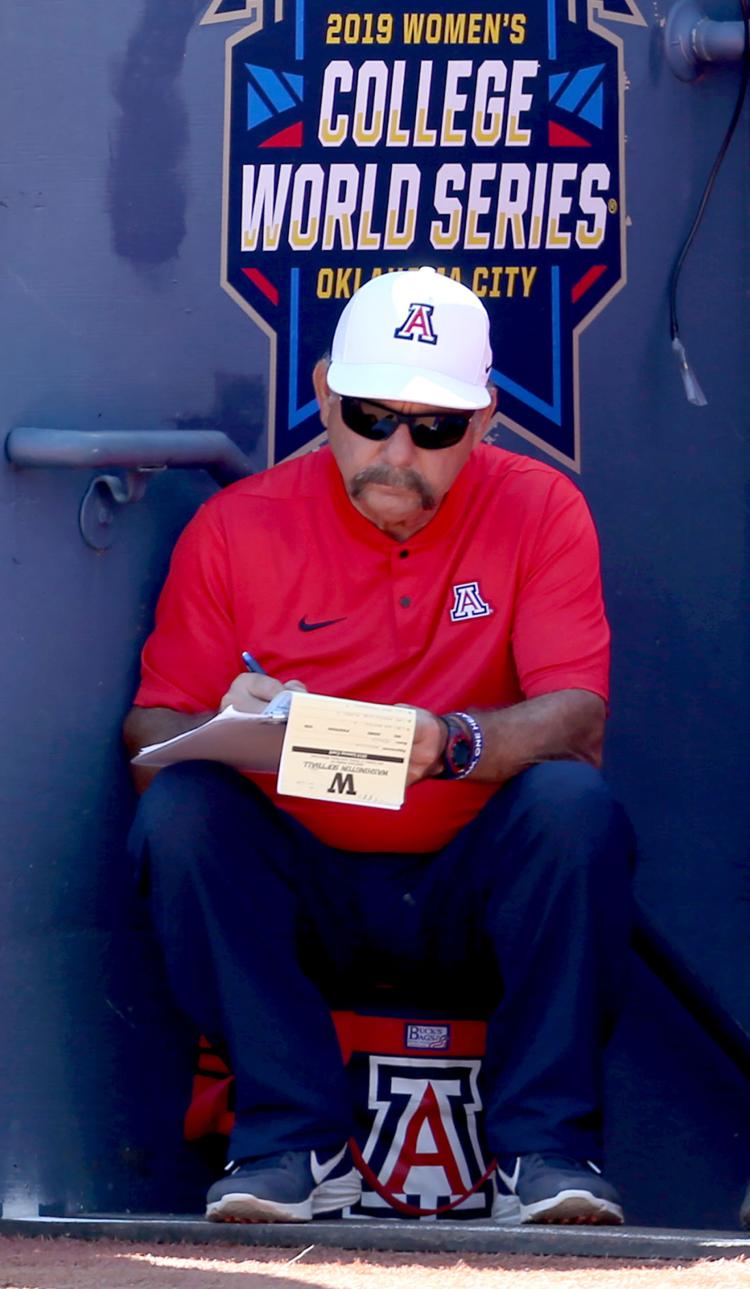 In my ongoing series "Beating No. 1," I discovered that there is no such thing as diminishing the moment. If you beat a team ranked No. 1, it is immediately historic.
As far as can be documented, Mike Candrea's Arizona softball team has faced more No. 1 opponents than any team in UA history. The Wildcats are 17-38 against top-ranked opponents, and I'm guessing no other team in college softball history except UCLA can match those numbers. (UCLA's records against ranked opponents are incomplete).
Of Arizona's 17 softball victories over No. 1-ranked teams, 11 came against UCLA, two against Washington and Oregon and one against Florida State and Cal. Seventeen of Candrea's 38 losses to No. 1 ranked teams came against UCLA. Others: seven against Washington and four against Oregon.
Here are how other UA teams rank against No. 1 opponents:
Dave Rubio's volleyball team is 2-17 against No. 1 teams. The victories over No. 1: UCLA in 1993 and USC in 2013.
The UA soccer team is 0-8-1 against No. 1 foes.
Arizona's women's basketball teams are 0-4 against teams ranked No. 1, losing to USC in 1983, Tennessee in 1995, Purdue in 1998 and Maryland in 2007. The shortage of top-ranked opponents in the Pac-12 is easily explained: UConn has dominated the No. 1 spot the last 20 years.
Lute Olson is the only UA men's basketball coach to beat a No. 1-ranked team. The Wildcats beat No. 1 Syracuse in 1987-88, No. 1 Kansas in the 1997 Sweet 16, No. 1 Stanford in January 2000 and No. 1 Stanford in March 2001. Overall, Arizona is 4-5 against No. 1-ranked teams.
UA football teams are 2-6 against No. 1 teams, beating USC in 1981 and Washington in 1992. The last time the Wildcats played a No. 1 football team was 2010, when they lost to Oregon.
Records for UA baseball teams against opponents ranked No. 1 are incomplete. One indication is that playing No. 1 opponents does usually not involve Pac-12 teams. ASU, for example, has played just seven No. 1-ranked opponents dating to 1995 — that's when the Sun Devils started keeping records of ranked opponents — and only one of those teams, Stanford in 2001, was a Pac-12 club.
The others were TCU, Arkansas, Cal State Fullerton, Rice, Tulane and Miami. Competition inside Pac-12 baseball is so strong that it's difficult to build a record that attracts No. 1 votes.
As difficult as it is to beat a No. 1-ranked team, it's just as difficult to get a game against one.
Contact sports columnist Greg Hansen at 520-573-4362 or ghansen@tucson.com. On Twitter: @ghansen711
Be the first to know
Get local news delivered to your inbox!