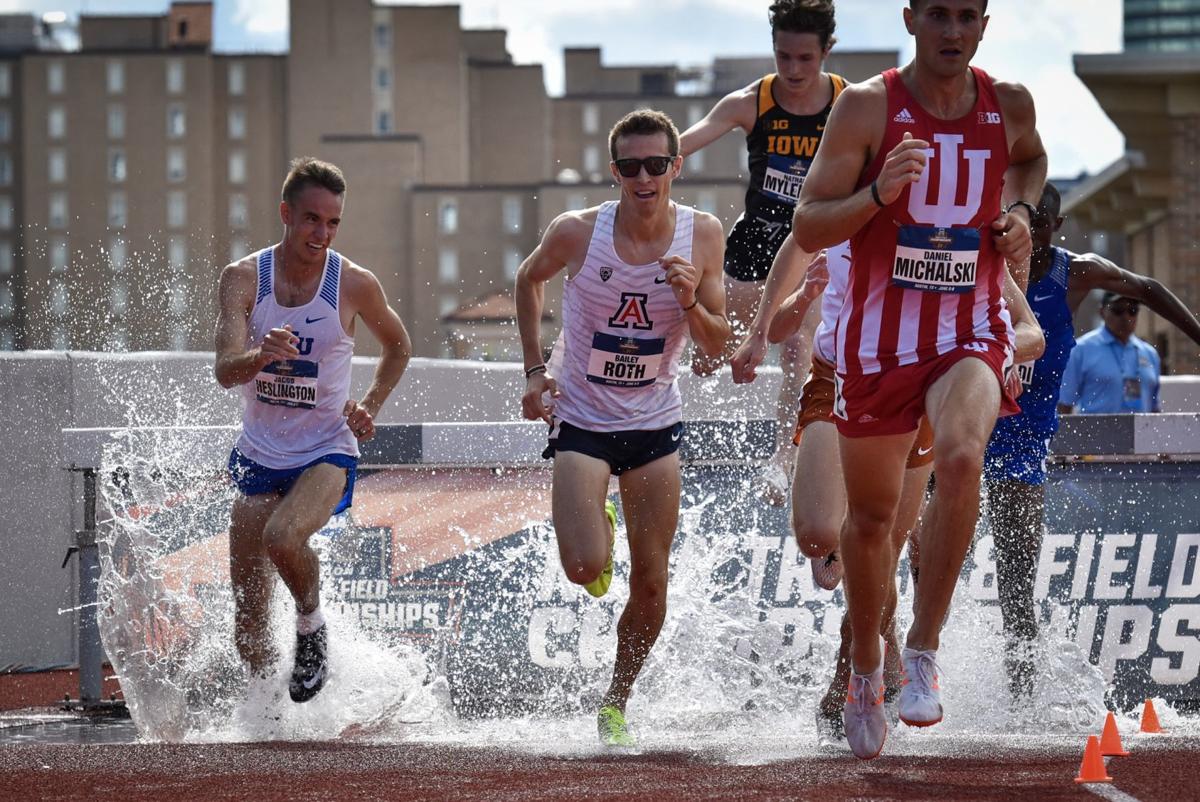 Arizona sophomore Jordan Geist finished third in the shot put Wednesday, and two Wildcats qualified for Friday's finals at the NCAA Track and Field Championships in Austin, Texas.
With a throw of 66 feet, 7¾ inches, Geist finished behind Adrian Piperi of the host Texas Longhorns (69-3¾) and Denzel Comenentia of Georgia (68-1¾).
Geist, who held the nation's top throw at 70-10 going into the meet, was lauded by UA coach Fred Harvey for achieving All-America honors for the second year.
"Going into the meet, there was expectation for Jordan to win," Harvey said, "but placing third in the nation is still an important feat."
Harvey was more than pleased with James Smith, his star freshman from Mesa. For the third straight meet, Smith set a school record in the 400-meter hurdles. He sprinted and jumped over the event's 10 hurdles in 49.67 seconds. It was the sixth fastest time among the 12 men qualifying, as he earned his way into Friday's final.
Earlier, Bailey Roth finished the 3,000-meter steeplechase in 8:46.28, the fifth-fastest time of the day. He'll compete with 11 runners on Friday; the top eight will score points for their teams.
The meet got off to a rough start for the Wildcats. The 4x100 relay team failed to qualify after its third runner, PJ Austin, and anchor Maj Williams were not able to complete the baton pass.
Then in the 1,500 meters, Carlos Villarreal, who came into the race with the NCAA's second-fastest time, also failed to qualify.
Villarreal ran the first part of the four-lap race in about seventh place. His coaches had urged him to run in the lead pack, and he moved successfully to fourth on the second lap.
Midway through the race, he looked in good position in third place. Near the end of the third lap, however, runners behind Villarreal sped up and passed him. He dropped to 12th place on the last lap and finished 11th in his heat in 3:48.54.
"Carlos is an elite-level runner," Harvey said. "But he's just going to have to manage the pressure and expectations."
In the day's final event, the UA's 4x400 relay team finished fifth in its heat in 3:07.13 and did not advance.
Four UA women will compete Thursday in their bids to advance to the women's finals on Saturday.
Rain, predicted in Austin for Wednesday, did not materialize, but could show up Thursday.