Life is coming at Haley Moore fast these days.
At the end of May she was playing in the NCAA Tournament semifinals in Fayetteville, Arkansas — her final event as a Wildcat.
Two weeks later, she finished second in her first tournament as a professional on the Cactus Tour, one stroke behind the winner. On Wednesday, she won her first tournament as a professional, capturing the Cactus Tour event at Stallion Mountain Golf Club in Henderson, Nevada, by shooting 11 under par.
In August, Moore will compete in the first stage of qualifying school for the LPGA Tour.
"It came a lot faster than I thought," Moore said. "I kind of wish it went slower, the last couple of months with my team. I will reunite with them, eventually, as professionals. For it to be starting for me is exciting and nerve-racking."
For Moore, it's not the golf that's making her anxious. That's the relatively easy part.
It's that Moore must now deal with all the extra responsibilities that come with being a pro, whether it's travel, securing practice time, where to eat, where to sleep — and how to pay for it all.
Moore is 20 years old — too young to rent a car or book a hotel room. Her mom, Michele, is traveling with her; the two drove from their family home in Escondido, California, to Las Vegas for Haley's first two tournaments.
"Haley is super-young, and I advised her family to be with her as she starts out," UA coach Laura Ianello said. "She's going to need support. Living on your own in college is different than traveling the world and playing professional golf. Travel is hard, organizing everything and playing. It's so much easier when you have someone else to help. Being 100% responsible for yourself and all the expenses on you is hard and money is tight. The more success Haley has early on will help.
"Haley is now a grown-up; she's not in college. She has to be more of an adult than ever. Haley will thrive as long as she has the support system of her mom, dad and brother. They will give her everything she needs in that regard. Once she gets settled in, playing pro she will do amazing things."
Said Moore: "Mom is traveling with me, which is nice. She is my supporter. She will come out and watch me."
Eventually, Moore will need to hire a caddy. Her dad, Tom, is likely to work with her for Stage 1 of Q-School. After that, things get tricky.
"Stage 2 of Q-school is in Florida, and it's hard to pay for expenses from California," Moore said. "You can rent a caddy at the course. Last year 150 golfers advanced to Stage 2. I'd love to go to Stage 3 — the top 45 got their LPGA Tour card last year. It's so hard. The pros have much more experience. It's my first year and I'm excited for the new challenge. I know I have to work hard."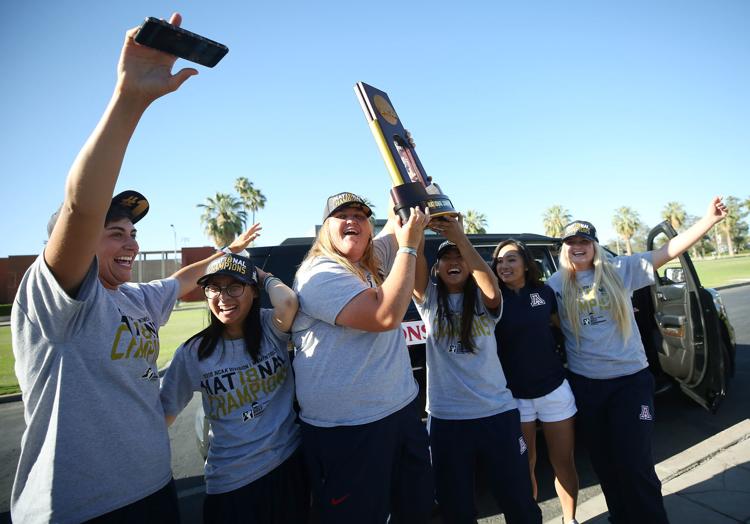 Moore is also looking for sponsors who would give her money to put their logo on her hat, shirt and golf bag. If Moore keeps improving, she will attract sponsors sooner rather than later.
Moore is perhaps best known for sinking the biggest 5-foot putt of her college career — the one that gave the Wildcats the 2018 NCAA championship. She kept up the pace in her final year at the UA.
In April, Moore finished eighth in the Augusta National Women's Amateur, and added another stellar performance at the NCAAs. She sank another big putt to move her team into the semifinals against Duke, where she logged the first point by winning her match 4 and 3.
Moore thrived in the college golf environment and has seen her game grow.
"I am definitely going to miss college golf," she said. "I'm going to miss the team, the coaches, and all the athletic staff at UA. The golf program is amazing. So many great players have come through and coach (Ianello), who played with Annika (Sorenstam) and won a title playing on the course and now as a coach. She has helped me as a person and golf-wise. I saw improvement in all parts of my game. I will definitely miss her."
Chip shots
What will the Wildcats look like next season without one of their most consistent players?
"It's a crazy thing, we have Haley's doppelgänger," said Ianello. "Hollie Muse (a transfer from Daytona State College) is like her twin. I am hoping she steps up to fill the void. … She watched Haley's putt last year to win it and saw herself in Haley. She reached out to us and wanted to be a Wildcat because Haley has had success here."
Ianello was named Pac-12 women's co-coach of the year last week. She shared the honor with USC's Justin Silverstein.
Ianello said she felt "validated" winning the award after being shut out a year ago.
"These awards are based on votes from your peers and it felt nice that everything we are doing is right and being noticed," she said. "It's awesome. It's a big honor."