Not long after going pretty much from the ER straight into McKale Center earlier this month, Arizona center Oumar Ballo received another reminder that basketball is not always life.
Fellow former Gonzaga big man Przemek Karnowski joined the UA staff as a graduate assistant last week, started getting to know Ballo, then bumped Ballo and the Wildcats' other bigs around in practice and … walked away from it when practice was over.
Karnowski wasn't always able to do that.
During his senior season with the Zags in 2015-16, there were times the 300-ish-pound 7-footer could barely walk out of bed, the victim of an initially mysterious back injury that morphed into a staph infection that eventually left a permanent dark mark on his shin.
"That was really something I don't wish any of my worst enemies to experience," Karnowski said.
Ballo returned to the Wildcats without missing a single game, fighting off a New Year's Eve bacterial infection with the help of a medical team and antibiotics. It was serious, Ballo said.
Karnowski's serious health scare was much longer term, but he also came out ahead eventually. Karnowski said doctors didn't know what was wrong with him for three or four weeks and, after undergoing an eight-hour series of three surgeries, one doctor initially told Karnowski to "just focus on walking again."
Then Karnowski returned to walk and run and play basketball well enough — and fast enough — to help lead Gonzaga to the 2017 Final Four his next season.
The problem was that, even though Karnowski recovered relatively quickly from the staph infection, the injury bug never went away. Karnowski says he thinks it's all related.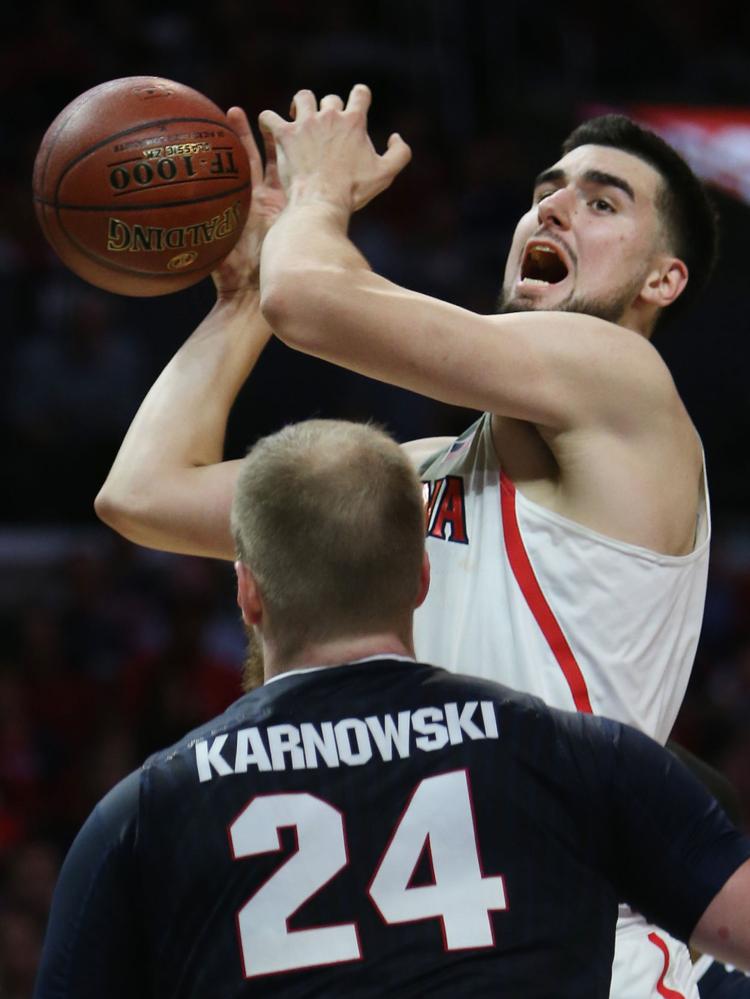 Injuries, opportunity
Karnowski averaged 12.2 points as a redshirt senior at Gonzaga in 2016-17, then play professionally in Spain and his native Poland. But pain kept getting in the way.
Among other issues, Karnowski had arthroscopic surgery on both knees and dealt with an Achillies' injury even after leaving Fuenlabrada, a top-level Spanish club based in the Madrid area, in 2018.
"That basically took more than a year off my life, with the surgeries, rehab and all that stuff," Karnowski said. "And then, when I was ready to come back, COVID hit, so everything was shut down."
Karnowski tried to keep working out on his own during the COVID shutdowns of 2020, but it wasn't the same. He played nine games for Twarde Pierniki Torun in Poland last season but said he never felt 100%. More like 80-85%, if that.
More telling: The demands between games were weighing on him.
"The biggest thing with my injuries was when I was doing two really hard practices a day," Karnowski said. "That's when I felt uncomfortable. When you're on a professional team, you're expected to try to practice like a professional, and it was tough for me with all the injuries. It wasn't good for me or the club."
Meanwhile, Karnowski had kept in regular touch with UA coach Tommy Lloyd, who started recruiting him out of Poland in 2010, and UA assistant Rem Bakamus, a former Gonzaga player who remains one of Karnowski's best friends.
At 29, Karnowski still wanted to play but also knew he might want to try out coaching.
"It was just kind of going back and forth through a cycle, and I wasn't really sure if I'm able to play again. I still felt not comfortable with some of the movements," Karnowski said. "So I spoke with Tommy and kind of talked through it. But I didn't know it was gonna happen this soon."
Lloyd knew it could. He had an opening for a GA once former Wildcat forward Ryan Anderson left last spring to rejoin former UA coach Sean Miller at Xavier but did not fill the position right away.
"I kind of waited after Ryan left," Lloyd said. " 'Shemmy' is a great guy, and we have a great relationship. We had had some talks, and I kind of waited. He was going to see if he was going to be healthy enough to play again, and then it didn't look like he would be. So we just decided to jump on it."
Timing was the issue. Instead of dealing with doctors and rehab specialists, Karnowski was dealing with consulates, government officials and the UA admissions staff, trying to get a visa over the holidays while also applying for admission to UA as a graduate student.
Karnowski already had an undergraduate degree from Gonzaga and had been progressing toward an MBA there during his final season. But he said his MBA credits there wouldn't transfer to UA, so he instead decided to pursue a masters in marketing.
He figured that part out. Then, earlier this month, the visa came through.
So Karnowski packed up and made it to Tucson on Jan. 17, showing up the next day for practice.
"I was just happy to get on the plane and get here ASAP when I got the visa," he said.
When he arrived, Karnowski said things were a "little bit hectic." That might have been an understatement: Instead of warming up on the job with some offseason workouts, Karnowski showed up literally a day before Arizona hosted its biggest homestand of the season vs. USC and UCLA.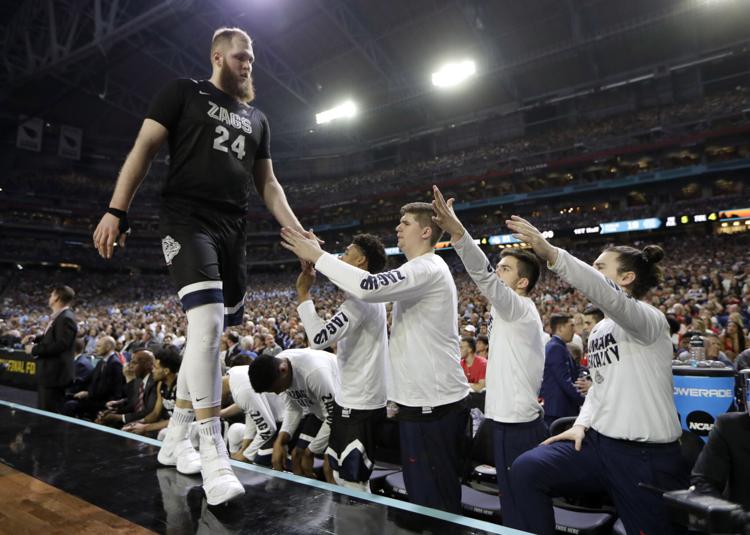 Homecoming game
This week, there's no time for a breather, either. Or nostalgia: The Wildcats on Wednesday afternoon are scheduled to fly into Karnowski's adopted American hometown — Spokane, Washington — on their way to face Washington State in Pullman, about 90 minutes down the road.
No matter. Karnowski indicated his head is staying down.
"I tried to come in and prepare and help as much as I can, especially with the big guys and the young guys," Karnowski said. "I was in college for five years, so I kind of know that whole experience, especially for international players."
So even though Karnowski didn't know any of the UA players until last week, he said his past experience playing with Lithuanians helped him relate to forward Azoulas Tubelis. Karnowski already knew of Ballo, even though the two did not meet when Ballo attended Gonzaga in 2019-20 and 2020-21.
On the court, during that first day of practice, Karnowski was seen banging around with the UA bigs. He instructed them with words — and muscle — while also, of course, telling them "to take care of their bodies."
Maybe this goes on for a while. Arizona can keep Karnowski as a graduate assistant for next season, and then he will have the option to coach, head into business or maybe even try to play again.
Everything is possible. Karnowski is only 29, even if his body hasn't always felt that way.
"Maybe in a year or two, I'll be feeling better," Karnowski said. "But at the same time, I'm not trying to think like that. I'm trying to embrace my role and get physically better in my whole life situation, not only basketball. I might have grandkids, and in 40 or 50 years I (want to) play with them without my knees hurting.
"I think that's really important. I think basketball is really important. But life after basketball is important as well."