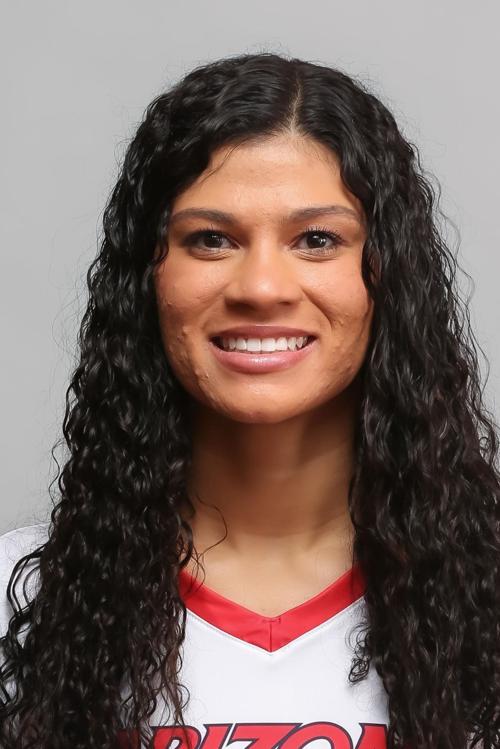 Akia Warrior considers Tucson home.
You could say it's in her genes.
Her dad, Steven, played basketball with Sean Elliott at Cholla High School. Warrior grew up in Fort Worth, Texas, but returned often to spend time in Tucson with her grandfather, Herman. She spent her summers here.
When it was time for the Belmont graduate transfer to select her next stop, Arizona seemed like the perfect fit.
"I feel fortunate that Akia is here," UA coach Dave Rubio said. "I think it was always a dream of hers to come play at a level like this … and so we've been the beneficiary of that. She's a terrific young lady, hard-working, committed and at this particular stage, she certainly helps us at practice every single day."
Warrior will make her McKale Center debut on Friday, when the Wildcats play their home opener against No. 11 Washington at 5 p.m. They'll play the Huskies again Saturday at 6:30 p.m.
The matches are Arizona's first at home since Nov. 30, 2019. The coronavirus pandemic forced the Pac-12 to move its women's volleyball schedule from the fall to the spring.
Heading into her second weekend of play, the 6-foot-1-inch setter sees the differences between playing at a Power Five school and a mid-major. Start with the size of the athletes. In the Ohio Valley Conference, it was "smaller girls who were really athletic and (could) jump pretty high." The Pac-12, meanwhile, is "a combination of girls who are both really tall and athletic, versus just some girls that are a little bit smaller."
Warrior's mindset is always the same, regardless of who she is playing.
"I've never been one to be somebody who's scared or worried about the next person that we're going to play," Warrior said. "I've seen multiple times where teams that are really, really good get taken out by teams who were not expected to take them out. I think making sure that we have the right mindset, and we're going every day into practice — and especially in the match — we're staying mentally engaged in practice, and just keeping that good mental mindset of continuing to get better every single time you touch the ball."
For now, her biggest transition is getting comfortable in Rubio's system, which relies heavily on the setter. Warrior said the key to learning the system is understanding her coach.
"I would say the biggest challenge is that I'm just still trying to learn Dave's thought process in terms of what setting decisions he wants us to make," Warrior said. "Setting is a consistent position. A lot of coaches like saying location is the biggest factor. With Dave, he likes us to make the right decision and his decision-making for us is just a little bit different than other systems that I've played for."
Last weekend at Utah, Warrior shared the setting duties with freshman Emery Herman and collected 16 assists — or 3.2 per set. In her last season at Belmont, she had 525 assists, averaging 5.83 per set.
The Wildcats have faced a lot of challenges so far — from the delayed season to playing in masks – yet Warrior sees all the positives.
"We've gotten to train a lot more," Warrior said. "We've all gotten to get to know each other a little bit better. We've gotten to get to know the coaching staff a little bit better. I definitely think that has helped us all jell into a group that is trusting each other and we're making really good strides. We're getting better every single time we're in the gym and our increases in skill and technique and performance are going up every single day. I definitely think as much as I wish that we would have had a season of fall and had a traditional season, there have been a lot of advantages to this season."
Facing the gauntlet
The Wildcats' first three opponents are ranked — Utah was No. 10 last week, UW is No. 11 and next week's opponent, Stanford, is third. That's a tough slate for anyone, and especially for a young UA team. The Utes swept the Wildcats in straight sets in both of last weekend's matches.
"There's not much forgiveness in the conference in general. But when you open up with a young squad, with the three top teams in the conference, reality hits you pretty quickly, especially with a young group who hasn't competed at this level yet," Rubio said.
"So regardless of (last week's) outcome, the weekend was good for us. We got better because of what we had to deal with and what we face this weekend, because we didn't have any knowledge. The players didn't have any knowledge about really what to expect. And as I said, in the past, you don't know what you don't know. Despite the fact that in practice, I'm constantly pontificating about, 'this isn't going to work at this level, and we need to do these things to be successful.' There's nothing like a dose of reality, when you're in the middle of a match, and you're getting pummeled by Utah, to say, 'OK, we better step up in practice.'"
A slow start
Utah targeted Arizona standout Paige Whipple last weekend, serving at her over and over, and she struggled to adjust. Rubio thinks the answer may be in her preparation.
Rubio thinks now that "we've certainly got her attention that certainly the other teams will be picking on her," Whipple is up to the task of fixing it. She had just nine kills last weekend.
"She has demonstrated great leadership skills in the gym and off the court, as well. But now what we need her leadership to be is her playing at a great intensity level and an eliteness that is going to help us compete better. She needs to start doing that in practice. Every great player, when they hear that honesty, they take that and they digest it and they say, 'OK, you're right. I need to step it up.' She needs to dial it up in practice. That was her response … after we spoke."