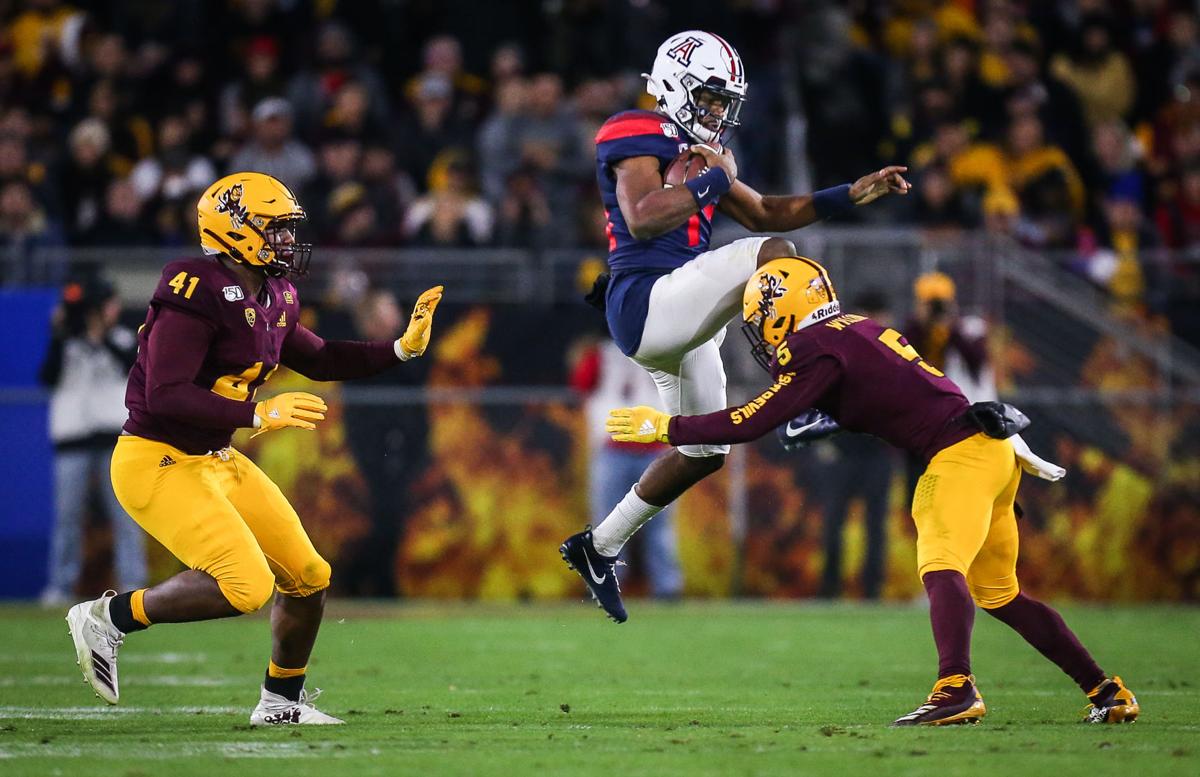 The Arizona Wildcats lost to Arizona State 24-14 in the season finale Saturday night at Sun Devil Stadium in Tempe. Here are some pertinent notes, quotes and statistics:
* Arizona finished 4-8, 2-7 in the Pac-12, its worst record since going 3-9, 1-8 in 2016. The Wildcats had the worst conference record in the league. Three teams finished 3-6. Five went 4-5. Only three – Utah, Oregon and USC – finished above .500 in Pac-12 play.
* ASU has won three in a row in the series for the first time since 2005-07. Arizona last won three straight from 1993-95.
* Arizona's 14 points marked the first time either team has been held under 20 in the rivalry series since 2009. The Wildcats scored 27 points over their final three games after notching at least 27 in four of the previous five contests.
* ASU failed to score in the first quarter, marking the first time this season Arizona shut out an opponent in the opening period. The Wildcats kept the Sun Devils out of the end zone in the first half, the first time they've held a Pac-12 opponent without a first-half touchdown since Oregon State in 2017.
* ASU outscored Arizona 15-0 in the third quarter, when it held an 11:17-3:43 edge in time of possession. The Sun Devils possessed the ball for more than 21 minutes in the second half.
* Arizona had three sacks for the third time in its final four games. The Wildcats recorded 10 sacks in four games under Chuck Cecil after managing just seven in the first eight games.
* Kevin Sumlin fell to 9-15 in two seasons as Arizona's coach. Counterpart Herm Edwards improved to 14-11.
* ASU tailback Eno Benjamin was named the Bob Moran Most Valuable Player for the second consecutive time, becoming the only player to win the award twice since it began in 2001. Benjamin rushed 34 times for 168 yards and two touchdowns. In two starts vs. Arizona, Benjamin has 248 yards and five TDs.
* Arizona junior linebacker Colin Schooler had 2.5 tackles for loss against Arizona State, giving him 46 for his career, fourth most in school history.
* Freshman WR Jamarye Joiner posted career-high marks in receptions (seven), yards (140) and touchdowns (two). His 140-yard performance was the second 100-plus-yard receiving game by an Arizona player this year and the first 100-plus-yard game by a Wildcat against Arizona State since Trey Griffey (138) in 2015. Joiner's 140 yards also were the most by an Arizona receiver since Cayleb Jones had 182 in the 2015 New Mexico Bowl.
* Khalil Tate threw for 228 yards and two touchdowns, giving him 6,318 and 57 for his career. Those figures rank fifth and second, respectively, in school history.
* Tate also threw a career-high three interceptions. It was the first time Arizona has thrown three picks in a game since Sept. 22, 2017, against Utah.
Sumlin on the decision to start and stick with Tate: "He had a good week of practice, and it was no different than how we were making decisions before that. The game flow was different probably than the last two weeks because it was a tight game. He was running and using his legs to create some more offense. We decided to just go with him."
Sumlin on offensive linemen Cody Creason and Josh McCauley playing through injuries: "It's amazing. They wanted to play. It says a lot about the kind of toughness that they have and unselfishness that they have. You see them physically hurting, but mentally it hurt them not to be able to play.
"I thought there were a couple times when Josh wasn't going to get up. He just kept playing. Our team has a tremendous amount of respect for them as people. You can see it in their eyes during the week and during the game. They have a huge impact on this team."
Sumlin on Joiner's breakout game: "Jamarye, for a guy who's played receiver basically for five months, has gotten better and better and better every week. He was still playing quarterback in June. He's learned the position. He has become a better route runner. Now he's returning punts; he's gotten better there too. He's got a bright future ahead of him."
Sumlin on his message to frustrated Arizona fans: "People, including myself, care very, very deeply about this program. There are a lot of things that go into it and a lot of work that's involved. The way you get better is through recruiting and player development. That's where we are.
"I know fans are frustrated. But we've gotta trust the process. We have a process in place that I believe in and a lot of our players believe in.
"You watch all these games, our guys don't quit. They play hard. You start there. We've gotta execute better. We've gotta keep developing players and fix some things. That's my job. It's my job to fix things. I know the fans are frustrated, but believe me, we are frustrated.
"The way that you handle these situations becomes important, what you do. Because you can't go back and do a bunch of different things. How you respond to this is going to be extremely important."
Tate on his UA career: "My experience was definitely different. There's been a lot going on since the time I arrived here, with my sophomore year doing pretty good, junior year battling an injury and this year going through a lot of adversity. It's definitely (been) a learning experience for me and for anybody that followed my story, knowing that you can be up and you can be down. I've seen both sides of that."
Arizona DT Finton Connolly on struggling to contain Benjamin in the second half: "They came out in the second half ready to go. D-line, we could've done a better job at holding our gaps and outside containment and making sure he doesn't get up the field. Eno Benjamin, he had a pretty good game."
Joiner on his stellar performance: "It took a lot of preparation during the week, just to be on the same page as the quarterback and know where I have to be and when I have to be there. So just executing that."
Senior DB Jace Whittaker on the direction of the program under Sumlin: "I think he's leading them in a positive direction. That's his goal. And I think he's a man of his word."
Arizona AD Dave Heeke on the decision to retain Sumlin: "(I want to) make it real clear that as we embark into Year 3 of this rebuild program, Coach Sumlin's our head football coach. We're not where we want to be. This is not where we wanted to be at this point. But we're committed, as you heard Coach say, to the process, moving this thing forward, moving into Year 3. Getting a defensive coordinator on board. Continuing to build through player development, continuing to build the talent level and the number of players through recruiting."
Edwards on the message his staff delivered to the fans: "Our coaching staff did a nice job of keeping their very message simple of just doing the little things right. I challenged our players after the Oregon State game, because I was tired of losing. We lost four in a row. We got off to a very fast start, 5-1. We didn't handle success well.
"We beat Oregon, and it was a tough one. We knew Arizona was going to be a tough game, and it didn't matter what we did last week because the win wouldn't have mattered if we lost this one. You have to put a string of games together, and we've done that now. The guys are excited about playing in a bowl game, and that'll be a lot of fun."
Edwards on winning for ASU's seniors: "It means a lot to them, our fan base and our football team. I told the team before we went out that this game is all about our seniors. A lot of these guys will never play football in this stadium again, and you want to send them out winners. I thank the team for doing that."
ASU freshman QB Jayden Daniels on the effectiveness of the run game: "They came out dropping a lot of people back to take away our big plays in the passing game. So it was just a great game plan, and Eno ran the ball hard. Whatever we had working, we just wanted to roll with it. It didn't really matter that we didn't throw the ball. We had chances to make some throws, but they played pretty good coverage."
Daniels on his first Territorial Cup experience: "There is a lot of trash talking. With all of the past history, a lot of this is all about us versus them, and I will take us every time. What I learned today was that emotions run high in this game. There is a lot of hatred between these two teams, and it means a lot to everybody in Arizona."
ASU senior DB Kobe Williams on the win: "I have never lost to them. I know this game means so much to the fans, and to come out here and be 3-0 against them is all I talked about to my team. I just wanted to go out there and give it my all. This is a big rivalry game, and we have been on top for a while now."
* ASU had 23 first downs; Arizona had 18.
* ASU had 234 rushing yards; Arizona had 155.
* Arizona had 228 passing yards; ASU had 104.
* Arizona had 383 total yards and averaged 5.5 yards per play; ASU's figures were 338 and 4.6.
* Arizona had eight penalties for 90 yards; ASU had four for 45.
* ASU possessed the ball for 34 minutes, 29 seconds; Arizona had it for 25:31.
* Arizona converted 7 of 15 third downs; ASU converted 7 of 16 (6 of 9 second half).
* ASU's average starting field position was its 35-yard line; Arizona's was its 22.
* Tate rushed 11 times for 78 yards.
* Daniels rushed 12 times for 62 yards.
* ASU's Brandon Aiyuk caught five passes for 67 yards.
* ASU's Cristian Zendejas went 3 for 3 on field goals; Arizona's Lucas Havrisik went 0 for 2.
* Schooler had a team-high 10 tackles.
* Safety Scottie Young Jr. had nine tackles
* LB Anthony Pandy had eight tackles and a forced fumble.
* ASU's Evan Fields had 10 tackles.
* ASU's Jermayne Lole had seven tackles and a sack.
* ASU's Jack Jones had six tackles and two interceptions.
Contact sports reporter Michael Lev at 573-4148 or mlev@tucson.com. On Twitter @michaeljlev