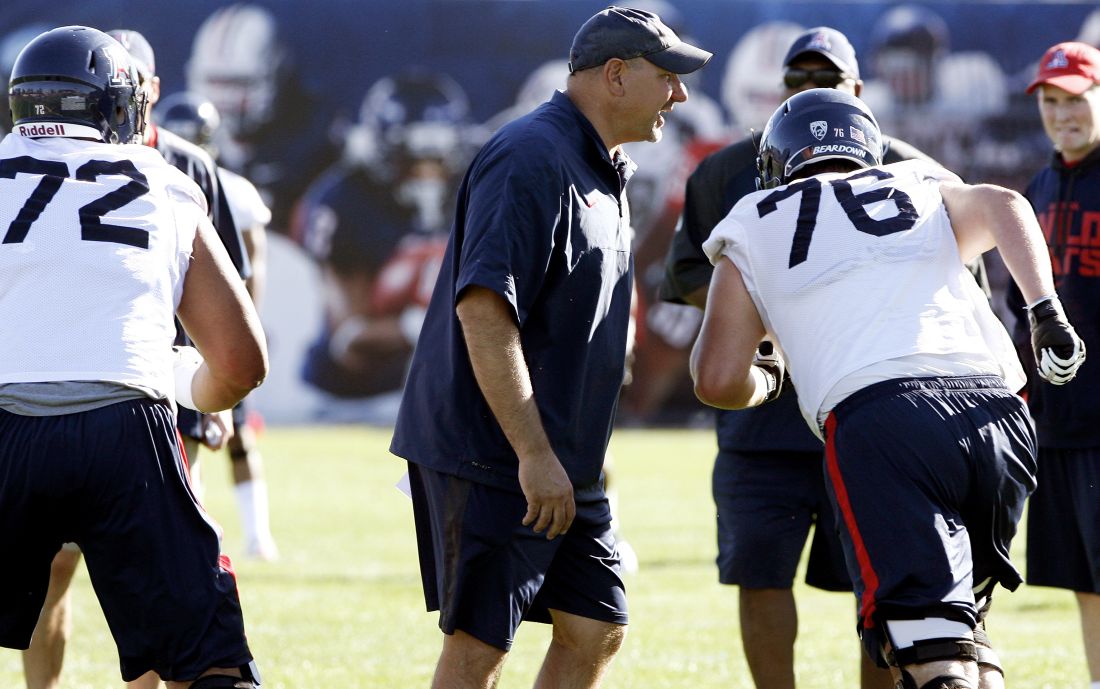 Arizona's offensive line will look very different in 2018.
Offensive line coach Jim Michalczik has accepted a job at Oregon State, where he will join first-year coach Jonathan Smith. (The news was first reported by The Oregonian). The UA has already posted a job opening for his replacement.  
Michalczik tweeted his thanks on Tuesday.
We are so thankful to have been able to spend the last five years as part of the Wildcat Football Family. Thank you to Coach Rodriguez for bringing us to Tucson. It has been a great experience working with the coaches and players and meeting so many wonderful people. Bear down

— Jim Michalczik (@FBCoachM) December 5, 2017
Michalczik is from Port Angeles, Washington, and coached at Oregon State from 1999-2001. Smith was the Beavers' quarterback at that time. FootballScoop.com reported that Michalczik will serve as OSU's associate head coach and run game coordinator, in addition to his position-coach duties. This isn't the first time Michalczik has been courted by another program: Fresno State showed interest a year ago.
Arizona's offensive line will be in full rebuilding mode next season. 
The Wildcats are set to lose guards Jacob Alsadek and Christian Boettcher and tackles Gerhard de Beer and Layth Friekh to graduation. Center Nathan Eldridge will return, as will right tackle Cody Creason, but otherwise there will be new faces all along the offensive line. Michigan State transfer Thiyo Lukusa will be eligible to play; joining him will be three offensive linemen currently committed to the 2018 class.
One of those commits, Amphitheater High School's David Watson, said Tuesday that he remains in contact with Arizona's coaching staff but has yet to talk to Michalczik. Watson has been committed since April, but has received interest from San Diego State.
"As of right now I am still planning on going to Arizona in January," Watson said via text message. "But I would be lying if I said I don't have more questions or concerns than I did yesterday."
UA coach Rich Rodriguez has stayed "in-house" for a handful of recent openings. If he chooses to do so with Michalczik's job, former UA standout Glenn Parker would make sense. Parker, a longtime NFL offensive lineman, recently joined the team as a staff analyst following years as a Pac-12 Networks broadcaster and a stint as a university fundraiser.
Rodriguez recently said Parker, along with other UA staff analysts, have been being helpful behind the scenes.
Michalczik joined the Arizona staff in 2013 after Robert Anae left for BYU. Michalczik had spent the previous 11 years in California, with two stints at Cal sandwiching a two-year term with the NFL's Oakland Raiders. Michalczik's previous coaching stops include Miami (Fla.), where he won a national title in 1991, Montana State and Oregon State. 
Michalczik's departure marks more turnover for Arizona's coaching staff. Rodriguez fired defensive coordinator Jeff Casteel and position coaches Bill Kirelawich and David Lockwood in 2015, the same year safeties coach Matt Caponi left for West Virginia. Three assistants left for other jobs following the 2016 season: Charlie Ragle (Cal), Donte Williams (Nebraska) and Tony Dews (West Virginia).
Just two assistants, co-offensive coordinators Calvin Magee and Rod Smith, remain from the 2015 full-time coaching staff.  Safeties coach Jahmile Addae and defensive line coach Vince Amey had been on the staff as analysts.