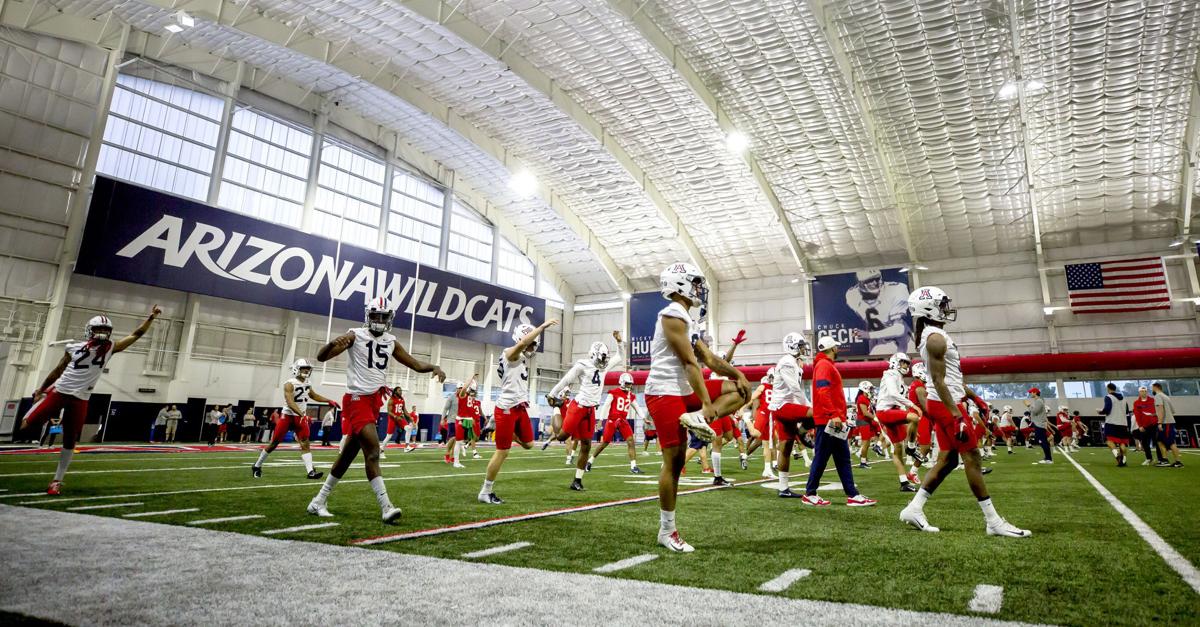 A few days ago, Dr. Stephen Paul took part in a Zoom call with Wildcats football coach Kevin Sumlin and his players regarding the UA's return-to-play plan, which is set to begin Monday.
Any of Paul's concerns were answered when he saw the players staring back at him from the tiny boxes on his computer screen.
"The guys are taking it seriously; they're getting it," said Paul, an assistant team physician and doctor with UA Campus Health. "Coach Sumlin says it's the new norm and they're adapting."
The football team's Zoom call with Paul is just one of the many ways the athletic department is working to prepare for student-athletes' return to campus and an eventual return to play for all sports. The first group of 20 Wildcats will begin voluntary workouts on Monday.
UA athletic director Dave Heeke said he's optimistic the football team will play its entire schedule but said the next 30 days will be critical. The Wildcats are scheduled to open their season Aug. 29.
Wildcats athletes are being phased in by stages based on population size, with Phase 1 (groups of 10 people or less) beginning Monday. The "pods" will remain together throughout all the phases, which campus leaders stress are milestones that are not based on time. The athletic department can move to the next phase simply by meeting standards and avoiding outbreaks.
In Phase 1, student-athletes will maintain at least 6 — and ideally 15 — feet of separation at all times, train outdoors or in open-air environments and wear masks during all activities, including exercise. There will be minimal use of equipment and no shared spaces, including locker rooms.
"This is a privilege to start this reentry plan and to champion the efforts," Paul said. "And it could change tomorrow. We're always able to move and be nimble when it comes to the safety of our student-athletes and staff."
The UA's reentry plan is based on guidelines from the federal, state, county and Pac-12. School officials have also been coordinating with the NCAA.
"We'll start small and slow with a lot of education and background, and we'll pause if we need to to get it right," Paul said. "We're always attentive to the idea of test, treat and trace."
The first group of 20 football players is already on campus. They have undergone their first round of COVID-19 antibody testing and a medical evaluation by campus staff.
Before their arrival on campus, the players spoke with the medical staff to discuss appropriate behavior under the reentry plan — including where they can go, how they can act and how important adhering to the guidelines is for the entire UA community, Heeke said.
On Monday, they'll be split into their pods of 10. The first pod will enter Arizona Stadium through the east gate, collect their individual baskets of gear and spread out on the field to begin their hourlong strength and conditioning training.
When that's over, they'll pick up grab-and-go lunches and leave through the west gate. After they exit, a cleaning crew will sanitize the facility and the second pod will enter.
Players will be subject to daily wellness checks. For the first few weeks, training will be limited to conditioning, strength and weightlifting work.
"The hope is, if we can get past these surges and open up a little more in the state, when it's time to go we can bring them all together," Paul said.
The rest of the UA football team's return will be staggered over the next three Mondays, with the entire team expected on campus and separated into pods by July 6.
Arizona's soccer and volleyball players come next, arriving on campus July 13 and July 20. The UA men's and women's basketball players are scheduled to report July 27. All remaining student athletes are set to return to campus Aug. 3, three weeks before the start of classes.
Students are being asked to isolate at home before their return to campus. International students, who Heeke say present a challenge depending on guidelines and limitations from their home countries, are asked to isolate for 14 days before they leave for the United States.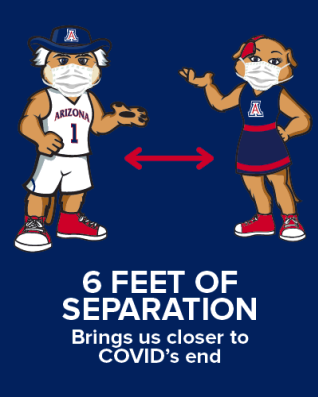 Once on campus, athletes will also be asked to do something else quite out of the norm: Stay home if they feel sick.
Mirroring policies from the NCAA and Pac-12, UA's athletes are now categorized by their risk of contact. All high-risk athletes — football, basketball, soccer and volleyball players — will be tested weekly.
Lower-risk athletes will be tested as deemed necessary by contact tracing, Paul said.
If someone tests positive and has no symptoms, he or she can return to campus after 14 days of quarantine. Symptomatic athletes face more stringent guidelines based on the onset of symptoms.
Paul said there are "ample protocols" in place should a student-athlete test positive. The pod system and contact tracing should make it easier to isolate individuals and prevent further spread, he said.
The UA is looking into different testing models, but Paul said it helps that the athletic department is in the "unique position of having the rocket scientists of microbiology" nearby.
"We can demonstrate that this can be done successfully," Paul said.
Still, the meticulous planning may not calm every athlete's concerns. Heeke said Thursday that he'll continue to assure athletes and their parents that they'll find a healthy and safe environment on campus.
Should they feel uncomfortable returning this fall or during the 2020-21 school year, Heeke said the department would respect their choice and work with the NCAA to preserve the student's eligibility.
The UA began working on a reentry plan immediately after the pandemic hit in March, an exhausting process.
"This never ends. Every day feels like a week, every week feels like a month," Heeke said. "There's been lots of planning, and I think planning gets exhausting when you can't execute."
And come Monday, after months of endless days, the execution will finally begin.
Concerned about COVID-19?
Sign up now to get the most recent coronavirus headlines and other important local and national news sent to your email inbox daily.