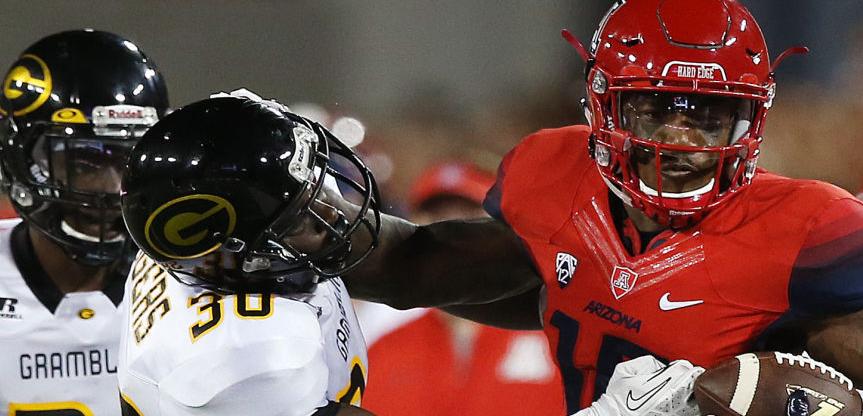 The Arizona Wildcats did not install a new offense during their bye last week. But the offense will look different in significant ways when the UA faces Stanford on Saturday.
The biggest alterations are coming in the ever-changing backfield. The move of senior Samajie Grant from receiver to running back became semi-official Monday when Arizona listed him as a co-starter there on its weekly depth chart. Grant isn't listed at wideout — where he has played his entire college career — and will share tailback duties with junior Zach Green, among others.
"If I blow my shoulder out trying to hit somebody, I'm gonna live with that," Grant said last week. "I'm not going out there worrying about anything but trying to win. That's it."
Arizona's most accomplished tailback, Nick Wilson, isn't playing anytime soon. Wilson isn't listed on the depth chart after suffering an apparent injury to his right knee against USC on Oct. 15. Last week, UA coach Rich Rodriguez hinted that Wilson could be out a while, and his absence from the depth chart is indicative of a long-term issue.
"Longer than we want," Rodriguez said. "He's definitely out for an extended period of time."
The backfield also will feature senior Matt Morin in some capacity. Rodriguez said last week that Morin would shift from quarterback — where he served as an emergency sub against the Trojans — to running back. He was listed as a tailback/fullback on the depth chart, suggesting the possibility of some new wrinkles.
"I think he's excited about it," Rodriguez said of Morin, who began the season as Arizona's third-string tight end and remains the team's holder. "He's a big, physical guy, and he loves football. We're trying to make sure we've got every position covered."
Arizona briefly used a two-back set with Jamardre Cobb as a blocker before he hurt his knee. Cobb is back now and also listed at the newly created RB/FB position with Morin.
The identity of the Wildcats' starting quarterback is unclear. Barring any setbacks, it will be Brandon Dawkins or Anu Solomon — or some combination of the two.
Both practiced last week after missing the USC game. Dawkins had started the previous five games before suffering a concussion against Utah. Solomon has been out since Week 1 because of a knee injury.
Solomon was able to "throw, plant off his foot and run around a little bit" in team drills last week, Rodriguez said. "That's been the key, to be able to run the whole offense."
UA couldn't do that with true freshman Khalil Tate in the lineup. The Trojans exploited his inexperience and limited the Wildcats to seven points through three quarters of a 48-14 defeat.
"With the experienced guys back, you can put more of your offense in," Rodriguez said. "We were really scaled back when we were playing the young guy. When you play the older guys, you can put more in, more things that we had done early in the season."
'Bump in the road'
Less than two years ago, Arizona and Oregon played in the Pac-12 Championship Game. Now they're both 0-4 in conference play, buried at the bottom of their respective divisions.
Rodriguez attributed his team's slide to the quality of the league, the competitiveness of college football and other factors. Whatever the causes, he views the UA's current predicament as temporary.
"I'm not here to speak about Oregon or anybody else," Rodriguez said. "We know what happened with us, some of the struggles that we've had, and we're working to overcome them.
"You want to get to the point where you don't have these little dips in the road. The season's just half over. Let's not all panic. I'm not panicking. The program's OK."
The UA has lost four in a row for the first time in Rodriguez's four-plus seasons. At 2-5, the Wildcats need to win four of their final five games to become bowl-eligible.
"I'm confident the first half of the season is just a little bump in the road," Rodriguez said. "Some things were out of our control. Some things we can control. We can fix all the issues that we have, so that's a good thing."
Extra points
Walk-on Branden Leon is listed as the third-string tailback behind Grant and Green. Tyrell Johnson, who started against Utah and has 28 carries this season, appears on the depth chart as a backup slot receiver and starting kickoff returner. Rodriguez indicated that Johnson is not 100 percent.
With Grant at tailback, redshirt freshman Cedric Peterson is listed among the top four receivers along with Trey Griffey, Nate Phillips and Shun Brown.
Even though his numbers are down this year, Christian McCaffrey remains the focal point of Stanford's offense — and of Arizona's defense — this week. "He's the same guy when he's healthy — just explosive," Rodriguez said. "You've got to know where he is. A large part of their offense, and certainly their special teams, when he's in the game goes through him."
Rodriguez liked what he saw from Arizona's younger players during the last week's bye. "The speed and the skill level of the young guys is what we hoped it would be," he said. "There's several that need to get in the weight room and have a great offseason program and learn what we're doing. But there's a lot of good young players in that class."
Christian Boettcher is listed as the starting left guard over Freddie Tagaloa, who isn't fully healthy, Rodriguez said.
Players were not made available to the media after Rodriguez spoke but are expected to be after practice Tuesday and Wednesday, a UA spokesman said.