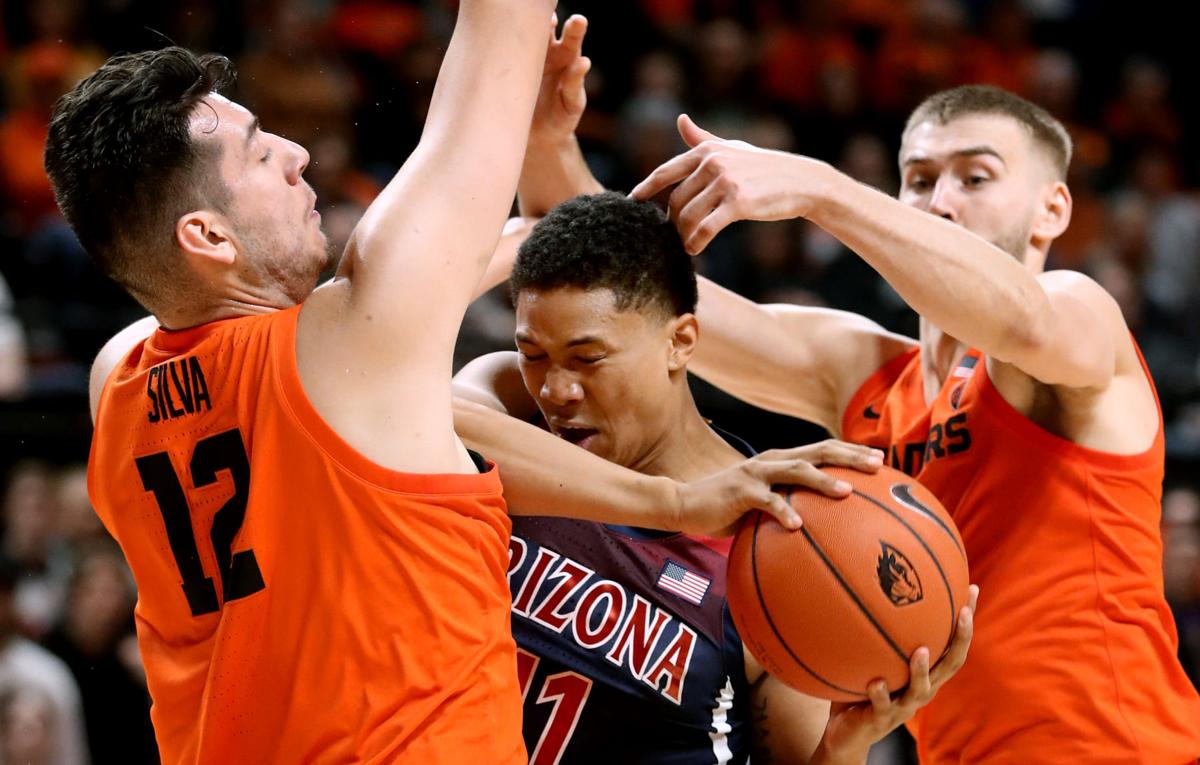 The Arizona Wildcats' first four losses were by a combined 13 points, and three of those loses came against teams currently ranked in the top 10 (Baylor, Oregon and Gonzaga).
But Sunday's loss was quite different as the Wildcats were a second half no-show against the Beavers, getting outscored 51-34 in the final 20 minutes up in Corvallis, losing 82-65. Not surprisingly, social media had some pretty strong reactions after the defeat that knocked the Cats out of the AP Top 25 poll for the first time this season.
---
Late last night, Sean Miller and Arizona suffered an embarrassing loss. Frustration is growing with a talented roster losing 5 of its last 7 Does Arizona have to make a deep tournament run to save Miller's job?https://t.co/mcAZ1FxaQA

— Jody Oehler (@radiojody) January 13, 2020
The losses against three top 10 teams were reasonable. The St. John's loss was right before Christmas break so we gave Arizona the benefit of the doubt. Tonight? Inexcusable. Arizona should've won by 15. Props to Oregon State for bringing it! https://t.co/Q6m1DOGYfj

— Justin Spears (@JustinESports) January 13, 2020
Sean Miller says in his postgame radio show Oregon State "really had their way" in the last 15 minutes of the game. Miller added "the game got out of hand the last 12 minutes."

— Justin Spears (@JustinESports) January 13, 2020
Last time Arizona was swept on the road against Oregon and Oregon State was in the 2005-06 season.

— Justin Spears (@JustinESports) January 13, 2020
Arizona's record on Jan. 12, 2019: 13-4, 4-0 (1st) in conference play.Arizona's record on Jan. 12, 2020:11-5, 1-2 (T-7th) in conference play.

— Alec White (@AlecWhite_UA) January 13, 2020
This is why frittering away that game at Oregon was such a big deal. It's really hard to win on the road in conference. This loss wouldn't be nearly as big a deal if the Wildcats had won in Eugene (which they should have).

— Michael Lev (@MichaelJLev) January 13, 2020
Sean Miller on the loss to Oregon State: "They really just outclassed us. We didn't have the ability to guard their offense. ... We struggled across the board."

— Ryan Kelapire (@RKelapire) January 13, 2020
I wouldn't say that Arizona is in bubble trouble yet, but this loss is going to expose a resume that had been held together by dental floss and chewing gum. Wildcats have had several close calls against very good teams, but their best wins were vs. Illinois and vs. Arizona State.

— Kerry Miller (@kerrancejames) January 13, 2020
Alec has been with the Star since October 2019. He's currently a senior at the University of Arizona and previously worked as sports editor for the Arizona Daily Wildcat.