Back when the school year was starting, Alyssa Denham texted teammate Taylor McQuillin.
Denham told Arizona's ace that she was going to do everything she could do to help McQuillin and the UA's entire senior class finish their careers on top. The Wildcats were going to go all the way.
Denham kept coming back to McQuillin in the dugout on Saturday, the pair supporting each other in what would be the clinching game for the Women;s College World Series.
"Tay always just pumps me up, gets me going as I go out there and just tells me that no one can beat me," Denham said.
Denham gave up six hits and one earned run while walking two and striking out four on the way to a 9-1 win over Ole Miss in the NCAA Super Regional at Hillenbrand Stadium.
Behind Denham, the Wildcats secured their first spot in the WCWS since 2010. Arizona will open play at 9 a.m. Thursday against Pac-12 rival Washington.
It wasn't all smooth sailing to Oklahoma City, though.
Denham surrendered a one-out double to Abbey Latham in the first inning, and the Ole Miss standout moved to third on a groundout. Denham then struck out Brittany Finney to end the threat. The Rebels opened the second inning with three consecutive singles.
The Louisiana-Lafayette transfer retired the next three Ole Miss batters on nine pitches. She struck out Amanda Roth and Mikayla Allee before getting Kylan Becker to ground out.
Coach Mike Candrea thought the way Denham was able to get out of the jam was a game-changer.
"But it shows me that she's grown up a lot, too," Candrea said. "In that moment, the one thing we've talked about was being able to handle the big moment — well, that's about as big as it gets. And she handled it quite well."
In an alternate universe, Denham could have led the Rebels to their first WCWS appearance instead of helping UA make its 23rd trip.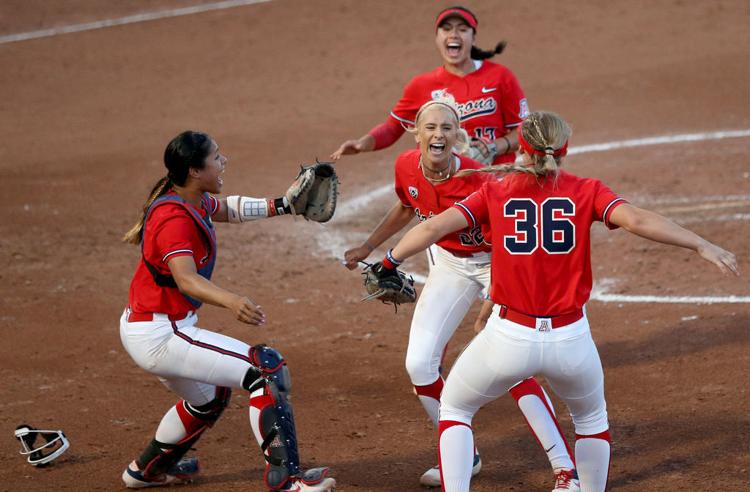 After her freshman season, the Ragin' Cajuns' program collapsed. Louisiana-Lafayette fired Michael Lotief on Nov. 1, 2017 after determining the longtime coach subjected his players and coworkers to "violent, vulgar language and verbal and physical assault, creating a hostile learning and working environment."
When looking for a new program, Denham — a Texas native — considered Ole Miss. She's known Rebels coach Mike Smith for years; he began coaching at McNeese State in 2011, the same year Denham's older sister Tiffany was preparing for her senior season. Denham still calls Ole Miss "a great place."
"But when I came on my visit here, it just felt like home," Denham said. "And I just knew that there was nowhere else that I wanted to go but here."
Denham arrived at the UA in January 2018, and immediately slotted in as the No. 2 pitcher behind McQuillin. She has been the model of consistency since: Denham's ERA, appearances, win-loss record, shutouts and innings pitched are nearly identical from last year to this year. But she's made major improvements in other areas.
This season, Denham has only given up 70 hits. Last year, she gave up 94 in two more games than this year. She has struck out 109 this season, up from 72 a year ago.
Denham has a natural feel for the game plan. When they talk, assistant coach Taryne Mowattt tells Denham to trust her pitches. That's what Mowatt did during the second-inning jam — and again in the fifth, after Denham walked the first two batters.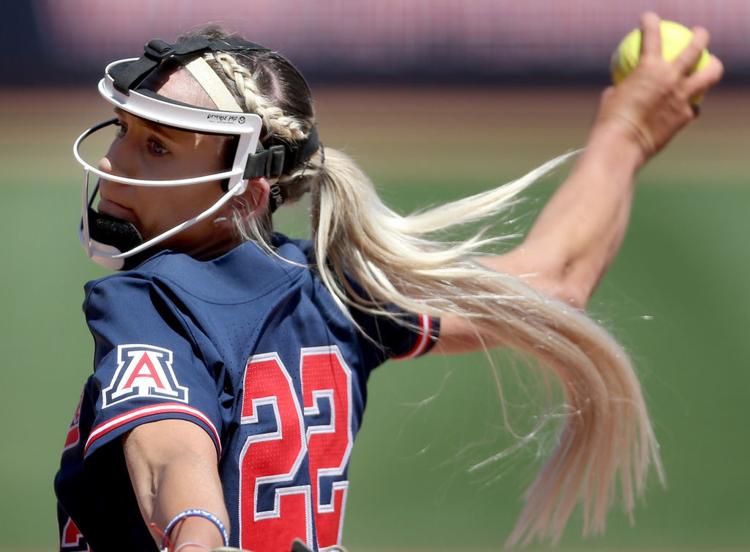 Denham said Mowatt told her "they can't beat me on my best pitches, so to challenge each hitter."
Finney said Denham had a solid approach. Only time will tell how much Denham will contribute in Oklahoma.
"I think she was very good about adjusting and keeping us off balance," Finney said. "I know in my few at-bats, I tried to battle her and adjust to her, and she battled me and adjusted to me. I think she just had a great game plan and she's a great pitcher."