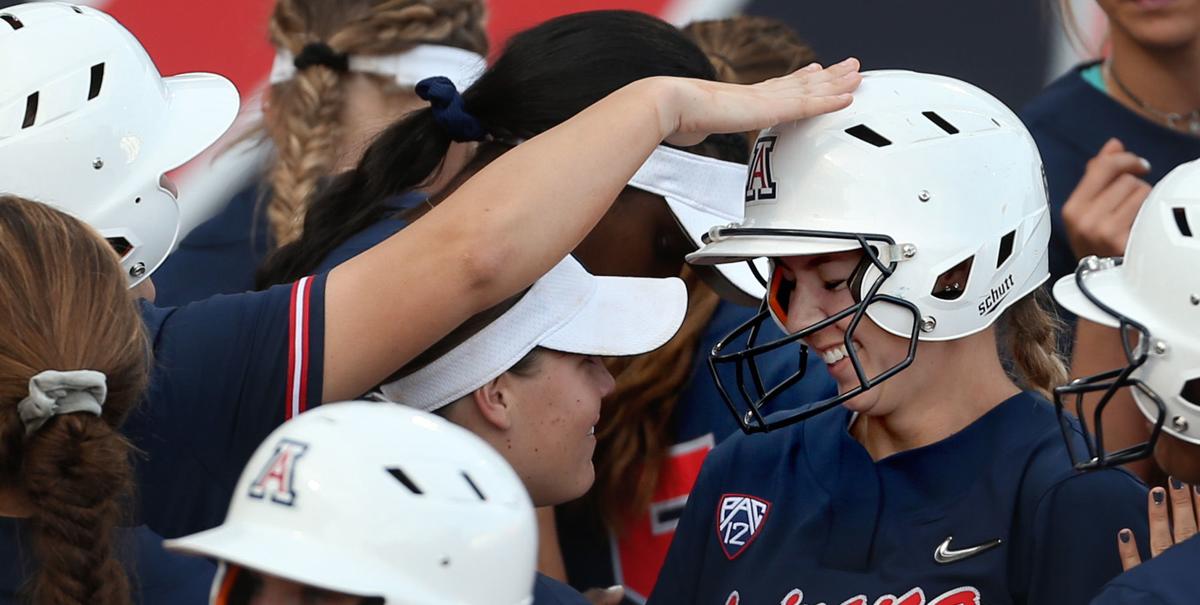 Arizona shortstop Jessie Harper has hit an NCAA-leading 13 home runs this year.
Each time, she's been mobbed by her teammates at home plate. But the real celebration begins in the dugout. When she arrives, one of the managers tosses her a golf ball with a small green dollar sign on it. With her teammates cheering her on, she drops it in the offensive bucket, a reminder of what she's done for her team.
The key part is, it doesn't have to be a home run.
The No. 12 Wildcats (17-5) earn golf balls whenever they make a game-changing, momentum-shifting, awe-inspiring play. There are also green golf balls for when a player does their job, like getting a bunt down or catching a fly ball. The players want to avoid red golf balls, which signal an error, a three-pitch strikeout or some other disappointing outcome.
By the end of each game, the offensive and defensive buckets serve as catalogs, providing an instant critique of how the game went while also leaving a visual imprint in the players' minds.
"You can see why we lost, because there are too many red balls or too few money balls," Harper said. "It's awesome when things are going well for us, because then (the managers) get excited and throw the balls up, going, 'Hey, yay!'"
It's a new system for coach Mike Candrea, who enters this weekend's three-game series against No. 1 Florida State tied atop the NCAA's all-time wins list — with current Michigan coach Carol Hutchins — with 1,580 wins in 34 seasons at Arizona.
The old cat has learned new tricks with each generation of players.
He got this one looking for a unique way to deliver immediate and lasting critiques, while also being surrounded by too many golf balls in his office.
"We've done the same thing with charts before, but this is kind of a visual group," Candrea said. "You have to constantly adapt to the group that you're trying to coach. I look at every year as a new canvas and you've got to find a way to paint it a little bit differently."
Each week, Candrea gives one player the top honor, a money ball, which represents essentially the player of the week award. Those are the only golf balls the players get to keep. They serve as a physical reminder of past achievements.
"I'm not that creative," Candrea laughs.
The Wildcats have been thriving, winning 14 of their last 15. Inside the buckets, they see what it takes to keep it going. They need 21 green balls in the defensive bucket, each for one out, at least a handful of "money balls" in the other and, of course, as few red ones as possible.
The managers aren't as cruel as to personally hand a red ball to a player that just earned it. Instead, they slyly drop it in the bucket themselves. Even so, mistakes don't go unnoticed.
"It definitely is rough in a sense, too, where you can see, 'Hey, that ball right there was my mess up,'" Harper said.