The Arizona Wildcats fell to Washington 3-1 on Saturday, ensuring their first Pac-12 series loss of the season.
But that's not the worst part. Not even close.
Arizona lost second baseman Reyna Carranco to a fluke injury in the first inning, one that could sideline her for the rest of the season.
While swinging on a 1-2 count during her first at-bat, Carranco took a pitch off her hands. The pitch was ruled strike three. After the game, coach Mike Candrea said it appeared Carranco injured both of her hands.
"As of right now, it's a broken hand and a broken thumb — it got both," Candrea said.
This is the second year in a row Carranco has suffered an injury during the Washington series — both while facing pitcher Taran Alvelo.
Last year, Carranco was struck in the face by a 70-mile-per-hour fastball. She suffered a concussion, broken nose and fractured right cheekbone.
She had surgery the following week and only missed one series. This time, it seems Carranco may be out longer.
The loss could have major repercussions for the Wildcats. The junior is the team's leading hitter, averaging .433 in 157 at-bats over 50 games.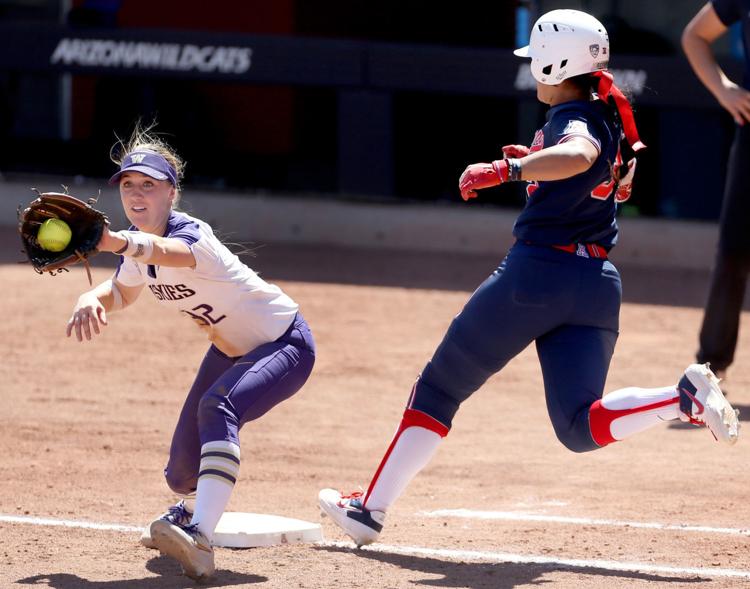 Sunday's series finale will be Arizona's ninth game of the year against a top-10 team. From those games, the Wildcats have only managed one win — against reigning national champion Florida State in March during a series which UA lost two of three.
That mark could hurt the No. 6-ranked Wildcats (40-10, 17-3 Pac-12) when it comes time for NCAA Tournament seeding.
"I feel like our team is definitely prepared; it's just a matter of executing when it most counts," Rylee Pierce said. "It's not really going to be five hits throughout the game, it's going to be putting two together that really makes the difference."
Saturday's loss was a bit baffling.
Pierce fielded a play that should have been a force out at first base, one that could've ended the top of the first inning. But Pierce didn't get to the base in time. In the commotion, Washington's Sami Reynolds, who had doubled to left-center, snuck in with the Huskies' first run.
"I think it was just kind of a weirdly placed hit and a little bit of miscommunication, but it happens," starting pitcher Alyssa Denham said.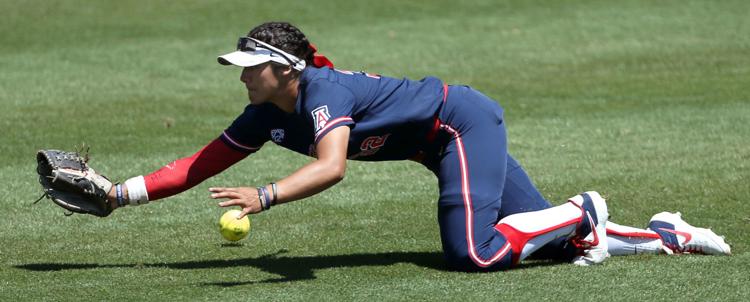 The bad luck continued into the bottom frame, when Carranco was injured. Candrea filled the void in the lineup with Hannah Bowen.
Bowen, who only had 11 at-bats prior to Saturday, had mostly been utilized in the circle as a closer. But it seems she may be the one to take over second base for the remainder of the season.
"Hannah's a grinder — she'll make adjustments, she'll make a play," Candrea said. "She's prepared, but it's tough to lose your leading hitter at a moment like this. It stings me a little bit. But we've got to move on and we have to continue to play."
After that first inning, Pierce was able to recover. She hit a home run to tie the game in the second ining.
"I'm just looking to help my team out," Pierce said. "That was an unfortunate situation in the first — I didn't feel unprepared, I just didn't make the play how I should. I didn't take the at-bat any different, I just wanted to have a good at-bat and do what I can for my team."
Washington scored the go-ahead runs in the fifth thanks to a two-run single to center.
In the seventh, Arizona looked to make a late-game comeback.
Hannah "Peanut" Martinez and Carli Campbell led off with singles to turn over the lineup, but Alyssa Palomino-Cardoza struck out.
Bowen then hit a pitch along the left-field line that could have scored at least one runner, but the ball fell a foot into foul territory.
Bowen eventually flied out, and Jessie Harper fouled out to end the game.
Candrea said the Wildcats have to find a way to embrace the big moments, whether offensively or defensively.
The Wildcats' résumé may be impressive, but they're going to need more victories against ranked opponents. Sunday marks another chance.
"I just feel like, right now, there's times when the game got quick on us," Candrea said. "Right now, we're missing one hit, one pitch, one play. Against good teams and good pitching — you can't do it."