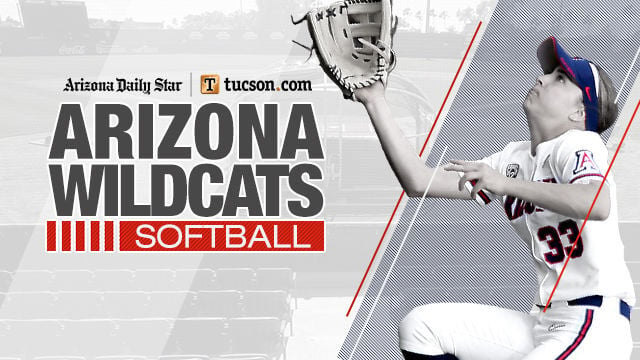 As Southern Utah freshman pitcher Tyler Denhart fed No. 4 Arizona softball's offense a steady diet of changeups with two strikes, it became apparent someone was just going to have to bite the bullet.
Striking out while waiting on an off-speed pitch makes anyone look silly, but eventually, it becomes necessary, if for no other reason than just to make the pitcher change it up.
Arizona's Malia Martinez beating out an infield single gave Sharlize Palacios the perfect opportunity, with one out and bases loaded in the fourth inning. Palacios didn't miss, drilling a bomb over the right-field wall to punctuate Sunday's 10-1 victory. Probably the Wildcats would have won anyway, but being a top-five team comes with higher expectations.
Arizona (5-0) let only one game at the Hillenbrand Invitational reach seven innings. Its almost flawless first weekend was a product of making those mid-game adjustments. Overcoming Denhart's strategy — picking the corners and closing the door with her 50 mile-per-hour specialty — was just the latest edition.
"It was good for us to see that, because it's not going to be the last time," coach Mike Candrea said. "The off-speed pitch at this level is really tough because you have very little time. You almost have to anticipate, and the biggest thing with younger hitters is getting them to stand their legs, stay on their front side, keep their hands back and make an adjustment."
Freshman Carlie Scupin, out of Tucson High, did just that, plating UA's first two runs with a homer to left field in the second. Just like she had been for most of the week, Scupin swung ahead of the first pitch. Two subsequent changeups gave her the chance to slow down, and then, when she saw another hard pitch, she clobbered it.
It was a surreal moment, knowing a no-doubter like that would have brought all of Hillenbrand Stadium to its feet. Instead, with no fans in attendance, she trotted the bases in relative silence. Scupin, who has been committed to Arizona for seemingly forever, still took a moment to soak it all in.
"I had been struggling all weekend, just being out in front and jumpy to the ball," Scupin said. "But I was most excited, because we took the lead at that point."
Arizona fell behind when Josey White's line drive clipped the right-field line, giving Southern Utah a 1-0 lead. After the hiccup, freshman and Ironwood Ridge High School product Devyn Netz was near-perfect, finishing with one earned run on three hits and five strikeouts.
The performance seemed to give Candrea confidence in Netz getting innings during big games later this year.
"She's a good athlete who is very competitive, works really hard, and she's going to get better and better," Candrea said. "Velocity is there. So right now, she's going to be a good one down the road."
In a tournament that featured no power-conference or top-25 teams, preparing for what's ahead is key for Arizona. Being able to make those mid-game, and even mid-at-bat, adjustments, could prove invaluable as the schedule gets tougher.