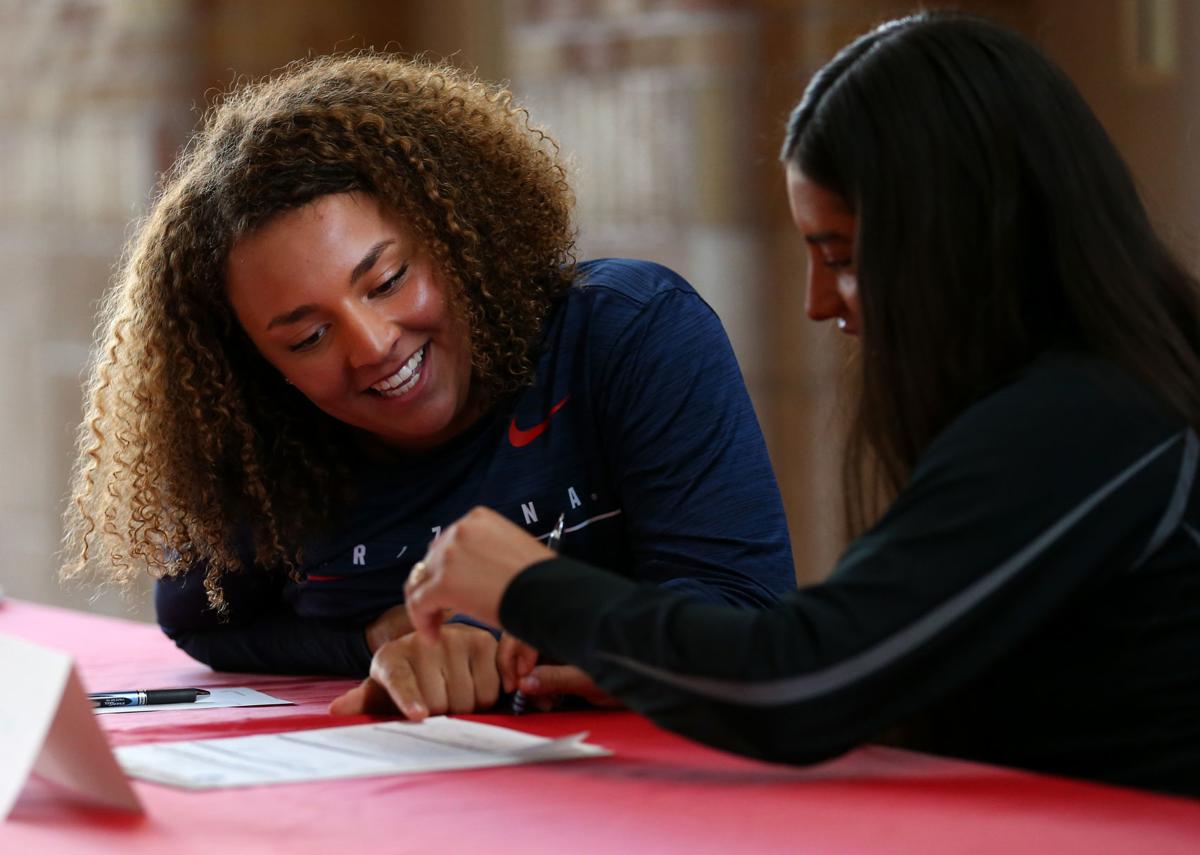 Mike Candrea did it again.
Arizona's softball coach has reeled in the No. 1 signing class for 2020, according to Extra Inning Softball.
The group has eight players — and a few with Tucson ties.
The first recognizable name is Carlie Scupin from Tucson High. She was the 2019 Arizona Gatorade Player of the Year as a junior, when she hit .683 with 17 home runs. She was ranked No. 21 by FloSoftball in her class.
She is a left-handed first baseman who Candrea said has "great power and definitely the highest bat speed I've ever seen." Scupin has 41 career home runs — and counting.
"I think she still has some developing to do, but her power and her strength right now is just almost unparalleled at the stage that she's at," Candrea said. "This young lady is just fun to watch. I mean, she's a great teammate, loves to play the game, plays it hard, but again, her ceiling is very high."
Allie Skaggs is another 2019 Gatorade Player of the Year — this time in the state of Kentucky. Playing at Louisville's Ballard High School, Skaggs hit .571 with 18 home runs and 64 RBIs. She is listed at No. 13 by Extra Inning Softball. Skaggs has transferred to Ironwood Ridge for her senior year; both of her parents attended the UA.
Candrea called her "another outstanding young player that loves to play the game."
Skaggs' new teammate at Ironwood Ridge, Devyn Netz, is another newcomer to Tucson who has signed with the Wildcats. Netz is, at No. 6, the highest-ranked player in Arizona's signing class. As a junior pitcher for Pasadena, California's Maranatha High School, Netz went 19-4 and struck out 253 batters. She also led her team with a .494 batting average before transferring to I-Ridge.
Candrea watched Netz play for the SoCal A's club team, and said she "put her team on her back, both in the circle and at the plate."
Netz's brother, Dawson, is a freshman pitcher on the UA's baseball team.
Jessie Fontes in another pitcher in this class. A righty, she is from California's Camarillo High School. Ranked No. 24 in Extra Inning Softball, she was named MVP of the league three consecutive years. She went 25-5-1 and had 264 strikeouts. She also hit .530.
She plays for the SoCal Choppers — the same travel ball team UA shortstop Jessie Harper came from. Arizona signed two other Californians: Jasmine Perezchica and Giulia Koutsoyanopulos.
Perezchica, a product of La Quinta's Palm Desert High School, was ranked No. 10 in her class. Her father, Tony, is the Arizona Diamondbacks' third base coach.
"So she comes with a really good knowledge of the game," Candrea said.
Koutsoyanopulos, from Mission Viejo's Capistrano Valley High School, is the nation's 43rd-best prospect. A utility player, she has won her league's offensive and defensive awards and won the USA Elite Select WFP Championship in 2019. She's the rare player who bats right-handed and throws lefty.
A pair of Phoenix-based twins round out Candrea's class.
Aris Carroll is ranked No. 83 in her class and Sophia Carroll No. 12.
Candrea said Sophia Carroll has "quick hands and a quick release" and can hit the ball far. Both are very mature for their age.
Candrea said every player in his class is a strong teammate with a great work ethic. Those are the types of athletes he looks for when recruiting.
"Yes, we want to play for championships, but primarily I want good people that are good players that are good students that I can prepare them for life after softball," Candrea said.
Volleyball program adds a strong class
UA volleyball coach Dave Rubio couldn't help but smile Wednesday.
"We're the only school that has four kids in the top 100," he said.
Arizona's signing class is led by China Couch, a 6-foot-6-inch opposite/middle blocker from California's Carlsbad High School who was ranked No. 73 in the country by Prep Volleyball.
Emery Herman is a 6-foot setter from Georgetown High School and was ranked No. 68 by Prep Volleyball. Rubio hopes Herman, who plans to enroll in January, will step in for outgoing senior Julia Patterson next season.
Jaelyn Hodge, an outside hitter ranked No. 20 nationally — the highest-ranked player to sign with the UA since Whitney Dosty in 2006 — won the Class 6A state championship title Tuesday night. Hodge had 33 kills, 82 attacks and 12 assists to lead Chandler Basha to a 3-2 win over rival Gilbert Perry.
"Jaelyn comes in as a top-20 recruit and as a terrific Kim Glass-level type of athlete," Rubio said, referencing the former UA star.
Later Wednesday afternoon, the Wildcats picked up Shelby O'Neal — a 6-1 outside hitter from Schertz, Texas. She also will play beach volleyball for the UA.
Ware to become a WildcatLauren Ware made it official Wednesday, signing to play both basketball and volleyball at Arizona.
The 6-5 Ware, a star at Bismarck Century High School in North Dakota, plays opposite and middle blocker in volleyball. Prep Volleyball has her ranked as the No. 50 prospect in the nation.
Rubio expects Ware to be an immediate impact player for his team.
"When I saw her jumping and hit, I'm like, this is gonna be a lot of fun,' " he said. "For us to get a player like her is really unusual. Really, really unusual. It's a tribute to (UA women's basketball coach) Adia (Barnes) to get a player of her quality, her level and her stature to commit to Arizona," he said.
Ware tore her ACL in a volleyball tournament over the summer, and is working to return. She is a five-star basketball recruit who is ranked as the No. 3 post prospect and the No. 22 prospect overall by ESPN.
The UA is expected to announce its full women's basketball signing class at a later date.