For the second game in as many days, Arizona run-ruled Oregon using the long ball and lights-out pitching.
This time, it was junior Dejah Mulipola playing the hero. Mulipola homered twice, scored four runs and led the Wildcats to an 8-0 victory Saturday in front of a fifth-straight sellout at Hillenbrand Stadium. The catcher is now tied for the Pac-12 lead with 13 homers this season.
Mulipola said she's worked more on her patience — and breathing — going up to bat this season. She tries to clear her head before getting in stance; so far, it's worked.
"I just plan on hitting the ball hard and passing the bat to the next batter," Mulipola said. "Not too much going on."
In the past, Mulipola and coach Mike Candrea said, the Wildcats slugger was too anxious at the plate. Not anymore: Mulipola is trusting her hands, seeing the ball deep into the batters box and delivering short, quick swings.
"She's seeing it like a beachball right now, and put good swings on good pitches, hitting the ball hard," Candrea said. "Sometimes, as a player, you get into those modes where everything slows down and it looks big. Sometimes it looks like an aspirin coming at you. So, (I) hope she can keep it going."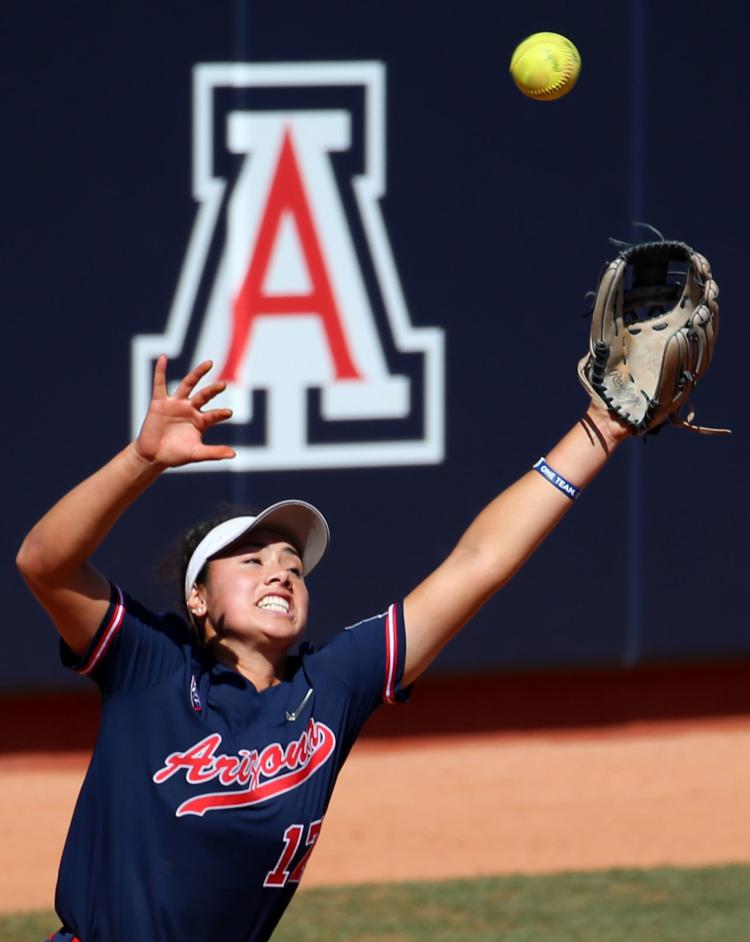 After a scoreless first inning, Reyna Carranco and Jessie Harper got on base with a double and single, respectively, with one out. Mulipola then hit her first home run of the day to put the Wildcats up 3-0. Mulipola homered again to lead off the fourth inning, giving the Wildcats a 4-0 advantage.
Oregon lifted pitcher Jordan Dail soon after, bringing in Kailey Krueger with two on on one out. Hannah Martinez struck out, then Jenna Kean hit her first home run of the season to make it 7-0.
Candrea said Kean is capable of making plays like that, but has struggled with her stance throughout the season. Arizona walked off with a run-rule in the fifth inning, when Rylee Pierce singled home Harper.
Arizona has outscored its opponents 171-60 this season. They've hit 49 home runs as a team while allowing just 17. Mulipola said she likes how strong the team has been offensively, and hopes the team is able to keep it going throughout the rest of the conference schedule.
Arizona hit four homers and beat Oregon by a matching 8-0 score in Friday's Pac-12 opener. The Wildcats (20-7, 2-0) will go for the sweep Sunday at noon.
"We can't get too big-headed," Mulipola said. "(Sunday) can be a new day for Oregon and they can come out at us. I think just keep our offense going and keep our pitching going and we'll be good."
Gina Snyder started in the circle for the Wildcats, striking out four while walking one and allowing two hits through four innings. Freshman Marissa Schuld relieved Snyder, and allowed one hit over one inning.
Candrea said the pitching change was more about giving Schuld an opportunity than anything Snyder did.
The UA's 34-year skipper said he wanted to take advantage of his bullpen depth.
"She's someone that no one's seen," Candrea said about Snyder. "So, that can be a good thing for us. But I like where she's at. She just needs to go after it."