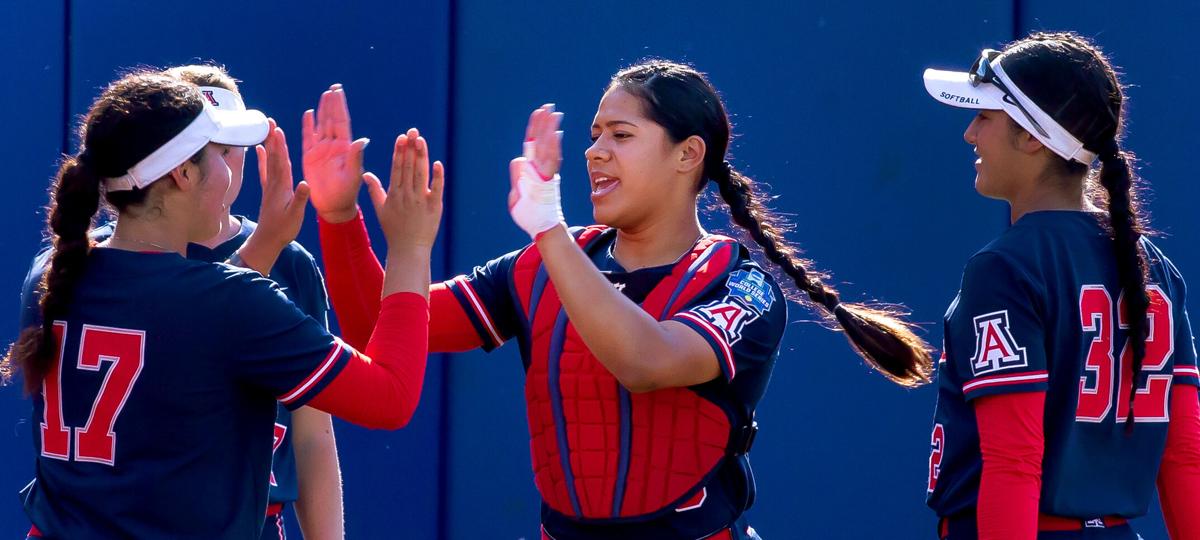 Arizona senior Dejah Mulipola gathered with her teammates on the floor of McKale Center on Tuesday to say goodbye to mentor and coach Mike Candrea, who is retiring after 36 years at the helm of UA softball.
The All-American catcher and soon-to-be Olympian watched Candrea's retirement press conference with a soft smile on her face. She and her teammates reminisced as a video commemorated Candrea's novel-worthy accomplishments — including this year's Women's College World Series appearance, the Wildcats' 24th.
Once her coach finished delivering his speech, Candrea's past and present players made their way on stage to take a "family" photo.
Mulipola kneeled right next to Candrea.
Afterwards, Mulipola talked with the Star about when she knew about Candrea's retirement, what it meant to play for him and her experience at the WCWS:
How would you describe this season playing for Coach Candrea?
A: "It meant everything. Just having the players, the coaching staff, coach's friends be here, it shows what a great man he is. I'm fortunate that I got to play all my collegiate years for him — (and) even more fortunate that I was able to come back (for senior season) this Olympic year. It means the world that I got to represent him, that I get to know him and be in the corner of my life forever. I'm just grateful I got the chance to come here at the U of A."
When did you and Candrea have the conversation that this would be his last season?
A: "I was back in quarantine in California (last summer), and the Olympic tour had just been postponed, and Coach Candrea was just telling me, 'I'm going to do everything in my power to get you back. This was supposed to be my last year (at UA)', speaking as in when I was on the Olympic tour. (Candrea said) 'Now that I'm going to come back for another year, I want you to be able to finish with your class and I want you to finish with me.' So I was one of the first players to know that he was going to retire and I kind of kept that as a secret because he didn't want that out in the media. He didn't want the (other) girls to know; he didn't want to add extra pressure on us. That was one of the reasons I was excited to come back, and I made it very personal this year to try to get him back to the World Series."
How difficult was it to keep that news a secret from some of your teammates?
A: "It was very hard, especially when we started losing early on in the season. I just wanted to tell the team like, 'Do you know what we're doing this for?' They had no idea, but that's why I was very emotional throughout the entire season because I was doing everything for Coach. I wanted to get him to the World Series and I wanted to win another national championship for him. I knew what this year meant for him, for all of us to come back, for him to come back for his last year. I just wanted everyone to kind of take it a little bit more personal."
What was this postseason run like for you knowing it was both your last year and Candrea's last year?
A: "It was emotional. I have goosebumps right now because I never knew when it would be my last time in that uniform. Every time I looked down third base and I saw Coach standing there, I just wanted to do it for him and I wanted to do it for the senior class and the girls who have never been there. I'm just excited we got the chance to go back. It's a big deal because now that the seniors are gone, we have a very young class and they got a little bit of a taste of what it was like to go to the World Series. That was a very big deal, I think, for them."
Contact sports producer Alec White at 573-4161 or awhite1@tucson.com. On Twitter: @alecwhite_UA