Here's the difference between the softball teams at Ole Miss and Arizona:
The Rebels have produced one All-SEC first team player. Ever. That's .426-hitting senior outfielder Kyler Becker. Arizona has filled 112 first-team slots on the All-Pac-12 team.
Here's another: Ole Miss began its softball program in 1997 and bit by bit clicked off 18 consecutive losing seasons. Yes, 18. It did not have its first winning season until 2015. It fired a head coach on the average of every five years.
By comparison, Arizona's Mike Candrea has delivered 34 consecutive winning seasons.
One more: Arizona has won 164 NCAA Tournament games. Ole Miss: 11.
So you do not expect Ole Miss to march into Hillenbrand Stadium, land the first punch and keep the Wildcats from their first Women's College World Series since 2010.
Not today. Not tomorrow. Not never.
But that's the first chapter of what happened Friday when the Rebels' short game — UA pitcher Taylor McQuillin said "they started running around" — put a pause in the beating hearts of 2,729 Arizona fans at Hillenbrand.
Ole Miss landed that first punch but Arizona didn't make a mistake thereafter, beating the Rebels 5-2 in Game 1 of the Super Regionals.
Arizona blinked but it didn't back up.
"The big thing for me was calming myself down," said UA power hitter Alyssa Palomino-Cardoza, who had two hits and drove in two runs. "I was saying a little prayer for me."
If that's what it'll take for Arizona to get back to the World Series — some help from the softball gods — Mike Candrea will take it.
"One down," he said subtly in a post-game media session.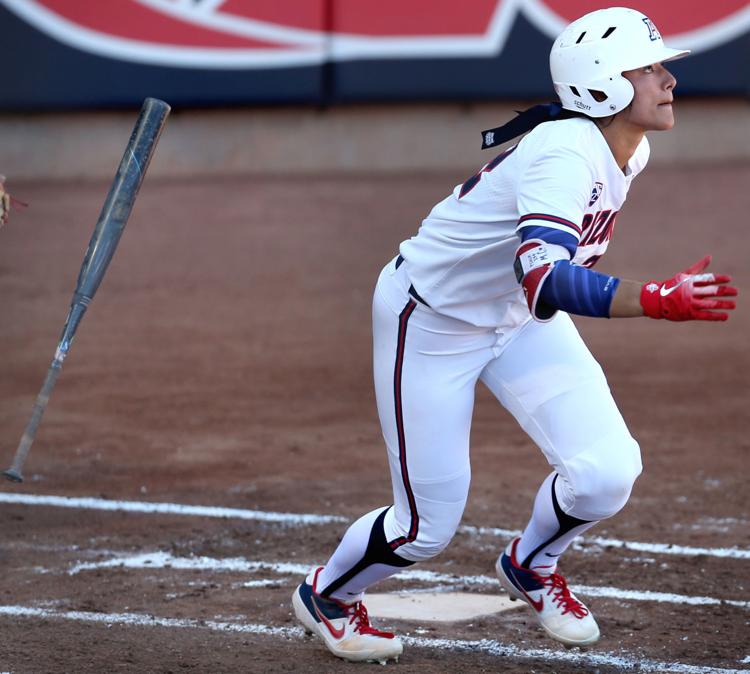 No one's saying Arizona is going to win this series and advance to Oklahoma City simply because the Wildcats can throw the history book at Ole Miss — I seem to recall the history-challenged Buffalo Bulls knocking a Deandre Ayton-led Arizona basketball team from the NCAA Tournament recently — but this isn't just another ho-hum Super Regional at Hillenbrand the way it used to be for all those years.
There are not going to be any "they caught us off guard" quotes coming from the intersection of Warren Avenue and Second Street. The Rebels will have to take Arizona's best shot, and if Ole Miss is good enough to overcome the UA's skill plus its deep-dish hunger and the softball gods, it'll be the story of the year in college softball.
Since Arizona last prevailed in a Super Regional — May 29, 2010 against BYU — 23 teams have gone to the World Series in OKC, and a few — South Florida, Louisiana-Lafayette, Nebraska and Missouri — came out of the woods, which is the route being used by Ole Miss.
The Rebels play the slap-and-run game; they stole 123 bases this season and four on Friday. Arizona stole 14, its fewest since 1995. No team in the Pac-12 stole more than 60.
So when Becker led off the game with a single and stole two bases, scoring the game's first run, the stadium shuddered. Could this thing go south again?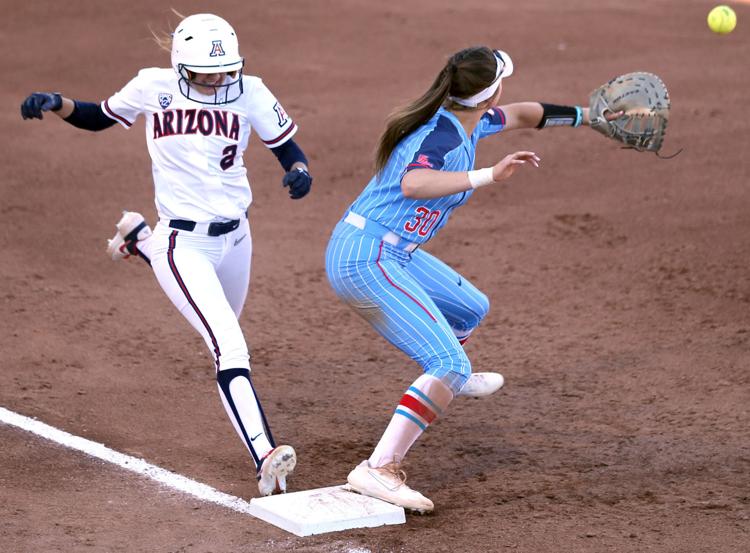 Instead, power-laden Arizona played some small ball of its own. It didn't hit a ball remotely close to the outfield fence, yet got 12 hits against Ole Miss pitcher Brittany Finney, the most she has given up all season.
"It doesn't have to always be a big bomb," said UA junior Malia Martinez, who went 4 for 4 with some effective short stuff.
Candrea has been building for this weekend for years. The soul of this Arizona team was recruited in 2015 and 2016, when the UA's classes were ranked No. 5 and No. 3 nationally. The six starters from '15 and '16 have gone through the caterpillar-to-butterfly process and are flying in formation, which is a favored Candrea line.
McQuillin was the national Gatorade Player of the Year and outfielder Palomino-Cardoza was ranked among the top five recruits of '15. They have become full-fledged All-Americans.
But it was the Class of 2016 that put Arizona in this position, one game from OKC.
Second baseman Reyna Carranco, a .656-hitting high school shortstop, turned down the nation's top program, Oklahoma, to play at Arizona. Third baseman Malia Martinez was offered a scholarship at UCLA but chose Arizona. Catcher Dejah Mulipola, the No. 5 overall recruit in the Class of '16, had been McQuillin's summer-ball catcher. Mulipola is a rock, ranking with any catcher in school history.
Shortstop Jessie Harper leads the nation in home runs (28). You get a player like her once every 10 years, if you're lucky.
Those girls — the Super Six — have been so productive that Arizona is one game away from the promised land of college softball.
"We know where we want to go," he said Friday. "But I'm a guy who kinda stays where my feet are."
If all goes well Saturday, those feet will soon be in Oklahoma City.