Before Mike Candrea left Hillenbrand Stadium on Sunday evening, he was asked about a 2015 loss to Auburn and if it left a sting.
"It was at Fullerton," he said without hesitation. "It was the worst I've ever been beat."
It was 20-2, Auburn. It was the most lopsided loss in Arizona softball history, a punch delivered by Clint Myers, a softball villain like few in Candrea's long and bountiful career.
It wasn't the 20-2 loss to Auburn that stung; that has become a forgotten line in the UA's softball media guide. It was a 2016 loss to Myers' Tigers in the NCAA Super Regionals, a day Auburn rallied to beat Arizona twice in five hours, crushing Arizona's hopes of returning to the Women's College World Series for the first time since 2010.
Myers earlier coached Arizona State to national championships in 2008 and 2011, and for a few years unseated Candrea and Arizona at the center of the softball universe.
Myers is gone now, resigning in disgrace two years ago after Auburn's softball program imploded and went up in flames.
It is a credit to his successor, Mickey Dean, that Auburn hung tough Sunday at Hillenbrand before losing 12-3 in the regional championship game.
Candrea carries on, but he does not carry a grudge.
"It was nice, bittersweet to beat Auburn," he said Sunday. "But I've pretty much got a short-term memory. You can stew on some things, but in the long term it doesn't do you very good."
Candrea would never say that the 2019 season is something of a Redemption Tour, but others can and surely will. Beating Auburn was the first part of a two-part process to return to the World Series, and it would be senseless to pursue similar reparations against others who recently eliminated Arizona, such as LSU, Baylor, Oklahoma and UCLA.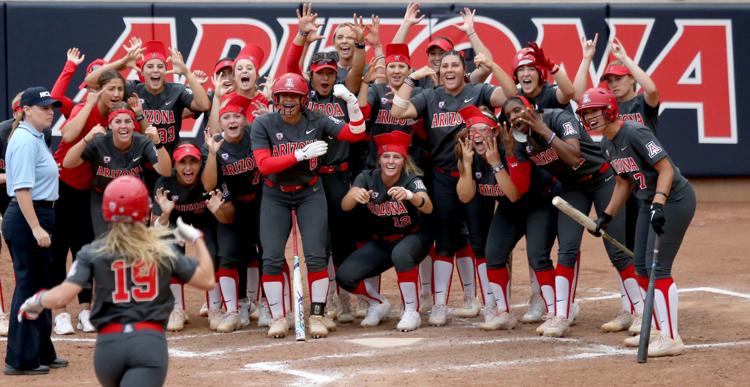 Motivation has its place in softball, but the only thing that matters now is beating Ole Miss in the best-of-three Super Regionals this weekend at Hillenbrand. Arizona doesn't have any meaningful history with the Rebels. They've only met once, in 2004, and that's when Candrea was at the beginning of his successful campaign to coach Team USA to the Olympic gold medal.
"We're one step closer to where we want to be," said Candrea.
From what we've seen through 57 games, this is the best Arizona team since 2010. It has a deeper pitching staff than the oh-so-close 2017 club that won 52 games but collapsed in the tear-jerking final inning of a Super Regional title game against Baylor, a game of such angst that you wondered if Candrea would be able to put softball's version of Humpty Dumpty back together again.
That's where junior shortstop Jessie Harper comes in.
By now you've heard that Harper hit three home runs Sunday, went 5 for 5 and leads the NCAA in home runs, with 28. Candrea has always seemed to be able to come up with a Jessie Harper when he's needed one. Indeed, when he discussed Harper's grand performance in terms of UA softball history, he correctly said "probably someone has done it before."
"The great thing about our tradition here," he said, "is that you get to get in line."
Harper was not known as a power hitter in AAU travel ball or at West Ranch High near Los Angeles. She hit 11 home runs as a high school senior in 2016.
"She could hit the rise ball," said Candrea, "and in college, that's a blessing. I thought she'd be a 20-home-run person a year."
Said Harper: "I feel like I'm the type of person who always finds a way to be better."
That fits with Candrea's system, which for 34 years has featured one Jessie Harper after another. What makes an afternoon at Hillenbrand so enjoyable, with sellout crowd upon sellout crowd, is that it has come to appreciate excellence, even in the few years that it didn't culminate with a trip to the World Series.
Across 30 years, Arizona's softball program has consistently been the top team in this state, men or women; UA or ASU; college or pro; winter, spring, summer or fall.
That's quite a legacy. It's a legacy so strong that a 2015 blowout loss to Auburn or a 2016 elimination setback to an old rival didn't overpower the big picture.
Softball is popular in Tucson because the Wildcats win, but also because the players seem to have fun. Candrea is a pleasant man, the face of the sport, a man who never got too big for his britches.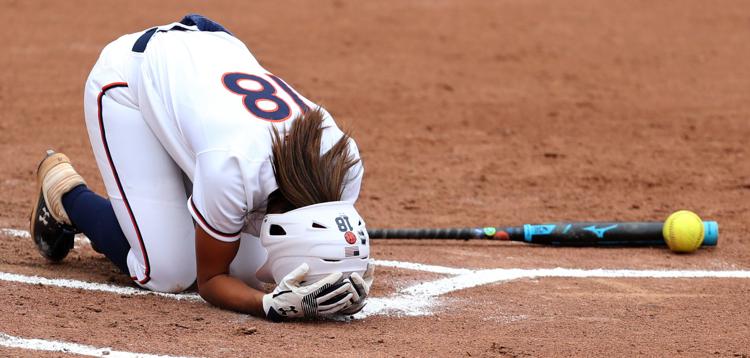 He embraced the sport, his school and his community. His players follow suit.
Before officials from the UA and NCAA arrived to conduct a postgame media session on Sunday, Harper pleasantly engaged a group of reporters by saying how thankful she is that ESPN televises most of the NCAA games, and that it'll help to "grow the game from here."
A moment later, Harper had her best moment of the weekend. She noticed a young girl standing near a fence wearing a Jennie Finch jersey. Harper left her seat, greeted the young girl and signed an autograph.
That 20-2 loss to Auburn seems like centuries ago.