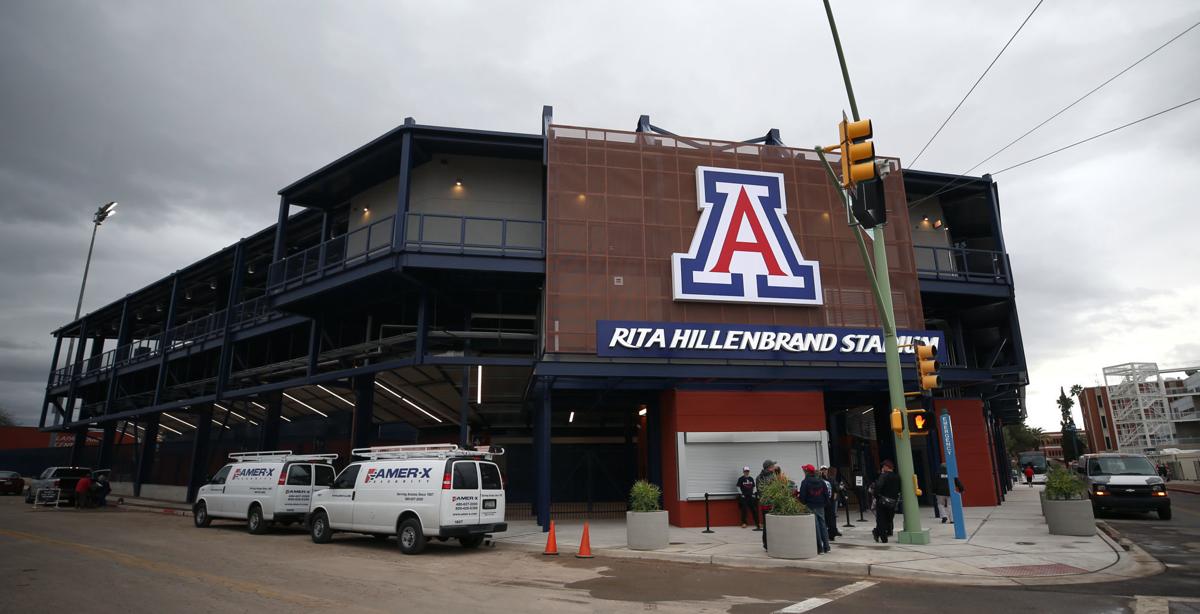 Arizona sold out its weekend softball series against Arizona State a few days ago, which may or may not be a Pac-12 record. Capacity crowds at Hillenbrand Stadium are almost numberless, unchallenged in the Pac-12, but no one ever created a statistical category for "The Day The Last Ticket Was Sold."
The last of about 8,500 UA-ASU reserved/general admission tickets for the three-game series was sold on Tuesday, although those willing to opt for standing-room-only areas might be able to squeeze inside the new Hillenbrand Stadium this weekend.
That, too, is a familiar scene at "Rita."
The demand for tickets at Rita Hillenbrand Stadium began in 1993, when the original stadium (capacity 734) sold out every home game. As Hillenbrand grew, Arizona led the NCAA in softball attendance seven times. The reign ended in 2012, when Alabama annexed millions of dollars from its football factory to re-do Rhoads Stadium and set capacity at 3,940.
Now the Crimson Tide (34-1) has led the nation in college softball attendance for seven consecutive seasons, although this year's two leading NCAA figures are ridiculously close.
The UA's goal isn't to lead the nation in attendance. If so, it would have added more seats when it spent $8.5 million to renovate Rita. Arizona's goal is to get back to the Women's College World Series for the first time since 2011.
Seems like forever, doesn't it?
Here's some perspective on "forever" in college softball: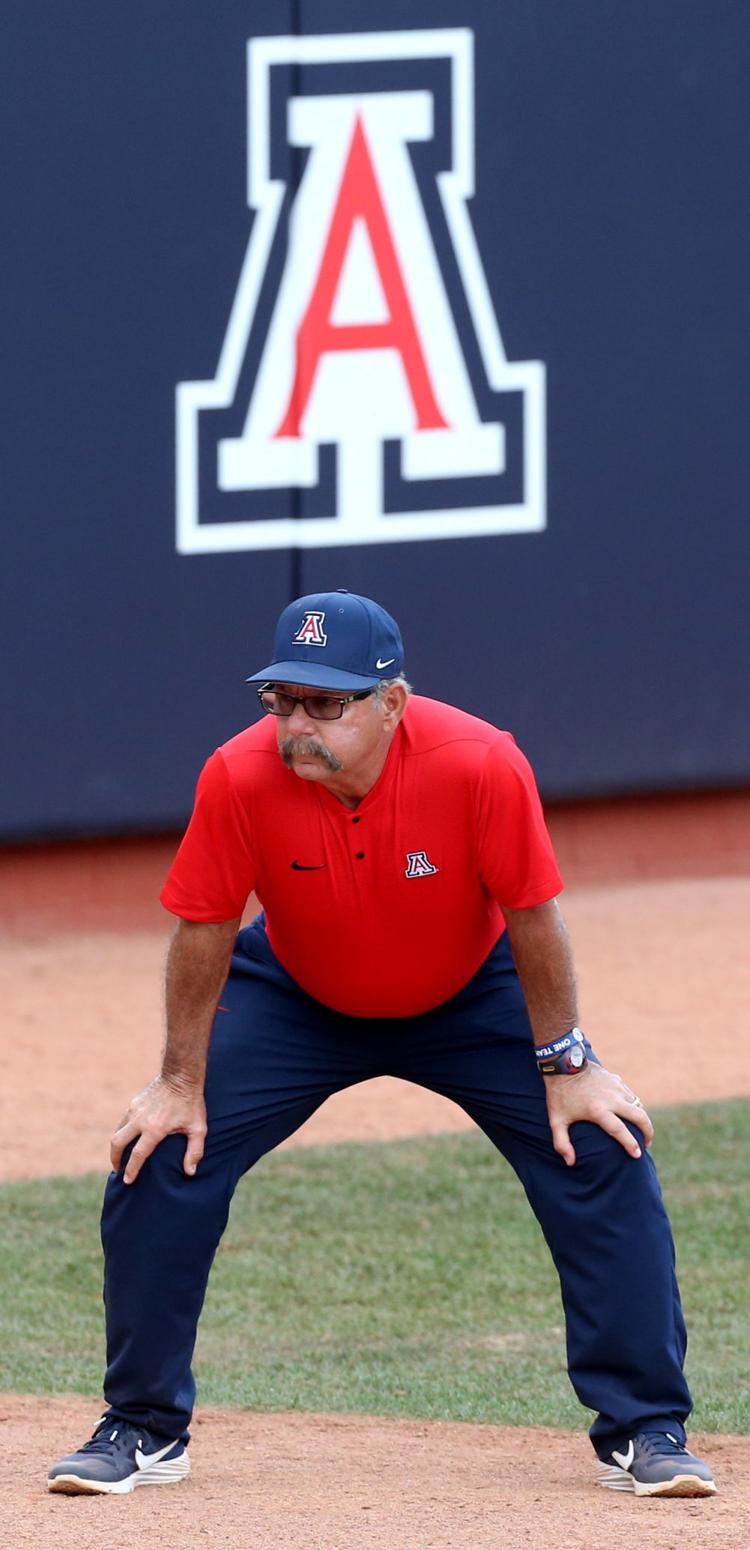 A few days ago, Fox Sports Arizona MLB and NHL analyst Todd Walsh, a pioneer in Tucson sports radio, returned to campus — the UA is his alma mater — to film a one-hour special about coach Mike Candrea and Arizona softball.
When Walsh broke into the radio business at KNST in 1986, Candrea was a first-year UA softball coach, a stranger on campus with multiple degrees from ASU, whose team played on the lawn behind the Ina Gittings building.
That setting was more suited for a slowpitch softball beer league than for a coach who would go on to win eight NCAA championships and lead Team USA to the 2004 Olympics gold medal.
Walsh and Candrea met in '86 when the KNST sports-talk show was often broadcast from J.J. Nickels, one of Tucson's first campus sports bars. It's now the site of Trident Grill.
For the last 33 years, Walsh has been occupied with Phoenix sports and admits that he lost track of Arizona softball years ago. His journey to Tucson, his meeting with Candrea, touched him emotionally.
"I really feel like I missed something so big and so cool," he said. "I was just blown away by what I saw. That's a living, breathing dynasty."
Candrea brought 27 of his championship rings to a film session at Trident Grill — some from USA Softball, some from the Athens Olympics, many from the Pac-12 and Women's College World Series. After they chatted for the first time in 33 years, Walsh and Candrea toured the new Rita.
"That stadium is a palace," said Walsh.
The new Rita may not be the best of all college softball stadiums, but who cares if it's No. 2 or No. 6 or wherever? As soon as Arizona began construction last June, powerhouse Oklahoma announced it would spend $22 million on a softball plant.
A few years before that, Oregon spent $16 million to build Jane Sanders Stadium. The Ducks were the envy of Pac-12 softball for a few years, routinely filling "The Jane," even surpassing Arizona last year by averaging 2,431 fans to the UA's 2,223.
But the Ducks imploded over the off-season. They are 0-6 in the Pac-12 and now average just 1,639 at home games.
That's the difference between Arizona and many of its competitors in the Top 25 of college softball. The Wildcats have endured, remaining competitive at the highest level under Candrea, 33 years and counting.
While Walsh was working his way up the TV sports ladder in Phoenix, Candrea survived serious challenges from many. Few were more imposing than Fresno State.
Fresno's Margie Wright Diamond was the game's most crowded softball venue for a decade, leading the NCAA in attendance from 1996-2005 as the Bulldogs vied with Arizona and UCLA for the top prospects in the West.
Candrea's Wildcats and Wright's Bulldogs met at the World Series in 1989, 1990, 1991, 1992, 1994, 1997 and 1998, when Fresno State prevailed in an epic championship game, beating Arizona 1-0.
According to Fresno State's media guide, the largest-ever crowd in a regular season college softball game, 5,724, packed the stadium when Candrea agreed to take his team to Fresno for a March 2000 game at Wright Diamond.
And then it all changed. The Bulldogs haven't been to the World Series since 1999. They're now 1-5 in the low-brow Mountain West Conference, drawing as few as 651 at Wright Diamond this season.
At Hillenbrand Stadium, interest soars. All the seats are sold and ESPN2 is sending a crew to Tucson to broadcast Sunday's 4 p.m. game against the Sun Devils.
It's not where you've been, but where you're going.