Harvard got the early jump on Arizona thanks to a solo home run from Erin Lockhart in the first inning, but a strong offensive outing in the sixth led the Wildcats to a 5-1 win in the second game of the NCAA Tucson Regional at Hillenbrand Stadium on Friday night.
Arizona will face Auburn, which beat Colorado State 10-5 earlier in the evening, Saturday at 3 p.m. on ESPN2. The winner will move on to the regional championship on Sunday. Colorado State and Harvard will play at 5:30 p.m. Saturday in the elimination bracket.
"The first game of this tournament is always a tough one to get under your belt," Arizona coach Mike Candrea said. "And my hat goes off to Harvard. They played a very good game. It was a weird game for us because we had 13 hits, but it just didn't seem like it until that one inning.
"But at this time of the year, a win's a win."
Harvard last played at Hillenbrand Stadium eight years ago in the 2011 Tucson Regional. This year, the Crimson came in as the Ivy League champions after winning its second consecutive title last week.
After Arizona ace Taylor McQuilling gave up the early homer, the Wildcats struggled to respond.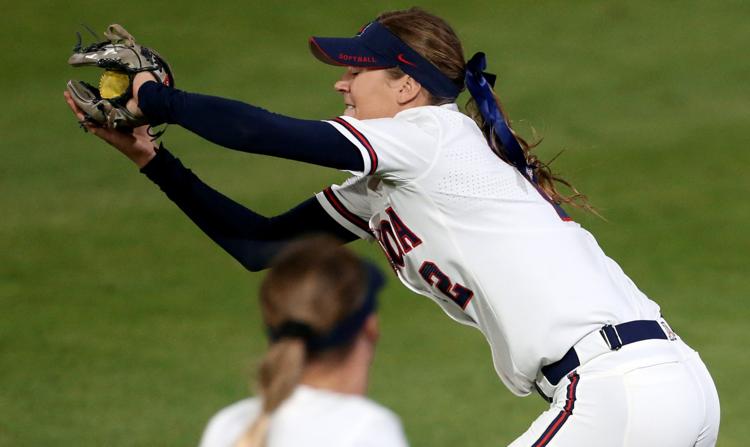 Arizona got two hits in the bottom of the first but was unable to score. In the second, an error from McQuillin allowed a runner to reach and advance to second. After walking the next batter, the defense was able to get the third out to end the frame.
It wasn't until the fourth inning that Arizona was able to even the score. Hannah "Peanut" Martinez singled to left field to score Rylee Pierce, who had reached base on a walk. Hanah Bowen almost handed Arizona the lead with a would-be homer in the sixth, but the ball hit the top of the wall in right field and bounced back in, good for a double. The Wildcats still earned their first lead during the next at-bat when Martinez singled up the middle for her second RBI.
"I would just say (Bowen) getting on base, and then just keeping it simple and scoring her — that was pretty much all I was trying to do there," Martinez said.
With two outs, Arizona extended that lead to 4-1 on RBI hits from Alyssa Palomino-Cardoza and Malia Martinez, and then loaded the bases on a single from Dejah Mulipola.
The Wildcats managed one more insurance run from Pierce before the Crimson was able to get the third out.
After a tough first couple of innings, McQuillin (21-7) was able to settle in and found her groove in the circle. The senior didn't allow a hit after allowing the first-inning homer, and struck out eight batters in her complete-game performance.
"For me, it's not how you started, it's how you finish," McQuillin said. "And I think for me the most important thing was to come back strong (and) trust my defense."
Inside pitch
• During the first game of the Tucson Regional, Auburn pitcher Ashlee Swindle was hit in the face by a line drive. Coach Mickey Dean said Swindle, who leads the Tigers in innings pitched (129), was taken to a "medical facility."