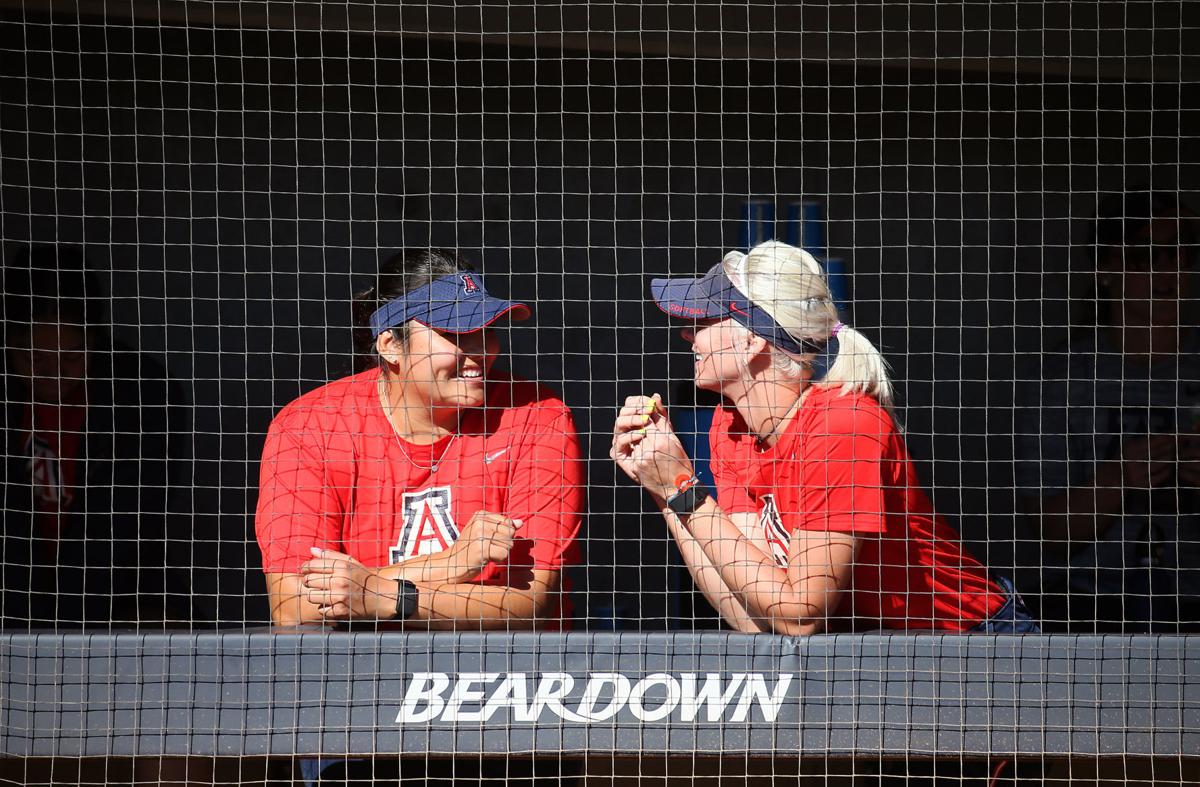 The reunion of pitcher Mariah Lopez and Oklahoma will take center stage at this weekend's Hillenbrand Invitational.
Even if No. 4 Arizona (5-0) doesn't start the senior right-hander against the No. 2 Sooners (4-0) at 4:30 p.m. Saturday, her transfer across the country shifted the balance of power in the sport. Lopez departed OU with a record of 51-2, the best winning percentage in program history, topping softball legends Keilani Ricketts and Paige Parker. With the UA, Lopez — and fellow starter Alyssa Denham — have quelled concerns about a depleted rotation following the graduation of All-American Taylor McQuillin.
Thus, Arizona debuted at No. 5 in last week's poll, and an 8-0 win over No. 12 Tennessee on Sunday in Tempe strengthened its case as a legitimate title contender. Arizona can further prove it belongs with a win over the Sooners, though coach Mike Candrea and crew are downplaying the early-season showdown.
Candrea would not say who will start against OU — though Lopez presumably wants the ball.
"She's feeling good about herself and what she brings to the table," Candrea said. "If she's in the circle, she's going to give us everything she has."
Lopez arrived at OU as a highly touted recruit. She backed up the four-time All-American Parker and eventual No. 1 National Pro Fastpitch draft pick Paige Lowary for two seasons but still managed to record the national championship-sealing win in 2017.
OU then brought in transfers Giselle Juarez from Arizona State and Shannon Saile from Florida Atlantic, and Lopez's role diminished. She didn't start a single game at the Women's College World Series last spring. OU lost in the championship round to UCLA, and Lopez arrived on Arizona's campus in August.
"I think it will be just another game, and I think she's not going to look too much into it," Denham said. "If she does, we're there, and if it's uncomfortable, or whatever, that's what our teammates are for."
Arizona opens the Hillenbrand Invitational on Friday with a pair of games against Long Beach State (2 p.m.) and Northern Iowa (4:30 p.m.). The Wildcats will face Bryant at 11:30 a.m. Saturday before facing Oklahoma in the afternoon. Sunday, they'll play Long Beach State at 12:30 p.m.
On Tuesday, Arizona hosts catcher Dejah Mulipola and the U.S. national team.
The long road ahead underscores how important the addition of Lopez will be over the course of a long season.
"Looking into the process of going to a different school, I wanted to still have that element of trying to make it back to the World Series and trying to win a national championship," Lopez said.
Arizona has not won a national title since 2007, but with a win over OU this weekend, the Wildcats might become the early favorites to bring home the trophy this June.