Best friends Taylor McQuillin and Alyssa Palomino-Cardoza are almost at the finish line. But they don't want to think about it.
The pair has been playing together for 10 years — through club ball, high school and now at Arizona. Outside of softball, the Wildcats' ace and leadoff batter have spent countless hours at each other's houses, going to concerts and much more.
But for now, McQuillin, a senior, and Palomino-Cardoza, a junior, are trying to keep their postseason alive as long as possible, starting Friday night against Harvard at Hillenbrand Stadium in the NCAA Tucson Regional.
"I think it's pretty special," Palomino-Cardoza said of her last postseason alongside McQuillin. "We've won a couple of championships together, so I think one last one might really be the cherry on top of our careers together. We're going to go out with a bang, we're going to get where we want to go and we're going to put up a fight."
Even though both arrived at Arizona the same year, a torn ACL on the first day of fall practice caused Palomino-Cardoza, an outfielder, to redshirt her freshman season. The plan after they graduated from Mission Viejo High School was always to go to Arizona together.
"Now it's weird," McQuillin said. "I'm looking at 'OK, what's life after softball?' And she still has another year left and I'm like 'wow, must be nice because I'm still lost in the world.'
"I think this was just the plan that was supposed to happen and yeah, it's a little weird, but it's nice to know that I can still come back next year and get to watch her in her senior year and get to watch all the senior campaigns from the juniors now. It's cool to know that I have one last ride with this entire team, and this is the team I wanted to be with."
When the pair arrived at Arizona for the 2016 season, coach Mike Candrea felt he snagged the two best players in the country. And they have definitely become major contributors to the Wildcats.
After recovering from her first ACL tear, Palomino-Cardoza was named to the All-Pac-12 second team and Pac-12 All-Freshman team. She suffered another torn ACL two days before the NCAA Tournament, after leading the conference in home runs (19) and slugging percentage (.750) as a sophomore. Palomino-Cardoza was named to the All-Pac-12 first team and named a first-team NFCA All-American — the 100th All-America honor in program history.
This season, a healthy Palomino-Cardoza is batting .382, with a .746 slugging percentage, while scoring 54 runs — all career highs.
McQuillin was named to the Pac-12 All-Freshman team and All-Pac-12 third team during her first year in an Arizona uniform. As a sophomore, she improved to the All-Pac-12 second team.
And then came her break-out season.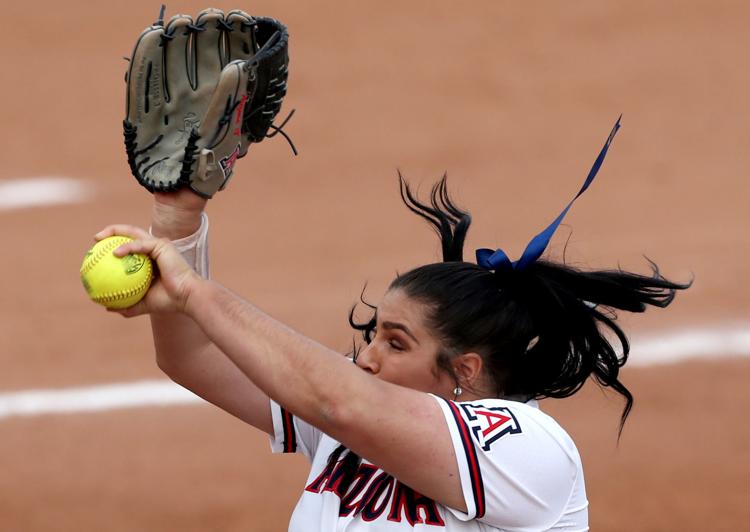 The Wildcats were in need of a new ace after Danielle O'Toole graduated, and McQuillin was more than ready to step into the circle. In her junior season, McQuillin was the NCAA leader in shutouts (15) and made the All-Pac-12 first team.
This year McQuillin has managed a 1.59 ERA — her lowest in all four seasons. The senior has allowed 111 hits and 50 runs (38 earned) in 167.1 innings.
"I felt really good about these players," Candrea said. "All of them in that class played at a really high level in travel ball, played for some national championships, won some national championships."
Tucson Regional
The sixth-seeded Wildcats are hosting Harvard, No. 24 Auburn and Colorado State for the Tucson Regional.
Arizona's first opponent this weekend, Harvard, is coming off its second consecutive Ivy League championship after sweeping Columbia. The Crimson boasts a 25-17 record (16-5 Ivy League) and is riding a five-game winning streak.
The Wildcats (42-12; 19-5 Pac-12) are coming off a series win against No. 3 UCLA.
Harvard's senior catcher Elizabeth Shively said the team knows what everyone thinks — that Arizona will beat the Crimson handily — but she thinks Harvard will put up a fight.
"One of our themes this year has really been 'grit,'" Shively said. "I think our team really embodies toward every challenge that we've been faced with and this is no different. We understand what we're up against and we understand the kind of year that we'll be facing. However, I think we have prepared to the best of our ability and we intend to represent the Ivy League well."
Jenny Allard, in her 25th season at the helm of Harvard's softball program, said coming to the Tucson Regional flipped the perception of the team. During the Ivy League Championship, the Crimson was expected to dominate.
Here, Harvard is the underdog.
"We know that, and they're ready to fight," Allard said. "They're going to fight as hard as they possibly can and represent the league as best as we possibly can. But every team, every 64 teams that got into the tournament, are thrilled to be where they are. There's no question."
Inside pitch
• Candrea said second baseman Reyna Carranco is still-to-day basis after breaking her left hand and right thumb almost two weeks ago, but a return may come as soon as this weekend. Candrea said Carranco took part in batting practice Wednesday night. "But the glove hand is probably the slowest thing for her coming back, just being able to squeeze the ball," Candrea said. "But I feel pretty optimistic right now that there's a chance."
• This is Harvard's second trip to Arizona after playing in the Tucson Regional in 2011. Allard said she was impressed with the newly renovated Hillenbrand Stadium. "To see the renovations when we were driving up to begin warmups, just so impressive," she said. "Clean, crisp — just really first-class facility."
• McQuillin and Harvard infielder Rhianna Rich previously played together for one season with the OC Batbusters in high school, but it's been about six years since they last saw each other. "I'm really excited to see her and face her again in some friendly competition," Rich said.