Arizona had one major advantage when it recruited Taylor McQuillin four years ago.
His name is Mike Candrea.
It wasn't the coach's résumé that impressed McQuillin, a star pitcher — even though Candrea has spent more than three decades at the helm of Arizona's softball program, winning eight national championships.
It was Candrea's honesty.
The skipper told McQuillin during her official visit that he wasn't going to be a car salesman. Arizona could teach her about life after softball and about the journey of life. Then he encouraged her to go check out other programs before she made her decision.
That sentiment stuck with McQuillin.
"Ultimately, when this decision came down to it, that's one of the top reasons I chose Arizona — because Coach isn't a car salesman," McQuillin said. "If you want to come here, you will, and if you don't, that's on you, but you're really missing out.
"So, you know, just everything life has to offer, just take it in and really live it to the fullest."
McQuillin and five other seniors — Hillary Edior, Gina Snyder, Joelle Krist, Rylee Pierce and Tamara "T" Statman — will be celebrated during the Wildcats' final home series of the regular season. Sixth-ranked Arizona (40-8, 17-1) hosts No. 3 Washington (39-7, 14-4) in a three-game series starting 5 p.m. Friday at Hillenbrand Stadium.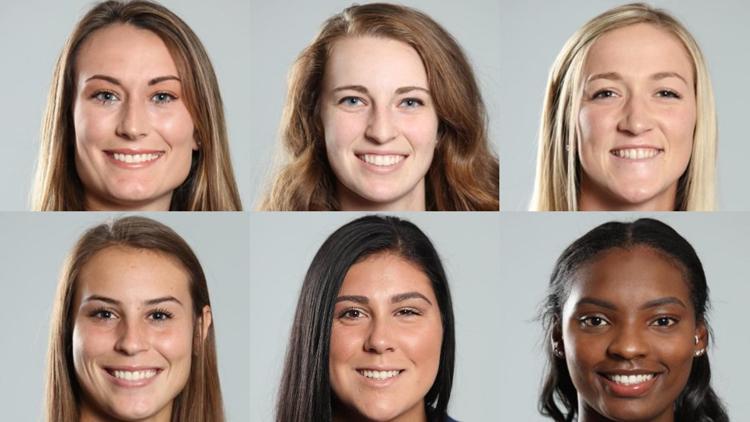 Statman has already made special arrangements for the momentous occasion. She came to Arizona dreaming of becoming President of the United States. Though she caught the radio bug instead, Statman will play into her old political dreams one last time.
"I'm trying to play Hail to the Chief as my walk-up song this weekend," she said.
This weekend's top-10 showdown comes one week after Arizona's 21-game winning streak was snapped by last-place Cal. The Golden Bears beat the UA 1-0 in nine innings last Saturday; Arizona rebounded the following day to win the series.
Candrea called it a tough series against a team with good athletes and pitchers. The streak, he said, wasn't terribly significant.
"We're just kind of taking it one (game) at a time right now," Candrea said. "This is the time of the year where it becomes even more important. It's not about streaks — it's about winning the right games. It comes down to having a good mindset, being able to play team softball, not worried about stats, not worried about streaks, not worried about anything other than the at-bat you're in right now or the pitch that you're in right now.
"That's kind of the way we're going to have to be playing from here on out."
Statman said this weekend will be an emotional time for Arizona's seniors, many of whom don't plan to play competitive softball after college.
"Being a senior and having it kind of be your last regular-season home game, it's going to be very emotional," Statman said. "We have such a beautiful stadium and we have an amazing fan base. It's just very — it's amazing. It's going to be awesome."