Susie Parra looked around the room at her fellow class of inductees for the Pac-12's Hall of Honor and was taken aback.
Here she was sitting next to some great women who came before her and paved the way so that she could play college softball at Arizona.
There was Barbara Hallquist DeGroot, who was the first woman to receive a tennis scholarship at USC ...
Oregon State's Dr. Mary Budke, who was the first woman to win the Bill Hayward Award as Oregon's top amateur athlete in 1972 as a golfer and went on to win the Curtis Cup in 1974 ...
Colorado's Ceal Berry, who became the school's winningest coach with 427 victories in basketball and became the Buffaloes' first-ever deputy athletic director ...
And finally, Cal's Dr. Luella Lilly, who served as the women's administrator for 17 years while overseeing 28 conference championships in eight different sports.
"These people were kicking the doors to allow myself, Jessica Mendoza, Danielle Lawrie to compete and for them to continue into their jobs in commentating," Parra said.
Last Friday in a private ceremony before the semifinals of the Pac-12 Women's Basketball Tournament in Las Vegas, Parra was among 12 who were celebrated in this year's first-ever all-female class to commemorate the 50th anniversary of Title IX.
Parra was also moved by former Stanford softball standout Mendoza's speech, when she said she "was excited to see a brown person being able to play in college like herself, and then she looked down crying and was emotional."
"I had no idea that I had that affect in the (Latina) culture," Parra said. "That hit home a little bit."
Parra is the first UA softball player to receive this honor. Take one look at what she accomplished in the circle for Arizona from 1991-94 and it's easy to see why: She is considered one of the best to ever don a Wildcat uniform and in collegiate softball.
Parra was a three-time All-American, won three College World Series titles and won two conference championships. She was a Pac-10 and national player of the year and won the Honda Broderick Award as a senior.
Parra dominated. She is all over the UA and NCAA records books. Over her career she went 101-9 and still holds the NCAA's third-highest career winning percentage (.918). She went 33-1 her senior year. Parra is the Wildcats' ERA season leader, posting a 0.30 mark in 1992. Her career ERA was 0.63. She threw eight no-hitters and 61 shutouts. She struck out 874 batters in 780 innings.
She also won a gold medal for Team USA at the World Championships.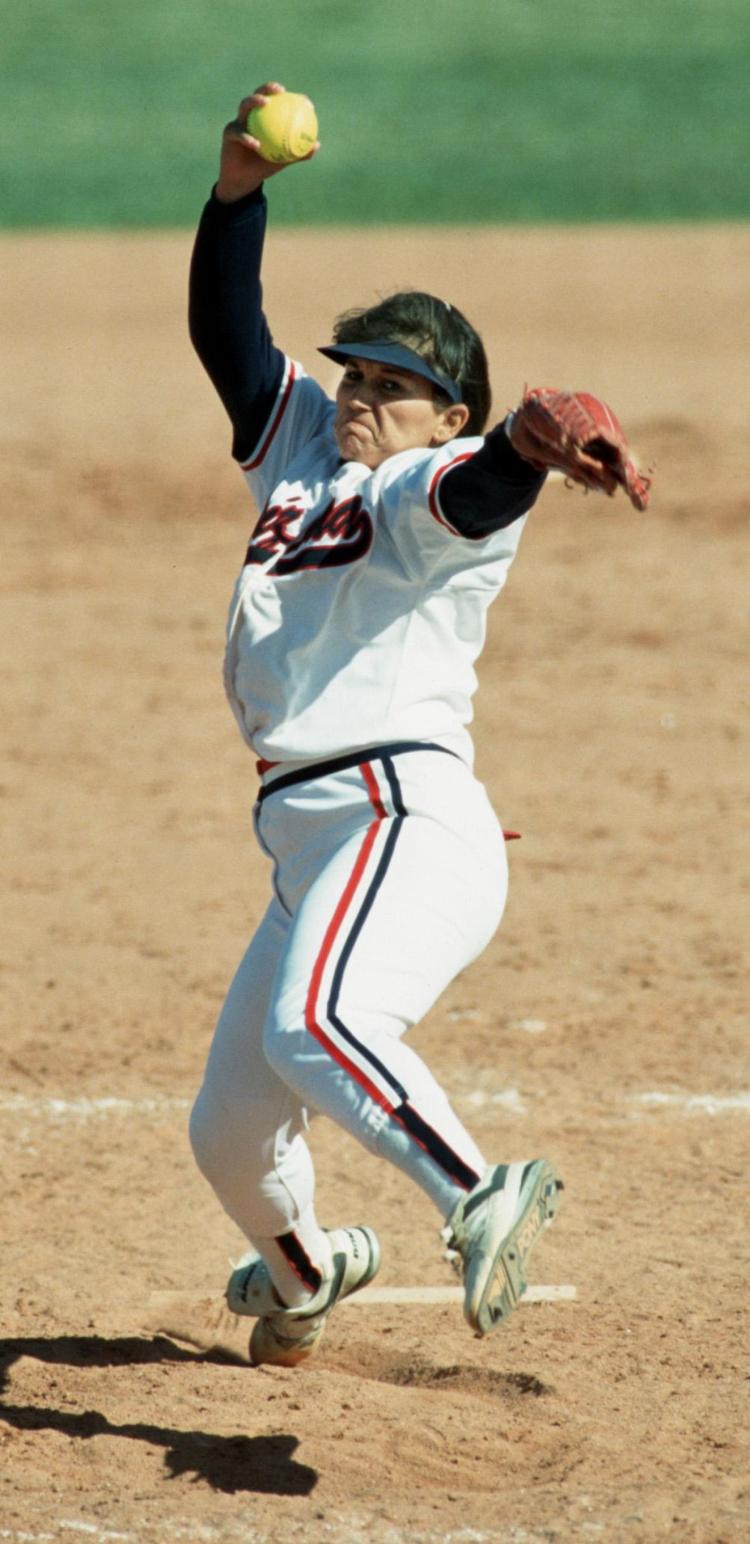 Expectations of excellence
When Parra looked at some of her individual numbers, she was surprised. She knew the team and staff stats were tops in the nation, but not her own.
"It was about kicking butt, taking numbers, getting those teams out (in) five innings," Parra said. "Basically, making the ball dance, and I didn't want them to touch the ball. I didn't want them to hit it. If they put a bunt down, I didn't do my job. If I didn't get every person's bunt to pop up, I didn't put enough spin on my rise ball or my drop ball or whatever pitch I was throwing to them. Then I had to work harder.
"I had a lot of expectations on myself of excellence, I guess, but at the at the time I didn't really think they were expectations. It was just, 'Do it, dammit.' It was make them pop up. Make them swing and miss. No, that's not good enough if they got a little blooper between third and short; I didn't jam them enough.
"It wasn't that if the ball was hit too hard to short it was my shortstop's fault; it was my fault because I didn't make them mishit it enough. I always looked back at me versus blaming my team like they should have caught that fly ball. Well, next time I need to spin it more so they don't hit it at all."
Parra was one of the original team-over-self-players in the Arizona program and among those who first started collecting national championships. In her freshman season, she played behind Debbie Day, the Wildcats' ace, and she took it all in stride. She knew her time would come.
Former UA teammate Jenny Dalton-Hill, another league player of the year, Honda award winner and 3-time All-American, saw the strength of Parra up close. She played behind her at second base and said Parra "fired me up."
"She was not a fist-pump (player). She was not a yeller. She was not a talker," said Dalton-Hill, now an analyst for ESPN. "She didn't do much of anything other than ... pointing at you if she knew you did something well for her. But she is one of the most consistent pitchers I've ever played behind.
"There's a lot to be said for a player who is very talented to have to wait their turn. Some players that have that much talent, stepped into a team, (they) have to contribute right away. And while she did contribute, there was a bigger name ahead of her by the name of Debbie Day who wanted it to be her team. And Susie, the amazing talent that she was, is also very humble. She was willing to do her job when called upon but not be a distraction when she didn't have the ball in the circle.
"She took to the bullpen and mastered her craft under some great teachers. But then when she took the field and it became her time to shine in the circle, she knew what made her feel good and bad as a teammate. And she became the best kind of teammate you could have — but also the best version of herself in the circle because of the way her career at Arizona started."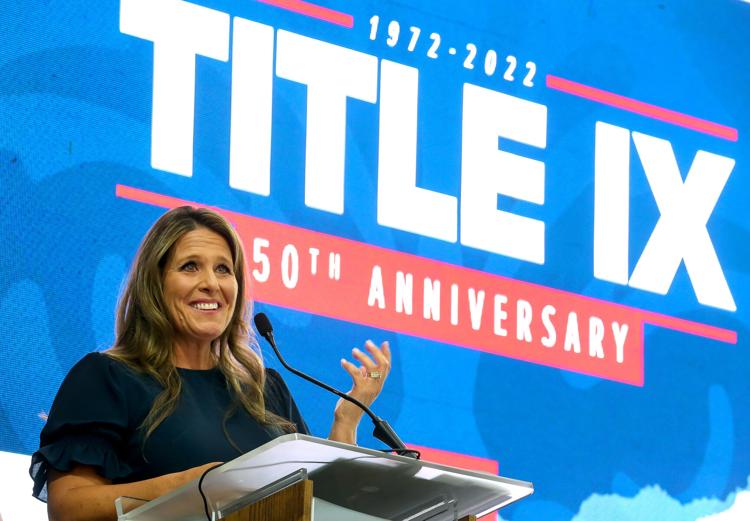 We over me
The mantra of "we over me," or putting the team over yourself, all started with former UA coach Mike Candrea. Dalton-Hill said it was common for the Wildcats not to know their own stats.
"We just played, and he didn't point it out," she said. "At the end of the season, there was no big hurrah. You would walk into his office, and he'd say, 'Oh, some things came for you today.' And you led in statistical categories for the nation and there was a big plaque. He just handed them to you. You took them home, and you put them in a box.
"Now they hang on my walls, but they didn't for 20 years. I think that's just the blue-collar ethic work ethic that Coach Candrea instilled in all of us. It doesn't matter what you do as an individual. It's important, but the most important piece is to be part of a team and make sure you don't let your teammates down."
Still fighting
The Hall of Honor was created in 2002 to honor those in men's basketball. In 2018, the Pac-12 opened it up to women and those who participated in all sports.
When Parra got the call she was thrilled but didn't quite know anything about the Hall of Honor. She wasn't the only one. The class researched and found that Jackie Joyner-Kersee and former UA track standout Tanya Hughes were also in the Hall.
That's when Parra got a little nervous and realized just what this honor meant. Yet, there were still unanswered questions.
"To hear that it was only the third time that women have actually been allowed into this thing was a little astonishing," Parra said. "It was only for men, which kind of put question marks in all of our heads like, 'Why just for men and why not women's basketball as well?' And then to have an all-women's class for the celebration of Title IX was great. But then also in the back of our heads, 'Why did it take so long?'
"We fight still for women's rights. When you hear Dr. Lilly (respond) to the question, 'When doors closed in front of you and men kept saying no, what did you do?' She's like, 'Well, you just kick the doors open and you don't listen to them. You keep going. And we've got to keep doing this.'
"It was an eye-opening experience but still amazing to be included in a group of women like this."