Reyna Carranco is on a season-long seven-game hitting streak. Alyssa Palomino-Cardoza has doubled in the last five games and gotten a hit in the last seven games. Jessie Harper has hit seven home runs in the last 10 games to take the Pac-12 lead.
Just like that, it seems the Arizona offense has found its groove. And just in time for Pac-12 play.
The Wildcats will open the conference portion of their schedule Friday at 6 p.m. with the first of three games against Oregon at Hillenbrand Stadium.
Junior Malia Martinez said she's excited to finally start playing in what is one of the toughest conferences in the nation.
"Starting out with Oregon, I think it's going to be a really good weekend," Martinez said. "Definitely just knowing that we have to play at a consistent level throughout the entire conference play."
Arizona is coming off a series loss to then-No. 1 Florida State. Players said taking one of three games from the Seminoles was actually a confidence-booster.
The UA beat FSU 11-3 in five innings Saturday, marking the first time since April 5, 2014 that a No. 1-ranked team was run-ruled.
"It's a really good feeling," Martinez said. "It's kind of a little bit of a reinsurance of what we're capable of, but it's also a reminder that we need to work harder to be at a level where we should be able to do that without it being a big deal, I guess.
"So, it's really cool. There's a lot of confidence built from that."
Oregon is entering the weekend carrying a six-game losing streak, and having been bumped out of the NFCA Top 25. Arizona came in at No. 12 for the third straight week.
UA coach Mike Candrea said Wednesday that he was still working on a pitching rotation for the weekend.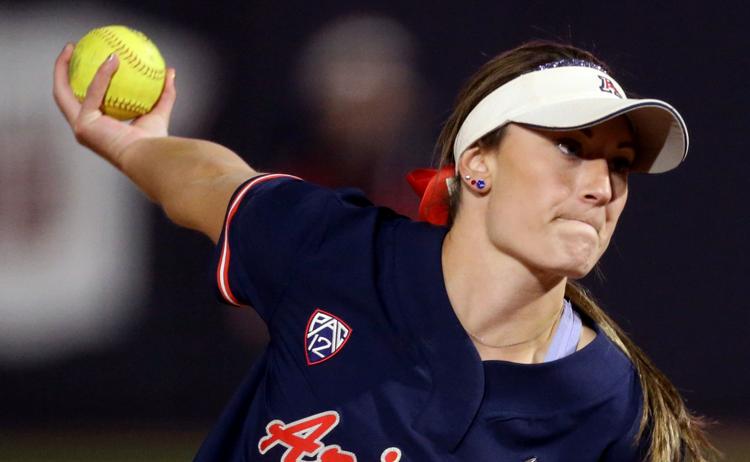 Freshmen Marissa Schuld and Vanessa Foreman were expected to throw three-inning intrasquad scrimmages so they could get a chance to see hitters on a regular basis.
Gina Snyder, who pitched for the UA in Saturday's win over FSU, said she's not sure how big of a role she'll have this weekend. The redshirt sophomore from Sahuaro High School said she's ready to help.
"I know they've got a lot of righties, not a lot of returners," Snyder said. "I'm just looking to compete."
While there's still room for improvement, Candrea said he likes where the Wildcats' pitchers are at the moment. And he especially liked how they battled against Florida State.
"The one thing that I did like, what I saw, was Saturday (Snyder) could have easily folded after the first hitter and gave up a bomb, but she kind of settled in and stayed present," Candrea said. "And gave us a chance to win.
"I really felt Denham did the same thing. She had that one inning, a couple walks and the home run, but, I think, overall, if I looked at her emotional state throughout the game that she was continuing to battle and I thought she was in a good place."
While the offense has improved on situational hitting, and no longer score the majority of their runs off home runs like they did at the start of the season, Candrea would like to see more consistency from the bottom of the lineup.
When Jenna Kean and Hannah Martinez get on base, they tend to score. But neither one of them managed a hit in the Florida State series finale.
"I think that's something we're going to continue to work on — trying to get some balance throughout our lineup — because I think to be a great team you have to have balance," Candrea said. "And I feel better now than I did two weeks ago and I think that's the only thing I can do right now, is see the progress.
"I think this team has progressed, especially mentally. They're starting to find where they need to be."