OKLAHOMA CITY — Not even a month ago, Arizona was swept at home by Washington.
Now it feels like a lifetime ago.
Since then, the Wildcats won two of three against UCLA to close out the regular season and blew through the postseason with a 5-0 record.
Sixth-seeded Arizona (47-12) will get its chance at a rematch against No. 3 Washington (50-7) on Thursday, when the teams open the Women's College World Series at 9 a.m.
Funny enough, it was the UCLA series that made UA catcher Dejah Mulipola believe the team could both make it back to Oklahoma City and compete for a national title. The Wildcats are making their 23rd WCWS appearance and first since 2010.
"I think stepping into UCLA and showing what we had — and we had fight — was ultimately how I saw, 'OK yeah, we can go to OKC.'" Mulipola said. "We can do this. I think that was it for me."
Coach Mike Candrea, in his 34th year at the helm of Arizona's powerhouse softball program, said the road to Oklahoma City has been a journey. This one was ultimately nine years in the making.
"Very rewarding to get back here and very proud of this team," Candrea said. "I think the highlight of this team, really for me, is just their chemistry. I think they've worked very hard to do the little things that it takes to get to this level."
Will the recent turnaround be enough to overpower Washington this time?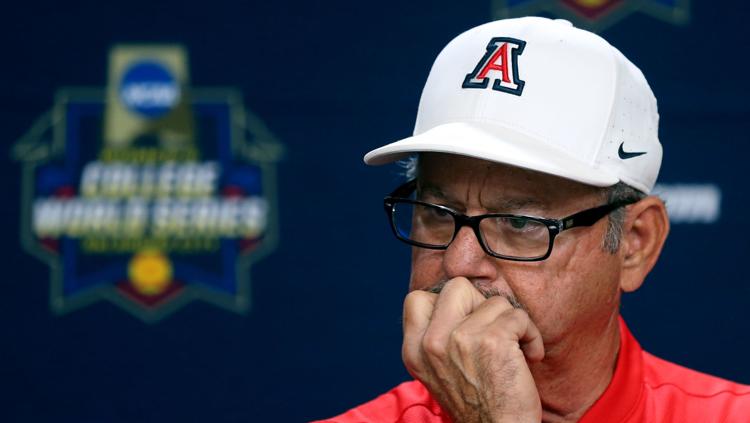 The Huskies enter the WCWS on a 12-game winning steak, their last loss coming April 20 at Utah. With pitchers Taran Alvelo and Gabbie Plain and star shortstop Sis Bates leading the way, the Huskies swept through the NCAA Regionals and Super Regionals. In five postseason games, UW has outscored its opponents 26-1.
The Huskies beat Arizona in three consecutive games May 3-5, outscoring the Wildcats 12-6 at Hillenbrand Stadium. Washington has won six straight games against the UA dating to 2018.
"I think the great thing about this stage and the thing that we grew from that experience was just being able to handle the big moment," Candrea said. "I think now our kids, their motors are going to run a little bit higher. When you get here, that, I think, is the key. We all have good pitching. We all play good defense. It's going to come down to the timely hit."
The Huskies bring a 1-2 punch in the circle in Plain and Alvelo, both of whom were named NFCA All-Americans on Wednesday. (Plain is a first-teamer, while Alvelo made the third team). Combined, the two pitchers are 48-6 this season with nearly seven times as many strikeouts (497) as walks allowed (78). They've surrendered just 53 extra-base hits all year — an average of one for every 6 2/3 innings pitched.
Plain and Alvelo are backed up defensively by Bates, a first-team NFCA All-American and a three-time Pac-12 Defensive Player of the Year.
The Wildcats must be able to hit against whichever pitcher Washington decides to use, and then also find a way around Bates. But there's reason for UA fans to be hopeful: Arizona is hitting .366 in the postseason, more than 40 points higher than the next-best team. The Wildcats are averaging 6.6 runs per game in the playoffs, many of them coming via the long ball. Arizona's 106 home runs this season rank No. 2 nationally, behind top-seeded Oklahoma's 108. The Wildcats have hit nearly as many home runs as they've allowed runs (111) all season. Jessie Harper has hit a nation-leading 28 home runs; her 65 career blasts are more than any player taking part in the WCWS.
Harper was one of five Wildcats named to the AFCA All-American team. Catcher Dejah Mulipola, outfielder Alyssa Palomino-Cardoza and pitcher Taylor McQuillin were named to the first team, while Harper and second baseman Reyna Carranco were named to the second team.
Palomino-Cardoza was a unanimous selection. The two-time NFCA All-American started all 59 games for the Wildcats, batting .394 with a team-best 74 hits and 18 doubles. She has 17 homers and 64 RBIs, 58 runs scored and a .782 slugging percentage.
After the Arizona-Washington game, No. 2 UCLA will take on No. 7 Minnesota. The winners of the two games play each other Friday afternoon, with the losers facing off in an elimination game scheduled for Saturday morning. The winner of each four-team pod will advance to the best-of-three championship series, which begins Monday.
"I think we've weathered the storm to this part," Candrea said. "We're looking forward to meeting a conference foe (Thursday), but we're very excited to kind of get the ball rolling, seeing where we're at."