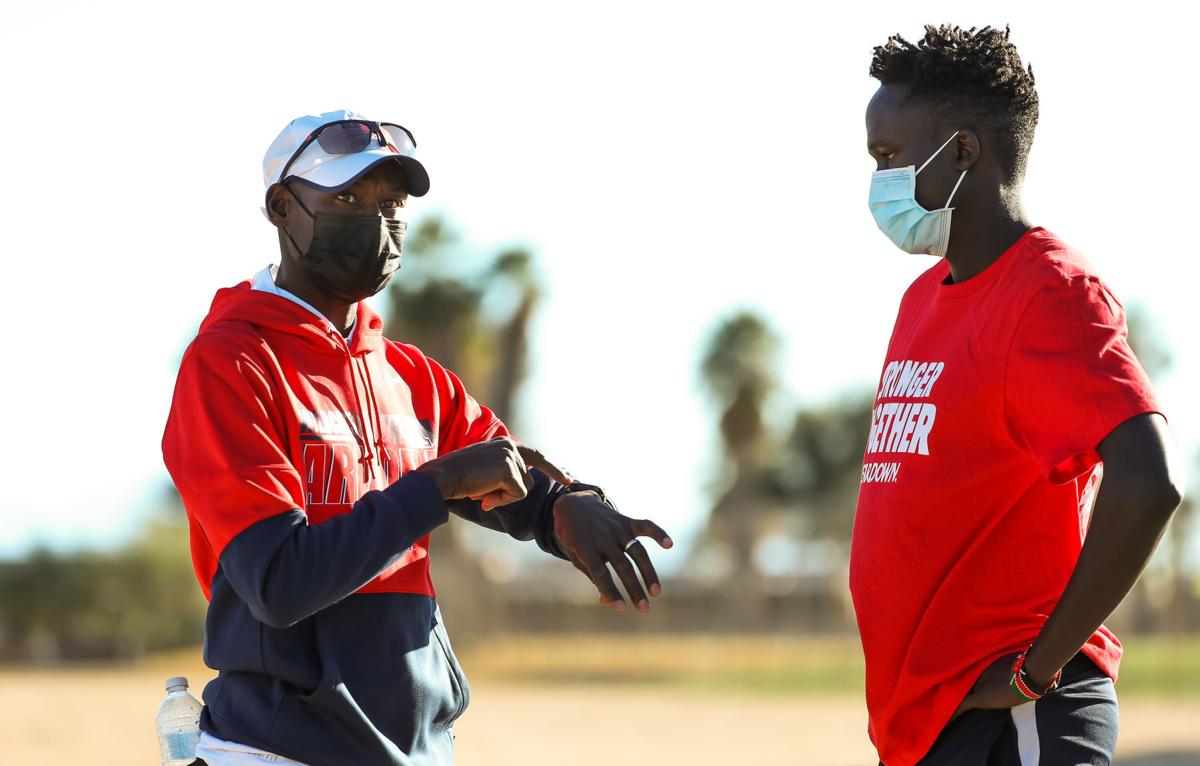 With all of the Arizona Wildcats' sports teams on break for the summer, it's an optimal time to take stock of some of the programs we haven't heard from in a while.
The Star's nine-day long project is examining the state of several of the UA's men's and women's sports on campus, reflecting on the prior season and looking ahead to the 2021-22 slate.
Up today is Arizona cross country, coached by Bernard Lagat.
A legend stays home
Five-time Olympian and distance running legend Bernard Lagat was named UA's cross country head coach in June after serving as the team's interim coach during the spring season.
Lagat also serves as an assistant coach on the Wildcats' track and field program, working primarily with distance runners under head coach Fred Harvey. Harvey made the decision in June to hire Lagat full-time in cross country in addition to his track and field responsibilities.
"I see a super elite person who has the mindset of helping young people develop," Harvey said of Lagat. "You have a person in Bernard who understands the training, the methodology of dealing with young athletes and he's been a super elite athlete himself."
Lagat, who has lived and trained in Tucson for the last 20 years, is a six-time American record-holder and an eight-time Wanamaker Mile winner whose experience should bode well for college athletes.
"I want to see athletes that come through the program and excel," Lagat said. "I just want to be part of that family that really knows what success is all about, being a successful runner myself."
'Short, but sweet'
Because of the pandemic postponing fall sports until January in the Pac-12, cross country had to squeeze its typical four-month season into a month and a half. UA runners had only two tune-up races in February before competing in the Pac-12 Championships.
"The season was short, but sweet," Lagat said. "I could see them enjoying that opportunity and cherish the time that they were able to spend with each other and compete."
The Wildcat men and women team both took eighth place in the Pac-12 Championships in March, turning in some impressive performances.
Twelve athletes managed to run a personal best in the championships, with the men's Victor Ortiz-Rivera and women's Keelah Barger finishing in the top 20.
Summer training and a larger plan
With a full cross country season set to begin at the end of August, Lagat has been hard at work developing his plan for workouts and practices.
The Wildcats are in the middle of Lagat's summer program which mostly focuses on building endurance for the season. Until athletes arrive on campus for the start of school, Lagat's offseason workouts revolve around a "hands-off" approach, where the coach lays out a routine for the team and expects that they'll follow through with it on their own time.
"I call them to check on them, ask how they are doing, ask how training is going," Lagat said. "I'm looking forward to seeing what they can do here when a lot of the athletes are back."
Staying committed to the summer program, Lagat explained, will be a huge indicator for success during the season as the UA coach believes it's a crucial part of his larger workout plan for the season.
"You don't just throw in a program without knowing where that program is heading," he said. "My goal is to have immediate and long-term goals for our runners and make sure they are hitting their peak at the right time during the season."
Male athletes to watch
Victor Ortiz-Rivera (Redshirt Sr.)
Female athletes to watch
Contact sports producer Alec White at 573-4161 or awhite1@tucson.com.
On Twitter: @alecwhite_UA