Talie Bonds doesn't settle.
Not when she was playing volleyball or flag football in high school, not in the backyard playing against her four siblings and not on the track now at Arizona.
That's why it was a pivotal moment in her career when she came to the realization that if she continued down the same path as a heptathlete, she would have a decent enough collegiate career.
But Bonds wanted — and still wants — more.
Once she switched from being a generalist in seven events to narrowing her focus to two — hurdles and high jump — everything clicked. Or, rather, exploded.
Bonds keeps setting personal and UA program marks and winning.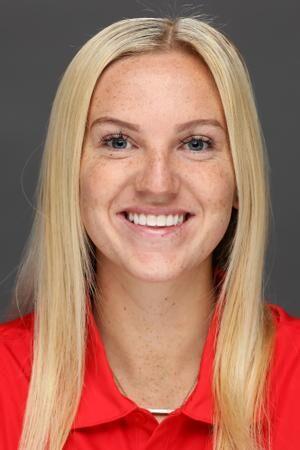 "She has this focus, one of the things that in my opinion you can't coach and that willingness and intensity to compete," Arizona track and field coach Fred Harvey said. "I think philosophically you can heighten one's ability to compete. But that killer instinct and wanting to just always beat you. I just feel strongly that something that one has or they don't have, and she has it."
Bonds will take her killer instinct to the first round of the NCAA Championships starting Wednesday at Hornet Stadium in Sacramento. The four-day event will air on ESPN+.
Bond's first 100-meter hurdles heat is on Thursday at 6 p.m., and the high jump is Saturday at 2:30 p.m.
Harvey considers Bonds one of the best he's ever coached, including Georgeanne Moline, Sage Watson, Michelle Johnson and Nnenya Hailey.
The jump to elite
Over the past two years, since Bonds has only competed in hurdles and high jump, she has accomplished more than most do in a career. The first-team All-American, who is finishing up her sixth and final collegiate season, started out the 2022 indoor season finishing in the top 10 in her first five events in the 60-meter hurdles. She also won two high jump events and claimed a third-place finish.
In the 2022 outdoor season, she won the Pac-12s in the high jump (1.76 meters) and finished fourth in hurdles. At NCAAs, she finished in 16th in hurdles.
Bonds followed that up, finishing seventh at the 2023 NCAA Indoors Championship (8.03) in hurdles. She set a new UA program record for 60-meter hurdles and kept lowering it during the season to finish at 8.01.
Her outdoor season was even more remarkable. She won Pac-12 Women's Track Athlete of the Week honors after winning the 100-meter hurdles at the Mt. SAC Relays by besting her own UA record with a time of 12.65 seconds – the second-best time in the NCAAs and the fifth-best time in Pac-12 history.
She went on to win the Pac-12 Championships in 100-meter hurdles — a first in UA history) — and finished third in the high jump.
Towards the end of last season, Harvey sensed that Bonds was ready to take off in the hurdles. He runs an efficiency drill that is a "good indication of what an athlete can do with the race."
While there are a number of variables in each race, the overspeed drill showed that Bonds had the "physical ability and mindset to be an elite athlete."
Harvey just didn't know it was going to happen so fast.
Harvey would say a lot of this has to do with the coach-athlete relationship she has built with Harvey. He believes in her, and that goes a long way. After transferring from Utah State, Bonds felt like it was a "breath of fresh air" to be coached by Harvey.
"I think he's exactly what I needed to be able to excel and blossom the way I have," Bonds said. "I always tell people I was late bloomer. My mom always used to make fun of me because she says, I never grew into my limbs or my body. I think I finally just figured out how to control my body. Coach Harvey has helped me work through things like that. And it's just been amazing and I think he's the best coach in the world. And I would tell that to anybody who wanted to come to the University of Arizona."
Bonds stands 5 foot 10, and with her long arms and legs, she has great length.
She also strives every day to be her best self. That means always going full throttle. She never wants to have the what ifs. What if I trained harder? What if I would have done something different?
Bonds said, "That's always my mindset when I go out onto the track is just making the young me proud and the present me proud, as well."
Competitive upbringing drives success
A direct line from Bonds' mindset can be drawn to her family. She is one of five siblings — right in the middle with three sisters and one older brother (Tanner). This is where Bonds' competitiveness comes from. She said her family is very intense, and it's always a battle to see who will win. Of course, Bonds claims that it's usually her.
Her youngest sister, Zoe, is a track athlete at BYU. The other two — Tiana and Quincy — were also Wildcats. Quincy played three years of soccer and then transferred to Utah Valley. She also is on the track team.
Tiana, the oldest sister, is a former UA track standout — and one of Talie Bonds' biggest role models. Tiana took her younger sister under her wing, coached her and taught her everything she knew. And that was a lot. As the older sister, she was one of the top high school track athletes in the country. In college, Tiana also switched from pentathlete to hurdles two years in.
Tiana Bonds was also a two-time MPSF All-Academic, while Talie Bonds is a two-time USTFCCCA Women's All-Academic Team.
Bonds' mom, Natalie, was also a hurdler in high school and a walk-on at BYU for a while. While Talie was in high school, Natalie would time her track workouts at night — the only time she had to train as Talie was also playing volleyball. The lights would be out, and Natalie would use the flashlight on her phone while running besides her daughter.
Bonds isn't running in the dark anymore. She's just the latest to shine a light on the UA program and put her mark on it.
Still, Harvey is reluctant to predict performances in any race, "because you have 10 barriers that can make you successful or could make your life a nightmare."
"But if all things given equal and she's running the way that she's been running, she's definitely a top five hurdler at the NCAA Championships," Harvey said. "To be in that top three is going to take another level where she hasn't been yet, but I would not doubt that she can do it because she hasn't had her best race yet. …
"All Talie really cares about is beating you and consequently, you kind of throw out all mechanics and all those things to the side. You just go for it."