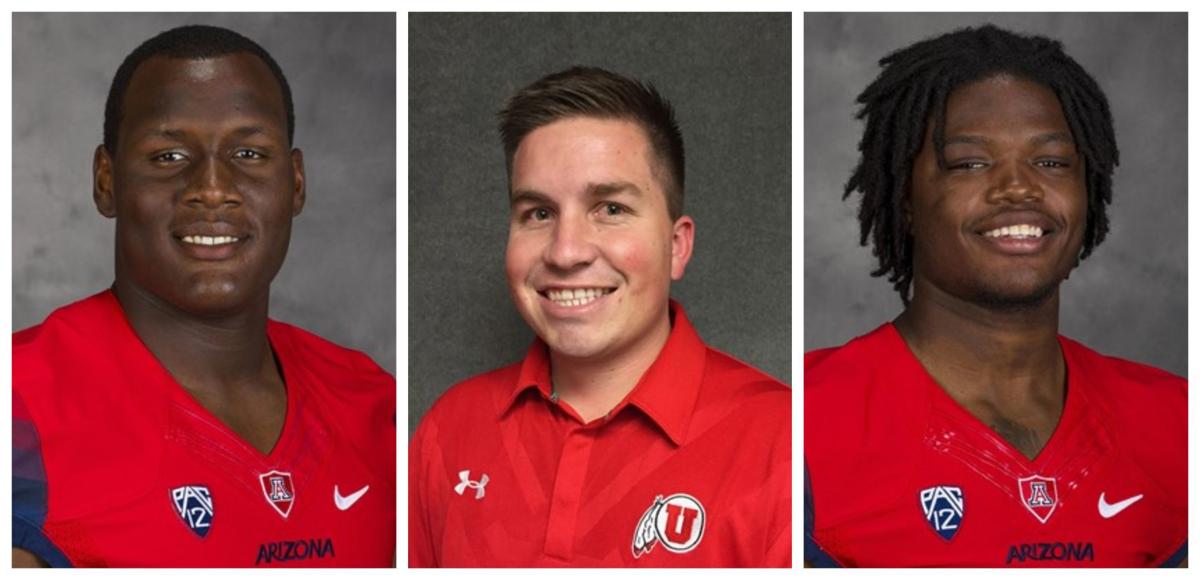 A newly released document identifies the three former members of the University of Arizona athletic department who were disciplined in the wake of an alleged group sexual assault that took place in 2013.
Former UA football players Dwight Melvin and Clive Georges were expelled from the university on April 30, 2015, after a campus investigation found they had violated the code of conduct policies related to sexual misconduct and unwanted contact. A former student equipment manager, Dale Stewlow, was suspended for a year for violating the same code of conduct items, according to the decision letter issued by the UA.
Stewlow and Georges had both left the UA by the time the sanctions were imposed; it's unclear if Melvin was still enrolled in classes.
A student employee with the Wildcats football program told Tucson police in October 2014 that she'd been sexually assaulted at a party the year before by five members of the program while three others watched. The woman told police she believed she was drugged, and remembered seeing a bright light during the incident. She later found out that parts of the assault had been recorded on a cell phone and shared between other students.
None of the men were charged with a crime or arrested in connection with the incident because Pima County prosecutors said it "could not be proven beyond a reasonable doubt that this was not group consensual sex," according to a police report.
The county attorney said the woman may have been drugged, but since she reported the alleged incident more than a year after it occurred, there was no way to prove her claims, the police report said. The woman told police that she didn't initially report the assault because she was just trying to survive day-to-day.
The university's investigation was federally mandated under Title IX, a law that protects students from gender discrimination including sexual harassment and sexual violence.
It requires schools to investigate such reports regardless of whether criminal charges are filed. Title IX cases use a "more likely than not" standard, in which evidence is weighed to determine whose version of events is more likely to be true.
The Star learned last year that the UA had expelled two students and disciplined a third for their involvement in the assault, but school officials refused to provide their names. UA officials first cited student privacy laws, but those don't apply when a student has been found in violation of a school's policies regarding crimes of violence or nonforcible sex offenses. When the Star pointed out that exemption, school officials said they don't release information about code of conduct inquiries "to avoid unforeseen and adverse consequences that could affect victims and witnesses and to protect the integrity of the process."
Stewlow now works at the University of Utah as an assistant equipment manager of Olympic sports, according to the school's website. He graduated from the UA in 2015, then worked for a year as assistant equipment manager at University of Nevada prior to taking the job at Utah, according to Stewlow's Linkedin page. He did not respond to the Star's request for comment.
Utah staff contacted both of Stewlow's previous employers and received positive reference checks, Liz Abel, Utah's senior associate athletic director and director of communications, said in an email.
"There was no mention of the alleged incident or suspension while he was a student at the University of Arizona," Abel said, adding that Stewlow also passed a criminal background check before starting his job at Utah in 2016.
"We take the allegations that have been brought to our attention seriously, are looking into the matter, and will take immediate and appropriate action."
Chad Hartley, Nevada's associate athletic director for strategic communications, said Stewlow worked there for 11 months starting in July 2015.
"The individual who hired Mr. Stewlow is no longer employed here," Hartley said. "The university does not know what background information that individual had about Mr. Stewlow."
Stewlow initially planned to appeal the ruling, the woman who reported the alleged assault told the Star, but he rescinded his claim before a hearing could occur.
Melvin, a defensive lineman, was listed on the Wildcats' football rosters from 2012 through 2014. He did not respond to the Star's request for comment.
Georges, a wide receiver who appeared on the UA's 2012 and 2013 rosters, transferred to North Dakota in January 2015.
The Star was unable to locate contact information or a social media account for Georges in order to seek comment.
A North Dakota spokesman said the school "followed its normal transfer protocols with this student-athlete, including verification of academic and athletic eligibility."
It's unclear if UND was aware of the retroactive discipline imposed by the UA three months after Georges' transfer.
There is no policy in place that would've allowed the UA to tell Georges' new school about the disciplinary action after his transfer was complete, a UA spokesman told the Star. Chris Sigurdson said he could not speak about individual cases because of student privacy laws, but said that "according to the rules, we can't release student records of any kind — including code of conduct inquiries — without a waiver from the student."
"It would be unethical to do otherwise," he added.
The woman who reported the incident said that she kept her job with the UA football team for about six months after the alleged assault, but ended up quitting because of sexual harassment and a hostile work environment before and after the incident.
Having to work around Stewlow and the players on a daily basis took its toll, she told the Star. She did not report the assault claim to her boss.
The woman told UA officials about the alleged assault several months later, when she was brought in to be questioned about a similar incident involving another student, she told the Star. She told police that situation involved different players and occurred in the locker room, according to the Tucson Police Department's investigative report.The Star is not naming the woman because its policy is not to identify complainants in sex-related cases.
"She said she did not want this to happen to more people," TPD's report said.
At times, the UA's Title IX investigation into the woman's 2013 assault claim ran parallel to the police's investigation, the woman told the Star, adding that school officials told her it would take a long time to complete because it was football season and there was no time to interview suspects, witnesses and coaches between practices and games.
The woman told the Star that during the Title IX investigation she asked school officials for financial support to pay for counseling, but her requests were denied.
The UA did arrange for her to take her finals early in the spring of 2015, just as its investigation was wrapping up. The woman said that she was extremely stressed and wanted to go home as soon as possible.
Several other players who the woman says either participated in, witnessed or knew about the assault were not disciplined by the school, the woman told the Star.
Contact reporter Caitlin Schmidt at cschmidt@tucson.com or 573-4191. On Twitter @caitlincschmidt
Be the first to know
Get local news delivered to your inbox!