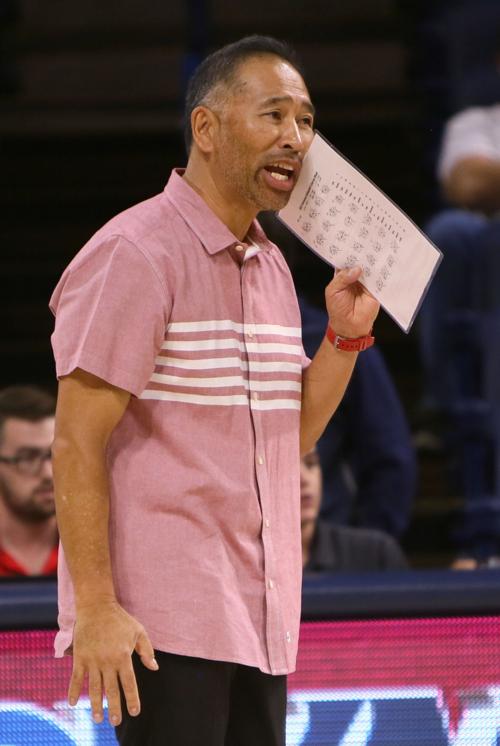 Dave Rubio wants to play volleyball this season.
Unlike most of his fellow coaches, however, Rubio wants to wait until next spring to do so.
The Wildcats' longtime volleyball coach has been thinking — and talking — about a spring season since the coronavirus pandemic hit. The latest round of news, including the cancellation of the Rose Parade, just solidifies his view.
"I think time, right now, is our enemy. And when you move this season to the spring, I think time now becomes an ally," he said.
Rubio said a delayed season "allows us time to figure out the virus. And … the only way we mitigate the virus is if we find a vaccine."
However, the Pac-12 announced last week that all fall sports will go on as planned — albeit with conference-only schedules. The league's volleyball coaches planned to talk Thursday about how it will play out. Options include keeping the league schedule the same while building in off-weeks in case teams have to quarantine or holding a round-robin or even double-round-robin schedules.
Rubio prefers the double-round-robin option, as it "gives us a champion, and we get a chance to play everyone the same amount of times."
The schedule isn't the only concern. Rubio said there's a "long laundry list" of potential problems that could arise if the league goes through with a conference-only fall schedule.
"That's the thing. It's not like they're not going to happen. It's gonna happen. And so, you're trying to figure out how to mitigate all those things," he said. "And it's a tough one to handle. I mean, that's like me trying to figure out a calculus problem — that's almost impossible."
It's why Rubio thinks a fall season would be "really tough" to pull off.
"I mean, I'm hopeful. I'm keeping my fingers crossed," Rubio said. "But this is unprecedented times, and I just don't know how we can mitigate all the risks. There's a lot at stake, obviously, and that's why we're pursuing this season."
That said, Rubio said he's comfortable deferring to UA and Pac-12 experts.
"It's easy for me to stand on the side and be the Monday morning quarterback and say 'I think this is best,' but I think there's a lot of people who are smarter than I am that have a bigger picture," he said. "There's a reason why they're keeping it in the fall. And I trust those people who are making those decisions that it's the right thing to do."
College spending
Rubio, who has been at Arizona since 1992, predicts that "certain things are going to be turned inside-out" because of the pandemic. Higher education could see its revenue plummet as out-of-state and international students stay home. So could college athletics, which faces the prospect of shortened seasons played in empty stadiums and arenas.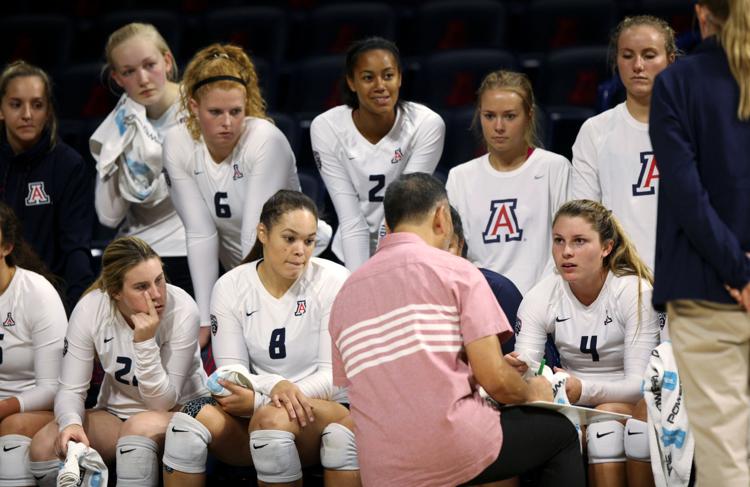 "We knew the day of reckoning eventually was going to come to athletics. Right?" he said. "The facilities race … the chasing the salaries and everything that was being written the last 10 years about that people are building these crazy facilities and all these bells and whistles for all these programs and the salaries going skyrocketing. … I think in everyone's mind that is attached (to) athletics, we knew that something eventually was going to stop that."
'Family' reunion
On Monday, the UA announced that it had hired alum Matt Dyck as an assistant coach. Dyck, who replaced Gregg Whitis, will handle day-to-day operations. Rita Stubbs, Rubio's longtime assistant, will focus more on recruiting.
Dyck and Rubio have known each other for years. Dyck was a volleyball manager during his undergraduate years at the UA. His sister, Amy, was a setter for the Wildcats from 2004 to 2007; their father, Jack, was a UA volunteer assistant coach in 2014.
Rubio has known Jack Dyck nearly all his life, and said he trusts Matt.
"I am in the back nine of my career — I have four to five years left. I wanted to be with somebody who in my mind was almost like family, and the Dyck family and I go way back," Rubio said. "Rita's family for me … and Matt is like that with me as well. And Gregg was like that for me. … So it was important for me personally to be able to hire someone that came with that kind of credentials behind them. And Matt certainly fit that."
Dyck coached at Central Arizona College and Eastern Washington University, and has been involved with the Zona Volleyball Club for 16 years.
Be the first to know
Get local news delivered to your inbox!