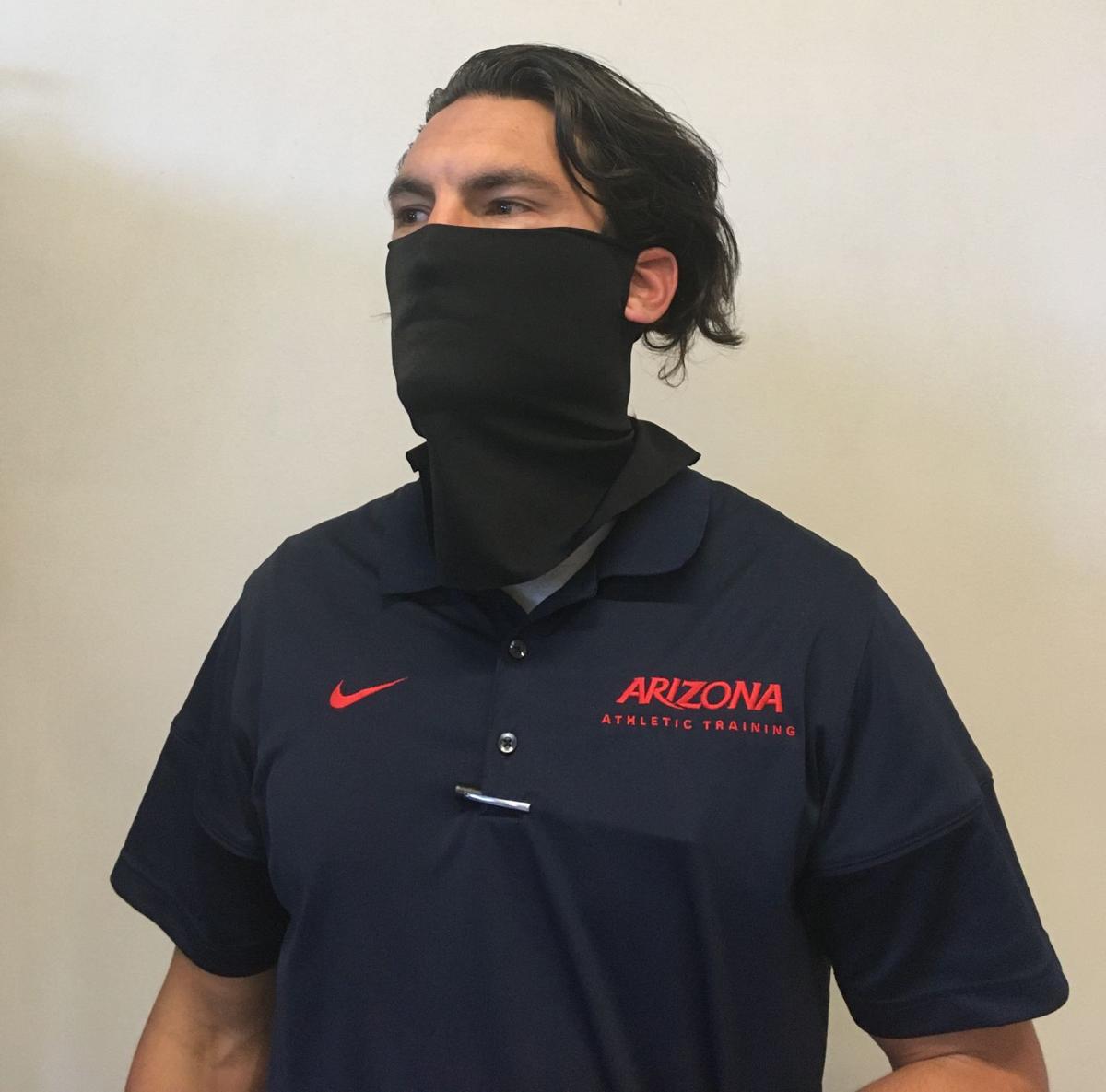 Keep it simple. No frills.
Randy Cohen's requirements for a new face covering for UA student-athletes resonated with Gerry Detty, owner of Tucson's PRO Orthopedic Devices Inc.
Over the span of a month, Cohen — the Wildcats' associate athletic director for medical services — and Detty created a new product: a performance gaiter that athletes can wear as they train.
Every Wildcats athlete will get a two of the gaiters when they return to campus this summer — one in blue and one in white. Michigan has ordered blue ones, and Stanford, Oregon State and Clemson have all shown interest. Detty has sent samples to other schools, as well as to Major League Baseball umpires and personnel in the NBA, NFL, NHL and NASCAR.
Cohen and Detty have been friends for decades. Detty's father, Moose, was a trainer with the Philadelphia Eagles in the early 1960s and was the first to make neoprene sleeves for athletes. PRO Orthopedic Devices has been in business for 47 years — and in Tucson for 35. Detty calls it a "little, well-kept secret."
Their new gaiters allow athletes to breathe while blocking the moisture they emit from their mouths and noses. Those who have tried them say the gaiters are comfortable — something that most masks aren't.
Dr. Stephen Paul knows. The UA's assistant team physician and a doctor with UA Campus Health, Paul said that masks can be difficult to manage.
"I think they get tiresome on the ears," he said. "One size doesn't fit all. For some people, it pulls on their ears; it makes it raw. The beauty of this gaiter is a couple of things. It's washable. It's that new fiber, so it breathes — so (there's) less chance of getting moist."
Plus, Paul said, "if you can get somebody to wear something that's more usable and comfortable in terms of performance, as opposed to total safety, we're way ahead of the game."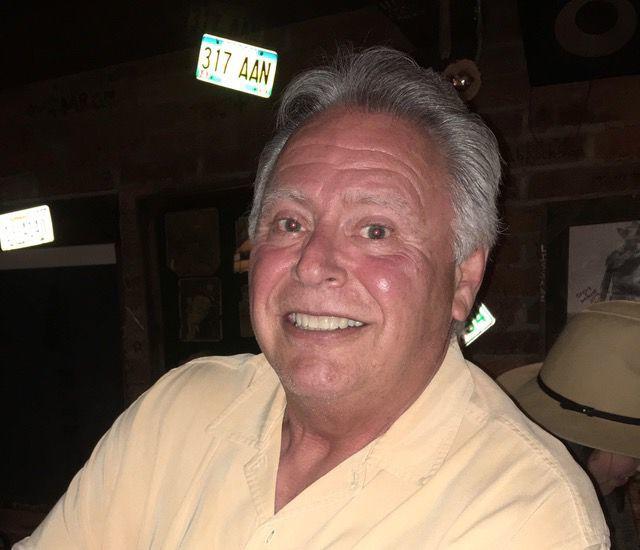 The gaiters fit all of Cohen's original requirements. The longtime UA trainer knew athletes couldn't exercise while wearing big white masks. He began thinking about ultra-marathoners and the gaiters they wear to keep out sand. A new gaiter, he figured, could keep droplets from spreading while preventing athletes from touching their faces.
Cohen reached out to his longtime friend to talk design.
"I look at it like, 'Was I on the cutting edge, or was it the pleasure of knowing a local guy who has been doing this for years and I tapped into his unbelievable knowledge and business savvy?'" Cohen said. "I am lucky enough to know Gerry."
Cohen and Detty spent nearly three weeks going back and forth on designs. Cohen, an avid mountain biker, tested some of the gaiters and reported back with fixes. He even had a UA athlete try one out.
Because Detty's company is local, tweaks were easy to make. Cohen could request changes and get a new, improved model the following day.
While there are many other types of gaiters on the market, Detty's design is different.
"This gaiter is a polyester-spandex combo and it weighs 5.9 ounces. It's double (the weight) of anything you can buy," Detty said.
"The thinner ones, you can spit through. The ones that have been out for a while are not intended to be used as a facemask. Ours has the moisture control and the thicker material. And it stands up to daily use and washings."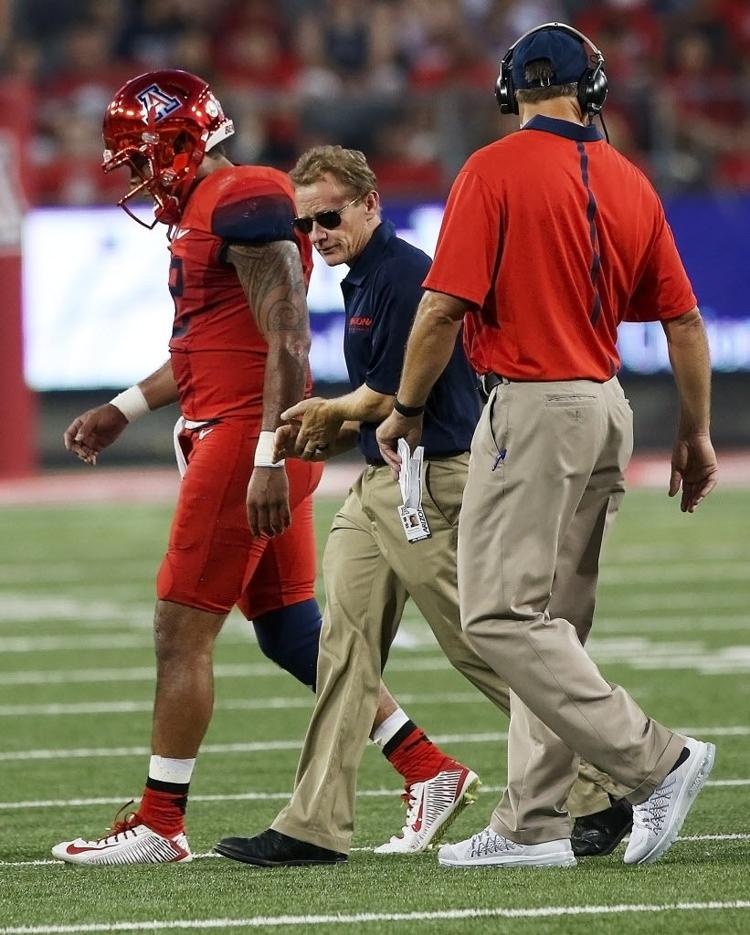 The designs are tagless and logo-free, in part to cut down on costs. Detty is charging colleges $5.99 per gaiter — far less than the market rate. He plans to sell to high schools and individuals at a higher price to account for shipping costs. Gaiters come in standard black and white, though Arizona and Michigan are getting blue ones.
"I don't want to get into colors and I won't do logos or size tags — every time I touch it, it adds costs," Detty said. "The cost drives up $1.30 to $1.40 every time. It's no frills, inexpensive so all schools can afford them."
Added Cohen: "We don't care if it's fancy. We just want it functional and comfortable."
The gaiter already has its fans. One of them is Paul, the on-campus doctor who is helping lead the Wildcats' return to play. He finds the gaiters easier to breathe through and simpler to move. The fact that they're reusable helps.
"We'll wash it and keep going," he says. "It's cost effective, too."
Concerned about COVID-19?
Sign up now to get the most recent coronavirus headlines and other important local and national news sent to your email inbox daily.