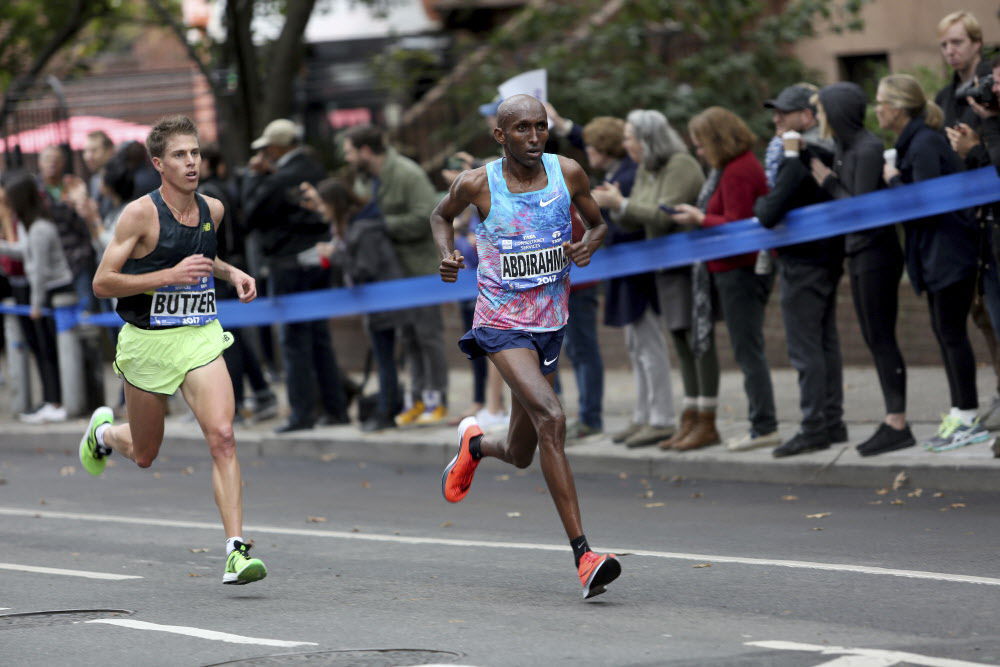 NEW YORK — Imagine everything you are, everything you do, everything you want to be, crumpled up in a heap.
Your muscles tighten, your ankle swells, pain invades your body.
If you're Abdi Abdirahman, the choice is simple.
You get up, and you keep on running.
•••
The world celebrated a 42-year-old running sensation on Sunday morning in New York City, when the retiring Meb Keflezighi ran his 26th and final marathon.
Abdirahman, 40, quietly went about his business, finishing seventh in the iconic race. His time of 2 hours 12 minutes 48 seconds was fastest among Americans.
The Tucson High, Pima College and UA graduate runs for a living. His body is his canvas, or his scalpel, or his engine. It's his tool, whatever you want to call it. His body is his business. His paycheck.
And 3.1 miles into the 26.2-mile New York Marathon, Abdirahman's business was in trouble. He was tripped from behind while at the first water station. The result was like a car getting rear-ended as it pulls in for gas.
He's not sure who tripped him, or how he fell, he just knows that it hurt, and that it added precious seconds to his time.
"I just remember hitting the ground so hard, and I laid there for a few seconds. It did affect me," he said after the race. "When you run a marathon, you need all your concentration, everything that you can get. That just did break my concentration."
In hindsight, Abdirahman is lucky the fall didn't break anything else.
He ended up with a bum ankle and a sore hip, but he was able to press on.
"When I got up, my ankle was so painful, my hip was bothering me, but I thought about all the training I've been through the past few months, and I said, I can't stop just at the 5K mark," he said. "What went through my head was my coach, all the people who supported me, the people — all the investments that I make getting ready for this race. And all those thoughts went through my head within a second, and I just start running, trying to build up into the lead group.
"But I was struggling until the 15th, 16th mile with the pain in my ankle and my knee. You know, it did affect me, but it's not an excuse. I give it my best. I give 110 percent, and I was seventh, and I'm happy with it."
Despite the fall, Abdirahman, the 1998 Pac-10 male athlete of the year and national runner-up, was the top-finishing American for the second straight year.
•••
Abdirahman has been through worse before.
At the 2012 Summer Olympics in London, he felt a pop in his knee. He could not go on.
Abdirahman has been a champion so many places, an Olympian three other times, last year's New York Marathon's third-place finisher.
What's one disappointment in a career of triumphs?
Enough to make Abdirahman not want two.
"As an athlete, at the end of the day, this is a profession for me," he said. "I'm a distance runner. I train three, four hours a day, all to get ready for one race. And the race is on a Sunday, Nov. 5, and on that day, you're either ready or not. People are not going to wait for you. There are no excuses. You just hope nothing serious happens."
And when it does, you just hope you're good enough, strong enough, resolved enough not to let everything come crashing down.
You just hope you have it in you to continue.
You just hope you have the will to survive.
"I have a place I can go to that a normal person can't go," Abdirahman said. "Mentally, I can go to a place to where my livelihood depends on this. This is my paycheck. This is what I do. For a normal person, if you don't feel like running, you can stop. Because tomorrow, you can go to work and move on with your life. I can't do that. This is the most important race for me, at this moment, on this day, at this time."
•••
Now the question comes: How many more of these important races does he have left?
He is in his fifth decade, and a 40-year-old marathoner is like a pink diamond. Really rare.
With Keflezighi feted for his goodbyes, Abdirahman was asked what it was like to be the future of American racing. This, on the same day an American woman — Shalene Flanagan — became the first to win the New York Marathon since 1977.
"Meb is a great athlete, and I have the utmost respect for him, but I'm 40 years old, and I accomplished as much as Meb did," he said. "Four Olympics, 20-plus years. I'm peaceful with my life. The U.S. distance running is in great hands. We came up at same time. We built together this dynasty."
Abdirahman is not sure what the future has in for him. How many more runs up and down the Rillito Wash? How many times will he pass the familiar Santa Cruz River? He lives in Tucson and primarily trains in Flagstaff. How much longer will he feel the need to head north?
The end is near, that much is clear.
"For me, retiring, I don't know," he said. "Maybe I'm going to take one year at a time. I enjoy running, but I'm not 42 yet. So maybe when I'm 42, I'll think about it."
What a joy, what an honor it was, to watch Keflezighi call it quits. One day, maybe he'll be similarly honored.
"Today I want to do something special, but unfortunately, I fell down, things didn't go my way; but at the same time, I learned from Meb. He just never gives up," Abdirahman said. "When I stood up, I saw Meb running with the lead group, and I said, 'You know what? I'm not going to let him go alone. Today's his last day. I'm going to keep him company as much as I can.'"
The two ran, side-by-side, their futures just a few miles away.
Abdirahman finished seventh, earning $35,500. Keflezighi was four spots behind him.
When it was over, Abdirahamn and Keflezighi sat in front of reporters in the Central Park media headquarters, answering questions about what they'd done and what lies ahead.
Soon after, the aching and exhausted Abdirahman was ready to go somewhere quiet.
"Sometimes you don't feel the pain, especially after marathons," he said. "I'll feel it tomorrow. I expect that. I'll do some ice baths, and I'll relax."