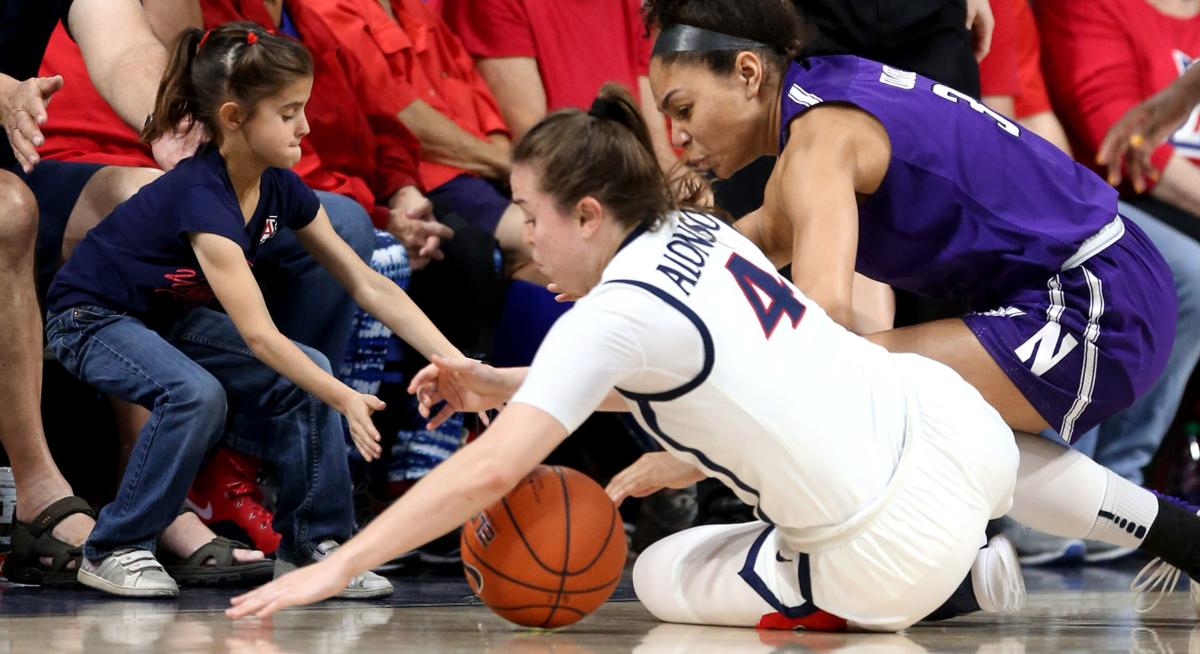 In the fourth quarter Friday night, it felt like the 2018-19 season all over again for the UA women's basketball team.
The band was back together — Aari McDonald, Lucia Alonso, Sam Thomas, Dominique McBryde and Cate Reese.
This was the starting lineup for most of last year, until Alonso went down after re-injuring her ankle and sat out four games in February.
Down the stretch last week, Arizona coach Adia Barnes turned to the five players she knew could bring home the victory, as UA rallied from an eight-point deficit to beat visiting Santa Clara 65-52.
Even though Barnes has brought in six new talented players, she went with what she knows works.
"You will see that lineup a lot different times," Barnes said.
And you might see it as early as Tuesday when the Wildcats (2-0) visit Chicago State (0-2) at 5 p.m. at the Jones Convocation Center.
Alonso, a senior guard, is a key ingredient to the five. Barnes knows day in and day out the value Alonso brings.
"We're going to use Lucia a lot. We need Lucia," Barnes said. "Lucia is such a different compliment and brings us a really consistent steadiness. She played really well. She hit big shots, but she allows me to move Aari off the ball a little bit, run some different actions. She does a really good job of getting us organized, and just has a confident presence that I think calms the team when it's kind of chaotic."
Sprinkle in McBryde and Thomas, who Barnes calls two of her smartest players, McDonald's experience and Reese's growth, and that's a tough group to beat and steal minutes from.
That is what freshmen Mara Mote and Helena Pueyo are trying to do. It gets even harder when someone like Thomas fills the stat sheet like she did on Friday night with 17 points, four assists, three blocks, eight rebounds and one steal.
"Sam's really hard to have off the floor," Barnes said. "And I think as a young player, it's difficult because you're competing. Like with Helena, you're competing for minutes at those guard positions. It's competitive and it should be and as we get better, it's going to continue to get more competitive. We're not doing our job if it isn't.
"That's what a good program is and we don't have a good program if it's not like that."
It's early and Barnes is looking for in-game situations, all-out practices and on-court chemistry to determine each of her 14 player's roles.
"The first game we played 13 people," she said. "You can't be successful and play that many people consistently. We have to find those rotations of six, like eight and then like the nine and ten, depending on different situations like fouls or just, different matchups.
"I wanted to go a little bit deeper into the bench against Santa Clara, but we just couldn't. It was the way the game was. It just wasn't a time to experiment, but also my job is to develop the other players. So, in practice we are getting them more game-ready, getting the freshmen and the younger players to be more intense. Not so soft with the ball, more intense in all situations is going to help them on the floor and games."
Another thing Barnes and her staff are helping with is the first road trip of the season. In the past, players have forgotten shoes and sweats. This rookie class may not be as forgetful as they've traveled a lot with their international teams. However, just in case, Jessika Carrington, director of operations, prepares a booklet giving times and instructions for everything — including photos of what gear to pack.
"We have a really extensive list because of Jessika. This is text. This is email. It's very detailed.
"So, if you can't remember stuff with this, we don't know how to help you," Barnes laughed.
Rim shots
• The Wildcats took a trip up to Phoenix on Sunday to watch the Brooklyn Nets take on the Suns. The highlight of the evening was meeting the Nets' Kyrie Irving after the game.
• Arizona might not be playing tough conference games yet, however the physicality in these early games is real. After Friday's game against Santa Clara, McDonald was sporting a black eye she said she got in last Tuesday's home opener.
• Barnes started a new tradition this season — banging the drum after each home win. The player of the game bangs the drum — one bang for each win.
"Well, I just wanted something where it's ours. I'm big on like us doing our thing where we are doing something special," Barnes said.
The first two players who got to bang the drum were Reese and Thomas.
• Chicago State's losses have come at Illinois (96-66) and at UT Arlington (84-53).