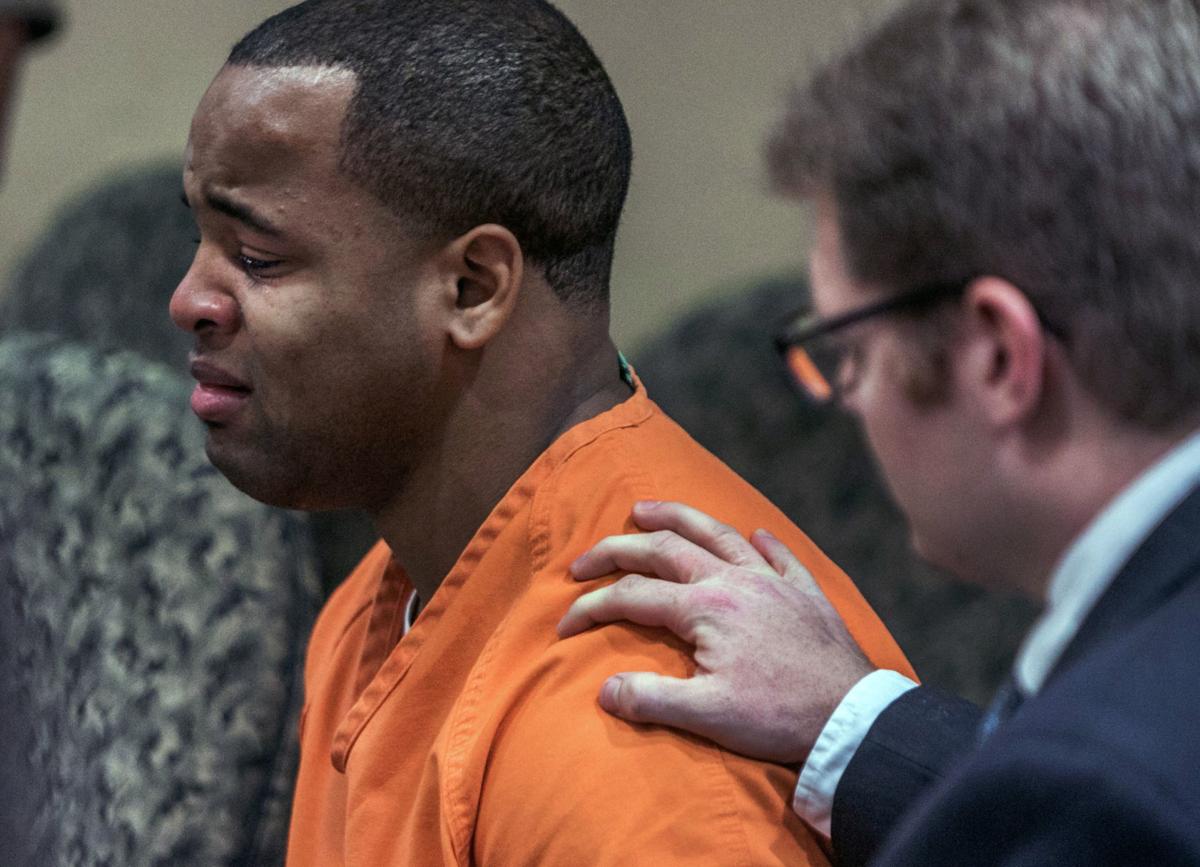 Three University of Arizona officials were notified that former Wildcats running back Orlando Bradford was abusing female students months before he was arrested and eventually convicted of domestic assault, a new court filing says.
Attorneys for the UA have said for more than a year in court hearings and filings that no one at the school knew about Bradford's behavior until his September 2016 arrest. A UA spokesman said that the school's attorneys would "vigorously oppose" the allegations put forth in the court filing.
Police arrested Bradford after a student came forward to say Bradford had repeatedly hit and choked her over a two-day period. The next day, a second student told Tucson police that Bradford had also been abusing her for several months.
Bradford was jailed on multiple charges related to domestic violence. In October 2017, he was sentenced to five years in prison after pleading guilty to two counts of domestic violence-related aggravated assault.
In January 2018, the woman who said Bradford had abused her for months filed a federal Title IX lawsuit against the UA, saying university officials knew Bradford was abusing her but failed to intervene.
Her suit says that high-ranking UA officials were repeatedly notified that Bradford was "engaging in predatory behavior toward female students" and posed a substantial risk to other students, but acted with "deliberated indifference" by failing to take appropriate action to protect the plaintiff and other women.
In court filings, the UA provided the plaintiff's attorneys with an email from executive senior associate athletic director Erika Barnes to Title IX investigator Susan Wilson and dean of students Kendal Washington White. The email contained Barnes' hand-written note detailing claims of Bradford's abuse of the plaintiff and another student.
Barnes' position as the school's liaison for Title IX, the federal law focused on gender equity, makes her legally required to promptly report "any concern of sex discrimination related to a student to the Title IX Coordinator, Deputy Coordinators, UAPD or staff in the Dean of Students Office," according to the UA's Title IX policy for employees.
Title IX says that every student is entitled to an education free from sex discrimination, including sexual harassment, sexual abuse and dating or domestic violence.
Barnes fulfilled her obligation when she emailed the notes to school officials.
Attorneys for the woman, whom the Star is not identifying because it typically does not name victims of domestic violence, filed a motion last week in U.S. District Court in Arizona asking for the UA to be sanctioned for failing to disclose material evidence, providing untruthful discovery responses and testifying falsely. It says the school's conduct has harmed the integrity of the case.
"The attorney general's office has been attempting to confer with the plaintiff's counsel on this issue for nearly a month in good faith," UA spokesman Chris Sigurdson told the Star. "(Arizona Board of Regents) and the university will vigorously oppose the motion and the plaintiff's characterizations of events when our response is filed."
From May 2018 through May 2019, UA lawyers repeatedly said they had limited knowledge of Bradford's abuse of another student, but knew nothing of the abuse against the plaintiff, according to the motion.
On May 29, the UA produced Barnes' handwritten note. The note, dated March 23, 2016, was taken during a meeting with friends of one of Bradford's ex-girlfriends. It says Bradford admitted to hitting one of the women and was blackmailing her with sexually explicit photos. Bradford told the woman's friends the week before that if they didn't get her "out of here" he was going to hit her. The note also documented Bradford's abuse of the plaintiff, saying the pair had a volatile relationship and "he hits her often," freaked out on her dog in front of other people and sent a sexually explicit video of her to other people.
The note says a friend of Bradford's from his hometown of Shreveport, Louisiana, said he had a violent past, isn't afraid to hurt someone and that "people need to be careful."
One of the students mentioned in the note reported Bradford to UA police for harassing her in April 2016, a few weeks after her friends spoke with Barnes. The UA police report shows that she told police that Bradford had hit and choked her in the past.
The Pima County Attorney's Office declined to prosecute Bradford in connection with the incident, but the UA put a "no contact order" in place and banned Bradford from living in the dorms, according to court documents. He moved into a house with several other football players and was arrested for assaulting the two other women just five months later.
The newly released information came to light when Wilson, the Title IX investigator, revealed during deposition that there were physical Title IX files in the Dean of Students' office for "every referral, report, concern that (she) received," according to the motion. At that point, the UA hadn't produced all those documents.
The plaintiff's lawyers Kimberly Hult, Lauren Groth and Erin Carillo promptly requested the information, as it had fallen under the scope of the prior request for information. On May 29, the UA produced the physical Title IX files and Wilson's "working files," in which Barnes' 2016 note was included. Two weeks later, the UA produced — "without explanation" — the email, the motion says.
"Throughout the year, the U of A continued to insist, falsely, that it had no notice that Mr. Bradford presented a substantial risk of harm to plaintiff or others prior to September 2016," the motion says.
The disclosures by the UA came five weeks before the discovery deadline and well after the completion of depositions of key witnesses.
"It demonstrates the U of A has failed to disclose relevant information; given untruthful responses to plaintiff's discovery requests; provided false testimony on material facts under oath and in deposition and is far more culpable in this case than it previously represented," the motion says. It goes on to say two UA employees lied during depositions.
The plaintiff's attorneys are asking that monetary and remedial sanctions be imposed on the UA, saying that the school's misconduct in the case draws into question the integrity of charts produced that summarize the UA's other Title IX and Office of Institutional Equity investigations of student-athletes.
Contact reporter Caitlin Schmidt at cschmidt@tucson.com or 573-4191.
On Twitter: @caitlincschmidt.
Be the first to know
Get local news delivered to your inbox!