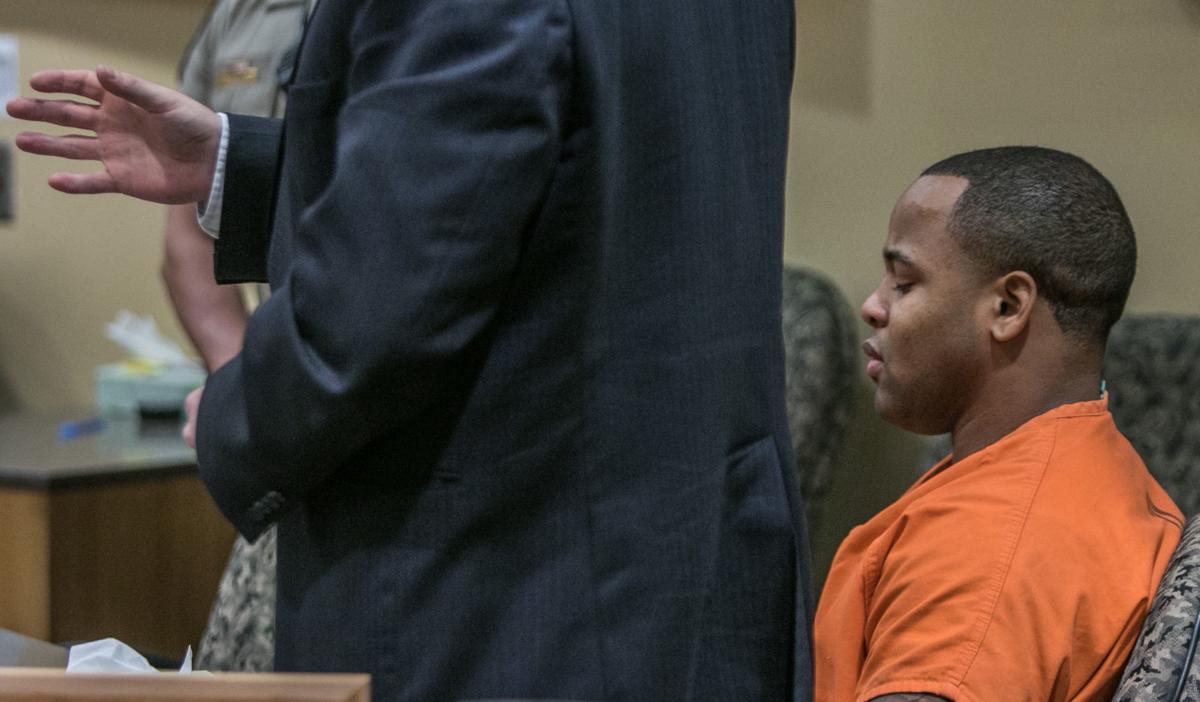 The University of Arizona paid $1.275 million to a student who was physically abused while dating former Wildcats football player Orlando Bradford, an amount that one expert said is unprecedented and sets a new bar for future settlements.
In late March, the UA reached a settlement in a yearslong federal lawsuit with the student who reported Bradford to Tucson police in September 2016, saying he repeatedly hit and choked her during the course of their relationship. Bradford was arrested the day before she made the report, when a different woman told police that he had beaten and held her against her will over the course of two days. The running back was ultimately charged with more than a dozen domestic-violence-related felonies. He pleaded guilty a year later to two counts of domestic-violence-related aggravated assault — one for each woman who reported him to police — and is serving a five-year prison sentence.
The student's attorneys said the UA knew before Bradford's arrest that he posed a danger to women on campus but failed to take appropriate action. The university exercised deliberate indifference in its handling of the situation, the attorneys said, and violated the woman's Title IX rights to an education free from sexual harassment — including dating violence.
The UA would not comment on the terms of the settlement. A week ago, it issued a separate statement wishing the student well. The Star does not typically name victims of domestic violence or sexual assault.
The lawsuit was filed in January 2018. While attorneys were preparing their cases, a UA Title IX investigator produced a handwritten note from an athletic department employee detailing a meeting she had with two students, both of whom told the employee about Bradford's abuse of the plaintiff and of one of their friends. The note was dated nearly six months before Bradford's arrest.
The other student mentioned in the note reported Bradford to UA police for harassing her in April 2016, a few weeks after her friends spoke with the UA employee. The UA police report, which characterized the situation as a volatile relationship, shows she told police that Bradford had hit and choked her in the past.
The note was emailed to the dean of students and to a Title IX investigator, but it's unclear what was done with the information after that. Title IX is a federal gender equity law that requires schools to provide students with an education free from sexual harassment, assault or dating violence.
After the discovery of the note, both parties filed motions for summary judgment, asking U.S. District Judge Susan Bolton to decide if the case would proceed to trial. In February, Bolton ruled that the UA had knowledge of Bradford's abuse and demonstrated deliberate indifference. The only decision left to the jury would be if Bradford's abuse of the plaintiff impacted the student's educational experience.
The student's attorney, Lauren Groth of the Colorado firm Hutchinson, Black and Cook, said Bolton's ruling on the summary judgment was significant to the case — and future lawsuits.
"We're happy that it's resolved," Groth said Friday. "We're proud of our client for her commitment to the case, and we're happy that she'll be able to move on from here."
The Star obtained a copy of the settlement agreement through a public-records request to the state. It included a stipulation that the UA was not admitting liability, which is standard in such cases. It also included a clause restricting all parties from holding news conferences or sending out press releases for 30 days following its May 11 finalization.
Because of the high dollar amount, the settlement required approval by the state's Joint Legislative Budget Committee.
Brett Sokolow, founder and chair of the National Center for Higher Education Risk Management Group, said the $1.275 million settlement "sets a new bar" for Title IX lawsuits involving domestic violence.
"I think that's an unprecedented settlement amount for the type of case and circumstances of the allegations," he said.
Sokolow's Pennsylvania-based law and consulting firm works with hundreds of colleges and universities on Title IX and other policies. He has not worked with the UA, but he responded to questions about the suit after reading about the settlement.
Sokolow said the 2018 shooting death of former University of Utah student Lauren McCluskey has put additional pressure on universities to settle Title IX domestic-violence suits.
McCluskey was shot by her ex-boyfriend, who later killed himself. McCluskey's parents are suing the University of Utah, saying campus police could have prevented her death. McCluskey had previously reported that she was afraid of her ex-boyfriend. The case is still pending.
In 2017, Florida State University and a student settled a Title IX lawsuit for $950,000. At the time, it was the largest Title IX settlement for a single student-on-student incident without multiple appeals, according to a report by liability insurance and risk management firm United Educators.
Last month, the Nebraska State College System settled two lawsuits alleging Chadron State College failed to prevent domestic violence against a softball player, leading to her suicide in 2015. The family of Fatima Lissette Larios filed the suits in 2017.
The cases, which alleged Larios was beaten and emotionally abused for months by her then-boyfriend, were settled for $900,000 and included non-monetary actions that Adele Kimmel, the Larios family's attorney, said were significant.
As a result of the settlement, Chadron State must hire an outside consultant to review its Title IX procedures and policies once a year for the next three years and conduct annual suicide training for faculty, staff and students over the next decade, The Lincoln Journal Star reported.
The school also established a scholarship in Larios' honor.
The UA case is important for several reasons, in part because it reaffirms that dating violence is covered under Title IX, Kimmel said.
In the Chadron State case, attorneys for the Nebraska State School System argued — unsuccessfully — that dating violence isn't covered.
"The combination of large monetary settlements and significant non-monetary terms, those things do help to move the needle," Kimmel said.
"They let students know that there's actually an avenue for recourse, and they put universities on notice that they'd better pay more attention when they hear reports of dating violence."
Kimmel said that one of the goals for her firm, Public Justice, is change.
In February 2018, after the filing of the two Title IX suits, the UA brought in an outside attorney to review its Title IX policies and procedures. After a nearly two-month review, San Francisco attorney Natasha Baker issued recommendations — including the addition of several Title IX staff members, enhanced prevention efforts and additional training for employees.
In October 2018, the UA hired former South Tucson Judge Ron Wilson as its full-time Title IX director, a position that was previously held by an employee balancing that and several other duties.
Wilson, who has since left the UA, brought in a former Associated Students of the University of Arizona attorney to serve as deputy director of the Title IX office. She and the rest of the team quickly rolled out more robust and frequent Title IX trainings for staff workers and students that were held across campus.
That year, the UA athletic department hired an employee to act specifically as a liaison to Title IX and for employees. The department also created flow charts and quick reference guides to explain Title IX issues, including them in the "supervisor's tool kit" that's provided to anyone that manages a sport or unit.
"You're not going to get colleges and universities to say, 'We messed up,' but you just need to look at what they're doing and the kinds of changes that a school is willing to make," Kimmel said.
Under the newly set forth Title IX guidelines released last month by the Department of Education, dating violence and stalking are included for the first time as types of sexual harassment. Kimmel said this change is the one positive out of a sea of negatives in the 2,000-page document.
"You're not going to see as many colleges and universities arguing that it's not a Title IX issue," Kimmel said.
Be the first to know
Get local news delivered to your inbox!