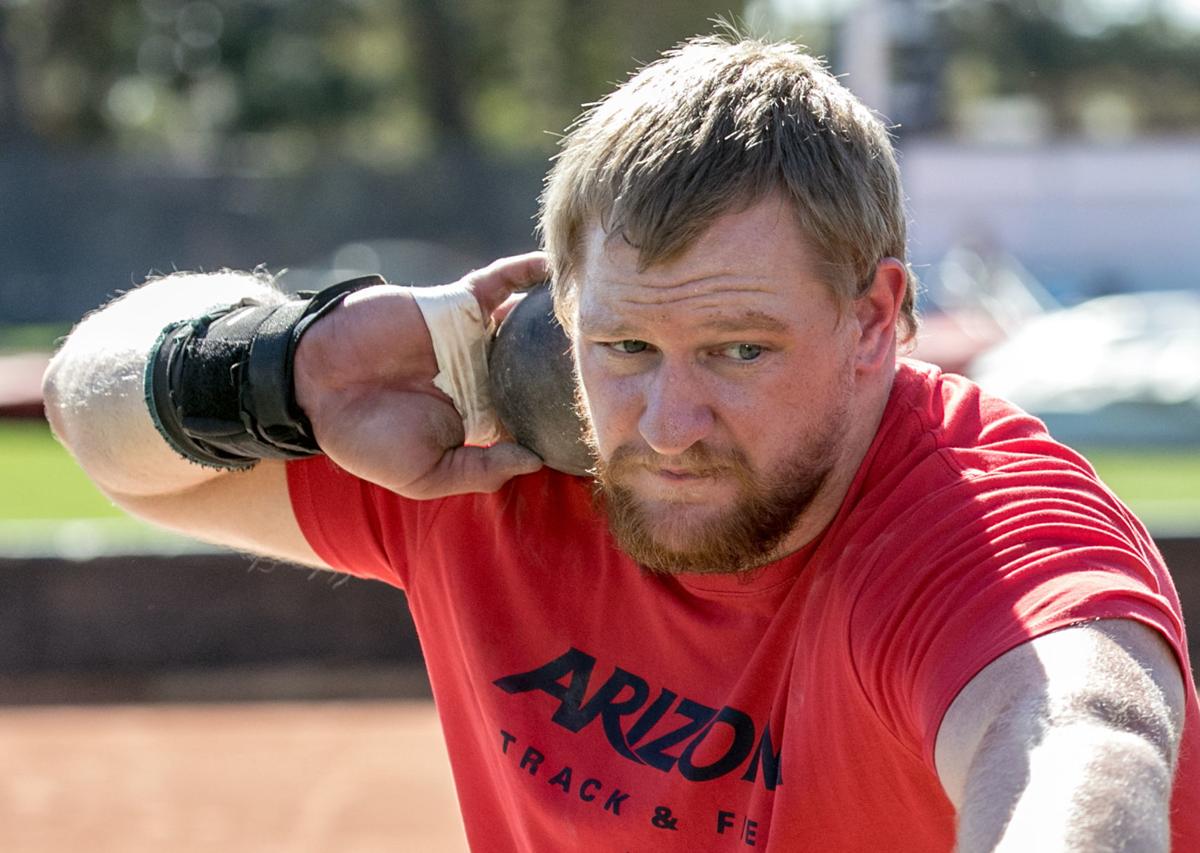 The four-day NCAA Track and Field Championships start Wednesday in Austin, Texas, with eight Arizona Wildcat men seeking to qualify for Friday's finals and Jordan Geist shooting to win a national title in the shot put finals.
The Wildcat men's team is ranked 12th in the nation, behind such teams as Texas Tech, Florida and LSU, all of which are expected to battle for the national title.
UA coach Fred Harvey said his athletes, who finished third in last month's Pac-12 championships, are physically ready, and he likes how they are feeling mentally.
"We have athletes who are going into the championships not just wishing to do well, but expecting to do well," Harvey said.
In anticipation of wet conditions Wednesday, the NCAA adjusted events to begin two hours early.
ESPN will provide live and steaming coverage, and the network advised viewers to go to espn.com/watch in case of any time changes for weather.
Here's a look at the Wildcats competing Wednesday:
Jordan Geist has the farthest throw in the shot put this outdoor season with 70 feet, 10 inches. Geist is a sophomore from western Pennsylvania and a two-time Pac-12 champ. The field includes Denzel Comenentia of Georgia, who won last year's outdoor title; Payton Otterdahl of North Dakota State, the NCAA indoor meet champion, and Adrian Piperi of the host Texas Longhorns.
Carlos Villarreal has the NCAA's No. 2 time in the 1,500 meters. He's enjoyed both high points and some disappointments this outdoor season. The Rio Rico junior finished strong at the recent NCAA preliminary meet. He competed in the NCAA cross country championship in the fall and the indoor track finals in the winter.
Bailey Roth qualified for the NCAA meet for the fourth time in the 3,000-meter steeplechase. Roth holds the nation's 13th-best time, but he stands to advance into Friday's finals if he runs at or close to his personal best of 8:38.68. Roth had considered training on his own instead of returning to UA this season. But upon reflection, he came back with new resolve. The grad student from Colorado Springs, Colorado, holds the high school steeplechase record.
James Smith set the UA record in the 400-meter hurdles at the Pac-12 finals, and then improved with a time of 49.88 at the NCAA preliminary meet in Sacramento. Harvey said he held back the Mesa freshman from running the 400 hurdles early in the season. Now, Smith continues to improve as he gains strength, speed and knowledge about running the event. He has the nation's 10th-best time.
4x100-meter relay: Trevor Volpe, a Salpointe Catholic grad, leads off the UA team of sprinters, followed by PJ Austin of Los Angeles, Zakee Washington of Las Vegas and Maj Williams of Scottsdale. They qualified by running a season-best time of 39.45 in Sacramento. With a slight improvement, they could reach Friday's final. This relay is the day's first running event and is tentatively scheduled for 2 p.m.
4x400-meter relay: Washington joins Smith, Williams, and Maksims Sincukovs, a sophomore from Latvia, on this team. Facing strong competition, they will need a significant improvement of their time from Sacramento —3:06.42 — to make it into the finals.
Arizona junior Justice Summerset, the 10th Wildcat who qualified for the NCAA meet, competes Friday in the high jump. His best jump this season — and his personal best — at 7-4½ ranks No. 4 on the NCAA chart. Summerset finished third in the NCAA meet as a freshman but did not qualify last year.
Be the first to know
Get local news delivered to your inbox!