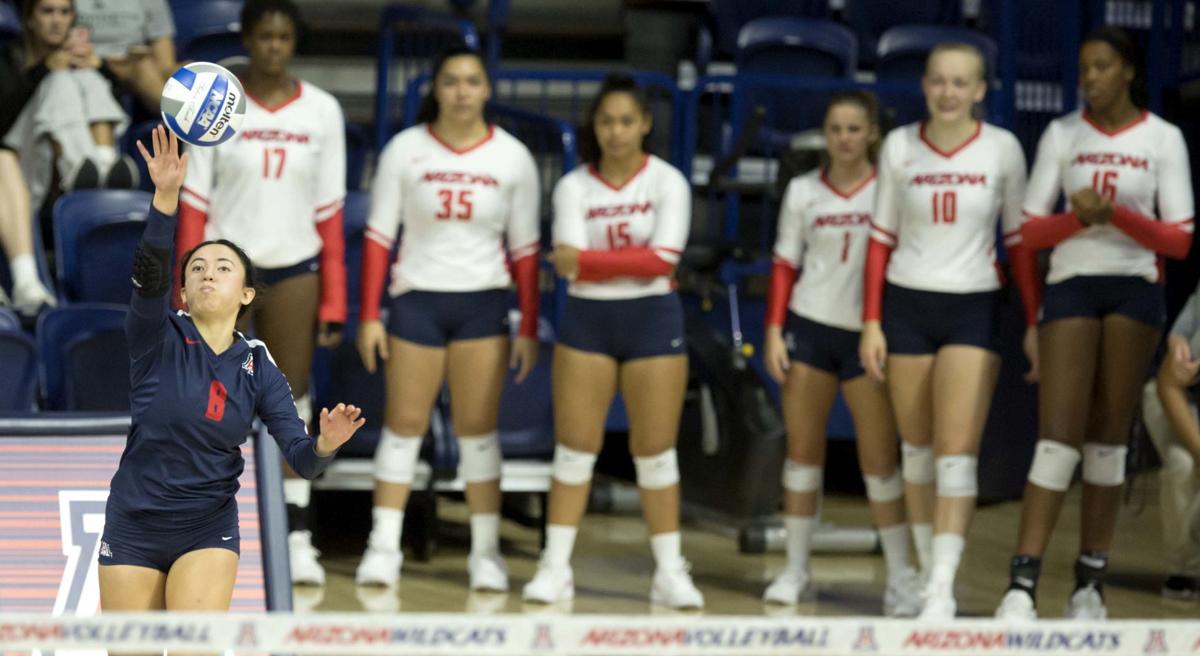 Arizona volleyball player Kamaile Hiapo started a new routine early on during the stay-at-home order: Hit the volleyball over the wall in her yard. Jump over the wall. Run into the street to chase down her volleyball.
That's not really the routine that her dad, Brian, had in mind for his daughter.
He found a video online showing a mobile slanted board and set out to make one. He used an extra computer desk they had around the house, but it was too small — her brother, BJ, a former libero at BYU, kept missing.
Then her dad went to Home Depot and bought some wood. It took two days for him to build the new board with a stand. Now, they can move it anywhere in their backyard, play different volleyball games and work on a variety of skills from reaction, ball control and focus.
Hiapo likes all the games she plays with her brother, but one stands out.
"We had two balls going at the same time, and we are going back and forth to each other," Hiapo, the soon-to-be sophomore starting libero said. "Two balls was really interesting because we had to keep track of two balls.
"And in the beginning, we kept colliding our balls with each other because they're hitting the board at the same time. We had to figure that one out. That was a little more challenging than the others.
"I think the one we want to try is hitting off each other's backs and playing against the slant board. I don't know how that's going to work, but we'll see."
Hiapo now has a little more time to figure that one out.
The UA volleyball team was planning on coming back to campus starting Monday. However, last Monday, UA Athletics announced that the reentry plan to bring back more student-athletes back to Arizona was paused because of the surge in COVID-19 cases in the state.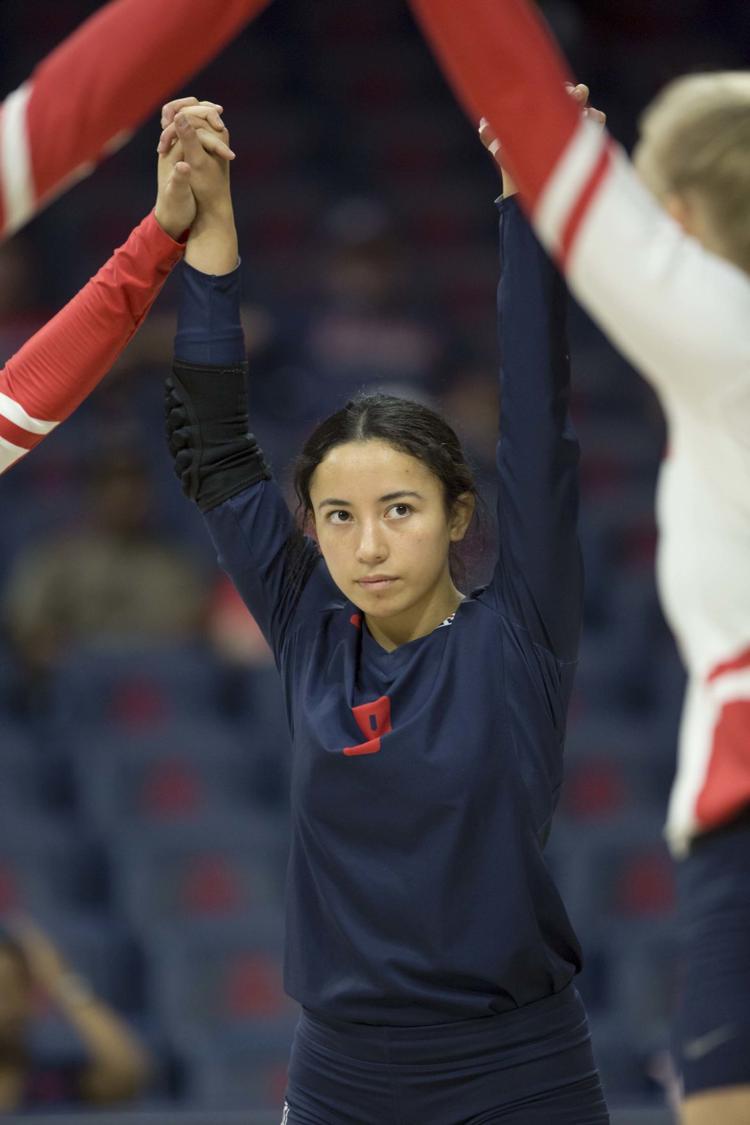 For Hiapo this slanted board, playing games, doing drills and talking volleyball nearly 24/7 at home is normal. This is all she knows. She comes from a volleyball family — three generations of players and coaches.
It started with her grandfather, Fred, who was a legend in Hawaii volleyball and a 30-time outrigger canoe All-American. Both her parents, Brian and Venese played and now coach. All four of her sibilings played the game and sister Kiana coaches.
Hiapo said she learned the fundamentals from her dad, gets her volleyball IQ from her mom and leans on her sibilings for their experience.
"Over the dinner table, we do talk about volleyball a lot," Hiapo said. "It's kind of a normal everyday thing. It's part of our lives. I think maybe we learn a lot from our volleyball side that I take into my real life that I use every day.
"I think it's not completely a bad thing to talk about volleyball a lot because it really does help me be who I am. … I would say I definitely have a huge advantage. Not many people are blessed to have so many resources laid out for them."
Hiapo leaned on that foundation and adapted quickly last season as a freshman who was asked to fill in at outside hitter when many of her teammates got injured.
She also played with nagging injuries throughout the season, including a hamstring injury at the start of Pac-12 play. She's fully recovered now — the extra time to rest and rehab has helped.
Hiapo had a stellar first season as a Wildcat, setting an Arizona record for freshmen in digs (378). This placed her in the top 10 in the Pac-12 and first for freshman in digs per set (3.53).
She was named Pac-12 Freshman of the Week in back-to-backs weeks and was the first UA freshman to do so, and the first UA freshman to earn honors since Penina Snuka in 2013.
UA volleyball coach Dave Rubio wasn't surprised by any of it. He knew.
"When I first saw the film on Kamaile, as a ninth-grader, and when she was a freshman in high school, I knew right then that we were going to recruit that kid," Rubio said. "I mean, she was so much better — her aptitude and how she saw the game and her reaction to the plays, which is superior to anyone I've ever seen.
"She has volleyball in her DNA. At home, I have no doubt that she's surrounding herself and immersing herself in some form of training. All they do is talk volleyball and play volleyball."
In the summers, all five siblings were home and they always focused on getting better for the fall season. They'd wake up early and go train. It's just what they did, and still do. Nothing has changed.
"Fortunately, we all love the sport. We have a passion for the sport," Hiapo said. "We can't get away from it. It's something that we bond over together and it's really enjoyable for us."
This spring, Hiapo helped her parents come up with at-home drills for their club players. They run Molten Volleyball Club in Gilbert. The drills were general skill development, including footwork with cones and ladders. They wanted to show players what you can do with a little space and motivate them.
Of all the drills she does on a daily basis, Hiapo really likes the agility work.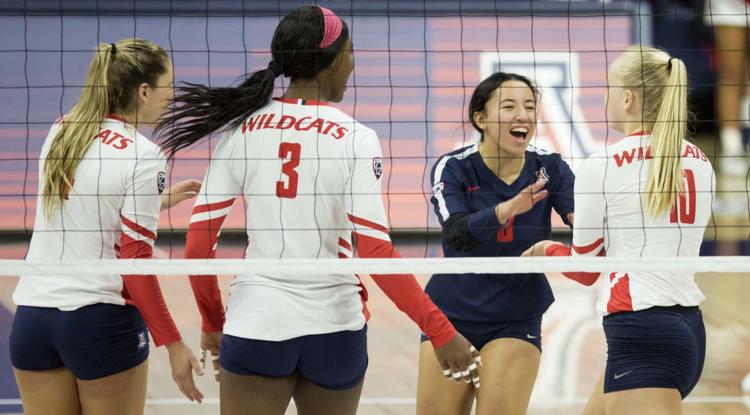 "Sometimes I felt a little slow during this quarantine," she said. "I really just wanted to get out there and start moving. Working on agility helps me get some speed back and get some spark. It was really fun.
"I did blind drills sometimes. I'd be facing the wall and the balls would be coming from behind me and hitting the wall. I'd have to react and grab it."
Hiapo has also spent time watching film from last year and strength training her upper body and legs with former UA standout Snuka and her dad, former wrestler Jimmy "Deuce" Snuka, who is a certified trainer and works on the physical and mental aspects of athletes.
Right now, Haipo is excited to get back to campus and play volleyball with her teammates in front of the UA faithful.
"I've been ready this whole time," Hiapo laughed. "I've been waiting for the day they tell us to come back and we can play. I've been waiting for so long.
"We're so thankful for everyone's support, especially our fans. They always talk to me 'we're the guys who invented the roof cheer.' I love those guys. I really love the support we have here in Tucson.
"It's really one of the best in the country. And I hope that everyone says safe and healthy. Be excited for next year — we have a good group coming in."
Notable
Hiapo tried out for USA Volleyball in the spring, but it didn't turn out as she had hoped. Rubio said many factors may have played into this, but one thing he knows for sure is that Hiapo is driven.
"She's as close to Michael Jordan as we have on the team — I say that loosely. But it's a compliment to her because she is so driven, has a great mindset," he said. "And even though she didn't perform as well as she would have liked, that gives her extra motivation.
"She's more motivated to go back next year and prove herself. She doesn't get discouraged because she didn't perform at the level that she thought she should have.
"It only creates more of a motivation for her to work harder."
Be the first to know
Get local news delivered to your inbox!