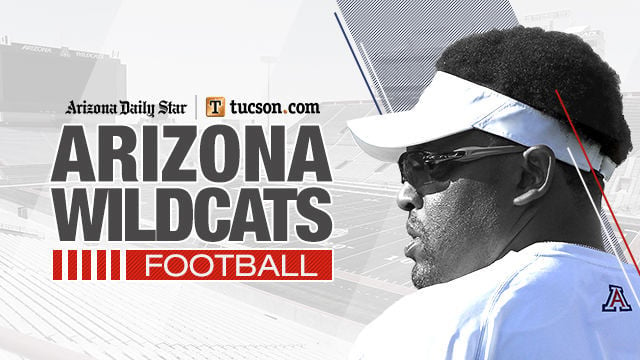 The University of Arizona on Friday reported three positive COVID-19 test results among the 83 football players who have been working out on campus and have been tested on a weekly basis.
The school said it has administered 366 "test-encounters," which it defines as "a variety of individual tests such as PCR, antigen and antibody testing."
Two of the three student-athletes who tested positive were asymptomatic, the UA said. All three were removed from voluntary training to enter isolation protocols.
Additionally, the UA said none of the 28 staff members who have been on campus to assist with the workouts has tested positive.
In late June, the UA paused its athletics reentry process amid a surge of COVID-19 cases in Pima County and across the state. By that point, 83 football players already had begun training. Those workouts continue while the school awaits word from the Pac-12 Conference about the fall athletics schedule.
The Pac-12 announced last week that it was shifting to a conference-only format for fall sports and delaying the start of "mandatory" athletic activities – e.g., full-squad football practices – because coronavirus cases were trending negatively. The conference said it would announce the new schedule no later than July 31.
"When we made the decision to pause bringing additional student-athletes back to campus, we did so out of an abundance of caution," UA athletic director Dave Heeke said in a statement. "Our athletics department's reentry, testing and medical processes have been effective and efficient.
"Arizona Athletics will continue to work closely with President (Robert C.) Robbins, university leadership and campus partners in our commitment to protect the health of our community. Assessments and consultations with our local health authorities, the University of Arizona, the Pac-12 Conference and the NCAA are ongoing as we look to resume the safe and healthy return of student-athletes and staff to campus."
Although the UA's COVID-19 testing results are favorable compared to other schools – some of which have had to suspend workouts altogether – the school is at the mercy of the Pac-12 in terms of ramping up athletic activities.
Under the direction of Dr. Stephen Paul, the UA has established a testing protocol for student-athletes returning to campus. It includes an initial antibody test, weekly COVID-19 PCR tests done orally and through the nasal cavity, as well as weekly antigen tests. That process began June 8. The first wave of football players began voluntary workouts on June 15.
Contact sports reporter Michael Lev at 573-4148 or mlev@tucson.com. On Twitter @michaeljlev
Be the first to know
Get local news delivered to your inbox!