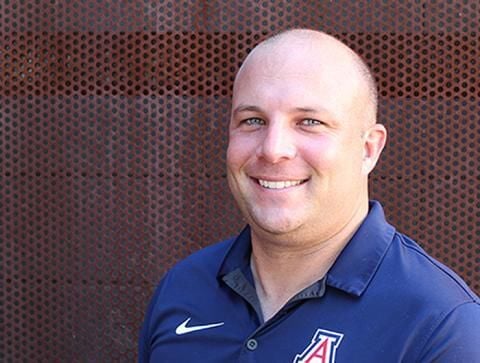 Roughly 1,500 University of Arizona students will return to on-campus classes on Wednesday. Few are more excited than the 100 or so club rugby players who, thanks to their director, are planning for the 2021 season amid a pandemic.
The men's team will also welcome new players after word of director of rugby Sean Duffy's innovative — and now sought-after — return-to-play plan led to a surge in recruiting.
That Arizona's even talking about playing a season is a testament to the plan's success. In August, after consulting with UA doctors and trainers, Duffy came up with a document detailing five phases of return to play.
Duffy believed the Wildcats could make it to the third phase by winter break. They made it to Phase 4. The fifth and final phase, Duffy said, is basically a return to normal team activity.
Duffy is amazed by what his players have done, citing their diligence to the strict protocols and their desire to work together.
"I've been surprised by the number of things we could do, but it definitely forced me to be creative," Duffy said.
"And now we're trying to spread the gospel: This is doable, but you have to have the buy-in from your school."
The plan
Shortly before classes began in August, Duffy and campus recreation director Troy Vaughn began thinking about what the fall semester would look like.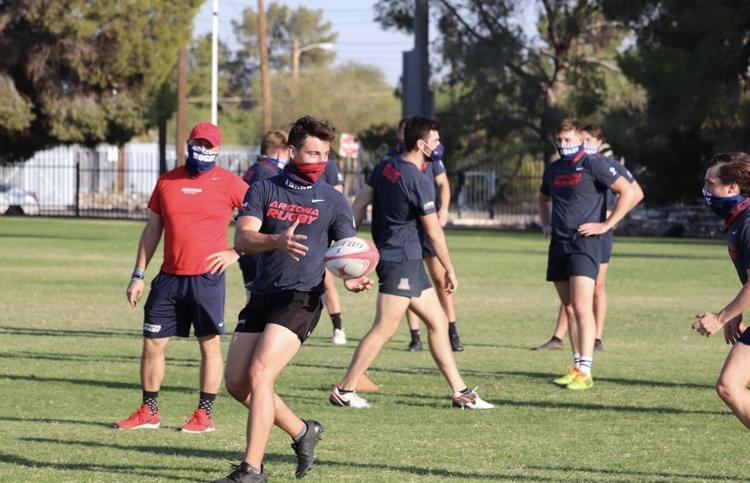 Duffy, who oversees both programs and coaches of the men's team, understood the challenge he faced.
"The intuitive reaction from COVID would be, 'Let's do nothing and let's lock everything down.' But we've all been in higher education for awhile, and we knew there would be nothing for students to do," Duffy said. "We knew it would be a task and between the campus medical team and coaches there would be some hoops to jump through, but we knew we could get it done."
Duffy believed he could get his players game-ready in time for a spring season. As soon as he fired out who was in town and on campus, Duffy took a poll. Only two players opted out, which took the coach by surprise.
"We started out with no equipment and groups of six players at a time," Duffy said. "I told them, 'This is not going to be rugby; it's basically going to be running.' They were like, 'Sounds great, can't wait.'"
Duffy and the UA's medical team relied on a combination of milestones and timing to determine when to move to the next phase in his plan.
Players used pool noodles for drills to keep distances. Duffy also brought in massive tires and other pieces of equipment that he wouldn't have used in a normal situation.
As data came out showing that equipment could be safely used, Duffy allowed his players to begin catching and passing a ball.
Every two weeks, Duffy would revisit the situation with the UA's medical team, telling them what stage they wanted to progress to next and waiting for the team to give approval. They also kept an eye on campus conditions. Duffy became an amateur scientist, checking the state's COVID-19 dashboard several times a day.
By October, the Wildcats had gradually built up to what women's team member Nikita Ganesh called "rugby, but with no contact."
From there, the team progressed to games of socially distant rugby. There were no interruptions.
"We tested weekly and we had zero positive cases on the team from the day we started training," Duffy said, adding that he also kept an eye on what was happening on other teams and at other schools.
"Most cases of shutdowns were in-season teams, so I wasn't in a huge rush."
Duffy said he didn't publicize the fact that the Wildcats had begun training until two weeks after they started.
"We knew if we announced to the world we were back and shut down a week later, that's a really bad look," Duffy said. "So we took it really, really slow."
Despite his efforts to keep the Wildcats' return-to-play under wraps at first, word spread like wildfire.
"Even though we weren't really posting on social media, guys were telling people," Duffy said. "My recruiting inbox was flooded and people were clamoring to visit. The interest was higher than it's ever been."
Part of that interest centered around the UA's commitment to give the season a shot. The Wildcats' players had bought in, too, and were willing to stay socially distant and follow the program's new protocols.
"I give our teams a lot of credit: They were running sprints and doing stuff with masks on in 100-degree heat when we started," Duffy said. "It was a lot of cleaning, a lot of check-ins and testing and a lot of things up noses."
'A unique animal'
A club team that competes as a Division I program, UA rugby is "a very unique animal," Duffy said. The team appears on television and many of their opponents are from Pac-12 and other elite schools.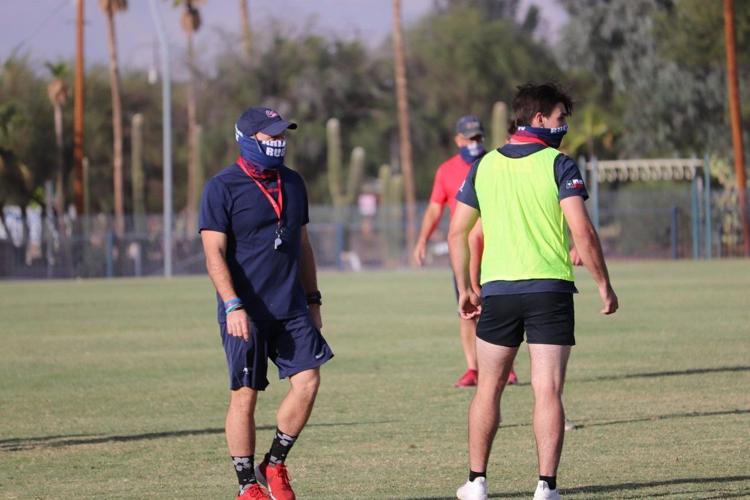 "We have guys on the men's team that are playing pro rugby or playing on a national team," Duffy said. "Our players are coming from all over the world to play rugby. They've been recruited and it's a big reason they came here, so there's big expectations (that) they be able to do something."
The men's team will consist of 60 players this season, with plans to expand to 75 in the fall. By the fall of 2022, the roster will increase to 90 and the club will grow from two to three teams, Duffy said.
"I'd like (the women's side) to be just as big, but there aren't as many women's rugby teams on the collegiate level," Duffy said.
Other programs have talked to Duffy about how he is able to pull off training and practice despite Arizona's rising coronavirus cases. Few schools have been able to do what the UA's rugby program has done, including the Air Force Academy and a few teams competing in Utah. No California universities have rugby up and running.
"We're trying to show schools that rugby here is serious. The teams are serious and it's a serious sport," Duffy said. "And if rugby can do it, (ultimate) frisbee can do it, lacrosse can do it and so on."
While it's been a challenging and fluid process, the return-to-play model has also prompted Duffy to say some things he never expected to hear himself say, including: "Do you have the 20 pool noodles that arrived?"
Arizona's next step: Startig the season. Duffy said the Wildcats will do it "when conditions allow."
With new and more accurate testing available for players returning to campus post-holiday, Duffy is hopeful that the season will go ahead without any hitches. But it's going to be a challenge.
"We're pushing everything back, even if it means staying past graduation, which we've done before," Duffy said.
What's next
For now, UA's players are quarantining following winter break. They'll soon begin taking the new "spit-and-gargle" COVID-19 test several times a week — more than is required for students living on campus or attending in-person classes.
Women's rugby coach Rusty Wortman said the school is applying the program's testing protocol to all club sports, with safety being the top concern.
After quarantine, players will undergo about six weeks of training and an intense safety protocol before practice starts. Barring complications, Wortman is hopeful that competition will then begin.
Even then, the Wildcats' season will be a strange one.The UA's traditional opponents hail from California — and California schools aren't expected to play this spring.
"We can get approved tomorrow to play, but if no one else can play, we're going to have a lot of scrimmages," Duffy said.
Still, with Air Force and possibly BYU in the mix, there are options.
"I'm very optimistic that we'll be playing matches," Wortman said. "Will we be playing the same teams that we normally play in our conference? Probably not."
Contact reporter Caitlin Schmidt at cschmidt@tucson.com or 573-4191.
On Twitter: @caitlincschmidt