With hundreds of student-athletes to serve, University of Arizona officials rely on a combination of tried-and-true methods and new innovations to help prepare them for life after college.
And employees with the Commitment to Athletes' Total Success (C.A.T.S.) student-athlete development office have had their hands full since most classwork moved online because of the coronavirus pandemic. How, for instance, can they guide athletes to the next stage in their lives without seeing them face to face? How can they develop Wildcats in personal, leadership, career and community engagement when the campus community is now mostly virtual?
The answers might be surprising. The UA has noticed an explosion in its Cats Connect mentoring program, with mentors now able to come from around the country or even globe. The move to remote learning also opened the door to a wider variety of guest speakers and alumni who are willing to contribute virtually, said Sofia Read, the UA's Assistant Director of Life Skills.
The C.A.T.S. program's mission remain the same: to empower student-athletes to develop as leaders, community members and professionals through programs, events and individualized support. This includes engaging with former athletes who did not graduate, which the UA does through its Wildcats for Life program. At any given time, about 30 former athletes are attempting to finish up their degrees, either actively taking classes or talking with staffers about the next steps.
"We really want to support our students all the way around," said John Mosbach, the UA's senior associate athletic director for student-athlete development. "It's not just one person or unit's responsibility when talk about student-athlete development."
Classes teach 'identity development'
C.A.T.S. employees connect with student-athletes early. Most incoming freshmen take a class — Student Athlete Identity — that helps them acclimate to college.
Students learn about resources on campus and in the community and tackle a wide range of topics: mental health, healthy relationships, sexual health, identity and life outside of athletics, injury prevention and recovery, interview skills, voter and financial education and sports nutrition, said Kelly Amsler, the UA's senior lead learning specialist. The UA has been offering the pass/fail course for the last five-plus years.
"It helps to start those relationships and show students, 'This is what my life is like and this is how I'm going to manage it,'" said Aaron Davis, a senior learning specialist with C.A.T.S. "It's easy for people on TV or at the games to see these students as powerful, smart, charismatic students. They forget they're 18-to-21-year-olds who have insecurities."
The UA offers a second course that teaches juniors and seniors how to apply their college experiences towards their careers after graduation.Career Development: Literacy, Learning and Leadership is offered through a collaboration with the College of Education and other departments on campus. It's a team-taught course, with Amsler, Davis and others pitching in each semester.
In the class, students engage in learning and networking opportunities with UA faculty and people in the workplace to help prepare them for a life after sports. Students also participate in on-site job shadowing, mentoring and internships. They also discuss the mental, physical and emotional aspects of transitioning out of college athletics, Amsler said.
The class started out in-person, but is now taught via Zoom. Students attend the class dressed in business-casual or professional attire.
Course topics include resumes and cover letters, networking and branding, value-based career searches, personal finances, cost of living, salaries and civic engagement.
"The common thread (between the courses) is identity development. We recognize the 'athlete' component of a student-athlete's identity is so powerful," Amsler said. "Everything they do is wrapped around this athlete identity, and it doesn't just go away when you're done with your sport. These programs are about finding out what else are you about, what else do you like, what else do you want to be?"
There are a multitude of opportunities for student-athletes outside of the classroom as well. Students can represent their teams through the school's Student-Athlete Advisory Committee. The SAAC meets regularly and members provide their input on UA, Pac-12 and national issues while acting as a liaison between athletes and officials in the athletic department.
Peer Athletic Leaders, another program for leadership skill development, meets monthly. It helps athletes identify their strengths and apply them to a group setting, preparing them for future leadership roles. The Cats Connect mentoring program pairs student-athletes with professionals in the field to help build relationships.
The UA also offers programs — Men and Women of Purpose, Inspiring Women and Million Dollar Men — that meet regularly and address different topics.
The next step
Syndric Steptoe was a star UA wide receiver who played parts of three seasons (2007-09) with the NFL's Cleveland Browns.
His life after sports involves helping other student-athletes find their way.
As the UA football program's director of player development, Steptoe collaborates with C.A.T.S. employees about ways to engage student-athletes in all sports.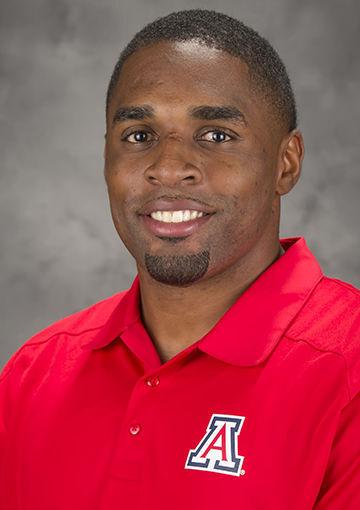 Student-athletes often struggle with time management in their first year of college. C.A.T.S. learning specialists help athletes learn how to create and manage a schedule, making sure each has a physical copy of his or her schedule in their notebook at all times.
Money management is another common problem. Learning how to manage monthly scholarship checks can be challenging, but thanks to Steptoe and others in C.A.T.S., UA's student-athletes end up leaving school with a savings plan — or at least the skills to create one in the future.
Steptoe also talks with athletes about how to manage a social life.
"We're having conversations and getting them to understand things that can hurt you and tarnish your reputation and get you sent home," Steptoe said.
Steptoe started his professional career as an intern in the C.A.T.S Life Skills program. He then worked for the UA's alumni association as the director of alumni careers and professional development and lectured in the Eller College of Business.
Last year, Steptoe was ready to launch "micro internships" that paired upperclassman student-athletes with mentors who would meet with them weekly throughout the semester.
Career services met with the group to help athletes identify careers that might interest them and how to take advantage of campus resources, such as a discount available to all students at JC Penney. Local businessmen spoke to student-athletes about what they do and why they're interested in working with student-athletes.
"It got COVID-ed," Steptoe said, adding that he's planning to bring back micro internships as soon as it's feasible.
Steptoe sad that the classes and various programs are all about preparing student-athletes for what they're going to be. As the old saying goes, most student-athletes "turn pro" in something other than sports.
"You're going to be an alum or professional outside of your current student-athlete status longer than you're going to be a student-athlete," Steptoe said.
The football program relied heavily on mentoring during the pandemic, Steptoe said. For the first time last fall, new Wildcats were paired with players who share a similar hometown or potential career interests Steptoe said the team is looking to bring it back in the spring or summer under first-year coach Jedd Fisch.
"The guys enjoyed it. There was a mix of guys who engaged fully and (others) who didn't love it," Steptoe said. "We still have meetings that are going on, so they can continue those conversations and take it from formal setting and build a relationship."
Read said that while C.A.T.S employees were initially busy making the shift to mostly online programming, the office was still able to host all of its normal programs and events.
"We saw different participation numbers in terms of involvement, but we were able to continue everything we were doing," she said.
'You have to be able to change with the times'
Steptoe and others are developing new programs that focus more on interactive and hands-on experiences rather than just lectures.
They're also focusing on what student-athletes have to say.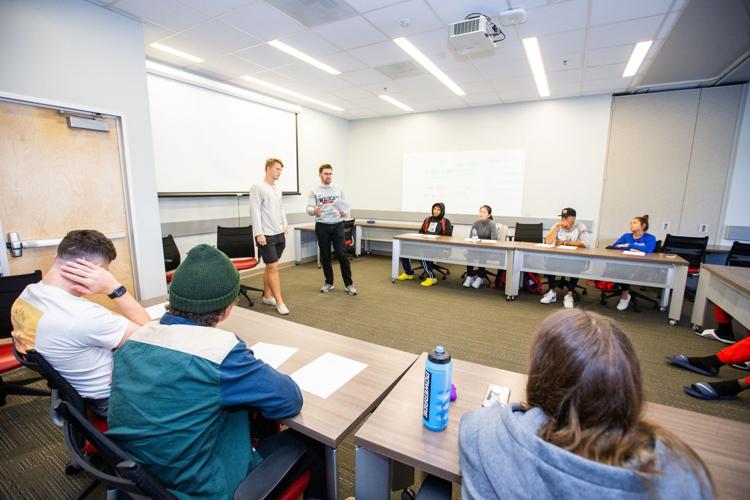 "You have to be able to change with the times, and you do that through listening to what young, brilliant minds have to say," Steptoe said. "We want to put numbers and statistics on things, but when you're impacting lives 10 or 15 years down the line, that's what it's all about."
Steptoe said he's been impressed with the way athletes have taken on leadership roles and provided feedback on their time at the university during the pandemic.
"It speaks to how many people within the department are involved in the student-athlete experience," Read said.
"It's cool to see how many people are invested in this process and how many people are there for support."