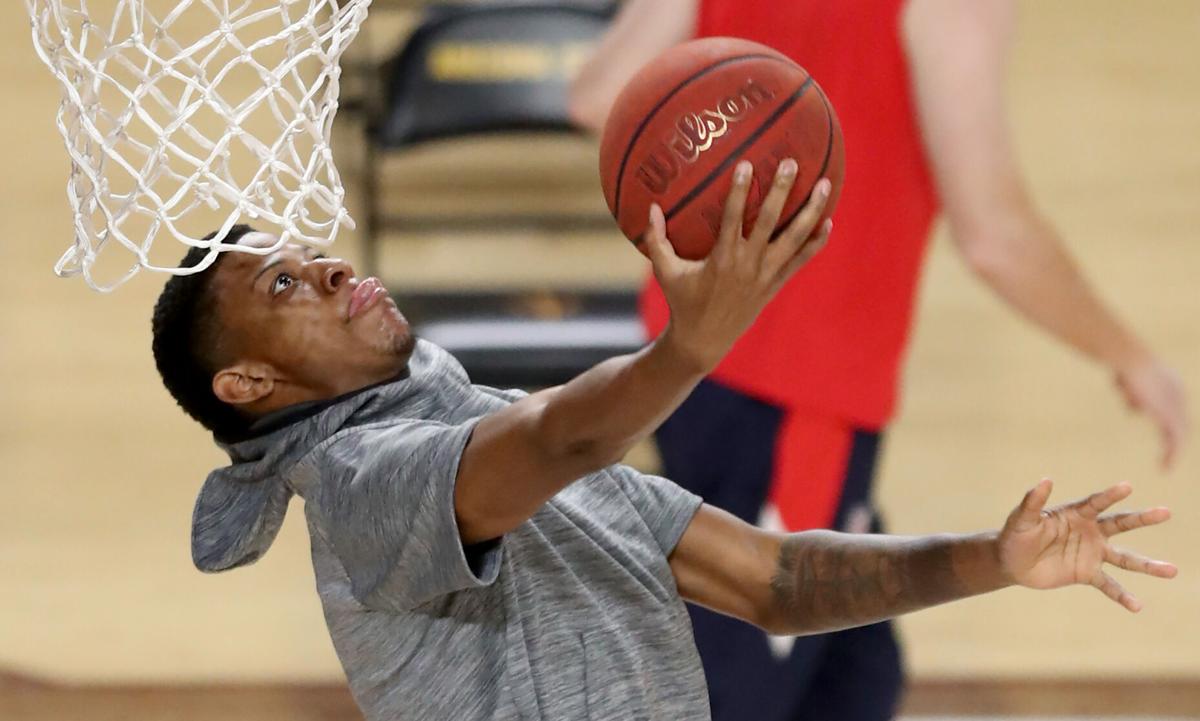 In the nearly three months since the name, image and likeness floodgates opened for college athletes, the headlines have been eye-opening — if not entirely surprising.
Alabama coach Nick Saban says his quarterback was poised to make nearly $1 million in endorsements before starting a single game. A Dallas-area quarterback ditched his senior year of high school to enroll early at Ohio State and pick up a reported seven figures in NIL deals. Oregon star edge rusher Kayvon Thibodeaux has a portfolio of NIL activity worth a reported $400,000, including his own NFTs and an airline marketing deal.
And every walk-on at BYU has school paid for by a company that also promises $1,000 endorsement deals to other Cougar players.
Meanwhile, beefy linemen are endorsing barbecue chains everywhere and even UA basketball player Dalen Terry has attached his name to a chicken-and-waffle chain.
The world of NIL, now in its infancy thanks to a patchwork of state laws and the NCAA's hesitant approval that all went into effect on July 1, could keep growing, too. As shown by the recent commitments of five-star players Emoni Bates and Jalen Duren to Memphis, it might also push more leverage back to college basketball at a time when the G League, Australia's Next Stars program and other pro options have become more enticing for high school talent.
But for now, at least, the big deals are outliers, pumping up average NIL figures that actually are modest.
Jim Cavale, CEO of INFLCR, one of several platforms that match up athletes with endorsements in a similar manner to how Uber drives and riders find each other, said his company reports average NIL deals of $1,049 — but that the median deal is only $51. Cavale said half of all deals are only in-kind arrangements that include meals, apparel or other trade-outs instead of cash.
"No one, or at least us, is making a million dollars or having a company pay their whole rent," said UA women's basketball standout Sam Thomas, who joined Cavale on an NIL panel discussion last week in Washington, D.C. "It's more like a little gas money or grocery money."
During the panel discussion that also included UA men's basketball coach Tommy Lloyd and former Wildcats player Jason Ranne, now the executive VP of the Wasserman talent agency, Cavale presented his figures based on 3,000 total NIL deals reported to his firm.
INFLCR works with 193 Division I schools, including UA and eight others from the Pac-12. Schools can verify compliance compatibility of NIL deals by examining forms that student-athletes fill out on INFLCR's app.
Based on his company's experience, Cavale estimated that 499,000 of the nearly 500,000 total student-athletes in all divisions would average NIL deals in the low four-figure range. Of those 1,000, he added, a hundred might command over $10,000 and 10 of those could hit surpass the $1 million mark.
Wildcats athletes are making an average of over $450 per NIL deal, many with a base compensation well above that, said senior AD for compliance Brent Blaylock. Some deals also include a percentage of future sales that prevent an exact number at this point, Blaylock said.
"There has been some type of NIL-related activity, including questions, proposed opportunities, or solidified agreements, from student-athletes across all of our programs," Blaylock said through a UA spokesman. "Much of the activity to this point has been associated with social media engagements. We have seen student-athletes engage with local companies as well as national brands. Some have also launched their own merchandise either through their own website or partnering with an already established website."
Based on her connection to a fittingly named warehouse club, Thomas could land above or below the average NIL deal. Thomas said she entered a contest seeking sponsorship from Sam's Club by filming a video in which she made a behind-the-back halfcourt shot.
"The winner gets $10,000, so we'll see about that," Thomas said, smiling.
But, as many of Thomas' teammates are finding, UA faces a significant NIL roadblock. International student-athletes remain prohibited from profiting from NIL activity — not because of NCAA rules, but because of U.S. Immigration rules prohibiting those on student visas from earning a substantial income.
Many of UA's most high-profile athletes are not from the United States. The Wildcats' women's basketball team has five international players, the men's team has eight and many of the UA's non-revenue sports such as women's golf, men's tennis and women's tennis have rosters populated with international players.
That collection of talent includes two NBA prospects, Bennedict Mathurin (Canada) and Azuolas Tubelis (Lithuania), who could otherwise potentially command four- or five-figure NIL money.
They're "on the outside looking in," Lloyd said about UA's international players. "They should be able to have the same student athlete experience as an American."
In response to the Star's request for comment last week, the U.S. Immigration and Customs enforcement issued a statement saying that its Student and Exchange Visitor Program (SEVP) "continues to assess" the issue of international student athletes being able to participate in NIL activities.
Complicating matters is the fact that there is still no federal legislation overseeing NIL activity despite the NCAA's lobbying efforts, just a patchwork of state laws.
"The (SEVP) program continues to actively coordinate with our government partners, including U.S. Citizenship and Immigration Services, to assess the number of impacted students and whether regulatory guidance is required to address both this and any related issues," the ICE statement said. "SEVP is also monitoring any current and pending state and federal legislation on this issue."
Saying the rule is a "daily conversation" for international athletes his firm has been in contact with, Ranne said the government could issue guidance for international athletes without having laws on the books.
But, he said, "they're not doing that. And so you have thousands of athletes at this point who are curious why their teammates can potentially do an NIL deal and they cannot."
Ranne and Cavale said it might take a risk-taking international athlete to force the issue by going ahead and doing an NIL deal — then seeing if ICE will revoke their student visa, which could in turn lead to lawsuits that could eventually shape a decision one way or another.
"There are some advocates out there who will want to help," Ranne said. "But it's a risk to lose your status and your scholarship."
As a result, Cavale said, "I'm not going to ask a kid to do that."
So maybe, at least considering the numbers to date and the restrictions against international athletes, NIL really isn't that big a deal at the moment for Arizona.
Certainly, Lloyd made it clear that's the way he's looking at it.
After all, even an average NIL deal in the five-figure range doesn't compare with what could await an elite basketball player in the pros — a seven-figure rookie-scale deal and then, potentially, a much more lucrative contract after that.
As a result, Lloyd said NIL is only a "side piece" to his recruiting pitch, which is still mostly about development and the other benefits of playing basketball in college.
"All our guys want to make the NBA," Lloyd said. "But even if you make it, you aren't making life-changing money. But if they can get to that second contract, that's when you start seeing these $100 million figures, $20 million a season. That's the goal. That's the direction you gotta go."
Contact sports reporter Bruce Pascoe at 573-4146 or bpascoe@tucson.com. On Twitter @brucepascoe