Watch: 10 best things Lucas Havrisik, Jeremy Springer said after Arizona Wildcats' practice
Arizona's special teams group looks to improve from a rough 2017 season. 
By Justin Spears / Arizona Daily Star
Kickin' it with the special teams unit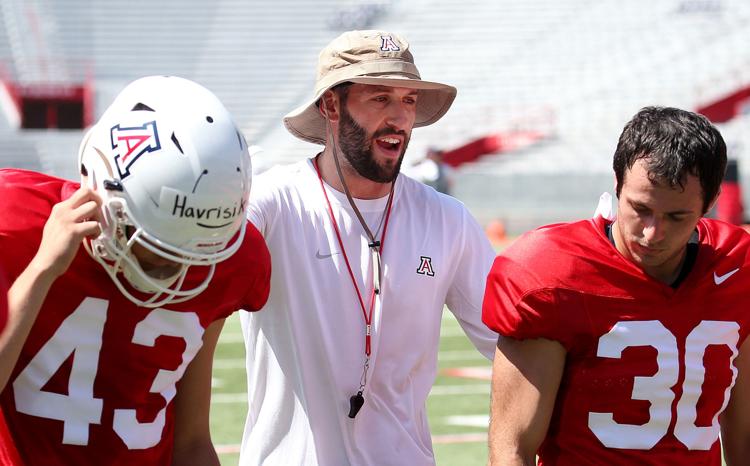 It's one-third of the game that many seem to forget, but is just as essential as offense and defense: special teams. 
In 2017, Arizona's offense behind Khalil Tate and the defense that dripped with freshman was a primary reason why the Wildcats were able to exceed their last-in-the-conference expectations and appear in a bowl game. 
Special teams on the other hand was one of UA's crutches especially in the punting category. Arizona's punting finished the season ranked No. 126 out of the 130 teams in the FBS. The only schools ranked lower than Arizona were Army, Navy, Air Force and Oklahoma State.
The punting unit will return Jake Glatting, Matt Aragon and graduate transfer from Cal Dylan Klumph. All three will battle for the starting spot before the season opener against BYU. 
The kicking competition comes down to Josh Pollack and Lucas Havrisik. Last season Havrisik nailed a 57-yard field goal against Washington State and posted a video on his Twitter page of hitting a 65-yarder. New special teams coordinator Jeremy Springer still hasn't decided who will be Arizona's placekicker, but will have a better idea closer to the BYU game. 
Springer and Havrisik spoke the media following Tuesday's practice, here's what they had to say:
Springer's best friend
Special teams coordinator Jeremy Springer on having twin brother, Justin on staff: "I get to come home and be with my brother, which I haven't done the last 11 years of my life. ... I ain't getting married anytime soon so I got my companion right now, that's my brother." pic.twitter.com/A3AlKOqHd3

— The Wildcaster (@TheWildcaster) August 7, 2018
Decisions, decisions
Jeremy Springer says he won't have an idea who Arizona's starting kicker will be until closer to BYU game: "It's real and they know that. It's no one's job. It's either Josh (Pollack) or Lucas (Havrisik)." pic.twitter.com/h4aMbSQ7qH

— The Wildcaster (@TheWildcaster) August 7, 2018
Kickoff coverage
Jeremy Springer has been impressed with the kickoff coverage unit. Says Anthony Pandy, Dayven Coleman, Christian Young and Isaiah Hayes have stood out to him. pic.twitter.com/P5AEmi929Q

— The Wildcaster (@TheWildcaster) August 7, 2018